(The following transcription of the history of Cleburne County, Alabama was written in 1936 and published in The Cleburne News)
EARLY DAYS IN CLEBURNE, by Mrs. M. Fowler of Fruithurst, Alabama
From The Cleburne News, November 26, 1936
Heflin, Cleburne Co., Alabama
For much of this data relating to Cleburne county, then Benton county, in its earliest stages of settlement, I am indebted to Mr. and Mrs. B.V. Owens and Jack Bennett, whose grandfather Charles Marcus Bennett was one of the earliest pioneer settlers, coming into Cleburne (then Benton) county in 1832.
When I came into Cleburne county to teach in 1900, I taught at Harmony Grove church, in Cane Creek settlement. I met a Miss Bennett who later when I came to this town to teach in 1913, was a Mrs. Owens who had children of her own in school to me. I knew that both families were prominent in the politics of the county, but did not know how entirely they were connected with the growth of the county until a few days ago.
Owen residence in Heflin, Cleburne County, Alabama ca. 1990s (Alabama Department of Archives and History)
Bennetts came from Virginia
I went out and spent a day with Mrs. Owens and found that her Grandfather Bennett had come into Cleburne county from Virginia, with his family in 1832. That they were looking for a likely place to settle and when they reached Cleburne county, which at that time was Benton county ( a combination of what is now Cleburne and Calhoun ) when the pioneers reached this county, which stretched out before them so smiling and lovely with such bounteous gifts on every hand, they did not search further.
The climate was delightfully warm and sunny, the atmosphere was clear and fragrant with the pungent odor of the pine trees; the soil was fertile; the gently sloping hills were covered with forests of soft and hard work and white oaks, stretching up sixty feet tall and "so large around that a solid board of white oak could have been cut out a foot wide." There were red oak, chestnut, maple, sweet and black gum trees and the woods were filled with flowers everywhere and birds of brilliant hue.
Numerous animal life filled the countryside
Wild turkeys were as thick as chickens in a barn yard; and went around as many as seventy-five or more at once; squirrels scurried in droves; quail darkened the air; some bears were in the hills but not many; but the deer could be seen at their "licking logs" numbering from twenty-five to fifty; the forest was full of wild pigs; wolves hung around like dogs and were such a pest carrying off sheep and the domesticated pigs, that traps were set for them.
Panthers and wild cats infested the hills and at two or three different times, it was heard that a panther had carried off a little child. The Indians were here in small numbers, but they were invariably friendly. They liked to come and "walk the fence" with the white man which must have been a feat, since the fences were all the snake-like fences; they liked too, to get bright things that attracted them, but always insisted on paying for them, bringing deer to trade.
The hills were full of chestnuts or "chinquapins" and hickory nuts and wild grapes. They named the creek that ran through this section Cane Creek because the ground was so rich that canes grew along the bank to a height of 12 feet. This land produced marvelous corn which was the main crop then.
Three young boys working a cornfield in Fruithurst, Alabama 1907 (Alabama Department of Archives and History)
Women created clothing and bedding
Cotton only brought three and four cents per pound and only enough was raised for home use. But they raised enough to spin and weave and make ticks for the wheat straw mattresses, for feather beds which they made from the pickings of their own ducks and geese, and for towels, spreads and their own garments.
Blankets they made from the wool sheared from their own sheep; they spun the yarn for mittens, caps with good warm ear flaps, coats and warm underwear. They made their own shoes and tanned the leather with red and white oak bark. The fruits of this county they took in covered wagons, sometimes pulled by long horned steers, to trade at Savannah, Charleston or Augusta. Sometimes, too, they traded at Oxford City, which was an Indian trading post, near where Anniston is now, which was not in existence then.
Stock was pillaged and driven away on a large scale during the War
Many families of Cleburne county prospered and bought slaves and farmed on a large scale. Then the War came. This section remote and thinly settled, did not suffer as much as many sections of the South did. But even then, houses were pillaged, cattle and horses, mules and oxen were driven away, under the very eyes of the owners. It was customary to hide the food and any valuables out in thickets and hollow logs or bury them in the ground, anywhere they would not be found.
In houses where there were no men, old or young to help, women tilled the soil harnessed to the plow, taking the place of the stock that had been driven away, but in houses where there had been slaves, there was someone to protect the women of the "big house" for in this section of plenty and of rich soil, the slaves had been comfortable and contented and even after they were freed, preferred to stay on and rent from the old masters and be on the place until under changing conditions, the old places were sold and changed hands.
Little was left on the farms after the war
After the War, the men came home to find cupboards and barns bare, little furniture and were even lucky to find the house standing, compared with other sections so despoiled. How could they start again with nothing to start with? Whatever of value they had left, they sold. Beautiful high spool beds with canopied tops and rope springs, were sold, and cherished hand-woven spreads, blankets and patchwork quilts were sold for money to buy seed to start new crops and food to last until the crops were grown. Nests were filled with settings of eggs of ducks and geese so they might have feather beds for themselves and for their children. Flocks of sheep were gathered together again. Turkey eggs were set for turkeys would bring a fair price in the market.
The price of cotton went high that year, so many cotton growing states were laid to waste, that comparatively little cotton was grown that year. So business started up again for these people. Every year they raised a little more, sold a little more of stock, of products of the rich soil, which even yet did not need fertilizer, so fresh and unspoiled it was.
They took cotton, corn, syrup, peas, sweet potatoes to market; they brought back sugar, coffee, spices, and steel for the implements that they needed. They had so little machinery. What they had, even the cotton gin, was first run by horses and then by water. When they began to saw lumber and to build frame houses, they used a sash saw which moved straight up and down under water pressure.
Now the women were spinning and weaving again; blankets, towels, cloth to be made into garments which were made by hand. Every house had stacks of beautifully pieced and quilted quilts. Now they were braiding intricate designs on pillow shams, table runners and dresser scarfs; counterpanes were tufted in circles laid off with plates or saucers, in diamonds or flower designs. The tulip was a favorite flower and the rose.
Primitive cotton factory in Alabama ca. 1890-1900 (Alabama Department of Archives and History)
Used earthen jars instead of glass to can fruits
They had no glass jars in which to can fruit but canned in earthen jars, apples and peaches that kept the flavor of fresh fruit and remained sweet and sound all through winter and spring. The peaches or apples were pared and sliced and placed in an open slit basket, like a market basket, which however they had woven themselves. This was suspended over a bed of glowing coals, over which a sufficient amount of sulphur had been spread to make a dense heavy smoke around through the fruit. This sterilized it and formed a thin film on the fruit and after a sufficient sterilization,  it was packed in the jars, covered with a thick cloth around the mouth of the jar and was ready for the winter. When it was taken out, it was allowed to remain in fresh water for a few hours and all the flavor of the sulphur was gone and it has the appearance and taste of fresh fruit in pies and sauce.
Grapes were sunk in jars of sorghum molasses and preserved; if they ran short of sugar, many people used "long sweetening" as they called molasses to sweeten coffee and for cooking. Imagine the rich Southern Yam, cooked until tender and mashed to a creamy consistency with plenty of eggs, well beaten and rich yellow cream and spices, then sweetened with the golden sorghum.
Fireplaces for cooking
They had no stoves, just a big fireplace white-washed a brilliant white; the andirons (fire dogs) which held the great logs for heating and for cooking; the iron bakers, sustained by three or four iron supports; a tight cover to the baker then after the food was placed within, the coals heaped below and on top of the cover; and the boilers or pots hanging from the cranes or sitting on coals on the wide hearth.
The cupboards were strong and well built by hand; the floors were bare, but scrubbed with white sand and sometimes ashes and lye soap and were of a whiteness hard to imagine, now that floors are stained and waxed at once after being laid; but in those days, housekeepers prided themselves on the whiteness of their floors as they did the whiteness of their clothes and the intricate designs of patchwork quilts and the beauty and design of home woven spreads and the beauty and variety of the colors they wove into their looms.
They used walnuts and red oak bark and produced beautiful shades of brown. They used copperas or alum to set the dyes, which not only gave a permanent color, but different tints to the dye. They used the roots of poison ivy to get a rich purple. The lye from ashes and copperas made orange. Hickory bark and alum made a greenish yellow; sassafras and alum a pale yellow.
Yards swept clean
The yard were swept with great care and with brush brooms, made of bushes. Grassy yards were not admired. The yards were swept clear of every vestige of green and then sanded, and graveled with white pebbles around the walks, and around the edges of the yard. The trees and plants most favored were the English dogwood, a white blossom of transparent texture, having a vivid yellow center; the althea or bridal wreath, snow balls and roses. Too, nearly every yard had hedges of "winter pinks", small chrysanthemums, dozens on one bush, in gold, lavender, white and a rich velvety red. Every or most vegetable gardens had lavender, sage, thyme, catnip, horseradish, the herbs they needed all the time and all around the fences and borders were sunflowers, not only for the large and colorful bloom, but the seeds were so good also.
In the barnyard, and on the hills around and in the brooks or grassy meadows, were flocks of chickens, ducks, geese, guineas with their plaintive calls and of turkeys; out in the pastures were sheep, cows and perhaps long-horned oxen that were so strong and reliable, if slow. That meant barns must be overflowing with corn and fodder.
In the houses were bins of fresh flour, ground from the wheat they raised, bins of fresh corn meal; bushels of beans, dried; corn field and lima beans for boiling; there were jars and crocks of fruits and grapes put down in syrup; long strings of red pepper made bright splashes of color on the walls. There were great golden pumpkins, piles of hickory nuts, of chestnuts and heaps of popcorn.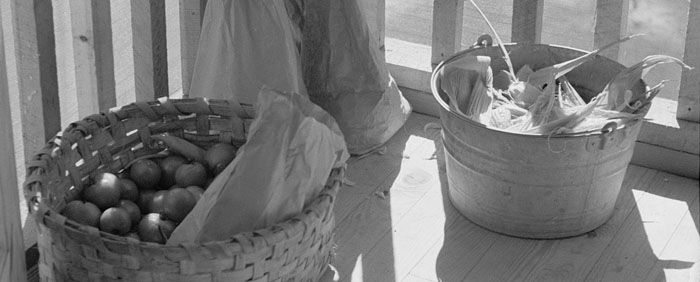 Barrels of sorghum and cider
There were barrels of golden sorghum, barrels of cider, which would be apple vinegar. The sweet potatoes and turnips were hilled and Irish potatoes and onion were in bins in the cellar; the collards and cabbage were covered over top and sides with bark and earth and fresh greens all winter. In the smokehouse hung the hams, shoulders, middlings and strings of stuffed sausage, seasoned with sage and red pepper and just waiting to be fried on a cold morning and eaten with plenty of pancakes. Things were plentiful around them, but there were so many things outside they needed.
Then in 1882, when the first railroad was cut through this county, the Southern, to run from Birmingham to Atlanta, with headquarters in Richmond, Va. The men in charge were sent from headquarters and brought an army of negro workmen, but they hired every man they could along the line. They paid one dollar and ten cents to one dollar fifty cents per day and the water boys were paid fifty cents per day. The road bed was cut through this county by hand. Only picks, shovels, a wheel barrow and a dump cart were used. The work started the first of January and was completed in October. In June of the following year, 1883, the first train came through. A passenger train having an engine and a cab and three small cars. But all along the people cheerred, waved, threw their hats in the air and shouted.
In 1884, a flood, the only one in history, came. It washed away the tracks and all the work had to be done all over again. The water was so high and violent, a heavy mill wheel was found in the fork of a tree.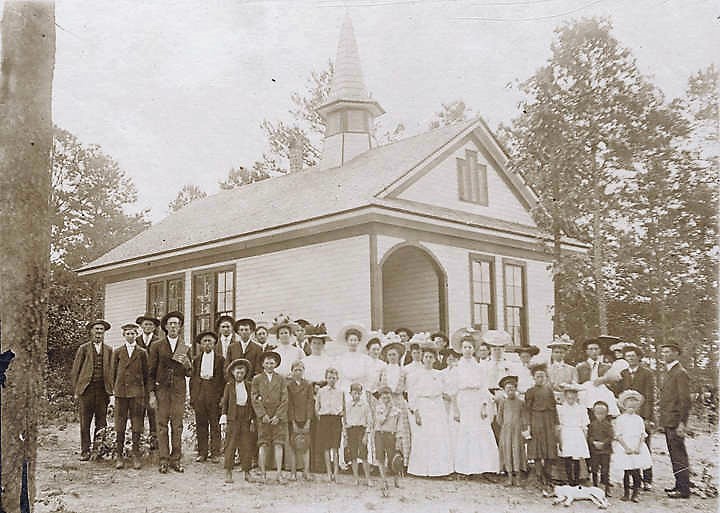 Children and adults standing outside the school building in District 34 of Cleburne County ca. 1900 (Alabama Department of Archives and History)
In 1883, the first school house in this section, possibly the first in the county was built. It was a log house with wooden shutters for windows. They had for seats long wooden benches with no backs. But they had a small black-board. They started from home early and walked a long way, getting home just before night. They studied the Blue- back Speller. They used slate and pencil. The school term was three months, July, August, and September. The teacher was paid ten and fifteen cents per day, according to the number sent from the house. It amounted to nearly twenty dollars per month. The patrons boarded the teacher. He stayed a week at a time at each house.
In 1886, came the deepest snow ever known in that section. It was seventeen inches deep and in drifts came to the shoulders of a man. It came just before Christmas and lay in hollows and sheltered places until nearly April. That in the Sunny South, "way down South in Dixie."
includes the following stories
Plan for Indian Removal Started With President Thomas Jefferson
Intrigue and Murder After Treaty At Indian Springs
President Adams And Governor In A Stand-off
Gold Causes Expulsion Of The Cherokees
Cherokee Chief Ross Became Homeless