Lewis' Tavern at Fort Bainbridge
Peter A. Brannon was a pharmacist chemist, 1900-1910. He spent the remainder of his career with the Alabama Department of Archives and History, serving as curator, 1910-1941; archivist, 1941-1955, and as director, 1955-1967. In his lifetime, he wrote many historical articles about Alabama. The following article by him has been transcribed from The Alabama Historical Quarterly, Vol. 17, No. 01 & 02, Spring and Summer Issue 1955.
Travelers who passed through the Creek Nation between 1820 and 1830 have left sundry descriptions of the Taverns and Inns. From bits of data taken from the notes of those travelers, students of late years have woven descriptions of these houses of entertainment and have compiled statistical data of much historical worth in fixing the lore and customs of the period.
Twelve guests could be accommodated
Kendall Lewis' Tavern was a large double-pen log structure with an open hall between, and having separate cabins in the rear. Apparently, the Bar and Lobby of the Inn occupied the front rooms and the guests were accommodated in the rear cabins. One traveler says that twelve guests could be accommodated.
There were no glass windows but shutters were provided for some of the guest rooms. A roller towel on the wall of the open hall was for the common use of the guests, but a Scotchman comments that an ewer and basin would be furnished, if paid for, in the individual apartments.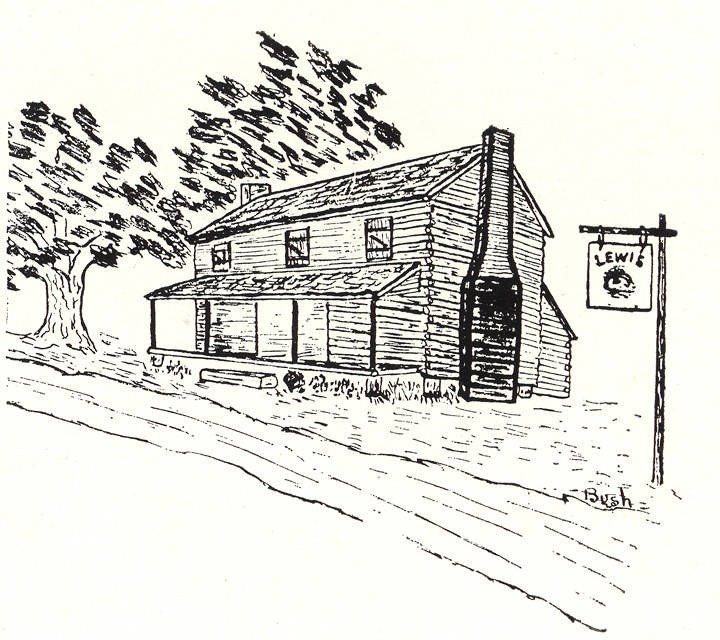 Drawing of Lewis Tavern in Macon County, Alabama. The tavern was on the Federal Road from 1815 to 1828 (Alabama Department of Archives and History)
Big Warrior's son-in-law
Kendall Lewis was the son-in-law of Big Warrior,1 Chief of the Upper Creek Indians from 1810 until 1824 when he died in Washington. In 1811, Lewis was a Lieutenant of Scouts in the service of Col. Benjamin Hawkins, United States Agent for Indian affairs South of the Ohio River. Lewis seems to have been a Captain in one of the Georgia Regiments in the War of 1813 (as he is frequently referred to as such). The date on which he took Big Warrior's daughter for a wife is not of record.
There is (a)considerable tradition in Russell County, Alabama with reference to two of his children who moved to Arkansas in the 1830's. A son was born to Mrs. Lewis on the night of April 1, 1825. Perhaps the excitement and confusion incident to the entertainment of Gen. LaFayette and his retinue might have induced the consummation of this event and it is known that this boy, named General LaFayette Lewis grew to manhood, resided most of his life in Russell County.
Maintained by a widow in 1830
Mrs. Harris, presumably a widow, maintained this tavern in 1830 and while she is not called so by name, circumstances would indicate that she was the proprietor in 1835. A location on a map of 1836 marked -"Cooks" is practically coincident with the location.
Capt. Lewis, a Georgian, was said by Adam Hodgson, British traveler entertained by him in 1820, to have left that State on account of having killed a man in a personal encounter. From information in my hands as late as July 4, 1936, I learn that Capt. Lewis was the brother of Mary Lewis Wall whose granddaughter resides today at Macon, Georgia.
Ira Mitchell Home
A rather pretentious frame structure occupies the site at the present time of old Fort Bainbridge.  Capt. Lewis' Tavern was about 400 yards West and on the left side of the road from the Fort. (Compiled by Peter A. Brannon, from numerous notes referable to Fort Bainbridge.)
1The stopping place mentioned in the Pickens letters as Big Warrior's Stand, was actually Kendall Lewis' Tavern, at Fort Bainbridge. In later years a road stop was at Fort Bainbridge, Creek Stand, and Warrior's Stand, points along the Federal Road between the Western line of Russell County and Fort Hull, near Tuskegee.
(Fort Bainbridge was built near Hurtsboro in 1814. It was a Georgia state militia fort and supply post in Macon County 17 miles southeast of Tuskegee, Alabama.)
Who Controlled And Organized The New State of Alabama?
Tuscaloosa Had Three Other Names
Chandelier Falls & Capitol Burns
Alabama Throws Parties For General LaFayette
Francis Scott Key Was Sent to Alabama To Solve Problems