The oldest surviving court records in America were used to write this historical fiction series about a family that eventually migrated to Alabama before statehood. 
Inspired by actual people and historical events
The Pattenden's inspiring story begins in 17th century England during the reign of Charles I and continues with their journey to the eastern shore of Virginia where they experience joy, tragedy and loss.  
Actual court records dating back to the early 1630's create historical accuracy as the reader is taken back to the primitive days of colonial America where the Pattendens encounter life-changing difficulties with Indians, ducking stools, illness, massacres, death, loneliness, love, and greed.
(Many Alabama ancestors followed this same path  – from England to Virginia and eventually migrated to Alabama.)
REVIEWS OF RIBBON OF LOVE BY READERS:
Ribbon of Love is a wonderful love story of Henry and Mary living and struggling to succeed as one of the first families in the colony of Virginia in the 1600s. In addition to the love story, the descriptions of the clothing, home furnishings, personalities, family life, church and community are most intriguing. The exhilarating action and subplots keep the reader in constant anticipation. It is almost impossible to put the book down until completion. – Dr. Don P. Brandon, Retired Professor, Anderson University.
I just finished reading this loving and delightfully written story. I'm telling everyone I know about it. Not only is the story entertaining, it opens the eastern shore of the Early Virginia Colony to the reader as a picture book. The charactors seem extraordinary real. I know this story of "Ribbon of Love" will touch many peoples hearts. Bill T.
Download three novels – Tapestry of Love Series from Amazon.com for one low price of $11.97. This series has been re-edited and published as a 2nd edition in 2016. —Also available in paperback!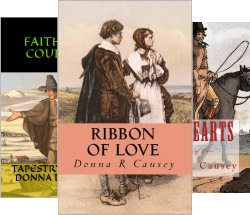 (Visited 1,351 times, 1 visits today)