OLDEST INHABITANTS OF GREENSBORO IN 19081
Part II
(published in 1908)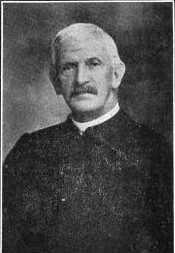 Rev. Richard Hooker Cobbs, D. D
REV. RICHARD HOOKER COBBS, D. D.
Rev. Richard Hooker Cobbs, D. D. has for the past forty-eight years been the Rector of St. Paul's Episcopal Church in Greensboro.
The Rev. Dr. Richard Hooker Cobbs came to Greensboro in 1860, and became rector of St. Paul's church, which position he held continuously for forty-seven years, resigning as rector in September, 1907,—but decided in March 1908, to again accept the rectorship of this church. He was born in Montgomery, September 7th, 1835, and is a son of Bishop Nicholas Hamner Cobbs, the first Bishop of the Diocese of Alabama. Dr. Cobbs graduated from the State University of Alabama in the class of 1855. In May 1862, he married Fannie A. Avery, who is yet with him to cheer and bless his declining years. Dr. Cobbs is much beloved by the people he has served so long and faithfully.
Mrs. Margaret C. Gulley
Among the oldest people now residing in Greensboro is Mrs. Margaret Clemintine Gulley, the mother of Frank D. Gulley, one of the most highly respected citizens of the town. She has two other children living, to-wit: Walter Gulley and E. L. Gulley who reside in Tuscaloosa and Jackson, Miss., respectively. Mrs. Gulley's parents were Samuel Oliver Davidson and Nancy Catherine Lowry, Mrs. Davidson being the daughter of Mr. Lowry, among the early comers to Greensboro. Mrs. Gulley was born near Salisbury, N. C., April 6th, 1827. At the age of thirteen years, she came to Greensboro and attended school at the Greensboro Female Academy, which was then in charge of Mr. Fay. She also went thereafter Mr. Bestor was made President. She has been a member of the church since 1843. On July 25, 1855, she was married to Bryant Gulley, by Rev. James C. Mitchell, Pastor of the Greensboro Presbyterian church. Mr. Gulley was at one time a prominent merchant at old Erie. After their marriage, Mr. and Mrs. Gulley resided in Greensboro for six years and then moved to Greene county, Alabama, where they resided until Mr. Gulley's death on December 24th, 1887, at the age of 82 years. The next year Mrs. Gulley removed to Greensboro where she has since lived with her son, Frank D. Gulley.
Mrs. Elizabeth Ward
Mrs. Elizabeth Ward was born in or near Greensboro, Alabama, in the year 1836. She is a daughter of the late Col. John H. Burton, who came to this section in 1833 from Campbell County, Virginia, and settled about eight miles from Greensboro in the prairies. In 1850 he moved to Greensboro and purchased the lot now owned by Madison Jones. He was a prominent citizen for many years. Mrs. Ward's mother was Miss Whitworth, a daughter of Jeremiah Whitworth, also a Virginian, who owned and resided on the (now). Hobbie place near Cedarville. There were four children of this marriage, J. L. Burton, of Crescent City, Fla.; Dr. J. W. Burton and W. C. Burton (both deceased), and Elizabeth Burton. All three of the Sons were Confederate soldiers. Miss Burton married the late Dr. Thomas R. Ward in 1858, who was for more than forty years a prominent physician in Greensboro. Dr. Ward was a North Carolinian by birth and came to Greensboro when quite a young man. He first practiced medicine with the late Dr. F. M. Peterson, and afterward alone until his death in 1897. He was among the brightest and most prominent Masons in the State, and for twenty-two years was Master of the Lodge at Greensboro. He officiated as Master of the Lodge at the laying of the Corner Stone of the Southern University in 1857. Dr. and Mrs. Ward had three children, to-wit: Dr. E. Burton Ward, an honored physician in Selma, Col. Thomas R. Ward, a prosperous merchant of Greensboro, and Mrs. Bessie Norvell Ward Colebeck, who died in June 1906.
Mrs. Elizabeth Ward was educated in Lynchburg, Va. For more than half a century she has been a member of the Methodist church. She is much beloved by a large circle of friends.
Hon. George Erwin
At the time this is written (1908) Hon. George Erwin is the oldest native-born citizen of Greensboro. He was born in the year 1834 in the then corporate limits of the town and has resided here ever since. He is a son of the late John Erwin, the eminent jurist, who was among the earliest inhabitants of Greensboro. Mr. Erwin is a highly cultured gentleman and represented Hale county in the Legislature the session of 1884-85. He married a daughter of the late Col. Cadwalader Jones of North Carolina, in 1857—they having celebrated their "golden wedding" in 1907. Though 74 years of age, Mr. Erwin's intellect is as clear and forceful as ever, and he lives among his books when not looking after his farming interests. His memory of past events is remarkably good, and to him, we are indebted for much valuable data contained in this volume.
Mrs. M. C. Keady
Mrs. Martha Chambers Keady is a daughter of John and Katherine Chambers and was born at Canonsburg, Pa., September 12, 1837. She was well-educated in the schools of her native State. In August 1869, she was married to Dr. W. G. Keady, who was born in Baltimore, Md., in 1833. He was a Confederate soldier for four years —first joining Watson's (Mississippi) Battery. At the siege of Vicksburg he lost an arm, and upon the fall of the town he was taken prisoner and sent to Camp Douglass, where he remained until his exchange. He then went to Georgia and joined the Confederate troops, and remained with them until the close of the war. After the cessation of hostilities, he taught School at Macon, Ga., and other places. In 1871, Dr. Keady entered the Presbyterian ministry. His first charge was at Williamsville, Ill. He came to Greensboro from Kentucky. in 1889, and served as pastor of the Presbyterian church at this place until his death in 1902. He was also for several years President of the Greensboro Female Academy. Early in life, Mrs. Keady joined the church, and for many long years has been a consistent member of the Presbyterian denomination. She is a woman of remarkably fine intellect and is much beloved by a large circle of friends. She has two children, Geo. K. Keady editor of The Beacon, with whom she resides, and Wm. M. Keady, a prosperous druggist at Norcross, Ga.
Rev. E. M. Turner
Rev. E. M. Turner, who has, for the past twenty years, been a citizen of Greensboro, was born in Walker county, Alabama, December 1, 1836. His father, Rev. John Turner, was a Methodist minister and was admitted to the Virginia conference in 1797. In the course of his ministry, he served Newbern, S. C., Caswell, N. C., and towns in Virginia. At the Conference of 1801 he located, on account of ill-health and moved to Walker County, Ala., and in 1844 he moved to Greene county, where he resided until his death. His wife was a Miss Kimbrough of North Carolina. The Subject of this sketch, Rev. E. M. Turner, was educated in the common schools in Greene County, Ala. He joined the church in 1845. When 8 or 9 years of age, his father put him in a printing office at Eutaw, Ala., The Whig, then conducted by Houston & Nunnalee, where he remained for quite a while. Enlisted in the Confederate army in April 1861, in a regiment formed by Hon. W. R. Smith. Went into camp of instruction at Tuscumbia, Ala. In September he was elected First Lieutenant of Company E, and on reaching Virginia was promoted to Captain of the Company. The Regimental number was the 26th Alabama, and upon the resignation of Smith, who was elected to the Confederate Congress, E. A. O'Neal was made Colonel. Captain Turner served under both Lee and Jackson. In 1864, he was transferred to the Western army and served under Johnston and Hood until the Surrender at Greensboro, N. C., in 1865. He has a war record that few possess, but one, by conversing with him, would never know he served four years in the army, so modest is he with reference to matters pertaining strictly to himself.
Capt. Turner joined the Alabama Conference of the Methodist church at Mobile in December 1865 and was in the active ministry for many years. He is spending his declining years with his wife and daughter in his neat and modest home in Greensboro, among friends who honor him for his upright, Christian life, and his genial, sunny disposition. He has three sons and one daughter: J. G. Turner of Greensboro, Ala., Dr. E. K. Turner of Oxford, Ga., Walter Turner of Atlanta, Ga., and Miss Clara Turner of Greensboro.
The Stickneys
Thomas F. Stickney is possibly the oldest male resident of Greensboro. He was born April 14th, 1830, at the old homestead three miles west of town, now owned and occupied by his brother, Edward L. Stickney. His father, Joseph Blodgett Stickney, came from England in 1800 and located in North Carolina, where he married Harriet Grice. After living there for some time, he moved to this section and located three miles west of the present town of Greensboro, and about the year 1820, he purchased 840 acres of land from the famous General Lefebvre, who had come in possession of it under what is known as the French grant. Mr. Thomas Stickney relates that he had often heard his father speak of the noted Frenchman—that he was a frequent visitor to the Stickney home, and the descendants now have in their possession a number of mementos that were presented the elder Stickney by the General. Lefebvre frequently visited the town of Greensboro in its early days. Of this distinguished character, Pickett has the following in his History of Alabama:
"A colony of French sought Alabama as an asylum from Bourbon persecution. The winter of 1816 and 1817 found many of these distinguished refugees in Philadelphia. An ordinance of Louis had forced them from France on account of their attachment to Napoleon, who was then an exile upon St. Helena.
"Among those who were exiled was Count Lefebvre Desnoettes, who had been a cavalry officer under Bonaparte with the rank of lieutenant-general. Accompanying Napoleon in his march to Russia, he rode with him in his carriage in his disastrous retreat over the snows of that country. He had served in Spain in many bloody wars and was an active participant in the dreadful battle of Saragossa. Vivacious, active and handsome in person and graceful in carriage, he was the most splendid rider of the age in which he lived. His imperial master was so much attached to him that when forced to abdicate the throne, and about to depart for Elba and while addressing his weeping and sorrowing officers at Fontainebleau, said, 'I cannot take leave of you all, but will embrace General Desnoettes in behalf of you all." He then pressed him to his bosom in the most affectionate manner. Napoleon frequently made him valuable presents, and influenced his cousin, the sister of the celebrated banker, La Fitte to espouse him. While he was at Demopolis, that lady made an attempt to join him in exile, but being shipwrecked on the coast of England was forced to return to France. At length she negotiated with the French government for his return, and, through the influence of her family, succeeded in obtaining permission for him to reside in Belgium. This induced Count Lefebvre in 1823, to leave Alabama in the ship Albion, which was wrecked upon the coast of Ireland, at Old Kinsale, in view of an immense number of people who were standing on the cliffs. The distinguished refugee was washed overboard, and the ocean became his grave."
J. J. Cluis, mentioned elsewhere in this volume as having kept a hotel in Greensboro, came to this section with Count Lefebvre and was a man of note under the Napoleonic rule in France.
Joseph B. Stickney was the father of eleven children, as follows: Rev. William A. Stickney, Frederick G., Joseph B., Edward L., Thomas F., John, and Richard H. Stickney, the latter being at the time of his death in February, 1904, among the most prosperous and highly respected citizens of Greensboro. The daughters were: Mrs. Eliza Street, Mrs. Harriet J. Charles, Mrs. Olivia Morgan, and Miss Mary Stickney, all deceased.
Mr. Thomas F. Stickney says that soon after his father settled near Greensboro others came from North Carolina and located to the west of the present town,—among the number, Offa Shivers, Stith Evans, Benjamin Evans, the Morrisons and the Arnolds.
William A. Avery
The subject of this sketch, William A. Avery, was born four miles north of Greensboro on March 1, 1832. His father was William Ingram Avery, who came from North Carolina in 1818 and located near the present town of Greensboro. He built the first frame house ever erected in the town in 1818, for Peck, Brewer, and Bates. It was located on the site on which is now situated the two-story brick building occupied now by George Findlay and The Watchman office. William A. Avery has resided all his life in the territory of what is now Hale County.
For the past twenty years, he has lived with his family in Greensboro. In 1855 he married Miss Sarah Elizabeth Walton, daughter of the late Joseph Walton, who is remembered by many of the people as among the best and most highly-respected citizens of Hale County. Mr. Avery served for several years during the war between the States in the Confederate arsenal at Selma, Ala., engaged in the work of making gun carriages. He was so employed when Wilson's Raiders captured the city. Mr. Avery has been a member of the Methodist church for the past 45 years. He has always enjoyed the reputation of being a good citizen and a good neighbor.
Thomas J. Kinnaird
Thomas J. Kinnaird is among the oldest citizens of this vicinity. He has resided in Greensboro for a number of years past. He is the son of James A. Kinnaird and Mary McMaster Kinnaird. The father came to this county when quite a young man from North Carolina. His mother was a native of Greene County, Alabama. They resided at Green Springs, near Havana, Ala., at which place Thomas J. Kinnaird was born April 30th, 1830, and he has lived in what is now Hale County all his life. In 1855 he married Miss Keziah Lavender of Newbern, Ala. In 1862 Mr. Kinnaird enlisted in the Confederate army, and was a member of Company C 36th Alabama Regiment—Captain Wemyss company—and was in the Tennessee army and saw actual Service from Chickamauga to Spanish Fort. He served for four years, and was in many battles, but did not receive a single wound.
Mr. Kinnaird has been a member of the Baptist church for the past fifty years, having joined Bethsaida church in 1858. He is one of the original members of the present Greensboro Baptist church, being present at the organization in February 1894. He has always enjoyed the respect and confidence of the people among whom he has lived so long.
John L. Croom
One of the oldest living former residents of Greensboro is Mr. John L. Croom, who has kindly furnished the author valuable information for this volume. He was born in LaGrange, Ala., Nov. 26, 1826, and came with his father, Wiley J. Croom, to Greensboro in 1834, and resided here until 1850, when he moved to Matagorda, Texas, and for the past fifty-eight years has been a resident of Matagorda and Wharton counties. He served for ten years as County and District Clerk of Matagorda, and since the expiration of his term of office, he has been engaged in the real estate business. He was an orderly sergeant in Company A—Andrew L. Pickens, Captain, John R. Coffee, Colonel—First Regiment Alabama Volunteers in the Mexican War, and was honorably discharged from service, on account of disability to perform military duty, in July 1846.
In November of the same year, he married Miss Ellen R. Davis, at Matagorda, Texas, a lady who was born and reared at Franklin, Tenn. She died in Wharton, Texas, in October 1901. There were two children from this union, Judge W. J. Croom, and Mrs. Rosa F. McCamly, widow of the late Fred C. McCamly, a prominent lawyer of Texas.
Mr. Croom is a brother of Mrs. Eliza A. Tunstall of Greensboro and an uncle of Col. Wiley C. Tunstall of this place. He is spending the evening of his life happily with his children, grandchildren and great grandchildren in Wharton, Texas.
Mr. Croom furnishes the following list of old citizens of Greensboro whom he remembers as residing here during his early residence in the town:
Gen. Patrick May, soldier of the war of 1812; John May, cotton planter; Charles or Robert Fortune, dealer in Stock, and also kept a stage stand on his place at the forks of the road south of the depot; James McDonald, cotton planter; Dr. McCann; Shelby Chadwick, merchant; I. N. Chadwick, merchant; Jack Shackelford, merchant; W. Boardman, jeweler; Sam Cowin, hotel keeper; John G. Harvey, editor Alabama Beacon; Matthew Hobson, planter—father of Mrs. W. C. Tunstall and Mrs. W. D. Lee; A. Benners, Edward Benners, Jas. D. Webb, Wm. P. Webb, John Erwin, Wm. M. Murphy, Rob't. B. Waller, Henry Watson, Rob't D. Huckabee, lawyers; Samuel Webb, merchant; Albert Hendon, merchant; Thomas M. Johnston, merchant and planter; Maj. Bell, soldier of war of 1812; his sons were John, Bushrod, William and Frank Bell; Frederick Peck, merchant, and first postmaster; D. P. Stockton; Joseph and Jesse Seligman, the latter became a noted banker in New York; A. C. Horton, who was the first Lt. Governor of Texas; Dr. Sydney Vaughan; James Levi Tunstall, Thomas Webb, Wm. T. Hendon, P. W. Kittrell, Wm. Street, all physicians; one son of Dr. Kittrell and another of Dr. Street became district judges in Texas; Rev. D. P. Bestor; Rev. Sydenham Witherspoon; Rev. John DuBois, first manufacturer of cotton gins; Samuel Duncan, Benjamin and Geo. W. Briggs; Andrew J. Briggs, Samuel G, Hardaway, sheriff; Jos. Atkins, druggist; A. Stollenwerck, druggist; A. M. Dorman, merchant; Col. Isaac Croom, planter, and president of State Agricultural Society; Jessie H. Croom, planter; Dr. Stephen Davis; Dr. Wm. T. Barnum; Calvin Norris, planter; Dr. Wm. Jones; Samuel Boykin; Nat M. Murphy, lawyer; Mr. Murray, first fashionable tailor; Mrs. Pasteur, Mrs. Dickson, Mrs. Fowler, among the first settlers of Greensboro; Dr. R. U. DuBois, dentist; Samuel DuBois; David Barckley; Joseph Simmons, dry goods clerk and dancing master; Dr. Richard Croom; Mr. Reynolds, first tinner in the town; Dr. Jos. Reynolds, his son; B. F. Avery, ancestor of B. F. Avery & Sons of Louisville, Ky., celebrated for making Avery's plows; Thos. Archer, a great wit, and ladies' man; Rev. Thos. Chilton, grandfather of ex-Congressman Horace Chilton of Texas; Dr. Rufus Haywood, an eminent surgeon; Wm. P. Eaton, graduate of Yale college, school teacher; Mr. Whelan, tailor and only Roman Catholic in Greensboro in the early days.
1Excerpt from HISTORY OF GREENSBORO, ALABAMA From Its Earliest Settlement by William Edward Wadsworth Yerby, Montgomery, Alabama
Where Do I Start?: HINTS and TIPS for BEGINNING GENEALOGISTS with ONLINE RESOURCE

Do you need some guidance in your genealogy search? Save time and avoid pitfalls in your research. This book provides simple, no-nonsense instructions to help you get started. Many FREE research links included.
Tips include:
WHERE TO FIND – on-line resources, experienced genealogists will not be aware of many of these.
COURT RESEARCH – how to do courthouse research, where to find birth, death, social security records free on-line.
EIGHTY – ONE QUESTIONS – you should ask your elderly loved ones before it's too late.
TIPS ON BREAKING DOWN THE WALL – Everyone faces some difficulties in research, often called a 'brick wall' but WHERE DO I START? provides suggestions for overcoming them.