OLD CLAYTON, BARBOUR COUNTY, ALABAMA
(Transcribed From Smartt, Eugenia Persons..History of Eufaula, Alabama. Birmingham, Ala.: Roberts & Son, printers, 1930, c1933.)
The town of Clayton had its beginning about the time the county seat was located there. Barbour County, so named in honor of Governor James Barbour, of Virginia, was established by an act of Legislature passed in December, 1832; but actual work of organization was not begun until well into the next year.
It is well known that the first sitting of the circuit court in the new county, possibly for as many as two or three terms, was at Louisville, which in a limited sense at least, was the first county seat. Its more central location encouraged the few dwellers in the settlement ten miles north, by east from Louisville to seek the permanent fixing of the county seat in their midst.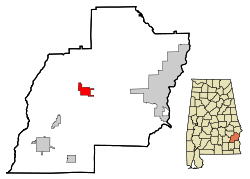 As early as August, 1833, the heirs of Daniel Lewis, who had recently died at his home in Pike County (from which Barbour was largely taken), conveyed to Green Beauchamp, Noah B. Cole, William Cadenhead, James A. Head and William Loveless, "Commissioners of the said county" (Barbour), "and their successors in office, the northeast corner of the west half of northwest quarter of Section 4, Township LO, of Range 26." This is the tract on which a considerable part of the buildings in Clayton, including the court house, now stand; but in the deed there is no mention of any town or village by any name whatever.
Besides the governmental numbers already mentioned the only description of the thirty acres is that they begin at a certain corner of the eighty "at a large post oak," and extend 60 poles east and west by 80 poles north and south.
Clayton became a town around 1836
In 1835, we find records of sales of land "upon which Clayton is situated," and by 1836 some records in which the ground conveyed is described as "a lot in the town of Clayton," giving the lot numbers "on the plan of said town.
The place was therefore first called a town about 1836. The town was named in honor of Judge Augustine S. Clayton, of Georgia, who, besides his service on the bench was a Representative in Congress from that State 1831 to 1835, and was doubtless known personally by some of the citizens of the newly formed community which took his name. He was a relative of the first Judge Henry DeLamar Clayton, who settled there some fifteen years later, and whose career is a part of the legal, military, and political history of the State of Alabama.
Henry De Lamar Clayton, Brigadier General in Confederate Army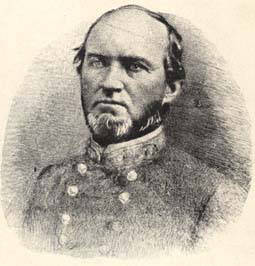 The new town was in a frontier country, from which the Indians had not been removed, and was sparely settled, the number of inhabitants about three hundred and fifty. There were of course, the county officers, sheriff, county judge, clerk of court all housed in a wooden building; nearby were about half a dozen wooden store houses, where were sold such articles as were required by a primitive farming territory.
Clayton, being approximately the center of Barbour County, is situated upon high table land, with good draining in every direction. From every point of the compass it is uphill, however, the grade is so gradual that one is surprised when told that it is the highest point in the county, being 600 feet higher than Eufaula. It is on the head waters of the Pea and Choctawhatchee Rivers and twenty-one miles west of Eufaula.
Sent first soldiers for duration of the Civil War
Clayton is an old town rich in the flavor and fragrance of the glamour (sic) and glory of the history of its people that have served through the War Between the States and those following.
It claims to have sent forth to the War Between the States the first soldiers to enlist in the Confederate army for the duration of the war. The company of men that proudly claim this distinction was known as the "Barbour Grays." Their encampment before departure from Clayton was in the body of woods just back of the old "Campbell Home," later known as the Caraway home, and now owned by the Bushes.
Some of the citizens who were leaders of early days"
John C. McNabb, Dr. John McNeil, Ben Petty, Preacher Soloman, Mrs. Atlanta White, Joe and Walter White, George W. Peach, Captain A. V. Lee, Jere N. Williams, General Henry DeLamar Clayton, Gus Borders, Whit Clark, Hubbard Dent, James J. Will, M.D., Barons, Hinsons, Parishes, Campbells, Wiley E. Jones, A. H. Alston, Major Pruett, A. L. Martin, A. Manassas, Seth Mabry, Dan Mabry, Bill Nix, Dills, Mrs. McRae (96 years of age).
Clayton's first courthouse was built of round pine logs with one window and one door, and was about twenty feet square. Judge Anderson Crenshaw was the first presiding in this court. William Loveless was first commissioner. The second court house was built in 1852.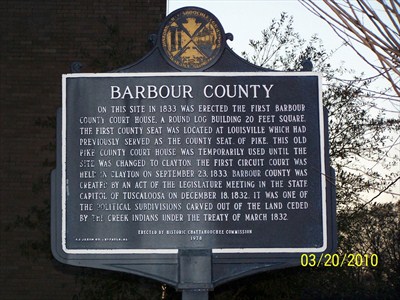 In 1924 this main structure was used and wings added, and a beautiful stone, two-story building stands today, with well equipped offices for the county officials.
The old Courthouse building (below) in Clayton is made of brick and overlaid with white cement. It was constructed in May 1852 and was the first courthouse in Barbour County. It cost $9,695 and was built with slave labor (Alabama State Archives)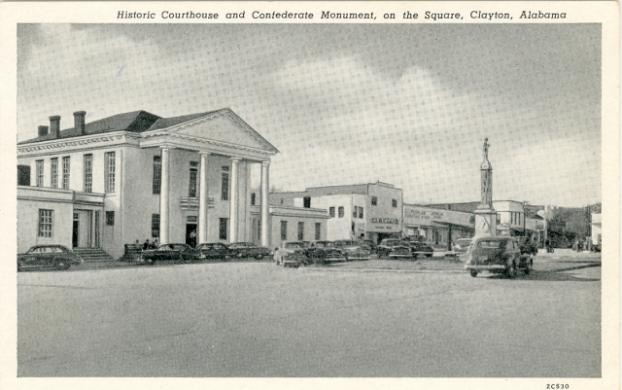 On the second floor is the large court room where court is held for Barbour County.
Facing this beautiful building is a lovely square, in the center of which is an impressive memorial dedicated to the Confederate soldiers.
The post office is opposite this monument, and surrounding the square are numbers of progressive stores.
The last census gave a population of 1717 inhabitants (probably 1930). It has a mayor and council form of government.
It has electric lights, excellent water system, paved streets, two banks, excellent public schools, cotton warehouses, saw mills, plainning (sic) mills, wood working plants and a progressive newspaper, The Clayton Record.
The first deed to church property was the Methodists Episcopal Church, South, recorded 1846. Of the present house of worship the oldest is probably Grace Episcopal, built in 1871.
Facade of the Grace Episcopal Church in Clayton, Alabama ca. 2000 (Alabama State Archives) 
Rear elevation of the Grace Episcopal Church in Clayton, Alabama. ca. 2000
Belltower of the Grace Episcopal Church in Clayton, Alabama ca. 2000
Nave and chancel of the Grace Episcopal Church in Clayton, Alabama
Episcopal church in Clayton, Alabama ca. 1940
The Presbyterian was built a year or two later. The Methodist and Baptist Church structures now standing were erected within the past thirty years. These succeeded structures of a much earlier date.
A stranger, unfamiliar with the history of Clayton, knowing only the number of inhabitants, would never realize its importance as a business center, its greater importance as an educational, cultural, and religious center, its influence in all these respects radiating and making these influences count, not only throughout the county and immediate territory but even beyond the borders of the State.
George Reynolds and family standing in front of their home in Clayton, Alabama ca. 1890 (Alabama State Archives)
Miss Nannie Lee Winn of Clayton, whose father and brother were doctors, stood a highly creditable examination before the State Board of Health in 1907. She was the only Barbour County woman physician.
Winn homestead in Clayton, Alabama (Alabama State Archives)
Cross of Honor
Names of Confederate veterans of Clayton, Alabama, who received crosses of honor in 1902
J. Z. Andrews, J. T. Bolt, A. A. Crews, J. B. Fryer, W. H. Nix, J. C. Thomas, A. A. Dorman, A. L. Martin, C. W. Fenn, R. M. Lee, A. V. Lee, A. I. Borders, E. B. Bush, Daniel Faegin, Milledge Johnson, M. L. Passmore, John C. Williams, J. W. Grubbs, Jere N. Williams, N. B. Coles, E. R. Quillien, Jacob Utsey, W. H. Williams.
A procession of veterans at taps of drum was formed in front of the court house by Judge Pruitt, commander of Clayotn Camp, and marched to the church.