Excerpt from ALABAMA FOOTPRINTS: Confrontation (Story continued below)
William Weatherford – Red Eagle
Among the Native Americans, Tecumseh found a bold, gifted, and eloquent leader named William Weatherford (also known as Lamochattee, Red Eagle, Hoponida Fulsahi, and Billy Larney1). His parents were Charles Weatherford, a thrifty Scottish peddler and Sehoy Marchand, daughter of the Tookabatcha chief. Sehoy was the widow of Colonel Tate (Tait), a British officer who had commanded Fort Toulouse and the half-sister of Alexander McGillivray. The Weatherfords became prosperous and owned a large plantation on the Alabama River where they had a store, farm, and race-track.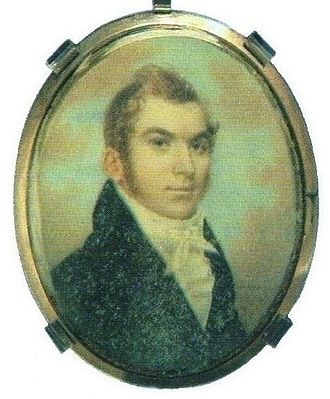 Into this home of wealth, their son William was born ca. 1774. (Note: His exact birthdate is not known) He was well skilled in all the arts of hunting as well as the rudiments of war as practiced by his people. It was said that he stood six foot two inches tall and weighed around 175 pounds. Red Eagle was a rich planter who lived near the Holy Ground.
In the company of his uncles, Alexander McGillivray and LeClerc Milfort, he learned of the aggression of the whites and the wrongs they had committed against his mother's people. Wars with the Choctaws and Chickasaws, and occasional attacks on the whites, developed his military qualities and his matchless prowess.
An eloquent and passionate speaker, Weatherford heard Tecumseh at Tuckabatchee, but he counseled against Tecumseh's plans for war. Even when he discovered the irrepressible spirit of war working its doom among the Creeks, he still remained reluctant to war against the whites because his brother John, his half-brother David Tate, and others of his Native American blood were friendly to the whites.
But Red Eagle began to realize that the white man was rapidly multiplying in the Tombigbee area, and he knew that the Americans had made acquisitions of new territory which would still further invite American emigration into the neighborhood of the Creek Nation and he became alarmed. No matter on which side he fought he was bound to suffer so when the storm came on, he did not stand by as an idle watcher. He joined the Creeks.
When Tecumseh visited the Creeks, he took Red Eagle into his councils, and made him his confidant and principal fellow-worker. Red Eagle's knowledge of the Creeks helped Tecumseh win over more Native Americans to his cause. Acting upon Red Eagle's suggestion, Tecumseh used his prophet, Josiah Francis, to increase the numbers of the war party by ensuring their success through prophecies.
Still, Red Eagle hesitated to enter the war for sometime. He was eager for war between the Creeks and whites, but a war between a part of the Creeks on the one hand, and the rest of the Creeks with the whites on the other, a war in which he must fight his own brothers and his nearest friends, was a very different and much less attractive war.
"There was another reason of Red Eagle's hesitation at this time—perhaps a stronger cause than either of the others. He was in love, and his sweetheart was among the people whom he must fight if he fought at all. Weatherford was a rich planter, and lived at this time on a fine place near the Holy Ground, and being a young widower he had conceived a passionate fancy for one Lucy Cornells, a young girl of mixed Indian and white blood, who has been described by persons who knew her as very attractive and beautiful. However that may be, it is certain that Red Eagle's devotion to her was profound."
1According to a family friend, Thomas S. Woodward, William Weatherford was not called Red Eagle until 1855 after a publication of A. B. Meek's poem, The Red Eagle: A Poem of the South, which was a lengthy romanticized tale based loosely on Weatherford and his exploits. Today William Weatherford is nearly universally called Red Eagle by writers even though it does not appear to have a basis in fact.
ALABAMA FOOTPRINTS Confrontation: Lost & Forgotten Stories (Volume 4)
Alabama Footprints Confrontation is a collection of lost and forgotten stories that reveals why and how the confrontation between the Native American population and settlers developed into the Creek-Indian War as well as stories of the bravery and heroism of participants from both sides.
Some stores include:
Tecumseh Causes Earthquake
Terrified Settlers Abandon Farms
Survivor Stories From Fort Mims Massacre
Hillabee Massacre
Threat of Starvation Men Turn To Mutiny
Red Eagle After The War