The purpose of the Alabama Sons of Confederate Veterans is to preserve the history and legacy of these heroes so that future generations can understand the motives that animated the Southern Cause. The photographs below include some of the early members and veterans.
Organized in 1896
The United Sons of Confederate Veterans was organized at Richmond, Virginia, June 30, 1896. Its constituent bodies are Departments, Division, Brigades and Camps. The first camp in Alabama to affiliate with the Confederation was Camp John Pelham No. 16, of Auburn, organized with sixty-two members, Nov. 7, 1896. From this date the Division may be said to date its existence.
On Aug. 10, 1897, Dr. Patrick H. Mell, of Auburn, was  appointed Commander of the Division.
Dr. Patrick H. Mell
Thomas M. Owen leading a parade at a United Confederate Veterans reunion in Birmingham, Alabama June 11, 1908
On Oct. 12, 1898, Thomas M. Owen, then of Carrollton, was appointed to succeed Dr. Mell, and he in turn was succeeded by Warwick H. Payne, of Scottsboro, Sept. 9, 1901.
First Reunion held in Montgomery
On Nov. 13, 1901, the first Division reunion convention was held in the city of Montgomery, at which time a constitution was adopted and formal organization effected. At the reunion in Mobile, Nov. 15, 1905, the Division was subdivided into five brigades.
Reunions have been held as follows: Montgomery, Nov. 13, 1901; Montgomery, Nov. 12, 1902; Birmingham, Nov. 4. 1903; and Mobile, Nov. 15, 1904. In 1905 the reunion was called for Huntsville, but was not held owing to the prevalence of yellow fever on the gulf coast.
Reunion of the 15th Alabama Infantry, C.S.A., in Montgomery, Alabama  Nov. 1902 – Alabama State Archives
Members of United Confederate Veterans Camp Lomax in front of a memorial in Oakwood Cemetery in Montgomery, Alabama ca. 1905 – Alabama State Archives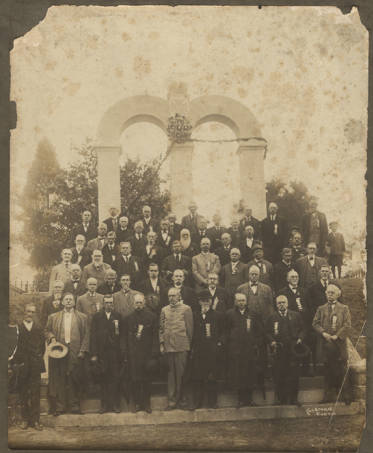 Below – John Apperson, commander-in-chief of the United Sons of Confederate Veterans, in the parade at a reunion in Birmingham, Alabama. July 11, 1908 – Alabama State Archives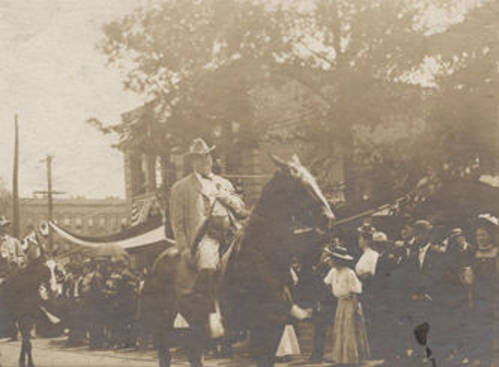 Below – Dr. Marshall Wingfield, Commander-in-Chief of the Sons of Confederate Veterans, with James W. Moore, commander of the United Confederate Veterans ca. 1944 -Alabama State Archives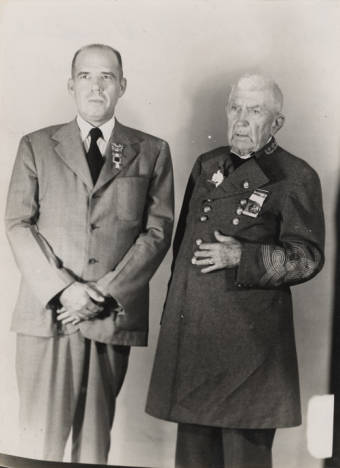 Moore  (above) is wearing a Confederate officer's uniform. During the Civil War he enlisted with Morgan's Partisan Rangers (a unit of Wheeler's Cavalry) at age 13; because of his young age, he was sent home after a year of fighting. He attended the Virginia Military Institute after the war and graduated in 1873
Objects.—"Its objects are, through closer organization, to bring about a better accomplishment of the objects of the general Confederation"—Constitution,1901.
First Officers, 1901.—Warwick H. Payne, Division Commander; T. Sidney Frazier, Division adjutant; B. B. Cohen, Division inspector; Francis M. Purifoy, Division Judge advocate; Leon McCord, Division quartermaster; Rev. Eugene Crawford, Division chaplain; Dr. R. Paul Jones, Division surgeon; Clayton Tullis, Division commissary; and E. O. McCord and G. G. Allen, aides.
Below -Eight Confederate veterans on the steps of the Capitol in Montgomery, attending the last known Confederate veterans reunion in the state
Standing left to right: General William Banks of Houston, Texas; General W. W. Alexander of Rockhill, South Carolina;General J. D. Ford of Marshall, Texas; General T. H. Dowling of Atlanta, Georgia; General James W. Moore of Selma,Alabama; Colonel W. H. Culpepper of Atlanta, Georgia; and General W. M. Buck of Muskogee, Oklahoma. Seated in front is Dr. R. A. Gwynne of Birmingham, Alabama, the only African American to attend the reunion. This image was used and identified in the Alabama Historical Quarterly, Volume 6, page 6 (1944) – Alabama State Archives
RELATED STORIES
History of the Confederate Flag – There were actually four official Confederate flags
The Last Confederate Reunion held in 1944 in Alabama – all the men were in their 90s [photographs]
Amazing [vintage film] of real Confederate vets giving the Rebel Yell in Washington D. C.
SOURCES
History of Alabama and Dictionary of Alabama Biography (in Four Volumes) by Thomas McAdory Owen (Author), 1921
Alabama Department of Archives and History