From the Birmingham Iron Age of July 2, 1879, we gain a perspective on how children were dressed around this time with this article. The editor obviously disagrees with the practice.
Why Do Children Die?
The reason why children die is because they are not taken care of. From the day of birth they are stuffed with water, suffocated in hot rooms, and steamed with bedclothes. So much for indoors. When permitted to breathe a breath of pure air once a week in summer, and once or twice during the colder months, only the nose is permitted to peer into daylight.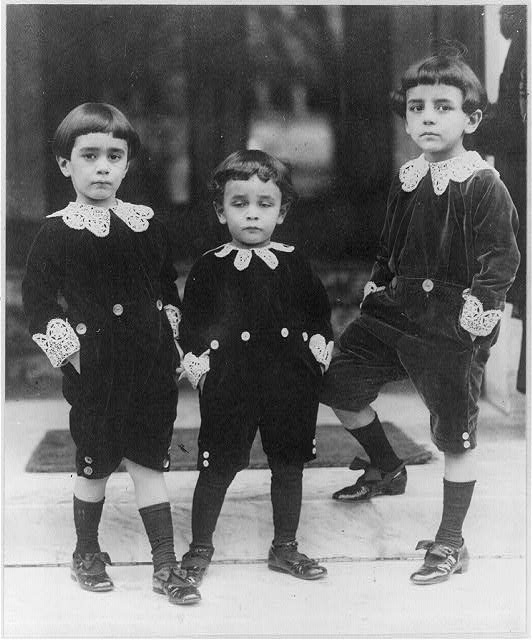 Parts Of The Body Not Covered
A little later they are sent out with no clothes at all on the parts of the body which most need protection. Bare legs, bare arms, bare necks, girted middles, with an inverted umbrella to collect the air and chill the other parts of the body. A stout, strong man goes out in a cold day with gloves and overcoat, woolen stockings and thick doubled-soled boots, with cork between and rubbers over. The same day a child of 3 years old, an infant of flesh and blood, and bone, and constitution, goes out with hose as thin as paper, cotton socks, legs uncovered to the knees, neck bare, an exposure which would disable the nurse, kill the mother outright, and make the father an invalid for weeks. And why? To harden them to a mode of dress which they are never expected to practice; to accustom them to exposure which a dozen years later would be considered downright foolery. To rear children thus for the slaughter pen, and then lay it to the Lord, is too bad. We don't think the Almighty had any hand in it.
Clothing Should Be Adapted
The clothing of children should be adapted on the principles of common sense, to protect their health, and not made scant, for the gratification of a parent's vanity. The neck and arms of a child are, indeed, exquisitely soft and beautiful; yet the delicate skin, which fond mothers are so anxious to show uncovered, is sensitive in the extreme to the action of cold, and hardly any practice can be worse than to allow bare neck and limbs.
Use Common Sense
Many a child is thus killed by the folly which exposes parts of the person which are carefully protected in adults. A little more common sense, mothers, more sleeves, and sacks, and high dresses, and less vanity and fashion, and you will have fewer little graves to weep over.
Start researching your family genealogy research in minutes.

 

This inexpensive Ebook has simple instructions on

 

how to get started with FREE sources. Download 

WHERE DO I START? Hints and Tips for Beginning Genealogists with On-line resources 

to your computer immediately with the a FREE APP below and begin your research today!
Reviews
"This book was very informative and at a very modest price. One web site I may have missed in your book that has been very helpful to me is genealogybank.com. I found articles about several of my ancestors in their newspaper archives. Thank you for your great newsletter and this book."
"The book was clear & concise, with excellent information for beginners. As an experienced genealogist, I enjoyed the chapter with lists of interview questions. I'd recommend this book to those who are just beginning to work on their genealogies. For more experienced genealogists, it provides a nice refresher."