For Removing Oil – Chloroform will remove machine oil from any garment except a silk one.
For Moths in Closets – Get a wide-mouthed bottle and fill it with oil mirbane. Leave the cork out of the bottle and place it in the trunk closet in such position that it will not tip over. The fumes are very poisonous to insects. For a very large closet, use a larger bottle and larger amount of oil. Renew the oil when needed. Sprinkle heavy blankets, quilts, etc. with the oil of mirbane before putting it away.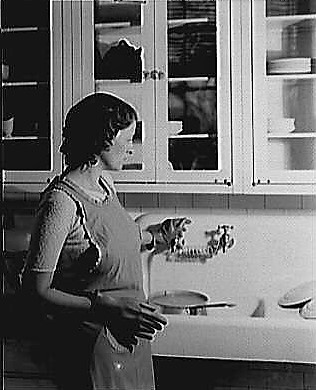 For Dull Mirrors – If mirrors be very dull and speckled, the following method is excellent: Take a small portion of whiting and add sufficient cold tea to make a paste; rub the glass with warm tea, dry with a soft cloth; rub a little of the paste well on the mirror and polish dry with tissue paper.
For Dresser Drawers – When lining dresser drawers or cupboard shelves, cut 3 layers of paper. Place all at once. When the top one is soiled, slip off the top one and there's a clean one ready.
For Remembering Special Days – It's easy to remember anniversaries and special days with a greeting if you select all your cards at one time. Address the envelopes and and index them according to the date they should be mailed.
For Peeling Onions – Onions will not make the eyes water if scalding water is poured over them before they are peeled.
Would you like to know Thomas Jefferson's recipe for Vinegar of the Four Thieves or how to make Ox Tail Soup? Discover this recipe as well as many household tips from the past in