{We often take for granted our health care today, but in the past, these diseases that we now can treat with vaccinations were feared as can be seen by these news articles. We should remember the one about tetanus when involved in cleaning up after thunderstorms and tornadoes. Many adults tetanus shots have expired. Check here for other vaccinations we may need.}

Tuscaloosa News July 30, 1931 
MALARIA TESTS BEING MADE IN MACON COUNTY – Two Thousand Residents of County Aiding The State Health Department. – Montgomery, Alabama – July 30 – Definite assurance that the drug Plasmochin will break the malaria chain of carrier-mosquito-victim in Alabama is being sought by the state health department in a unique experiment underway in Macon County.
Two thousand residents of Macon County are aiding in the test which is being carried out under the personal supervision of Dr. D. G. Gill, health department expert.
Tuscaloosa News  – July 30, 1929
11-YEAR OLD GIRL DIES WITH TETANUS AFTER SLIGHT CUT
The result of tetanus, which followed a slight cut on the toe received two weeks ago when she stepped on a piece of glass, Miss Ruby J. Channell, eleven-year-old daughter of Mr. and Mrs. W. Y. Channell of 1504 Seventeenth street, passed away at the Druid City hospital at 2 o'clock yesterday afternoon.
She is survived by her mother and father, four sisters and one brother, all of Tuscaloosa. Funeral service and interment took place today at the Parker cemetery near Buhl. Jones & Spigener in charge.
The child is the second to die this month as a result of the infection in Tuscaloosa. On July 17 a negro child stepped on a nail. She passed away on July 22.
The Florence Times July 30, 1936
ANOTHER DIES IN OUTBREAK OF PARALYSIS But Shoals Outlook Is Better As No New Cases Reported
by the Associated Press
Alabama registered its fourteenth death from infantile paralysis today to bring the toll in the current Deep South outbreak to 22.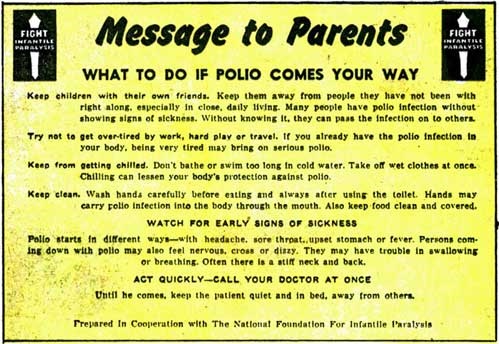 Nine new cases were reported today, one in Georgia, two in Alabama and six in Tennessee and brought to 329 the number stricken by the malady.
Alabama's death was that of Alfred Galley, eight year-old Birmingham boy. Both of the state's new cases were also reported from Jefferson county, bring the the ….in the state to 229.
SHOALS OUTBREAK AT STANDSTILL
There were no new cases of infantile paralysis in the Muscle Shoals district today, Dr. R. E. Harper, Colbert county health officer, and Dr. W. D. Hubbard, Lauderdale county health officer, reported the total remaining at 56 cases, 32 in Lauderdale and 24 in Colbert.
More than 1,000 persons received the nasal spray treatment at several Florence public clinics yesterday morning which were conducted by Dr. Hubbard and Mrs. R. D. Easter, county health nurse, and by three negro doctors, Dr. J. A. Townes, Dr. L. J. Hicks and Dr. H. Long.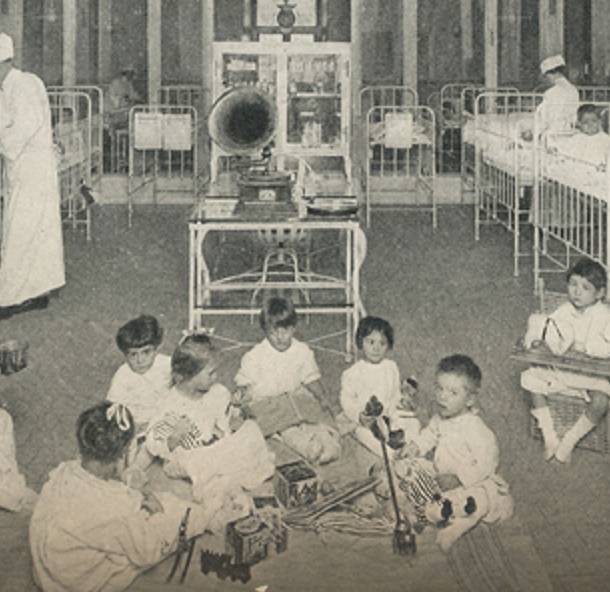 The clinics will be repeated Friday and Monday at the same places and hours in Florence. Meanwhile many persons were taking the spray privately in their homes in all three cities and out in the counties and many others were availing themselves of the opportunity of obtaining free spraying at the Ritz and Strand theatres in Sheffield and Tuscumbia, respectively.
TUSCALOOSA NEWS – July 30, 1941
Montgomery, Alabama –
Infantile paralysis claimed another life in Alabama today, that of an eight year old Etowah (Gadsden) County child, as four new cases were reported and Dr. J. N. Baker, state health officer warned parents not to take chances when a child's stomach is upset or he complains of a headache and fever.
The new cases boosted to 168 the number diagnosed since July 1, and the death was the second officially known one chargable (sic) to the disease.
A quick medical examination in event of illness was urged by Dr. Baker, who said symptoms of infantile paralysis were similar to those of other diseases, particularly intestinal upsets to which children are especially susceptible in warm weather.
Today's new cases were from Ethowah which reported two, Butler and Lauderdale Counties, in opposite ends of the state, and appeared unconnected, as have most others except in Jefferson, Pickens, Walker, Tuscaloosa and a few other counties.
Fifteen new diagnosis were reported yesterday, moving the outbreak within 11 cases of the July 1936, total of 176—an all-time high for any one month in Alabama. In August five years ago, 106 cases were found.
Dr. Baker said parents sometimes think their children are suffering from an upset stomach or other minor ailment and administer the usual home remedies during the night, only to make the terrifying discovery the next morning that the children can not stand alone because their legs are paralyzed.
"A physician should be called at once as soon as there is the slightest reason to suspect poliomyelitis, especially when an abnormal number of cases are occurring," he said, adding that "usual early symptoms are vomiting, headache and moderate fever."
"Sometimes these symptoms are accompanied by pains and stiffness of the back and spine and a coarse tremor, or trembling," he continued.
"In all but a few cases, the patient's mind is clear, although there may be indications of drowsiness and perhaps a certain degree of irritability."