In 1898 the Merrimack Manufacturing Company, based in Lowell, Massachusetts, began to look for a location to build a cotton spinning mill in the Southern United States. Tracy W. Pratt, a Huntsville businessman who owned the West Huntsville Cotton Mill convinced the company to choose a site southwest of Huntsville. (continued below )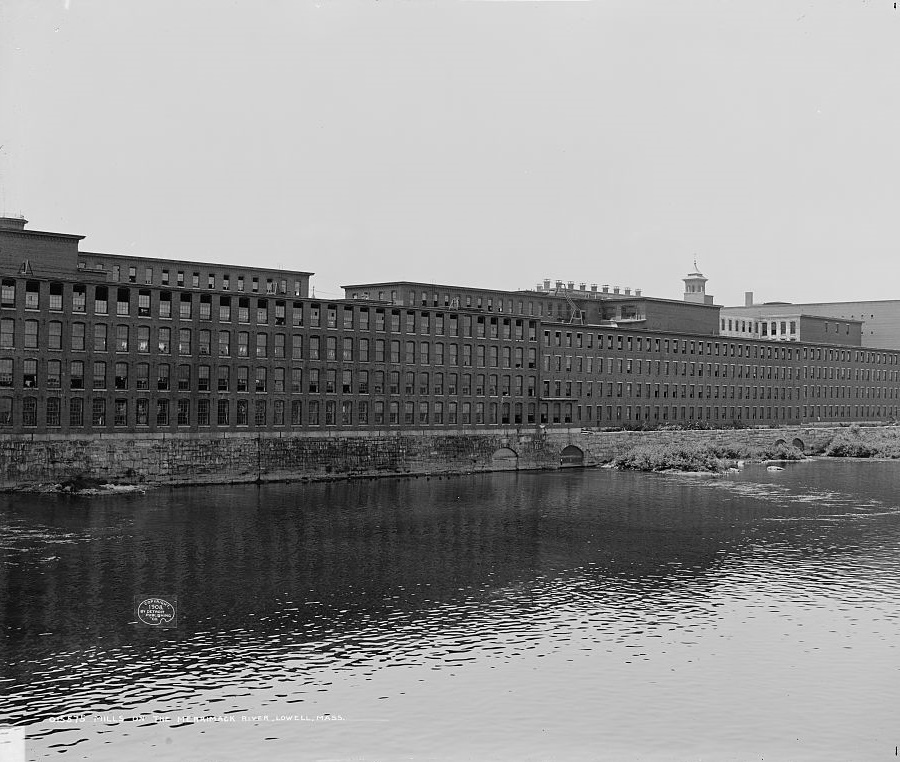 Mill on the Merrimack River, Lowell, Mass. 1908 (Detroit Publishing company – Library of Congress)
The Merrimack cotton mill was built in 1900 by the Merrimack Manufacturing Company, and reached a peak of 1,600 employees by 1955. The mill was sold in 1946, and became known as the Huntsville Manufacturing Company. It continue to operated until 1989 and was torn down in 1992.
The original company was built on 1,385 acres near Brahan Spring. The mill produced grey cloth which was finished in Rock Hill, South Carolina. It was powered by steam from a coal boiler until 1920 when it was converted to electricity. A village of about 60 houses was built to house the around 500-750 workers and their family . The village also had a dry goods story, operated by the W. l. Halsey Company.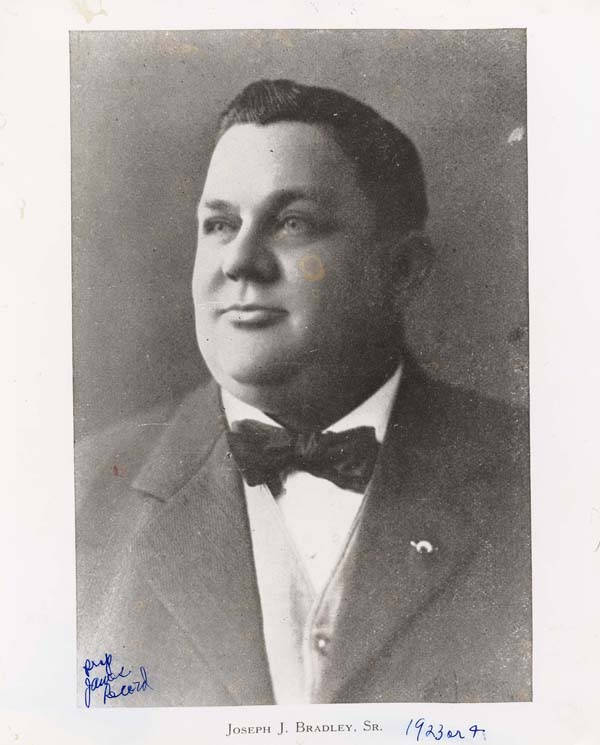 Joseph J. Bradley, Sr. (1868-1922) Pennsylvania born "Big Joe" Bradley was the agent and general manager of Merrimack Mill from 1905 until his death October 26, 1922. He was a community leader and an advocate for his employees. Joe Bradley School was named for him. After his death, his son, Joseph J. Bradley, Jr. became Merrimack's agent for about 15 years. From James Record Collection (courtesy of Huntsville Library)
Second Mill constructed in 1904
Merrimack constructed a second mill in 1904 which brought the capacity up to 90,000 spindles and 2,900 looms. Around the same time, Joseph J. Bradley, Sr. was appointed the mill's agent and began improving services for those who lived in the village. A hospital was opened in one of the houses in 1913 which was replaced in 1919 with a larger brick building named in Bradley's honor.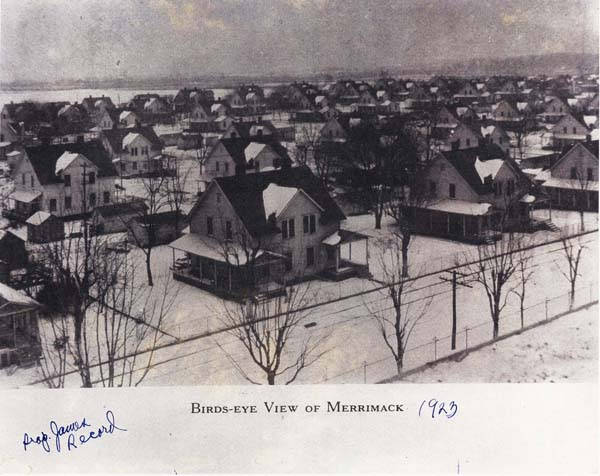 Merrimack Mill Village – birds eye view 1923 from James Record Collection (courtesy  of Huntsville Library)
Mill and amenities expanded in 1920
The mill expanded in 1920 with the addition of 30,000 square feet. The mill store also incorporated the old frame structure to include a gymnasium, theater, community rooms and other amenities. Newer houses, wired for electricity were also built.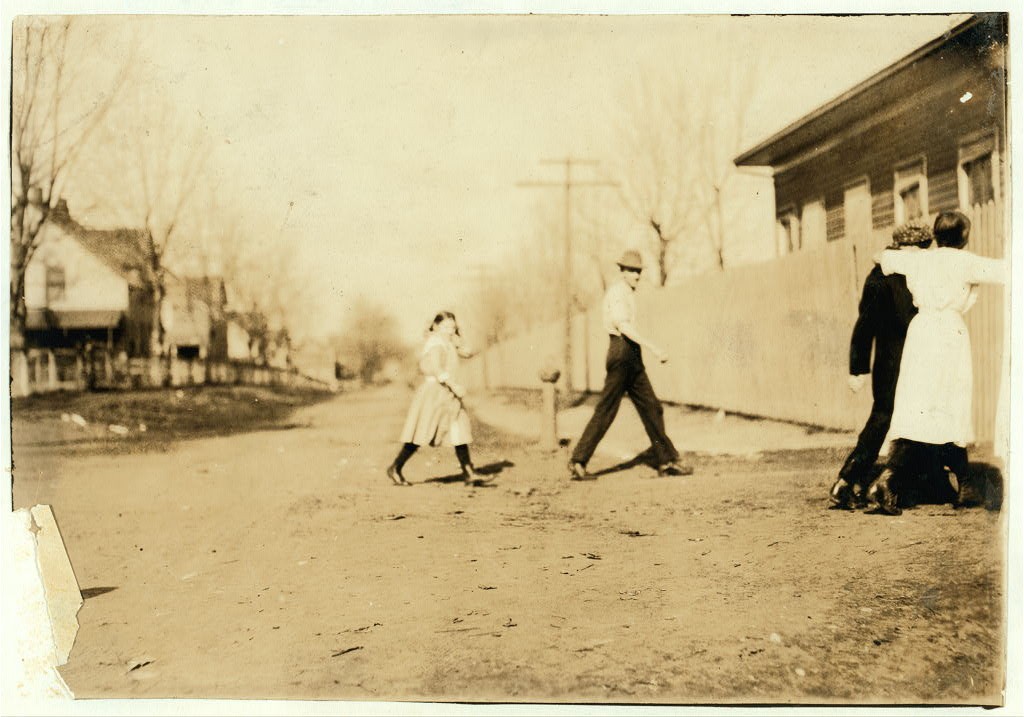 Going to work at Merrimack Mills in 1913, (Library of Congress)
Financial troubles in the Great Depression
When the Great Depression occurred, the company fell into financial trouble. After the number of employees dropped off to almost half, the Merricmack mill began selling village houses. Labor unions became a presence in the 1930s and violence occurred in Huntsville in 1934 during a strike by the United Textile Workers of America to improve working conditions.
After World War II, business rebounded, but the aging equipment and soft prices, the mill was wold to Lowenstein and Co. of New York City. Lowentstin modernized the mill and expanded to a 24-hour production day. More house were sold to employees and the school was donated to the Madison School District. By 1955, both mill buildings were connected and air-conditioned.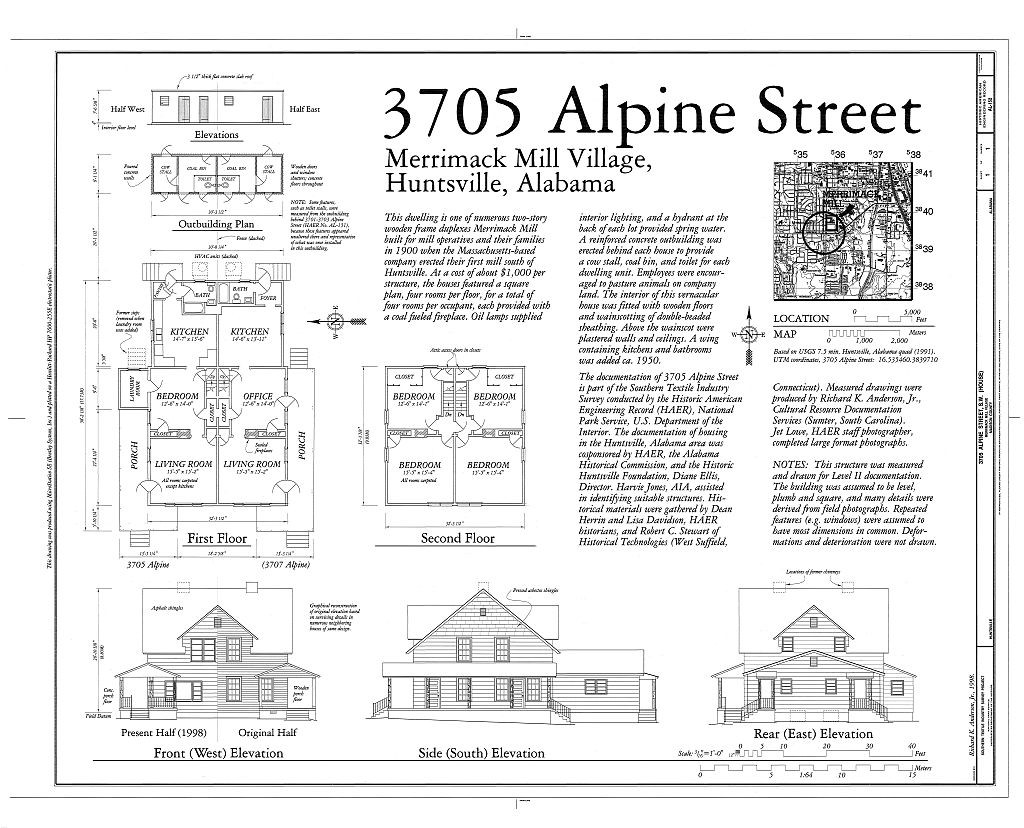 3705 Alpine Street, Merrimack Mill Village, Huntsville, Alabama (Library of Congress)
Houses in the adjoining mill village were built between 1900 and 1937, and encompass many mill house styles not commonly seen outside New England. Today, most of the nearly 300 structures built for mill workers are simple wood-frame cottages or side-by-side duplexes that can be converted into single-family homes. The district was listed on the National Register of Historic Places in 2010. In 2012, a typical one-story, 1,200-square foot fixer-upper cottage started at around $40,000. A 2,200 square-foot duplex was around $80,000.i
SOURCES
Wikipedia
REVIEW: Ribbon of Love was a wonderful love story of Henry and Mary living and struggling to succeed as one of the first families in the colony of Virginia in the 1600s. In addition to the love story, the descriptions of the clothing, home furnishings, personalities, family life, church and community are most intriguing. The exhilarating action and subplots keep the reader in constant anticipation. It is almost impossible to put the book down until completion. – Dr. Don P. Brandon, Retired Professor, Anderson University