(Alabama was a busy place in the early 1800s and a simple horse path through the state turned into a major road for early pioneers. Some remnants of this early road are visible today)
The Federal Road
After the Louisiana Purchase from France in 1803, the United States government realized a way was needed for settlers and troops to access the new areas.  Beginning in 1806 through 1811, a simple horse path was created through the Creek Nation from Georgia to coastal Alabama. The Creek had reluctantly granted access via treaty for this horse path. When West Florida was annexed from Spain in 1810, this added to the need for a road.
Map showing portions of old Federal road
"The Old Federal Road successfully connected Fort Stoddert to the Chattahoochee River. At that point, the Federal Road merged with the earlier postal riders' horse path that linked Athens, Georgia, to New Orleans, Louisiana. Unlike the old horse path, the Federal Road went eastward making a connection with lands ripe for the recruitment of soldiers and obtaining supplies for the military. This path quickly became a major travel route for pioneers to the area once known as the Old Southwest.
Old Federal Road became a major military road
From its start as a narrow horse path used to carry the mails, the Old Federal Road underwent great development and became a major military road connecting early American forts in the Creek Lands and the Mississippi Territory. Acting as the interstate highway of its day, when "Alabama Fever" raged through the Carolinas and Georgia, the Old Federal Road carried thousands of pioneers to the Old Southwest. As such, the Federal Road directly contributed to the dramatic increase in Alabama's population between 1810 and 1820 – with Alabama's population growing far faster than that of either Mississippi or Louisiana during this time. Alabama continued out-distancing both Mississippi and Louisiana in population growth through 1850." (from History of the Old Federal Road in Alabama)
Creeks became increasingly hostile
As the Creek Nation realized that people were doing more than just passing through, and many were settling in their lands, they became increasingly hostile and in 1813-1814 the Creek War began in attempt to drive the settlers out. This is also considered by some to be a continuation of the War of 1812 with Great Britain (the Creeks fought with the British against the United States).
In August of 1814, the Treaty of Fort Jackson was signed with the Creek Nation which ceded nearly half of Alabama to the United States.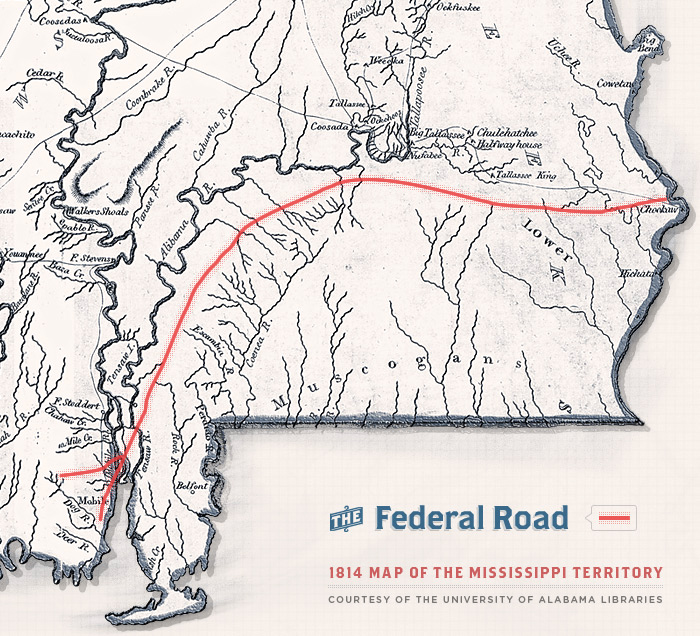 In 1817, the Alabama Territory was established with its capitol at St. Stephens, and on December 14, 1819, Alabama became the 22nd state in the Union.
In 1830, the United States Congress passed and President Andrew Jackson signed the Indian Removal Bill, and by 1835 the Seminole Indians in Florida were fighting for their land.  The Creek Nation in Alabama in 1836 also began fighting for what was left of their land in Alabama, and the Second Creek War began.
SOURCES
History Of Alabama And Incidentally Of Georgia And Mississippi From The Earliest Period; Annals Of Alabama 1819-1900
Some stories include:
The true story of the first Mardi Gras in America and where it took place
The Mississippi Bubble Burst – how it affected the settlers
Did you know that many people devoted to the Crown settled in Alabama –
Sophia McGillivray- what she did when she was nine months pregnant
Alabama had its first Interstate in the early days of settlement
Check out genealogy books and novels by Donna R. Causey
(Visited 38,044 times, 1 visits today)