Throwback Thursday
February 11, 1930
From The Tuscaloosa News, Tuscaloosa, Alabama
10 HIGH SCHOOL PUPILS RECEIVE HIGHEST HONORS
Students Are Elected Into National Honor Society Of Tuscaloosa High
Ten new members from the senior class of the Tuscaloosa High School were elected to membership in the Druid Chapter of the National Honor Society at this school in the Tap Day exercises Monday, Those chosen to this honor were Christine Shirley, Gerald Little, Marshall Neilson, John Phillips Godfrey, Mabel Dominick, Louise Tabb, Mildred Spiller, Mary Louise Bell, Thomas O'Harrow and Elvira Cochrane.
Mary Courtney Catlin, president of the Druid Chapter, presided. Tom Birdsong led the devotional services. Cherokee Shirley delivered the welcome to the new members. Two other members of the senior class who were chosen to this honor last year were Harriett Finnell and Martha Smith.
Dean Dabney S. Lancaster, from the University, delivered the principal address of the occasion.
The members of this society are selected each year by the faculty. A student must rank within the highest third of the class in scholarship before he or she is eligible to membership. The other points on which the teachers make their selections are, leadership, character and service.
Members from the junior class will be chosen later in the term. Five per cent of the class may be chosen if they qualify.
BIRMINGHAM MAN HIT BY NEW ORLEANS TRAIN
George Healey, 46, Fatally Hurt By Electric Train
NEW ORLEANS, Feb. 11.—(AP) —Struck by a suburban electric train early this morning, George Healey, 46, of Birmingham, Ala. Suffered a probably fracture of the skull and fractures of the right jaw, left arm and left hip.
Healey is said to have alighted from a street car at Murat and Canal streets, and to have stepped into the path of the train.
Advertisement for Lucky Strike Cigarettes promotes smoking to keep a trim figure and throat protection. The words at the bottom of the ad state: Lucky Strike, the finest Cigarette a man ever smoked, made of the finest tobacco – The Cream of the Crop – "IT'S TOASTED," Everyone knows that heat purifies and so "TOASTING" not only removes impurities but adds to the flavor and improves the taste. – Your Thoat Protection – against irritation – against cough.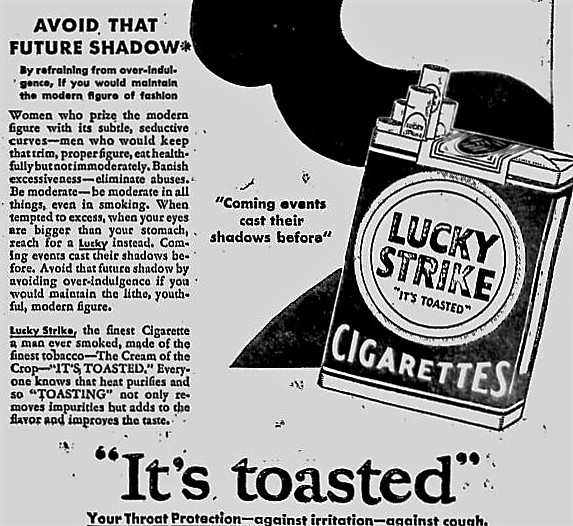 Alabama Footprints Confrontation is a collection of lost and forgotten stories that reveals why and how the confrontation between the Native American population and settlers developed into the Creek-Indian War as well as stories of the bravery and heroism of participants from both sides.
Some stores include:
Tecumseh Causes Earthquake
Terrified Settlers Abandon Farms
Survivor Stories From Fort Mims Massacre
Hillabee Massacre
Threat of Starvation Men Turn To Mutiny
Red Eagle After The War
(Visited 467 times, 1 visits today)