Happy Birthday!
WILLIAM PROCTOR GOULD HARDING
BIOGRAPHY and GENEALOGY
(1864 – 1930)
Greene and Jefferson County, Alabama
William P. G. Harding was president of the First National bank of Birmingham, Alabama. He was born in Boligee, Greene County, Alabama, May 5, 1864. He was the son of Horace and Eliza P. (Gould) Harding, of Tuscaloosa, Alabama.
College Graduate at age of sixteen
William was educated in private schools in Tuscaloosa and in the University of Alabama, graduated with the degree of bachelor of arts in 1880, and master of arts in 1881 and the age of sixteen. He then took a business course at Poughkeepsie, N. Y. For a while, he was a bookkeeper in the banking house of J. H. Fitts & Company of Tuscaloosa. He moved to Birmingham in 1886 and became a bookkeeper for Robert Jemison, who was at that time in the brokerage business.
First National Bank of Birmingham President
In July 1886, he was made assistant cashier of the Berney National bank, the cashier of that bank in January 1894. He resigned in August 1896, to accept the position of vice-president of the First National bank of Birmingham. Upon the resignation of its president, Mr. N. E. Barker, and his removal to Chicago in June 1902, Mr. Harding was elected as his successor. He was a director in the Bessemer Land and Improvement company, and Birmingham Railway, Light and Power company. He was a gentleman of marked dignity of bearing and of scholarly attainments.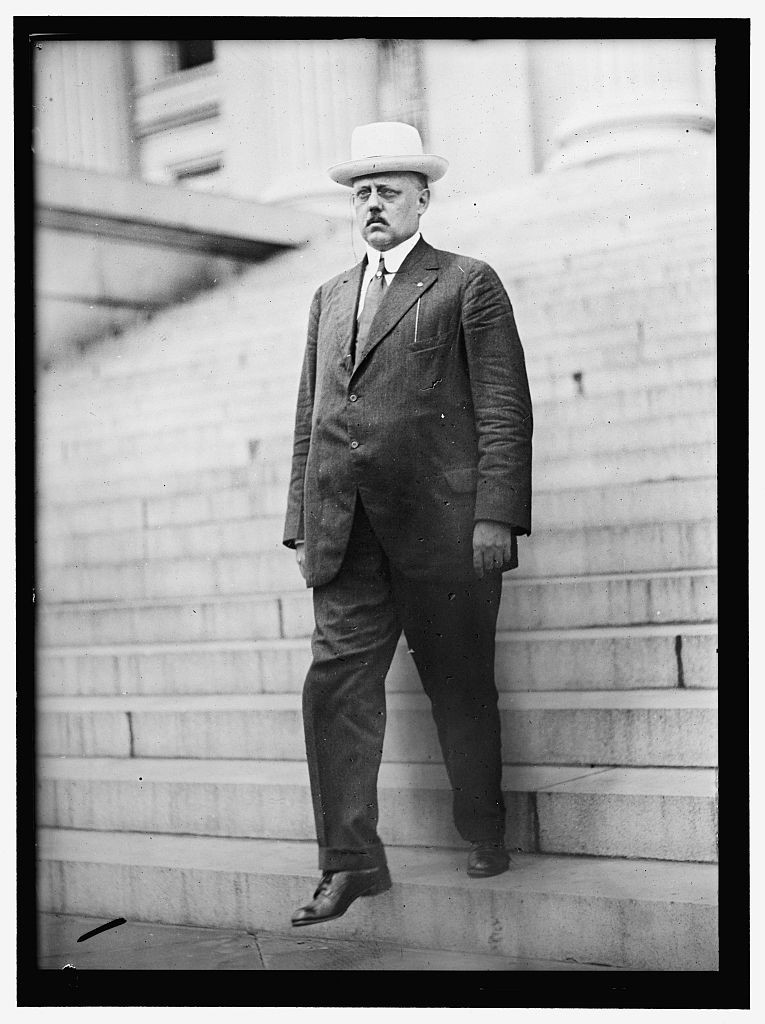 William Proctor Gould Harding ca. 1914 (Library of Congress)
Chairman of the Federal Reserve Board
He became the president of the Alabama State Banker's Association and President Wilson appointed him to membership of the Federal Reserve Board in 1914 when it was first organized and two years later, Harding advanced from board membership to governorship. He held this position all during the war, and also took responsibility for its direction during the post-war years of "difficult deflation of currency and prices."
Financial Advisor to Cuba
At the request of the President of Cuba, he traveled there to advise the Cuban government of reorganizing its financial and accounting system. After working in Cuba. he returned to America in 1923 and was appointed the president of the Federal Reserve Bank of Boston in 1923 and served until his death on April 7, 1930, of heart trouble in Boston, Massachusetts. He was a gentleman of marked dignity of bearing and of scholarly attainments' and "was considered a key figure during the seminal years of the Federal Reserve System, and in 1925 he wrote a book on the early years of the System."
He returned to the United States and became governor of the Boston Regional Bank of the reserve system, in which position he was occupied at his death.
William P. G. Harding was described by friends as a "quiet unassuming man" apparently absorbed in his business. He was quoted as saying during a visit to Birmingham in 1928 that he considered his success was in keeping the Federal Reserve Board out of politics as one of his greatest achievements.
Three Children in Birmingham
William P. G. Harding married, Oct. 22, 1895, Amanda P. Moore, daughter of Sydenham and Mary E. Moore, of Birmingham. Their known children were: Elizabeth Harding; Margaret Harding and Alice Harding. The family owned a lovely home at Glen Iris Park while in Birmingham, Alabama and a residence at 1336 Nineteenth Street in N. W. Washington, D. C. His wife died in 1910.
Loved history
In the Men of the South, A Work for the Newspaper Reference Library, Daniel Decatur Moore states the following about William P. G. Harding.
"During his entire career he has been a deep student and he loves the study of history and literature almost as much as of finance and economics, the subjects upon which he is regarded as such a great authority. He is a Mason, and an Episcopalian. Among the clubs of which he is a member are the Southern, Athletic and Country of Birmingham, and the Metropolitan and Chevy Chase, of Washington."
He was also a member of the sons of the Revolution. According to the Anniston Star obituary, he died Apr 7, 1930 and was buried in Birmingham, Alabama but his gravesite is unknown.
http://bplonline.cdmhost.com/cdm/ref/collection/p4017coll6/id/170
http://cdm16044.contentdm.oclc.org/cdm/ref/collection/p4017coll6/id/1112
SOURCES
Men of the South: A Work for the Newspaper Reference Library by Daniel Decatur Moore 1922 – Southern Biographical Association, 1922
Notable Men of Alabama: Personal and Genealogical, Volume 2 edited by Joel Campbell DuBose, 1904
Findagrave.com # 97738792

Start researching your family genealogy research in minutes for FREE! This Ebook has simple instructions on where to start. Download WHERE DO I START? Hints and Tips for Beginning Genealogists with On-line resources to your computer immediately with the a FREE APP below and begin your research today!
Amazon.com – Read eBooks using the FREE Kindle Reading App on Most Devices