FROZEN WATERMELON
Remove the heart only from a well-chilled, ripe and juicy watermelon and press first through a colander, then through a sieve, adding sugar to the juice and sweet wine such as catawba or sherry, but not too much or you'll kill the watermelon flavor and keep it from freezing. Freeze as you do any ordinary water ice, remembering that anything alcoholic is hard to freeze.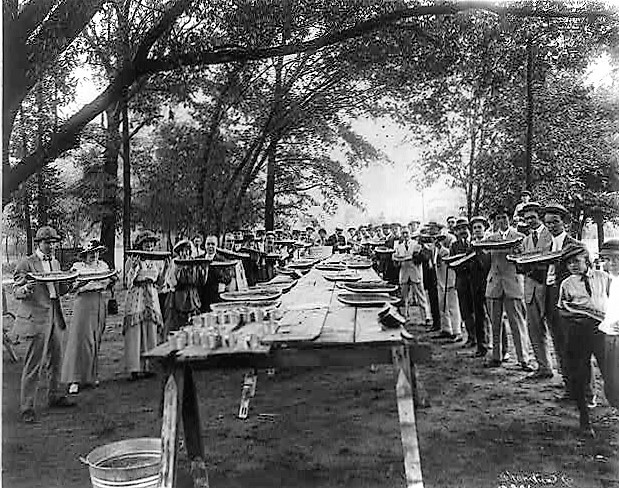 Commercial Club 1917 holding large pieces of watermelons posed, standing around tables, Fairfield, Alabama.(Library of Congress)
WATERMELON PARTIES
The very best way to eat any melon is after its cooled in an icy spring or hung down the well near the field where it's captured. A watermelon party, where nothing else is served and only the hearts are eaten, should be staged on an old cellar door which has been laid across a couple of saw-horses beneath a shady tree by the field and spring or the well where it has been hung to cool.
In the South, mint and peach leaves were often placed over the red hearts for colorful contrasts in both color and flavor.
To keep melons cool without ice, soak a burlap sack in water until it's dripping wet, then wrap it around the melon and let it stand in the sun awhile to start evaporation. After that, set it in a breezy spot, and keep the bag well wetted.
Have you heard excessive brain labor causes baldness or the cure for wrinkles is a tepid bath in bran?
Do you want to know Thomas Jefferson's recipe for Vinegar of the Four Thieves or how to make Ox Tail Soup?
Have you ever had 'blueberry pickles', 'batallia pie' or 'snow birds'? You will learn all this and more in "Vinegar of the Four Thieves."
Our ancestors had to be resilient when they faced obstacles in daily life, from dealing with pests, medical emergencies, caring for clothing and cleaning shortcuts. Almost everything they used in daily life was homemade. Some ideas were great but some were very strange.
This book is a collection of household tips, medical cures, clothing care and old recipes from the 1800's and 1900's. Many of the tips, such as the household cleaners, cooking tips and ways to control pests, still work and are helpful in today's 'green' environment while others such as 'how to cure a dog of eating eggs' will make you laugh. Either way, this book will help you appreciate the difficult life your grandparents endured. With Bonus: First two chapters of novel Ribbon of Love