(Transcribed from Phenix-Girad Journal (Girard, Alabama) February 6, 1909)
FIRE IN PHENIX CITY
On last Sunday morning destroyed the homes of Mr. J. T. Freeman and Mrs. J. C. Herndon —(wrinkle in paper) Beverly home, which was saved by the efficient work of the volunteer firemen of Phenix. Part of Mr. Freeman's household effects were saved, as also nearly all of the Herndon home. Mr. Freeman had $1,000 insurance on his house and goods and Mrs. Herndon $1,000.
Fire Chief Crawford and his able assistants deserve much credit for their excellent work, fighting as they did under circumstances altogether against them. To begin with the morning was exceedingly cold, and the clothing of the men froze wherever the water fell on them. From some unknown cause the water pressure was not up to the standard.
The fire of Sunday is only a small circumstance considering the probability of what is liable to occur at any time, and our firemen could be fully equipped with all modern fire fighting facilities if our citizens would only lend their aid, realizing the protection afforded the entire city by a well equipped volunteer fire department.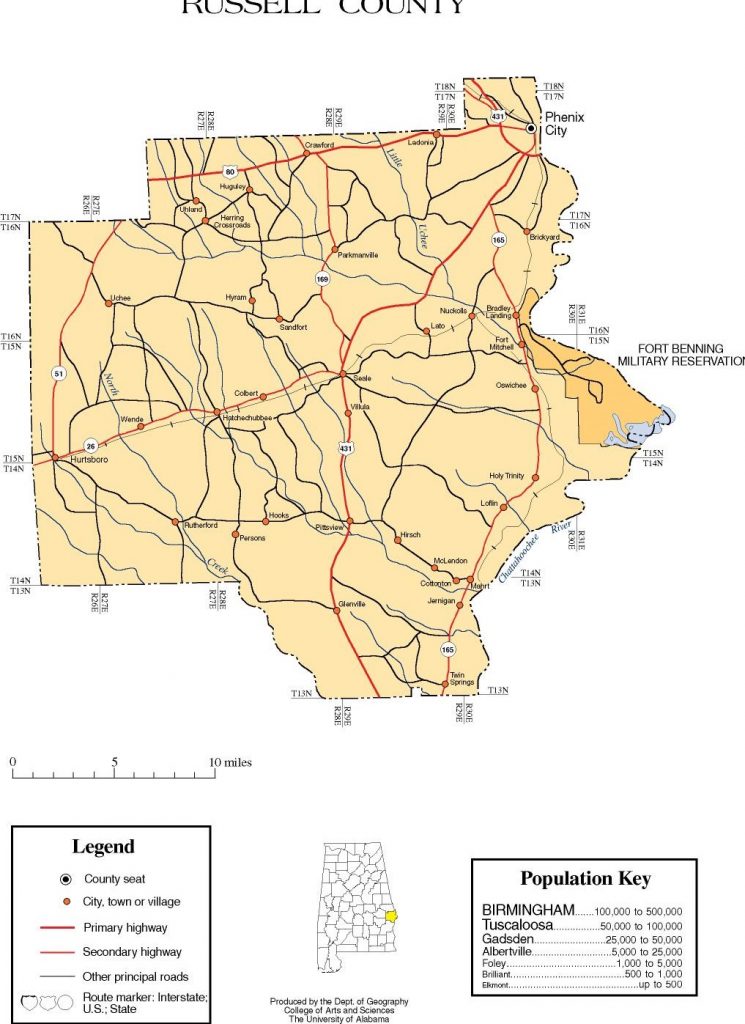 GAVE AN OYSTER SUPPER
The Yoke Fellows Society of Hatchechubbee gave an oyster supper at the home of Mr. and Mrs. J. W. Dixon, Thursday afternoon and evening for the benefit of the Baptist church.
A large crowd was present and each and every one enjoyed themselves. Oysters were served in different form, any way to suit the taste of the crowd.
Many different games were indulged in, including dominoes and draft.
Among the guests present were Prof. Johnson, of Smiths Station, Mr. W. E. Berry, editor Phenix-Girard Journal, Misses Edelle and Myra Walker, Tallulah McMakin, Marie Woolfolk, Virginia Woolfolk, Fannie Lou Osteen, Gennie Schultz, L. Williams, M. Ingram, Jennie Johnston, Katie Thompson, Mae Puryear, Emmie DeLacy, Emma Fuller, Messrs. Lee Boland, Lee Arrington, Charlie Ingram, Homer Thompson, Bob Dixon, John Osteen, Fred Osteen, Cov Bickerstaff, Paul Bickerstaff, E. P. Harden, Howard Bickerstaff, Mr. and Mrs. Patterson, Mrs. Rutherford, Mrs. Lane, Mrs. Bickerstaff, Mr. and Mrs. L. S. Thompson, Mr. and Mrs. Osteen, Mr. and Mrs. Hugh DeLacy.
PHENIX-GIRARD JOURNAL CONTEST
Opened This Week in Full Blast With Five Young Ladies Entered as Candidates
HOW THE VOTE STANDS
Miss Minnie Woodson Crawford, Hurtsboro, Alabama —– 6,000
Miss Tallulah McMakins, Hatchechubbee, Alabama —–1,000
Miss Winnie Perry, Seale, Alabama——1,000
Miss Janie Inez Martin, Girard, Alabama —–100
Miss Leo Greene, Phenix, Alabama ——1,000
1ST GRAND PRIZE
Harvard Piano
Five styles to select from These Pianos are made in genuine mahogany, genuine walnut and genuine quartered oak. This makes it possible for the winner to make her selection from fifteen different styles. Piano on exhibit at J. E. Humes Piano House, Columbus, Ga.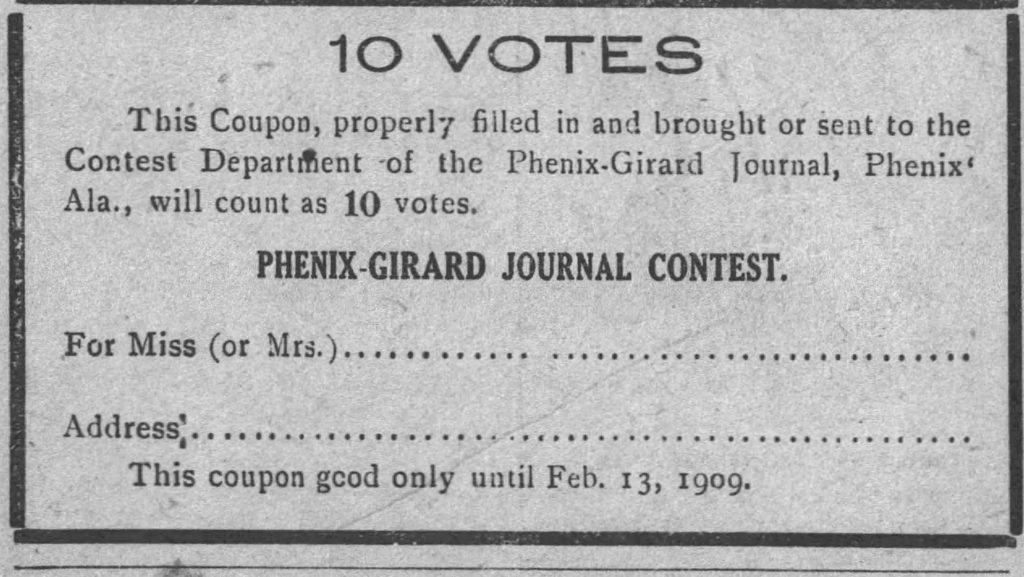 SECOND PRIZE
One Runabout Buggy, latest style, with solid bent panel seat, trimmed in genuine leather, made by the Hercules Buggy Co.
Buggy on exhibit at Friedlandes's Harness and Buggy Store, Columbus.
THIRD PRIZE
100 Piece Set Genuine Imported China, made by Aycock & Co., Ltd., of England.
On Exhibit at Goldberg's Furniture Store, Columbus, Ga.
FOURTH PRIZE
One Vernermartin Iron Bed.
On exhibit at Weiland's Furniture Store, Columbus, Ga.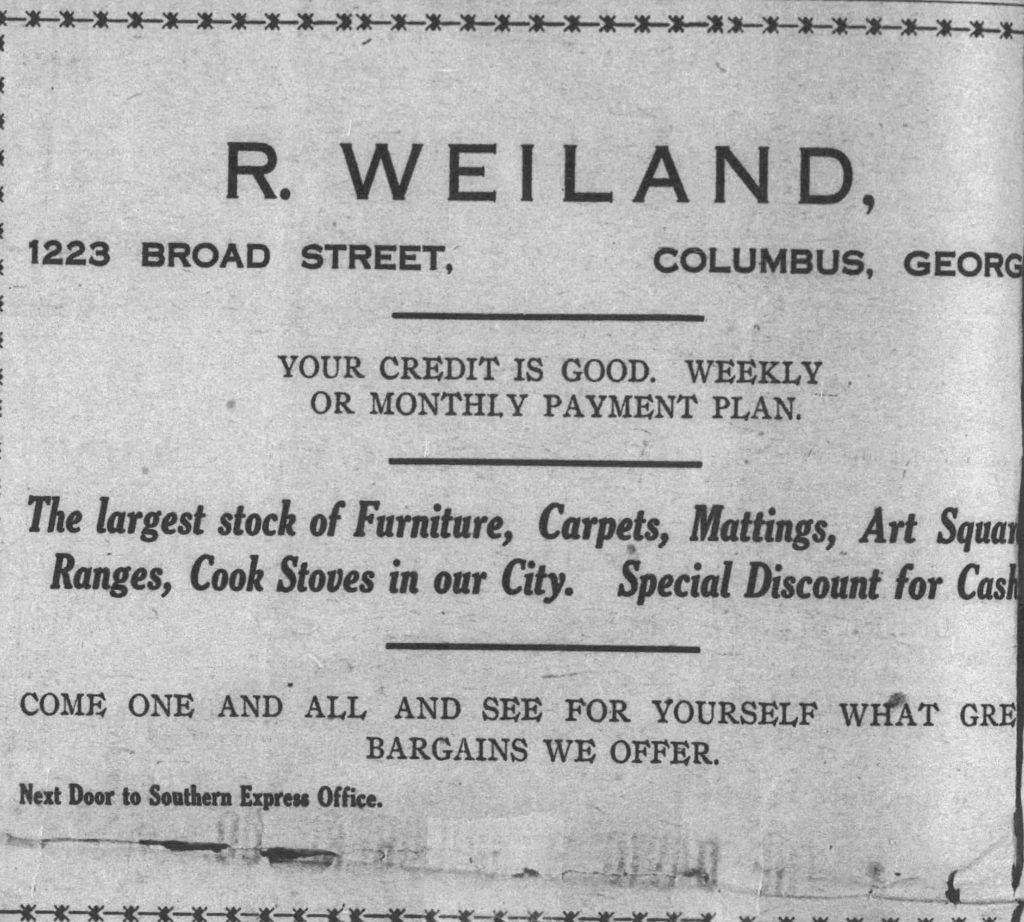 FIFTH PRIZE
One Bruno Guitar.
On exhibit at Pritchard's Book Store, Columbus, Ga.
SIXTH PRIZE
10 Piece Semi-Porcelain Decorated Toilet Set.
On exhibit at Boyce Bros.' Department Store, Columbus, Ga.
We will also issue ten certificates, ranging in value from $25 to $75, to apply on the purchase of any Harvard Piano in stock at J. E. Humes'. Each certificate to be applied to purchase price of one Piano only.
Votes secured by contestant can not be transferred to another contestant.
VOTES ON SUBSCRIPTIONS
Paid in advance to the Phenix-Girard Journal as follows:
Six months ————200
One year ——–1,000
Two years——–3,000
Three years——5,000
Four years ——-8,000
Five years——-10,000.
The regular price of THE PHENIX-GIRARD JOURNAL is $1.00 per year.
Votes are allowed to both old and new subscribers who pay in advance and in those paying up arrearages.(sic)
Address all communications, subscriptions, etc., to the Editor of the Contest Department, care of PHENIX-GIRARD JOURNAL, Phenix, Ala.
Send in your name and address at once and enter this contest. A
ALABAMA GENEALOGY NOTES: Volume VI
Table of Contents
Introduction
DEATH & MARRIAGE NOTICES From Missing Issues of Autauga County Newspapers ca. 1850s – 1870s
NEWSPAPER ABSTRACTS from The Times Daily, Florence, Alabama July 14, 1894
MEXICAN WAR VETERANS from Greensboro, Alabama
MARENGO COUNTY, ALABAMA Marriages from 1818-1851
TUSCALOOSA NEWS August 2, 1937 – Stories and People Mentioned
TUSCALOOSA NEWS August 2, 1917 – Stories and People Mentioned
PERSONALS & STORIES July 7, 1943 From Tuscaloosa News
TAX COLLECTORS SALE WITH NAMES OF PROPERTY OWNERS March 4, 1875