Click http://www.alabamapioneers.com/honor-your-ancestor-on-alab…/to see how to honor your ancestor as a Notable Alabama Pioneer
Happy Birthday!
GEORGE ELMER CROWELL
BIOGRAPHY and GENEALOGY
(1873-1961)
Talladega County, Russell County, Alabama
George Elmer Crowell was an agent of the Central Railway of Georgia at Sylacauga, Alabama. He was a lineal descendant of Oliver Cromwell, the great Commoner of England, his family displaying the same coat-of-arms.
The Crowell family were among the earliest settlers in the State, John Crowell, the great-grandfather of our subject, having acted as an Indian agent and representative in Congress of Alabama Territory in the early years of the nineteenth century. His son, John Crowell, with his wife, Louisa Miles, accompanied him to the State from North Carolina and lived out their lives as planters near Oswitchie. He took a patriot's part in the Indian war of 1836, and though past age during the Confederate war, rendered such service at home as he was able. After the war, he entered the ministry of the Methodist church and was a valiant soldier of the Cross the remaining portion of his life.
His son, John Henry Crowell, the father of George E., was born and reared in Oswitchie and has spent his life in the two States of Alabama and Georgia. He was educated in North Carolinaand passed the earlier portion of his life in educational work as principal of different public schools, president of the Preparatory college at Columbus, Ga., and president of a female college at Talbotton. During the Civil war he served the entire four years in the army, a portion of the time being on the staff of Gen. Robert E. Lee. He married Jennie Henderson Borom, daughter of Benjamin Borom, a large planter and slave owner. They have reared a family of five children.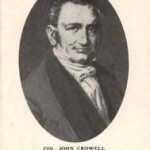 George E. Crowell was born in Russell county, in the rural community of Borom, Sept. 20, 1873. His early education was attended to by his father, after which he was finished at a college in Columbus. A restless boy, he began the battle of life quite early, at sixteen taking up the study of telegraphy. He was successively agent at Hurtsboro, Searight, Goodwater, and Sylacauga, each place of more importance than the preceding, and coming to him in the way of promotion, the last being made March 1, 1901. Mr. Crowell married Nov. 28, 1900, Lucy Bartlett Pope, daughter of Dr. C. M. Pope and Hassie (Brown) Pope, of Goodwater, Alabama, and by 1904, they had one daughter, Floride Crowell, born Oct. 1, 1902 – died Sep. 5, 1950.
Mr. Crowell was one of the most popular agents of the Central and was held in high esteem in Sylacauga. He took but little part in politics, but voted the Democratic ticket. In religious matters, he held membership in the Methodist church, his wife in the Baptist. Fraternally he was a worthy member of the Knights of Pythias and Knights of Honor. The Crowells who first gave fixture to the name dropped the 'm' from the original Cromwell in order to escape, in America, the royal odium of Charles II. of England.
 George Elmer Crowell died Jan. 22, 1961 and is buried in Evergreen Memorial Cemetery in Sylacauga, Talladega, Alabama.  His wife Luce died Jan. 17, 1983 and is also buried in Evergreen.
SOURCES
Notable Men of Alabama: Personal and Genealogical, Volume 1 edited by Joel Campbell DuBose
Find A Grave Memorial# 5654008 # 5659945# 5654004
Family Surname Books –

use the Search box on this page to see if we have a book on your ancestor
Start researching your family genealogy research in minutes.! This Ebook has simple instructions on where to start. Download

 WHERE DO I START? Hints and Tips for Beginning Genealogists with On-line resources 
 to your computer immediately with  a FREE APP below and begin your research today!