In 1818, before Alabama became a state, Anne Newport Royall (June 11, 1769 – October 1, 1854) was a traveler in Alabama. After her husband died, she was left penniless and she toured Alabama for four years as one of the first newspaperwomen in America. She wrote letters to her friends about Alabama and the letters were published as a book entitled Letters from Alabama in 1830.
On July 10, 1821, Anne was in Florence, Alabama (now in Lauderdale County, Alabama)where she wrote her friend Matt about the town. "Florence was surveyed for the Cypress Land Company in 1818 by Italian surveyor Ferdinand Sannoner, who named it after Florence, the capital of the Tuscany region ofItaly.[3] Florence, Alabama was incorporated in 1826." (Wikipedia)
The letter has been transcribed exactly as published. (Including the misspellings)
Florence, July 10th, 1821.
And here I am, my Dear Matt—foot of the Shoals, once more. I have been here ten days; and what do you think I came here for? Of all people you, you, I say, are the most extraordinary and neglectful of men? Where are my trunks? What has become of them? Were they not to have been sent long since?
Surrender my furniture
I have just seen Major S. and he tells me a line tale of Gardner, and a few more, of whom I was going to say you must be one. But I would as soon expect to see the sun start from its centre, as that you would countenance such an infamous transaction. But what were you about, that you suffered this infamous Yankee tin pedlar, Whitiker, to surrender my furniture into the hands of the wretch, Gardner? S. lest he might be charged with what he is innocent of, did not, and would not tell me, but the gentleman who came with him, did.
It is enough that I know it; I saw by S—'s countenance that all was not right. But that Mr. Fry would pay over money of mine, to Gardner, without an order from me, I cannot believe, until I have better evidence! He doubtless sets a high value upon his character; but it would seem that honesty cannot breathe in Kenhawa. It is fatal to the principle. If it be true that Whitiker has delivered my property into the hands of Gardner, a curse will pursue him to his grave, nor will his offspring1 ever prosper. But I will endeavor not to believe that human nature is so depraved. I give you joy on your marriage, and I hope you may be as happy as 1 wish.
Florence situated at the head of steamboat navigation
Florence is one of the new towns of this beautiful and rapid rising state. It is happily situated for commerce at the head of steamboat navigation, on the north side of Tennessee river, in the county of Lauderdale, five miles below the port of the Muscle Shoals, and ten miles from the line of the state of Tennessee.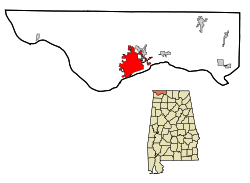 Florence, Lauderdale County, Alabama (Wikipedia)
Florence is to be the great emporium of the northern part of this state. I do not see why it should not; it has a great capital and is patronized by the wealthiest gentlemen in the state. It has a great state at its back; another in front, and a noble river on all sides, the steamboats pouring every necessary and every luxury into its lap. Its citizens, bold, enterprising, and industrious—much more so than any I have seen in the state.
Many large and elegant brick buildings are already built here, (although it was sold out, but two years since,) and frame houses are putting up daily. It is not uncommon to see a framed building begun in the morning and finished by night.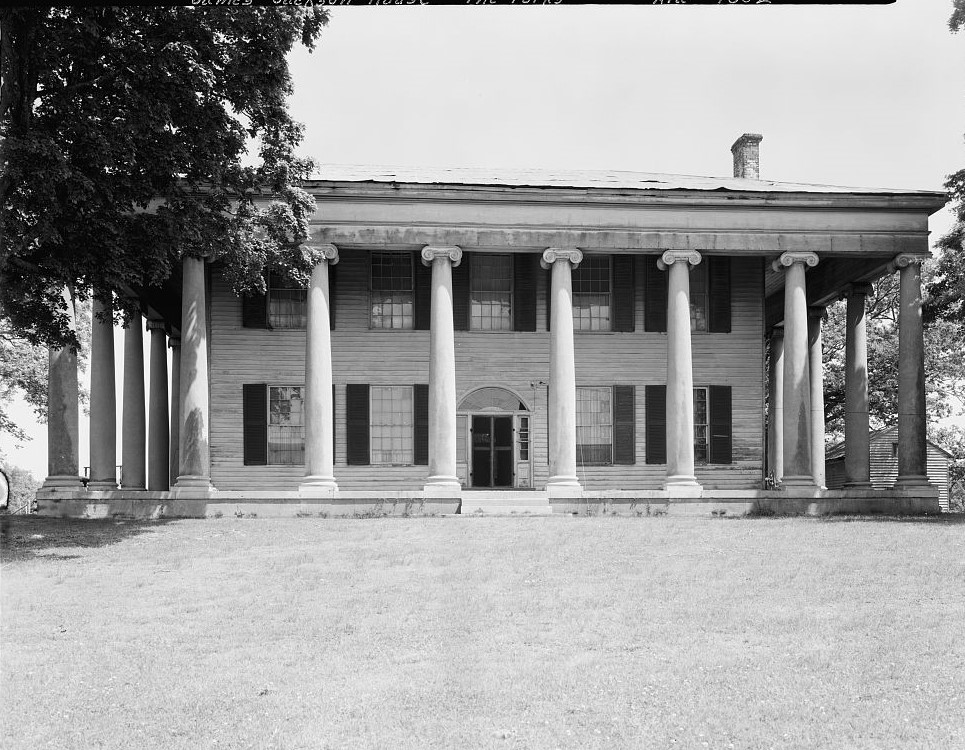 James Jackson house W. N. Manning, Photographer, FEB. 2, 1934. Forks of Cypress, Florence, Lauderdale County, AL
Communication by water and Military road
Several respectable mercantile houses are established here, and much business is done on commission also. The site of the town is beautifully situated on an eminence, commanding an extensive view of the surrounding country, and Tennessee river, from which it is three quarters of a mile distant.—It has two springs of excellent and never failing water. Florence has communication by water with Mississippi, Missouri, Louisiana,Indiana, Illinois, Ohio, Kentucky, West Pennsylvania, West Virginia, and East Tennessee, and very shortly will communicate with the Eastern States, through the great canal!!!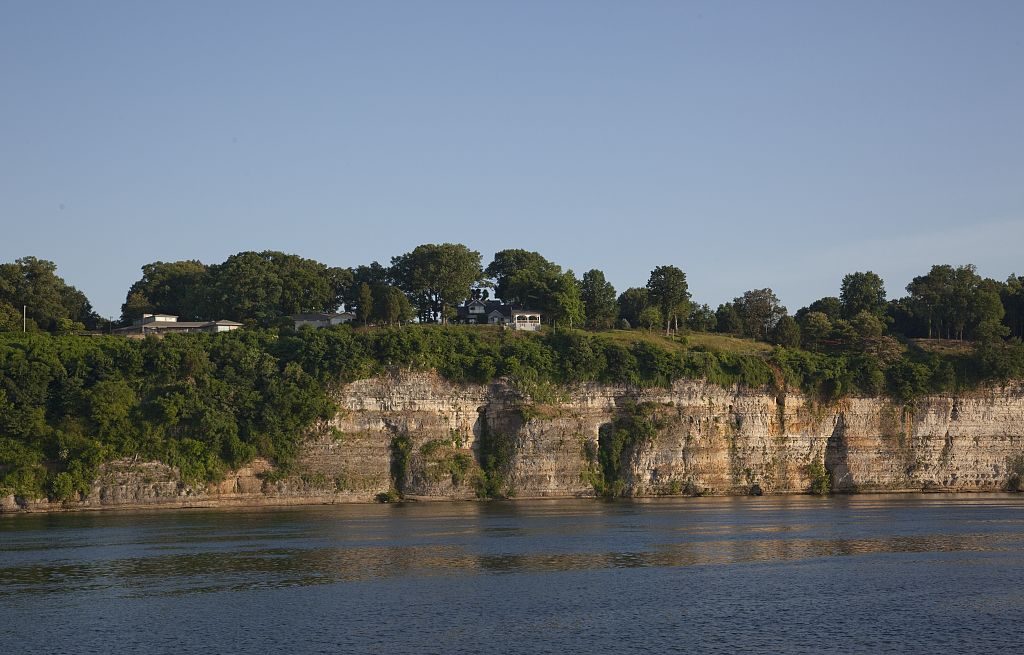 Cliffs on the Tennessee River overlook Florence, Alabama 2010 (photographer Carol Highsmith, Library of Congress)
The great Military road that leads from Nashville to New Orleans, by way of Lake Ponchartrain, passes through this town, and the number of people who travel through it, and the numerous droves of horses for the lower country, for market, are incredible.
Weekly newspaper
Florence contains one printing press, and publishes a paper weekly called the Florence Gazette; it is ably patronized, and edited by one of our first men, and said to be the best paper in the state.
Florence is inhabited by people from almost all parts of Europe and the United States; here are English, Irish, Welch, Scotch, French, Dutch, Germans, and Grecians. The first Greek I ever saw was in this town. I conversed with him on the subject of his country, but found him grossly ignorant. He butchers for the town, and has taken to his arms a mullatto woman for a wife. He very often takes an airing on horseback of a Sunday afternoon, with his wife riding by his side, and both arrayed in shining costume.
The river at Florence is upwards of five-hundred yards wide; it is ferried in a large boat worked by four horses, and crosses in a few minutes.
Several Doggeries in Florence
There are two large and well kept Taverns in Florence, and several Doggeries. A Doggery is a place where spirituous liquors are sold; and where men get drunk, quarrel, and fight, as often as they choose, but where there is nothing to eat for man or beast. Did you ever hear any thing better named.
"I sware!" said a Yankee pedlar, one day, with both his eyes bunged up, "that are Doggery, be rightly named. Never seed the like on't. If I get to hum agin it 'il be a nice man 'il catch me in these here parts. Awfullest place one could be at."
It appeared the inmates of the Doggery enticed him under pretence of buying his wares, and forced him to drink; and then forced him to fight; but the poor little Yankee was sadly beaten. Not content with blacking up his eyes, they overturned his tin-cart, and scattered his tins to the four winds; frightened his horse, and tormented his very soul out about lasses, &c. He was a laughable object—but to hear his dialect in laying off the law, was a complete farce, particularly when Pat came to invite him into the same Doggery to drink friends—" I ben't a dog to go into that are dog house."
Longest building in Florence
The people, you see, know a thing or two, here; they call things by their right names. But to proceed—there may be about one hundred dwelling houses and stores, a court house, and several ware houses in Florence. The latter are however on the river. One of the longest buildings I ever saw, is in Florence. It was built by a company of gentlemen, and is said to have cost $90,000, and is not yet finished. The proprietors, being of this place, are men of immense wealth, and are pushing their capital with great foresight and activity.
For industry and activity, Florence outstrips all the northern towns in the state. More people travel this road than all our western roads put together. I was just going to conclude, when an old German passing through my room from that of my landlady's, made me laugh, in reply to something uttered by the lady, he said "poverty was no crime, when we came honestly by it."
Yours, &c.
1This was literally fulfilled. He actually delivered the property as stated above; had his house burnt twice to the ground, with all its contents, and died a wretched death. Thus the Lord avenges the widows' wrongs.
SOURCE:
 Letters from Alabama, 1817-1822: Biographical introd. and notes by Lucille Griffith
As wife of one of the Grand Masters, Donna R. Causey, had the unique opportunity to work with Alabama's Grand Lodge to provide biographical data into the lives and backgrounds of all the Grand Masters of Freemasonry in Alabama from 1811 to 2011. Many early photographs of the Grand Masters only found at the Grand Lodge of Alabama are included in this work.