From the Montgomery Mail, Nov. 24, 1858.
LETTER FROM J. K. KLINCK, OF TENNESSEE. Eds. Mail:
Having lately read some sketches of the Creek Indians, in the early history of Alabama, from the pen of the well-remembered Gen. Tom Woodward, I have dared to presume that a few facts in relation to the first settlement of your town will not prove uninteresting to some of your readers.
Arrived with the influx of emigration to Alabama
At the time of the great influx of emigration from the States, in the early part of 1817, I left the old South State, with the intention of proceeding to Fort Claiborne; but after a tedious journey of twenty-two days, I crossed Line Creek and made a halt at the fork of the road leading to Fort Jackson, and occupied a tenement belonging to Mr. Evans, who was then keeping public house.
Fort Jackson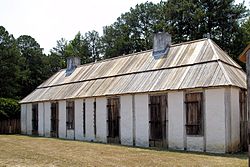 One hundred yards from this spot, and on the Federal road leading to Claiborne, was the firm of Meigs & Mitchell, and one mile on this road, East, on Milly's Creek, was James Powers, who did a large business in groceries and provisions; further East was Major Flanagan, (small trade,) then came Arterberry, and Denton, or Dent, who occupied the land and owned the ferry on Line Creek. With myself, the above were the only traders nearer than Fort Jackson.
Dexter and Spears had bilious fever
While here, and immediately after the first land sales in Milledgeville, the same summer, Mr. Andrew Dexter, of Massachusetts, and a Mr. Spears, of Oglethorpe County, Ga., came to Mr. Evans', both being attacked with bilious fever, (Dexter slightly,) – they were en route to view their purchases at the time. Mr. Spears occupied a bed in the same room in which I had my goods, and never left it until his death, which was about two weeks after his arrival. He was prescribed for by an eminent physician (Dr. Dabuy) from Virginia and had every attention paid him by Mr. Dexter and the family of Mr. Evans.
Andrew Dexter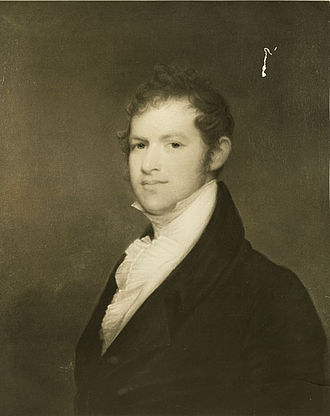 After this occurrence, Dexter proceeded to examine his purchase, and soon returned, being much flattered with the prospect of its advantages for a town site, and its central position for the Court House, when the county became sub-divided. He communicated all his plans to me — that we were jointly to use our influence in drawing all the traders to the place intended for the town, which would necessarily draw the trade to that point, except from those on the road near Line Creek. I advised him to visit J. C. Farley, Carpenter & Harris, Laprade, (traders) and Dr. Morrow, a practicing physician, offer each a lot gratuitous and proceed immediately to lay off the town.
Surveyor Hall laid off the town
My then locality was an unenviable one, so I immediately removed my goods to James Vickers', who lived on the bluff above the intended town. Dexter soon obtained the services of Mr. Hall, surveyor, who laid off the town. As soon after this, as I could have the center pointed out to me, I selected my lot, which was a privilege of first choice, and to name the place, which I called New Philadelphia — and the name was never changed until 1819.
Future ages will tell the tale
I employed a Mr. Bell to build me a cabin — and in showing him where, we found on the corner a post or black oak in the way of laying the ground sill, when I immediately seized the axe and felled it, remarking to Bell, "this is the first tree — future ages will tell the tale." The house was built, and a well dug close by, at the junction of Market and Pearl Streets. Dexter, before I could occupy the house, wishing to place it upon a more elevated portion of the quarter section, employed Mr. John Blackwell to resurvey it, which he did, and I took my first choice again, built another cabin and occupied it. After I built the first, and a little before I had occupied the last, J. C. Farley had a frame store house put up, which was weather-boarded with clap-boards, but never occupied until after I had completed and was doing business in my second tenement.
1819 map showing territory of Alabama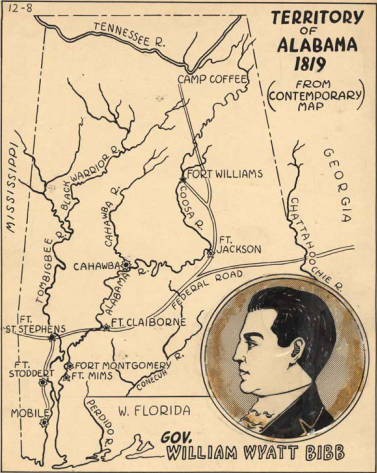 Other immigrants arrive
Next came Carpenter & Harris, John Falconer, John Goldthwaite, Eades, Dr. Gullett, James Vickers, Squire Loftin, John Hewett, Teague — the first five were merchandising. During this time the Scott & Bibb Company, as it was called, from Milledgeville, in Georgia, had bought largely of lands, and among others the fraction that was situated on the bluff between Dexter's quarter section and the river, for which they were to pay, as I understood, $50 per acre – if so, it accounts for their having tried to build a town below then New Philadelphia, called Alabama, to rival the former or possibly impede its growth; but it was no go, as all the traders were in New Philadelphia, with the solitary exception of a man by the name of Campbell with a few goods, among a few private families; they being his only customers, he soon abdicated, either for want of goods or patronage.
Location of the Court House
The business of locating a site for a Court House came, and commissioners were appointed for that purpose. Public opinion had given the Court House to New Philadelphia, whose citizens generally wide awake to their interest, by way of inducement, entered into a bond of $20,000, payable to the Commissioners for the purpose of building a Court House and Jail, if they would locate the buildings in the last mentioned town, on the hill, where a public square had been laid off for that purpose. This bond was signed by Dexter, J. C. Farley, John Falconer, Harris & Carpenter, and myself, taking a mortgage of the lots around the square as an indemnity in case the proposition had been acceded to by the Commissioners.
From some cause or other, (I will not say prejudice or interest,) "Yankee Town," as it was sometimes called, did not get the Court House, with all its offerings, but it was awarded to Alabama Town. Up to the fall of 1819, no Court House Lad been built; a log building resembling an ordinary corn-crib, was used as a Jail; Justice's Court was held in Judge Bibb's house, and the first Circuit Court was holden in Mrs. Moulton's house, by Judge Martin, if the name be correct.
Some residents in fall of 1819
The residents of Alabama Town, as far as I can now recollect, (in the fall of 1819) were Capt. John Goss, (Cause?) and family, William Goss, James Goss and family, old lady Goss and her daughter, Eliza, (who that fall married Wilburn,) Major Peacock and family, Mr. Ashley and family, Mr. Jones and family, a Mr. Perry, Judge Bibb, Major Johnson, (Mail Contractor,) Edmondson, Clerk of the Court, and his mother-in-law, Mrs., Moulton – an entire military and civic population – no merchant or trader in town.
Such as I can now name of the inhabitants of Montgomery, (now called,) are Dexter, Loftin, first Justice in town; James Vickers, innkeeper; Thomas and William Lewis, Merchants; Major Wood, planter; Stone, (son of Judge Stone, and son-in-law of Esquire Loftin;) Eades, merchant; Drs. Gullett & Co.; J. C. Farley, merchant; Carpenter, merchant; John Falconer, merchant and first postmaster; Dr. Morrow; J. Goldthwaite, merchant; John Hewett; Widow Hewett and family; Mr. Larkin, inn-keeper and farmer; Henry Farley, brother of J. C. Farley; A. M. Reynolds and family; Mr. Baker; John Belew, carpenter; R. Mosely, and a number of other families of same name, on the Hill; Nimrod Benson, Esq.; Esquire Sims, attorney; and a dense population — I cannot recollect names.
Town name changed
It will be well to mention how the town happened to change its name. As early as January 1819, Dexter came to me after I had held a conversation with one of my other friends on the subject, and told me a proposition had been made by the interested of Alabama Town, (the Scott Company,) to annex the Bluff fraction to Dexter's quarter section, which they had forfeited and since entered, and were willing to locate the Court House on the line of fraction and section, each holding their own territory. Well, believing it not a very hard matter to move a Court House which had never been built, but a right which that company had to pick it up and set it down wherever they pleased, I concluded it might be more to our advantage to have one in which they were interested, than one entirely our own. All was agreed, and the union took place.
Now for the name: What shall be done? It will never do to call it "New Philadelphia," nor "Yankee Town;" either scent too strong for "Georgy." I have it — we will call it Montgomery, after the county; it was settled upon without a dissenting voice, and to the great satisfaction of all concerned — the name being equally dear to every American throughout the land. Thus, by the unity of interests and joint fellowship, has this town continued to grow ever since, in wealth and population.
ALABAMA FOOTPRINTS Statehood: Lost & Forgotten Stories Once Alabama was admitted as a state of the United States of America on December 4, 1819, a great wave of immigrants from other states and countries came by flat-boats, pack-horses, covered wagons and ships to become the first citizens of the state.