(Did you know that "Pat Garrett" who killed "Billy the Kid" was born in Chambers County, Alabama in 1850?)
One of six children, Patrick Floyd Jarvis Garrett was born near Cusseta in Chambers County, Alabama on June 5, 1850, to John Lumpkin Garrett and Elizabeth Ann Jarvis. The Garrett family moved to Claiborne Parish, Louisiana in 1853.
Chambers County was created by the Legislature, December 18, 1832, from the Creek Indian cession at Cusseta, executed March 24, 1832. It was named in honor of Henry Chambers, an early Virginia immigrant to Madison County, a member of the first constitutional convention of the State, and a Federal Senator from Alabama 1825-1826.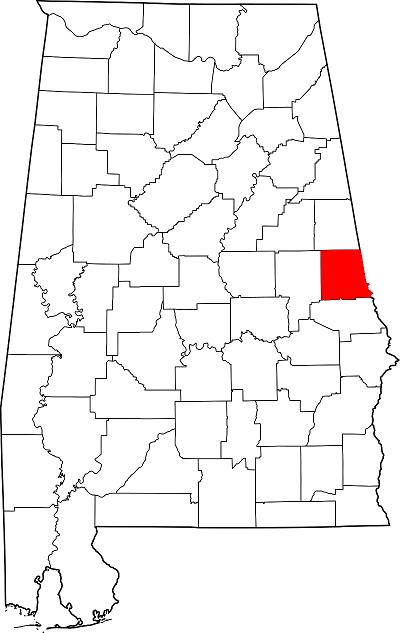 Trade started with the Indians
In the early twenties (1820s), John and Sally McDonald Hurst, and Asa and Margaret McDonald Cox pitched their tent under a giant oak on the spot that is now the main street of Fredonia. Trade was soon begun with the Indians. They exchanged beads and trinkets for furs.
Cox soon entered some government land but Hurst did not seem to care for broad acres, possibly a character of ministers of the Gospel, for he combined preaching with trading. However, Hurst erected the first building there, a log house with the front serving as a store and back as living quarters, on land given him by the Indians. This "free gift" suggested to him the name he soon gave the village. Other white families soon followed, including the McDonalds, Umphries, Carlisles, Barkers, Wards, Zacharys, Bowens, Blackstons and Robinsons. i
Fort Cusseta was the last known fort of its kind
Following the signing of the Creek Treaty in 1832, the early white settlers constructed a 16 by 30-foot hand hewn log fort for protection against a possible Indian uprising from Cusseta Indian Village on Osanippa Creek just north of here. Walls of the Fort were 4 and 6 feet high, with portholes at height of 4 feet, still visible after 140 years. Fort Cusseta was the last known fort of its kind in Southeast in 1921 and was located on Chambers County Road, 55, Cusseta, Alabama. There is now a historic marker depicting its location on Hwy 83 in Cusseta, Alabama
Location of historic marker on Hwy 83 Cusseta, Alabama (Carol Highsmith Library of Congress)
Early in 1833, James Thompson, of Jefferson County, elected without opposition by the legislature January 9, 1833, judge of the county court, came to Chambers for the purpose of organizing the county.
The election was held near the center of population, about seven miles northeast of the subsequent location of Fayetteville, now Lafayette. Nathaniel H. Greer was elected sheriff; William H. House, clerk of the circuit court; Joseph J. Williams, clerk of the county court; Booker Lawson, John Wood, William Fannin and John A. Hurst, commissioners of revenue and roads.
First Commissioners meeting met at Captain Baxter Taylor's
On the first Monday in April 1833, Judge Thompson and Commissioners Fannin, Wood and Hurst met at Capt. Baxter Taylor's, organized and held the first commissioner's court ever held in Chambers County. John Edge was elected by the court to take the census of the county. The court also elected Elisha Ray, county auctioneer, Capt. Baxter Taylor, treasurer, John Bean, coroner, and William McDonald, surveyor. The first circuit court was held at Capt. Taylor's on April 20, 1833.
At the election held for the organization of Chambers County, March 4, 1833, in addition to the county officers, three courthouse commissioners were also elected, Thomas C. Russell, James Taylor and Baxter Taylor, whose duty, under the law, was to select a suitable place for the seat of justice. The place finally chosen was in a primeval forest, the NW, sec. 13, T. 22, R. 26, on the dividing ridge separating the Tallapoosa and Chattahoochee waters, and within two miles of the center of the county. There was at that time an act of Congress authorizing the entry of 160 acres of land for county purposes in the newly acquired territory.
William McDonald laid out town lots
The Commissioners entered the above tract of land, and the county surveyor, William McDonald, laid it off into town lots. He first laid off a square on which to erect the court house. This done a public sale of lots was had on the premises on October 23, 1833. The sale was largely attended, and the lots sold for good prices.
A large sum was realized, sufficient to pay for the building of both the courthouse and jail without anything additional. Soon after the selection of the county site, the commissioners had a temporary court house built of split pine logs, about twenty feet square. This house answered the purpose for two years until the courthouse was completed. It was also used as a church by all denominations that wished to do so.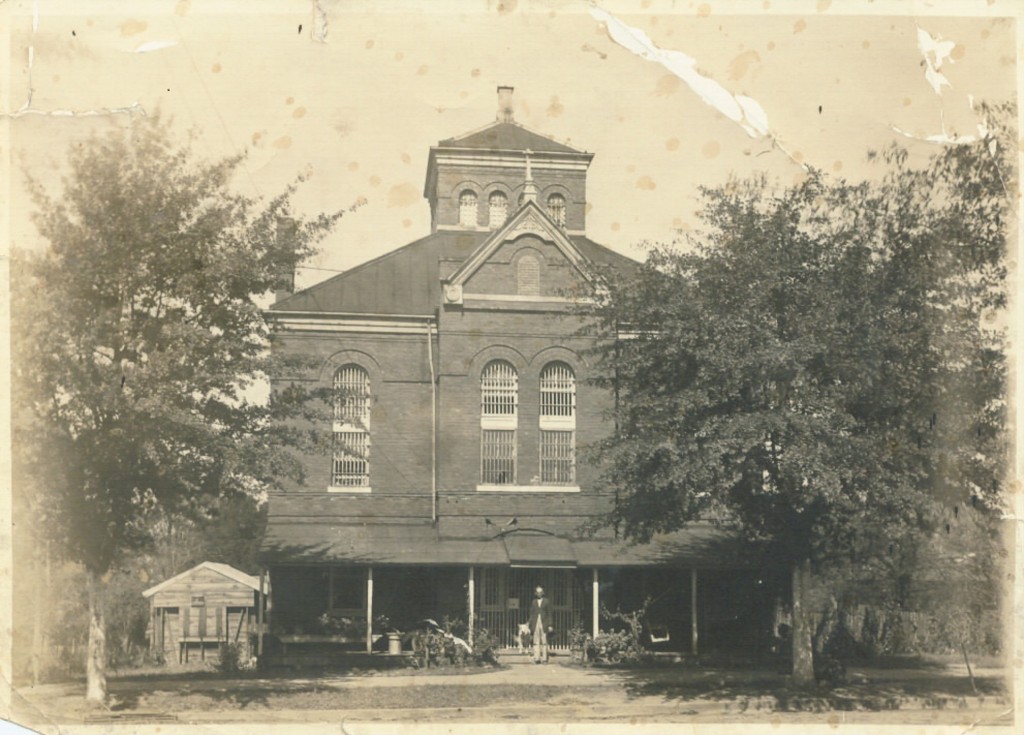 Chambers County jail, LaFayette, Alabama Photographed ca. 1920. This old building (which faced south) was located almost directly behind the present jail and featured a hanging gallows which was used as needed In 1955 the building was torn down and a new jail erected on the site. (found  at USGENWEB Contributed to USGENWEB by Don Clark July 25, 2005)
Only white man that Tecumseh would talk with
"The first white man who had a settled home in the county was Nimrod Doyle, an Indian countryman, who lived with his half-breed family on Ocelichee Creek, where he owned a mill where Oakfuskee Trail crosses Oseligee Creek."
Nimrod Doyle built a trading post and grist mill here in 1816-1818. Doyle was in the Great Lakes Indian Wars under General St. Clair. He knew Indian leader Tecumseh at Detroit and was the only white man Tecumseh would talk with at Tukabachi. Doyle was sub-agent under Indian agent Benjamin Hawkins. Nimrod Doyle married the daughter of Coweta Indian Joseph Islands and fathered two sons and two daughters.
Ward's Mill is on land from 1832 treaty and became the site of Fredonia. Nimrod Doyle's children; Amanda Doyle married James Callahan at Asbury Mission near Fort Mitchell in 1829. Callahan was the last survivor of the Confederate Congress. Son Jackson married a Creek woman and owned Wards Mill site 1832. Son Winchester married a white woman. Doyle's family went with Creek Indians to Oklahoma. Since then many whites have owned this place, including Revolutionary Veteran Stephen Nolen, and later, Solomon Ward.
Squatters arrive in 1832
The county seems to have received settlers or squatters in 1832. soon after the Creek cession. They appear to have entered the county by what was known as Chapman's trail, so called from a man named Chapman, who owned a ferry near Old Fort Williams on the Coosa, and who had blazed out a trail from that place to West Point, Ga. The road crossed the Tallapoosa River at Chisholm's Ferry and passed through Chambers County some three miles above the present town of Lafayette. The settlers made their homes in northern and eastern parts of the county where there were but few Indians. Capt. Baxter Taylor settled on Chapman's trial, three and one-half miles northeast of Fayetteville.
"In 1832, the year before Chambers County was formed, a Methodist Society was formed in Fredonia and John Hurst's store served as a meeting place. There were thirteen charter members. The next year a Methodist Church was built, being the first in the county. In 1833 two preachers were sent by the South Carolina Conference. They were Hugh M. Finley and Sidney Squire. Finley died that same year and he is the first grave in the village. It is located in the Methodist Church Cemetery. Another church was later built on the same site as the first. Before remodeling, this second church had a slave gallery and the slaves were preached to on Sunday afternoons.
Alexander McDonald arrives
In the spring of 1832 that Alexander McDonald came to Chambers. As a matter of fact, it wasn't even a county then. The state legislature wouldn't get around to making it official until later that year. McDonald came from Harris County (Georgia) and crossed the Chattahoochee on a ferry, for there was no bridge until 1839.
With him came his wife, Unity and two daughters, Sara, who married John Hurst, and Margaret, who married Asa Cox. They settled in that wild Indian country in northeast Chambers County on Horse Path Creek. It was about three miles away that John and Asa established a trading post on the Indian trail that passed that way.
The business with the high-sounding name (Hurst, Cox and Company) stood alongside the trail that branched off the Chapman Road at Doyle's Mill and continued northeasterly into Georgia crossing the river at what later became Glasses Bridge. The store was successful from the beginning and was soon know as simply Hurst's Store. It stood at the present day site of Fredonia. Doyle's Mill would later become Ward's Mill.
Methodist Minister arrives
Even as this hardy band was moving into that area, a young merchant and part-time Methodist minister, E. G. Richards, moved from West Point to LaFayette. Mr. Richards, with typical frontier evangelical zeal, arranged preaching services at Hurst's Store. It was the first church in Chambers County. Among its thirteen charter members were the McDonalds, the Hursts and the Coxs. Their descendants populate that area to this day.
Fredonia was a stage coach stop
Fredonia soon became a stop on the stagecoach line. It was served by a post office and a "Temperance House". At its peak, Fredonia was served by sixteen businesses. There was a hotel and tavern, a blacksmith shop and tanyard. There was even a jug factory where jugs for all uses were made.
The town was known as a center of cultural and educational interest. An alert state legislature, not unmindful of these things, chose Fredonia as the site of an institution of higher learning. It was the Southern Military Academy and would flourish until the financial collapse of Civil War days."ii
In 1833, Captain William Smith was sent to guard the white families against the Indians. As this was the same year Francis Scott Key was sent to Alabama to represent the Federal Government in the conflict with the State over the removal of the Indians to their new home west of the Mississippi, it seems likely that Captain Smith was sent by the State to protect the white families.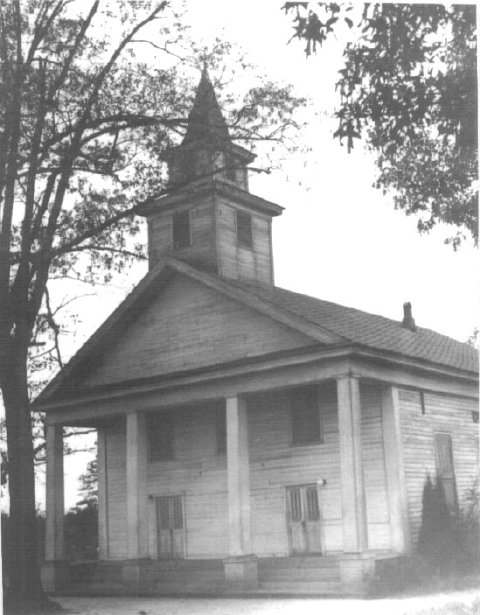 Fredonia Methodist Church Constituted 1833
This building erected prior to 1850 and used until destroyed by fire in 1954. The windows above the front doors were in the slave gallery. Photographed ca. 1950, by Charles A. Spence (1927-2002). (found at USGENWEB)
The Baptist Church was organized in 1834 in Fredonia, and a small barn-like building was used for services the first year. The Baptist cemetery is located across the road from the site of the first meeting place." best known iii
Hopewell M. E. Church dates back to 1839
The origins of Hopewell M.E. Church date to religious meetings held by Reverend James M. Spear soon after coming to Chambers County in 1839. A 1841 Class Paper names 48 white and 6 black members. The oldest written record entitled "Hopewell M. E. Church" is dated April 1843.
It lists 44 members and names trustees, James M. Spear, Hardy Hancock, Robert B. Everitt, Osborne Robinson and Micajah Wardlaw. A house of worship erected near the Spear home was destroyed in a storm shortly after Reverend Spear's death in November 1852. Both he and his wife, Margaret Everitt Spear are buried at this first location.
Providence Baptist Church organized 1836
Providence Baptist Church was organized before 1836 by Elder Francis Calloway. It was one on the ten charter churches of the East Liberty Baptist Association. The small white frame church was built during the ministry of Reverend George E. Brewer, who served Providence 1883-1889. It has served so best-known families in all this section including the: Askews, Harringtons, Wolfes, Calloways, Barrows, Meadors, Slaughters, Shealeys, Wallaces, Lancasters, Burdetts, Meadows, and others.
Providence has been served by many noted pastors: W. D. Harrington, 21 years; W. C. Bledsoe, W. E. Lloyd, George E. Brewer, C. J. Burden. A. S. Brannon, W. P. Cofield, J. P. Hunter, C. B. Martin, Earle Trent, Oley C. Kidd, Albert Strozier, Carl Burke, Ralph Williams, U. M. Starnes, Jimmy Auchmuty, J. H. Carroll, James Coleman, Robert Crowder. Several early members left Providence Church to go out and form other Baptist churches.
Oak Bowery Female Institute
The Oak Bowery Female Institute, located near Oak Bowery United Methodist Church on Highway 431, opened in 1849 under auspices of the Methodist Church. Masons established the East Alabama Masonic Institute for young men.
Among Oak Bowery's noteworthy citizens: William J. Samford, Alabama Governor; James F. Dowdell, U. S. Congressman; James Render Dowdell, Chief Justice, Alabama Supreme Court; William H. Thomas, Alabama Supreme Court Justice; General Robert Lee Bullard, U. S. A.; Captain Leckinski Ware Spratling, Surgeon, U. S. N.; Dr. William Philip Spratling, founded Craig Colony for Epileptics; The Reverend Sam P. Jones, renowned Methodist Evangelist.
Connection to Pat Garrett and Billy the Kid
Pat Garrett (from Wikipedia)
In 1869 Pat Garrett left the family plantation to become a buffalo hunter in Texas. In 1880, following the death of his first wife Juanita Gutierrez, he married her sister Apolonaria in Lincoln County, New Mexico. They were the parents of nine children. In November 1880 Garrett was elected Lincoln County Sheriff. Lincoln County was then embroiled in a struggle for political and financial control of the county. Billy the Kid, also known as Henry McCarty or William H. Bonney, was the focus of this feud after he murdered Sheriff William Brady on April 1, 1878.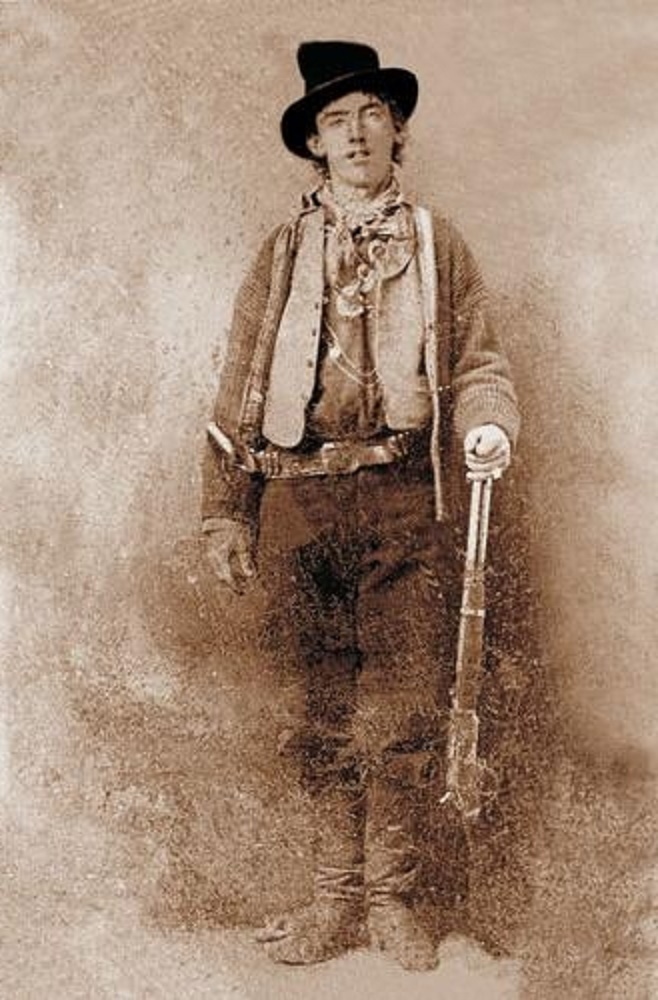 Billy the Kid (from Wikipedia)
As sheriff of Lincoln County, Pat Garrett was charged with tracking down and arresting Billy the Kid, a friend from Garrett's saloon keeping days in Fort Sumner, New Mexico. He was captured in December 1880 and was subsequently convicted of murder.
However Billy the Kid escaped from jail on April 18, 1881. Garrett tracked him to Fort Sumner on July 14 where he was shot and killed. In 1889 Garrett moved to Uvalde, Texas where he was elected county commissioner. He was appointed sheriff of Dona Ana County, New Mexico in 1896. On December 20, 1901, President Theodore Roosevelt appointed him U.S. customs collector in El Paso, Texas, a position he held for five years. Garrett was murdered by Jesse Wayne Brazel on February 29, 1908. He was buried in the Old Fellows Cemetery in Las Cruces, New Mexico.
Joe Louis "The Brown Bomber", renowned heavyweight boxing champion, was born near LaFayette, on Buckaloo Mountain, May 13, 1914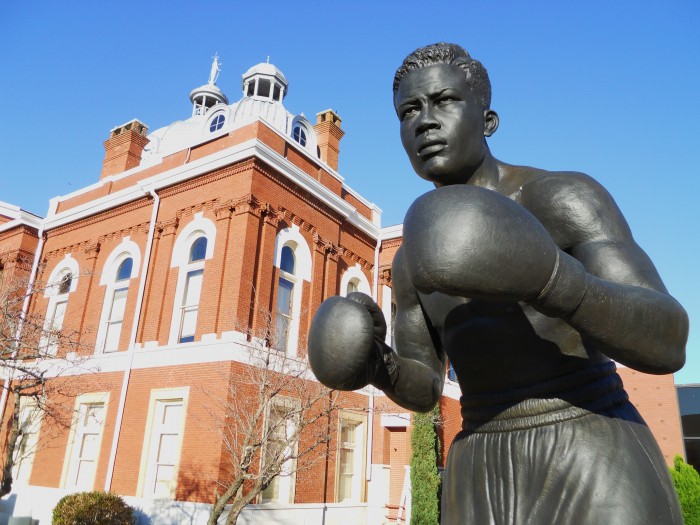 Statue of Joe Louis at Chambers County Courthouse
Confederate Commands from County.—The commands listed below were made up in whole or in part from this county.
Infantry
Co. A, "LaFayette Guards," 7th Regt.
Co. A, "Cusseta Greys," 14th Regt.
Co. C, "Tom Watts' Greys." 14th Regt.
Co. D, "Yancey Greys," 14th Regt.
Co. E, "Gilmore Greys," 14th Regt.
Co. F, "Billy Gilmore Greys," 14th Regt.
Co. G, "Wiche Jackson Blues," 37th Regt.
Co. I, 37th Regt.
Co. I, 47th Regt.
Co. K, 60th Regt. (Formerly Co. C, 1st
Battn., Hilliard's Legion). ,
Co. F, 61st Regt.
Cavalry
Co. 18th Regt. (Formerly Capt. W. T. Smith's Co. B, Moses Cav. Squadron).
Miscellaneous
Co. B, "Chambers Cavalry," 8th Confederate Cav. Regt. (Formerly Co. F, Brewer's Miss, and Ala. Cav. Battn.).
Co. K, "Goldthwaite Rangers," 8th Confederate Cav. Regt. (Formerly Beall's 1st Cav. Battn. or Mounted Men).
Co. A, "David Clopton Rangers," 10th Confederate Cav. Regt. (Formerly Co. A, 5th Battn., Hilliard's Legion; and served as an escort for Gen. A. P. Stewart from Nov. 5, 1863).
Co. E, 23d Battn. Sharpshooters (Formerly Co. E, 1st Battn., Hilliard's Legion).
Post Offices and Towns.—Revised to July 1, 1917, from U. S. Official Postal Guide.
Abanda
Langdale
Buffalo
Milltown
Cusseta
River View
Fairfax
Shawmut
Fivepoints
Standing Rock
Glass
Stroud
LaFayette
Waverly
Lanett
Welsh
Delegates to Constitutional Conventions.—
1861—James F. Dowdell, William H. Barnes.
1865—Toliver Towles, Jonathan Ware.
1867— Oliver Towles. 1875—E. G. Richards.
1901—J. J. Robinson, J. Thomas Heflin, J. B. Duke.
Senators.—
1834-5—Lawson J. Keener.
1837-8—William Wellborn.
1839-40—George Reese.
1843-4—James E. Reese.
1845-6—Charles McLemore.
1847-8—Robert Mitchell.
1849-50—Charles McLemore.
1851-2—Charles McLemore.
1853-4—Charles McLemore.
1855-6—E. J. Bacon.
1857-8—Robert Mitchell.
1861-2—William H. Barnes.
1865-6—William H. Barnes.
1868— H. H. Wise.
1871- 2—H. H. Wise.
1872- 3—J. J. Robinson.
1873- J. J. Robinson.
1874- 5—J. J. Robinson.
1875- 6—J. J. Robinson.
1876- 7—J. J. Robinson.
1878-9—J. J. Robinson.
1880-1—R. S. Pate.
1882-3—R. S. Pate.
1884-5—N. D. Denson.
1886-7—N. D. Denson.
1888-9—W. A. Handley.
1890-1—W. A. Handley.
1892-3—H. W. Williamson.
1894-5—H. W. Williamson.
1896-7—T. J. Thomason.
1898-9—T. J. Thomason.
1899 (Spec.)—T. J. Thomason.
1900-01—J. D. Norman.
1903—James David Norman.
1907—J. W. Overton.
1907 (Spec.)—J. W. Overton.
1909— (Spec) J. W. Overton
1911— J. D. Norman
1915 — B. F. Weathers.
1919— A. W. Briscoe
Representatives.
1834-5—Nathaniel H. Greer
1835-6—Leroy McCoy
1836-7—Charles McLemore
1837 (called)—Charles McLemore
1837-8—Charles McLemore
1838-9—William L. Crayton
1839-40—Toliver Towles: Arnold Seale
1840-1—Charles McLemore, Leroy McCoy
1841 (called)—Charles McLemore, Leroy McCoy
1841-2—Charles McLemore, Mathew Phillips
1842-3—Charles McLemore, Wm. S. Morgan
1843-4—Charles McLemore, William Holstein
1844-5—Ward Hill, Nathaniel Grady
1845-6—Ward Hill, Nathaniel Grady, Green D. Brantly, Leggett Robinson
1847-8—Toliver Towles, Fortune W. Chisholm, Green D. Brantly, Daniel S. Robertson
1849-50—J. M. Kennedy, Fortune W. Chisholm, Josephus Barrow, Benjamin L. Goodman
1851-2—W. W. Carlisle; P. M. Allison, George R. Hendree, Calvin Pressley
1853-4—Gibson F. Hill, Daniel S. Robinson, Jesse B. Todd
1855-6—Toliver Towles, John R. Alford, George F. Taylor
1857-8—G. W. Allen, Samuel Jeter
1859-60—A. J. Carlisle, Warner F. Meadors
1861 (1st called) —William A. Johnson, Thomas L. Penn
1861 (2nd called)—William A. Johnson, Thomas L. Penn
1861-2—William A. Johnson, Thomas L. Penn
1862 (called)—William A. Johnson, Thomas L. Penn
1862-3—William A. Johnson, Thomas L. Penn
1863 (called)—J. J. McLemore, J. C. Towles
1863-4—J. J. McLemore, J. C. Towles
1864 (called)—J. J. McLemore, J. C. Towles
1864-5—J. J. McLemore, J. C. Towles
1865-6—James L. Robinson, J. C. Meadors
1866-7—James L. Robinson, J. C. Meadors
1868—W. L. Taylor, B. McCraw
1869-70—W. L. Taylor, B. McCraw, W. F. Browne (elected to fill vacancy)
1870-1—Jonathan Ware, R. B. Lumpkin
1871-2—R. B. Lumpkin, J. Ware
1872-3—J. H. Barrow, H. R. McCoy
1873—J. H. Barrow, H. R. McCoy
1874-5—W. T. Harris, Joseph Stevens
1875-6—W. T. Harris, Joseph Stevens
1876-7—Wm. c. Darden, Wm. H. Denson
1878-9—N. W. Armstrong, A. W. Griggs
1880-1—W. C. Thomas, W. L. Wilson
1884-5—W. P. Finley; T. J. Stevens.
1886-7—JamesO. Norman; Joseph Steven.
1888-9—N. D. Denson; M. V. Maley.
1890-1—J. H. Harris; Gibson Whatley.
1892-3—W. A. Dent; W. P. Findley.
1894-5—C. M. Cole; J. H. Harris.
1896-7—J. T. Heflin; G. W. Newman.
1898-9—J. Thomas Heflin; John H. Stodghill.
1899 (Spec.)—J. Thomas Heflin; John H. Stodghill.
1900-01—J. H. Harris; E. M. Oliver.
1903—Lewis Stephens Scheussler; William Crawford Thomas.
1907—S. L. Burney; E. M. Oliver.
1907 (Spec.)—S. L. Burney; E. M. Oliver.
1909 (Spec.)—S. L. Burney; E. M. Oliver.
1911—Y. L. Burton; W. C. Thomas.
1915—Y. L,. Burton; J. W. Grady.
1919—J. V. Trammell.
For more photographs of early Chambers County, Alabama check out the Chambers County, AlGenWeb page.
SOURCES
History of Alabama and Dictionary of Alabama Biography Volume I (References.—Acts, 1831-32, pp. 9, 49; Brewer, Alabama, p. 160; Berney, Handbook (1892), p. 274; Riley, Alabama as it is (1893), p. 107; Northern Alabama (1888), p. 178; Alabama, 1909 (Ala. Dept. of Ag. and Ind., Bulletin 27), p. 84; U. S. Soil Survey (1911), with map; Alabama land book (1916), p. 47; Ala. Official and Statistical Register, 1903-1915, 5 vols.; Ala. Anthropological Society, Handbook (1910); Geol. Survey of Ala., Agricultural features of the State (1883); The Valley regions of Alabama, parts 1 and 2 (1896, 1897), and Underground Water resources of Alabama (1907); Rev. E. G. Richards, "Reminiscences of the early days of Chambers County," in The Lafayette Sun, 1890.)
iBrief history of Fredonia appears in that community's scrap book, prepared for entry in the County Community contest. It is our understanding that the author is Miss Eunice Turnham.
iiBrief history of Fredonia appears in that community's scrap book, prepared for entry in the County Community contest. It is our understanding that the author is Miss Eunice Turnham.
iiiBrief history of Fredonia appears in that community's scrap book, prepared for entry in the County Community contest. It is our understanding that the author is Miss Eunice Turnham.