(The story of this duel was included in many historical books, but it is still hard to believe.)
Hot words were passed and a challenge was given
There has been but one duel fought in Montgomery County. About the year 1839 Bush W. Bell (Bushrod W. Bell)  and John S. Bailey, two very prominent and popular citizens, had a misunderstanding and hot words were passed. A challenge was given and accepted, the day was appointed and the place selected for the fight. The place selected was about twenty miles from the city, on the road just beyond Line creek. Line Creek was then the boundary line between the State and the Indian Nation.
The duel was no secret: everybody knew that a comtemplated (sic) duel was to be fought between Bell and Bailey. They procured each a pair of duelling (sic) pistols, the finest made at the time. They were rifled barrels, muzzle loaders and about ten inches long. They both practiced with these pistols for several days before the duel; and it was said that they could step fifteen paces, turn and cut an inch ribbon in two. They were experts in the use of the pistol No one thought, if they fought, that either of them would get back home alive.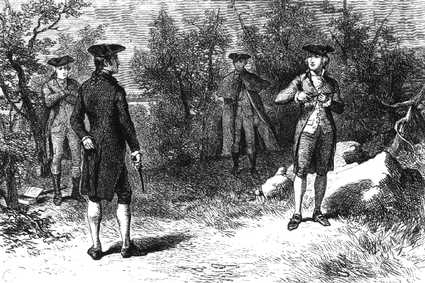 They both fired at the same time
When the day arrived the principals, with their seconds, friends and a physician, were on the ground promptly. The preliminary arrangements were soon made, and the ground stepped off, and the principals took their positions. At the words, "one, two, three, fire," they both fired about the same time, but neither was hurt. Their friends interfered and tried to stop the fight, but it did no good.
They demanded another round, and the next resulted as the first, nobody hurt. They demanded the third round, which resulted the same, and so on until the sixth round, when their friends interfered again; but the principals were determined to fight it out, and demanded the seventh round.
This duel was no sham; their pistols were loaded with powder and lead every time, and these gentlemen were not cowards, they were anything else; but they seemed to be unnerved, and would fire too quick.
The result of the seventh round was like the others, nobody hurt. They demanded the eighth round, in which Bailey received a very severe wound in the fleshy part of the hip. When Bailey recovered from the shock he was not satisfied and demanded the ninth round, in which Bell received a bad wound in the thigh. Their friends then interfered and forced them from the field.
It took a long time to recover
It took Bell and Bailey a long time to recover from the wounds. Bell got out first, and after the excitement of the duel passed off, he was elected Sheriff of Montgomery County. Bailey lived and died a respected citizen. It cannot be said that providence had anything to do with this duel, but it did seem that it was not intended for Bell and Bailey to kill each other.
SOURCE
(The account above was transcribed from a book entitled RECOLLECTIONS OF THE EARLY SETTLERS OF MONTGOMERY COUNTY, ALABAMA -Original data: Robertson, W. G.. Recollections of the early settlers of Montgomery County, Alabama. Montgomery, Ala.: Society of Pioneers of Montgomery, 1961. – At times the text was broken into additional paragraphs making it easier to read)
Family Surname Books – use the Search box to find your ancestor
Vinegar of the Four Thieves was a recipe that was known for its antibacterial, antiviral, antiseptic and antifungal properties for years. It was even used to cure the Bubonic Plague. See Thomas Jefferson's recipe in 

VINEGAR OF THE FOUR THIEVES: Recipes & curious tips from the past