It is hard to understand why the driver of this carriage did not stop to assist the women he hit. The Astor House was the first luxury hotel in New York City. Located on the corner of Broadway and Vesey Street in Lower Manhattan, it opened in 1836 and soon became the best-known hotel in America.  On June 1, 1836 the doors opened to the public and the lavish hotel made news as far away as England.  A London newspaper called it "A model of architectural beauty and of massive grandeur, luxurious and elegant in its appointments." The Astor House was demolished in December 1913. 
This hit-and-run accident was published in the Jacksonville Republican in 1837.
January 18, 1837
MOST EXTRAORDINARY AFFAIR
A Mrs. Bradford, wife of a gentleman from Alabama, (who are both residing at the Astor House) accompanied by another lady, were walking in Howard …. on Saturday, about 2 o'clock. Just as they were crossing the street they were driven against by a coach, apparently a private one, in which were two ladies.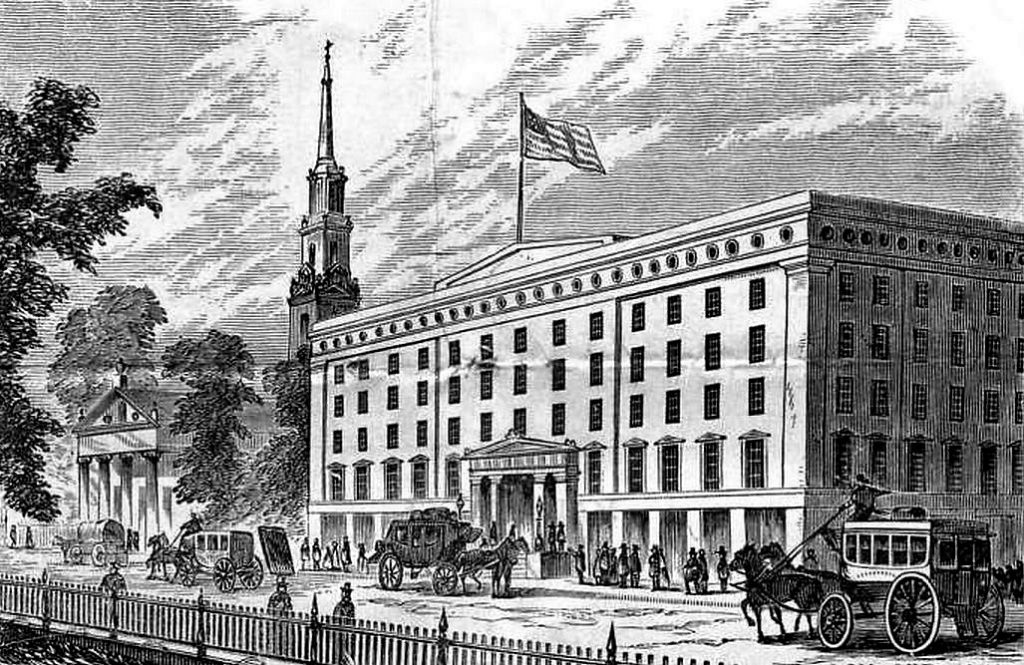 Astor House in 1862, with St. Paul's Chapel to the left (Wikipedia)
Mrs. Bradford and her companion were both thrown forward by the concussion, and the coachman had plenty of time to pull up; this he did not think it worth while to do, and the horses passed over Mrs. Bradford, and one of the wheels ran right across her forehead, while she had a sever contusion on the leg from the hoof of one of the horses. Mrs. Bradford describes her feelings at the time of the accident as if she raised her arms, and actually lifted the wheel by a convulsive effort. The two women in the carriage looked out of the window, surveyed the accident, and then coolly (sic) drove on without, enquiry or assitance. Luckily Mr. French; who lives in the neighborhood, happened to pass, and assisted Mrs. Bradford into his own residence; sent for medical aid, and then escorted her in his own carriage to the Astor House, where we are happy to hear she is doing well.
N. Y. Paper
RIBBON OF LOVE: 2nd edition – A Novel of Colonial America

 Coming from diverse cultural backgrounds and separated from the mainland by the Chesapeake Bay, the real world of the settlers of "The Kingdom of Accawmacke" is revealed and secrets about America's history are discovered in this well-researched novel.