Anne Royall (June 11, 1769 – October 1, 1854) traveler and author, was one of the first newspaperwomen in America. When her husband died in 1813, she traveled Alabama for the next four years and wrote letters to her friends about the evolution of the young state. The letters were published as a book entitled Letters from Alabama in 1830.
In January of 1818, Anne was in Huntsville, Alabama and she met Major Rose whom she describes in this transcribed letter.
Same date. (January 1st -1818)
Dear Matt,
I Left off with Major Rose, the merriest soul in the world. He is nothing but frolic and fun. He and Mrs. Rose have often called, and nothing pleases me better than his broad Scotch face. He is a merchant, and generally drops in in the evening, to take a game of backgammon, with Talbot, the landlord. It is ludicrous enough to hear their mock quarrels, cursing each other at every word. "Tell the d—d old b—r to come in—I'll be at him, by the Lard will I. Mariah, [Miss Talbot] set away the chairs, and stir up the fire, and draw up tables, and hop round—be brisk—you will never get married while you squeeze yourself up in them d—d coarse setts, and stuff them pan handles1 down your b ." This beats us all hollow, Matt. They are, however, the most generous of the human race.2
General Brahan is a prince
General Brahan, Benjamin Patterson, Esq. (the cousin of our friend,) Messrs. Reed and Cox, the latter Cashier of the Bank, and Dr. Bradford, are all the citizens I have been introduced to. General Brahan, of the late war, is a prince, in whatever light he may be viewed. He is polite and affable; of great size; handsome person; of middle age, and a man of great wealth. Mr. Reed, a merchant, is also a stout gentlemanly man, and said to be wealthy. Patterson is quite young, and one of the finest men in the world. Cox is a crusty old man, and a bachelor—but the dogs may take him for me.
I tried to see Colonel Pope, one of the first men in Madison county; but he was absent. He lives at the edge of the town.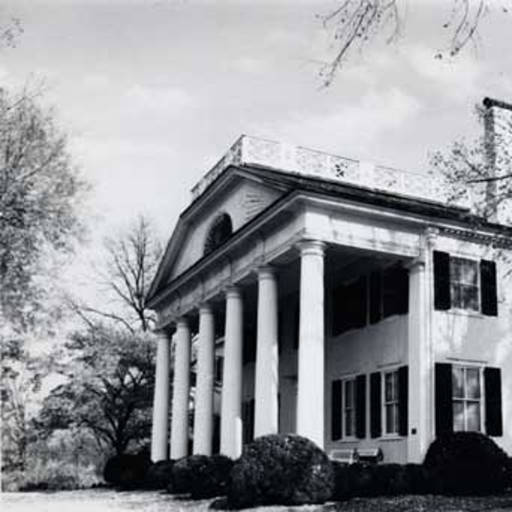 Leroy Pope Mansion (Library of Congress)
Mr. Patton is now one of the richest men in the territory
Mr. Patton, formerly of Monroe county, whom you knew well, and who set out poor, is now one of the richest men in the territory. This fortune he has acquired solely by his own industry and enterprize.(sic) Mr. Patton is much respected in Huntsville, and is the proprietor of large plantations, stock, &c. Madison county alone contains more wealth than half west Virginia! But more of it when I have been longer in the country.
Yours, &c.
1It is said that there was but two pans left with handles on them in Huntsville—one of these belonged to Mrs. T. which she keeps under lock and key.
RIBBON OF LOVE: 2nd edition – A Novel of Colonial America 

 – the true story of religion in America –

Inspired by true historical events, Mary and Henry Pattenden flee to America to escape persecution –  It is almost impossible to put the book down until completion. – Dr. Don P. Brandon, Retired Professor, Anderson University