Click http://www.alabamapioneers.com/honor-your-ancestor-on-alabama-pioneers-for-the-bicentennial/ to see how to honor your ancestor as a Notable Alabama Pioneer
JOHN WILLIAM ABERCROMBIE
BIOGRAPHY and GENEALOGY
(1866-1940)
St. Clair & Montgomery County, Alabama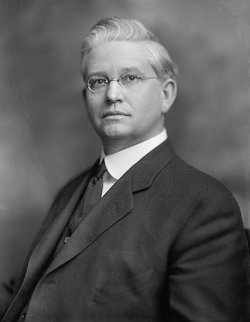 John William Abercrombie was a lawyer, superintendent of education, president State University, and representative in Congress. He was born May 17, 1866, near Kelly's Creek, St. Clair County, the son of Henry Monroe Abercrombie (Feb. 20, 1841 Calhoun County, Al – Nov. 10, 1893 St. Clair County, Alabama) and Sarah Anne (Kendrick) Abercrombie (b. Jan. 8, 1847 in Heard, Georgia -Dec. 1921 Crenshaw County, Alabama), the former a private in the C. S. Army, a farmer and a merchant. Henry Monroe and Sarah Anne were married around 1864.
They had six known children:
John William Abercrombie (b. May 17, 1866)
 Hesikiah Abercrombie (b. 1868 St. Clair, AL)
 Dr. Henry Simmons Abercrombie (b. Oct 1, 1872- d. May 31, 1967) married Grace Murray (Dec. 3, 1877 – Sep 10, 1963) She was born Dec. 2, 1877, in Wheatland, IA and died Sep. 10, 1963, in Crenshaw County, Alabama. Both are buried in Petrey Cemetery in Crenshaw County, Alabama.
 Ella J. Abercrombie (b. 1875 St. Clair County, AL)
 Viola Abercrombie (b. 1877 St. Clair, AL)
 Mary F. Abercrombie (b. 1879 – d. GA)
John William Abercrombie was the grandson of Isaac Abercrombie and Nancy (Dowdy) Abercrombie of Arbacoochee, Randolph County and of Andrew Jackson Kendrick. Isaac was born October 23, 1811, in Laurens County, South Carolina to William Abercrombie (b. 1765 Laurens Co. SC – ca. 1854 Fayette Co., Georgia) and Areacy Sarah Piccard (b. 1772-1822 GA.) Isaac died in 1855 in St. Clair County, Alabama.
Isaac married Nancy Dowdy on Nov. 2, 1837, in Calhoun County, Alabama. Nancy (Dowdy) Abercrombie was born Nov. 30, 1818, the daughter of Rubin Dowdy (b. 1785) and sister of Michael Dowdy born around 1810. Nancy (Dowdy) Abercrombie died June 11, 1912.
Isaac and Nancy (Dowdy) Abercrombie had the following known children:
William Robert Abercrombie (b. July 30,1838-d. Aug. 12, 1885) married Martha Adline Robertson (b. Apr 17, 1839 AL – Nov. 2, 1885, Jefferson Co., AL)
Henry Monroe Abercrombie (b. Feb. 20, 1841- d. Nov. 10, 1893) married Sarah Ann Elizabeth Kendrick
James Witt Abercrombie (b. July 9, 1843 – d. April 1, 1929) married Augusta Caroline Foote (Oct 1, 1844 – May 27, 1912)
Harris Newton Abercrombie (b. Apr. 27, 1845- Sep. 2, 1845)
Mary Elizabeth Abercrombie (b. May 27, 1848-d. Aug. 25, 1925) She married a Mr. Ragland.
Dr. John Patterson. Abercrombie (March 22, 1851- Jun 28, 1902) He resided in Shelby County, Alabama. He married Docia Adkins (Aug. 24, 1846 SC – Jun 25, 1912 Talladega, AL
Isaac Franklin Abercrombie (b. September 25, 1854)
The Abercrombies, Dowdys, and Kendricks were for many years been residents of St. Clair County. John William Abercrombie received his preliminary education in the common schools of his native county, and then attended Oxford (Ala.) college, at that time one of the best institutions of the State, under the administration of Prof. John L. Dodson. Here he obtained a thorough preparation for his future career as an educator, taking a four years' course in Latin, Greek, English, history, science and higher mathematics, and graduated with the degree of bachelor of arts in 1886. He graduated from the University of Alabama, LL.B., 1888. His career in educational work was continuous from 1886: president, Ashland college, 1886-87; principal, Cleburne institute, 1888-89; president, Bowdon college, Georgia, 1890-91; superintendent public schools, Anniston, 1891-97; and president, Anniston college for young ladies, 1897-98.
He served as mayor of Edwardsville, 1889-90; was a member of the State Senate from Calhoun and Cleburne Counties, 1896-97, and 1898-99; was elected State superintendent of education in 1898 and served until 1902; and was president of the University of Alabama, 1902-1911. The University of Alabama conferred the degree of LL.D., 1904, and University of S. C., 1905. In 1906, under his direction, the University celebrated its 75th anniversary. In 1912 he was elected to the 63rd Congress from the State-at-large, re-elected in 1914 to the 64th Congress, and retired at the expiration of his term, March 3, 1917. He was the author of the reports and other publications of the State superintendent of education, issued during his term, and he was also the author of several addresses, booklets, and documents on educational subjects. As president of the State University he had an interest in higher education, and under his administration, the university lost the friction which marred its government and steadily increased its enrollment of students.
In addition to his political service in the State, he was active in the larger field of educational effort. He served as member of Alabama textbook commission, 1903-1908; chairman Alabama Commission for selection of Rhodes scholars, 1903-1911; organizer and president Alabama Association of Colleges, 1908, 1912; member board of directors National Educational Association, 1900-1904, and 1909-1911; president Southern Educational Association, 1906-1907, and life member board directors since 1907; member National Association of State Universities, 1903-1911; president Southern Educational Council, 1912-1914; member National Council of Education, 1908-1912; appointed by President Wilson solicitor U. S. department of labor. In 1919, he was appointed State Superintendent of Education by Governor Kilby and subsequently elected State Superintendent of Education for the term 1920-1927.
He was a Missionary Baptist and a prominent Knight of Pythias; served in all chairs of the subordinate lodge of Knights of Pythias, Anniston lodge, No. 91; was representative to the grand lodge of Alabama in 1896, and in 1904 was past grand representative.
He married Rosa Merrill at Edwardsville, January 8, 1891. She was the daughter of James Benjamin Merrill and Elizabeth (Faver) Merrill, and sister of Walter B. Merrill and Hugh Davis Merrill . Rosa was born July 1875 in Georgia. They had the following children:
Myrl Elizabeth Abercrombie (b. Nov. 1891 Calhoun Co., Alabama) married about 1910 Edward T. Thomas (b. 1890 Baltimore), with Du Pont powder company, stationed at Washburn, Wis.;
Sarah Clare Abercrombie, (b. Oct. 1894) married around 1910 Charles H. Barnwell, Jr., captain in the U. S. Army;
Ruth Abercrombie, married John Charles Bondurant, (b. ca. 1890) of Jacksonville on Dec. 8, 1916, in Calhoun County, Alabama.
Rose Abercrombie
John William Abercrombie died in Montgomery, Alabama July 2, 1940, and is buried at Greenwood Cemetery along with his wife Rosa (Merrill) Abercrombie
SOURCES
History of Alabama and dictionary of Alabama biography, Volume 3 By Thomas McAdory Owen, Marie Bankhead Owen
Richardson, Jesse Monroe. The Contributions of John William Abercrombie to Public Education. Nashville, Tenn.: Bureau of Publication, George Peabody College for Teachers, 1949.
http://www.karenrobert.com/abercrombie/findex1.htm
Find A Grave Memorial# 24291467 # 38323239 # 6215378 # 54671035 # 54672587 # 13365459 # 13365414 # 24237652 # 24237701 # 6404438
findagrave.com

# 6404437

# 14560482

# 34723039

# 44794852

# 74769718

# 74777063

# 14560437

# 74776370

# 74776536

# 21842797

# 4532

# 34628726

# 7960864

# 14560400

l# 14560388

# 103192269

# 14538231

History of Alabama and dictionary of Alabama biography, Volume 3 By Thomas McAdory Owen, Marie Bankhead Owen
Anyone can read E-books—even without a E-book reading device—with the FREE Kindle app for computers, smartphones and tablets. Store your books on the Free Kindle Cloud Reader and save space on your computer. Borrow the book and read it for FREE if you belong to Amazon Prime.