Anderson went after Frierson
Lawrence County, Alabama)
written ca. 1890s
by
Col. Edmond Saunders
Rufus K. Anderson, Esq., came to Moulton about 1825 from Tennessee. He was a handsome man, dressed well, and had genteel but distant manners. Our people somehow didn't give him much encouragement, and after a year or two he left Lawrence and went into Pickens. His tragic history is told by Colonel Garrett in his "History of the Public Men of Alabama:"
"Rufus K. Anderson, formerly of Tennessee, resided in Pickens, and was a Senator in the State Legislature from 1829 to 1833. He had previously killed his brother-in-law, Thomas P. Taul, of Franklin County, Tennessee, and was arraigned for murder. He was on trial eighteen days, during which he was defended by Hon. Felix Grundy, the eminent advocate, who succeeded in procuring his acquittal by the jury.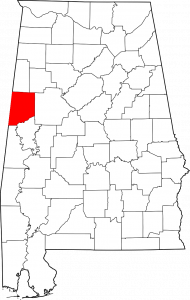 Pickens County, Alabama
He was a dangerous man
"Mr. Anderson was said to be an overbearing, reckless man, who insulted whom he pleased, and was generally regarded as a dangerous man. Peaceable men avoided difficulties with him, and would often submit to exactions rather than enter into a deadly conflict.
To oppose him in any way, or to incur his resentment, brought life into jeopardy. It was reported that he had beaten one of his slaves to death in his barn, and had left him hanging from a beam. Several persons happened to pass near the barn and peep through the cracks to see if the negro was there. Among those who looked in for discovery was Mr. Gideon B. Frierson. It appears that Mr. Anderson was then away from home. In the meantime, Mr. Frierson made a journey to Mississippi.
Anderson declared vengeance
When Mr. Anderson was informed of the liberty that had been taken at his barn he declared vengeance and set out in pursuit of Mr. Frierson to take his life. At one place he dined where his intended victim had stayed the night before, and on learning that the latter had left a bundle for which he would probably return the next day, Mr. Anderson said he would remain, as he wished to see him.
Providentially the bundle was sent for by the person to whom it was addressed, and Mr. Frierson went in another direction.
Anderson kept on his track, from Mississippi to Pickensville, and arrived in a few hours after Mr. Frierson reached home, April 1834. The latter was in his office when he was informed of the threats of Anderson to take his life and was advised by his friends to be prepared. He loaded a double-barreled gun and awaited the attack.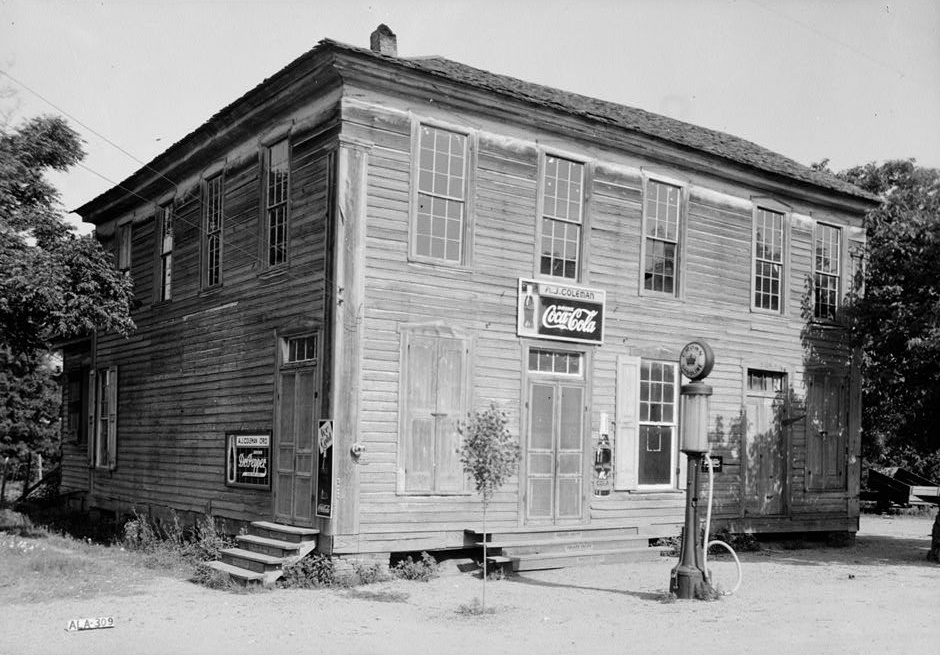 Store in Pickensville (Library of Congress)
I am after your blood
Anderson appeared before the office and called out in a loud, angry voice: " Come forth, Gideon, like a man. I am after your blood, and am determined to have it. Face the thing at once, and let it be over."
" In the meantime, Mr. Frierson had retired from his office through the back door and came facing the street where Anderson stood. On the latter perceiving him he advanced with his pistol drawn, swearing that the time had come, and he would make sure work.
Mr. Frierson discharged one load without effect, and as Anderson still came on, he emptied the other barrel with better aim. A number of shots entered the breast and shoulder of Anderson, who in the meantime had fired one pistol, and drawn another.
Mr. Frierson held his ground and was about to club his gun. To ward it off, Anderson picked up a chair which he held before him as a shield, when Mr. Frierson struck a blow with his gun which shivered the chair into fragments and came down on the head of Anderson with such force, that the cock penetrated his brain; he fell to the ground, and died in a few minutes.
Thus the bloody encounter terminated fatally to the aggressor, and much to the relief of the community. Mr. Frierson was not even prosecuted."