(Transcribed and unedited (with misspelled, capitals and grammatical errors) excerpt from a story written by WPA (Works Projects Administration) writer Annie L. Bowman, Escambia County, Alabama, January 8, 1940) This was taken from Flomaton Journal and an interview with the subject of this story.
The bravery of Sydney Ernest Manning
by WPA author
Annie L. Bowman
January 8, 1940
Sydney Manning is listed as one of General Perchings Immortal ten.
Few men were so highly honored as this Flomaton Boy. This hero was born and reared within a few miles of Flomaton. He received his education at Flomaton and Pollard grammar schools. He enlisted in the army at first call for men in the world war, and went to Europe to help "stop Kaiser Bill."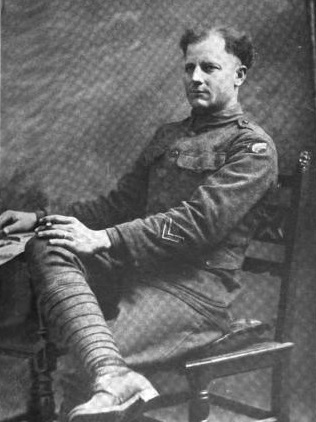 Sidney E. Manning, WWI recipient of the Medal of Honor (Wikipedia)
Won Congressional Medal of Honor
Corporal Manning did more than his part, his chest is decorated with the Congressional Medal of Honor, the victory Medal, with five bars; the Croix de Guerre with Palm and Military Medal, from France; Italy's Merite de Guerra, Russia's Military Medal and a special award by the State of Alabama.
He was under German fire at Champagne – marne, Aisen-Marne, St. Mihiel, Meuse-Argonne and in Definsive Sectors, and is, therefore an authority on the German Soldiers ability to fight.
Manning's Medal of Honor reads: "For conspicuous and intrepidity above and beyond the call of duty in action with the enemy near Breuvannes, France July 28th, 1918, when his Platoon commander and Platoon sergeant had both been killed, soon after the beginning of the assault on strongly fortified heights overlooking the Oureq River, Corporal Manning took command of his platoon which was near the center of the attack line."
"Though himself severely wounded, he led forward the 35 men remaining in the platoon and succeeded in gaining a foothold on the enemy position, during which time he had received more wounds and all but seven of his men had fallen. He declined to take cover until the line had been entirely consolidated with the line of platoon on his flank when he dragged himself to shelter, suffering nine wounds in all parts of his body."
"A most courageous and zealous soldier, though severely wounded he refused aid until the objective was carried and prepared for defense."
He also received the Montenegrin Medaille pour la Bravoure Militaire and French Medialle Militaire with citation reading.
Lived a quiet life in Flomaton
Corporal Manning lives four miles from Flomaton across big Escambia river on a farm of forty acres, which the government gave to him with a nice house built on it for his bravery and help during the world war. He also receives $50 dollars a month pension. Although only forty-five, he lives quietly on this farm with his wife Mamie Knowles whom he married shortly after the war. He has never recovered from the wounds received then and suffers continually.
They have one son Little Sydney as he is called. He is eighteen years old and works in a garage at Flomaton.
Note from transcriber: Corporal Manning died December 15, 1960 and is buried in Little Escambia Cemetery in Flomaton, Alabama.
Do you need some guidance in your genealogy search? Save time and avoid pitfalls in your research. This book provides simple, no-nonsense instructions to help you get started. Many FREE research links included. Where Do I Start is filled with Hints and Tips to begin your family genealogy research and acquire Genealogy information.
WHERE TO FIND – online resources, experienced genealogists will not be aware of many of these.
COURT RESEARCH – how to do court house research, where to find birth, death, social security records free online.
EIGHTY – ONE QUESTIONS – you should ask your elderly loved-ones before it's too late.
TIPS ON BREAKING DOWN THE WALL – Everyone faces some difficulties in research, often called a 'brick wall' but WHERE DO I START? provides suggestions for overcoming them.

Download Where do I Start? to your Kindle in less than 30 seconds or to your PC, iPAD, iPhone, MAC or Android device with FREE Apps from Kindle.