Glider flew in 1893 over Mobile Bay beach
The land around Brookley field in Mobile, Alabama has played a part in United States aviation history since 1893, six years before Wilbur and Orville Wright's famous flight.
In 1893, bicycles were the craze so Wilbur and Orville Wright, the two brothers who are credited with discovering the principles of human flight, opened a bicycle shop to take advantage of the interest. That same year, the people of Mobile looked up in wonder at as a self-built manned glider flew over the beach of Mobile Bay. The "twisted rubber band powered propeller"i managed to propel the glider in the air for about 15 feet.
John Fowler constructed a flying machine in a shop behind his house
The man who had built the glider was John Fowler, a Mississippi born watch, clock, and sewing machine repairman, who arrived in Mobile, Alabama around 1890. "He was known not only for being a fine craftsman and occasional preacher, but also for spending all his spare time constructing a "flying machine"ii in a small shop behind his house. After his successful flight in 1893, "the public noticed his efforts and became curious about his future experiments."
John Fowler's manned flight took place six years prior to the famous Wright Brothers flight in a motor-powered craft, at Kitty Hawk, North Carolina, on December 17, 1903.
After Fowler's initial success in 1893, Fowler built his second "flying machine" on Virginia Street in Mobile near the Jewish cemetery in 1895. The motorcycle had just been invented and Fowler attempted to use "a pair of two-cylinder motorcycle engines to overcome natural torque generated by whirling propellers." However, little was known about propellers in those days and "despite his detailed preparations, Fowler's craft never flew" and crashed when a flight was attempted.
After this failure, Fowler moved his workshop closer to Monroe Park, near the present day Brookley field, and started on his third "flying machine" in 1899. He tested the machine secretly behind the open-air theater using a rope to tie the glider. When the winds were "strong enough", he released the rope and sailed through the air at the joy of spectators who began paying "eagerly to watch John Fowler fly at what was Arlington Park."
Entrance to Monroe Park ca. 1900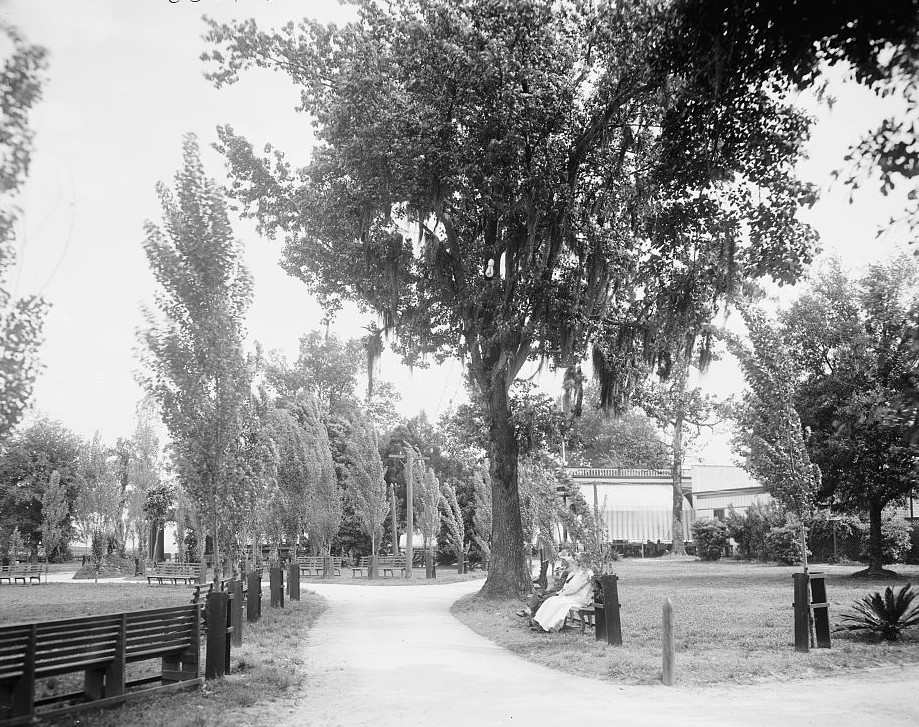 The Wright brothers heard of John Fowler's success and one of the brothers visited his workshop around 1900 and he showed great interest in Fowler's aircraft, "particularly the wings and control surfaces." When the Wright Brothers achieved their success in 1903, they used Fowler's wing design in their plane.
After the Wright Brothers' achievement, aviation development grew and Brookley field became a noted landing port for many famous pilots, such as Charles Lindbergh and Amelia Earhart.
Commercial planes to transport passengers began to develop. Osbert Edwin Williams, a Michigan-born pilot relocated to Mobile, Alabama in 1917 and opened a flight school and manufacturing facility. The US government was supplied with airplane engines built by Williams. In fact, the first reliable air speed indicator was built by his company and is still in use today.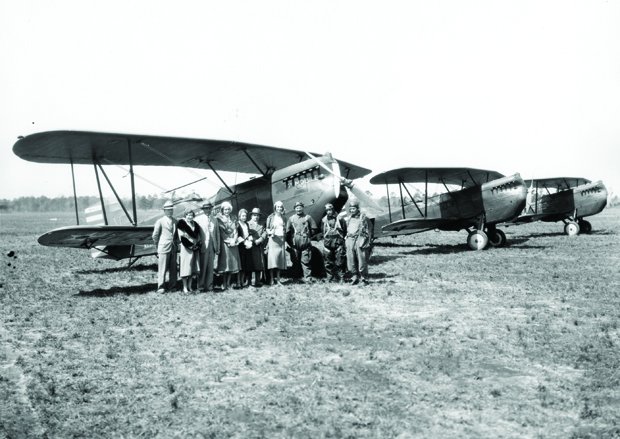 Farmland in the area of Brookley was bought from Mayor Cecil Bates in 1929, and became the city's first municipal airport, called Bates field in honor of Mayor Bates. In 1939, Bates Field was selected by the United States War Department for the Southeastern Air Depot of the U. S. Army Air Corps on which now became a 1,400 acre site which according to Gen. Hap Arnold to become "the largest of flying fortresses."
Mechanics Repairing a Flying Fortress at Brookley Field, Mobile, Alabama ca. 1930-1939 (Alabama Department of Archives and History)
The site was renamed Brookley in December 1940 by the War Department for Air Corps Captain Wendell H. Brookley, who was killed while testing a wooden propeller on an airplane at Bolling Field in Washington.
Wendell H. Brookley ca. 1900 (Bain News Service from Library of Congress)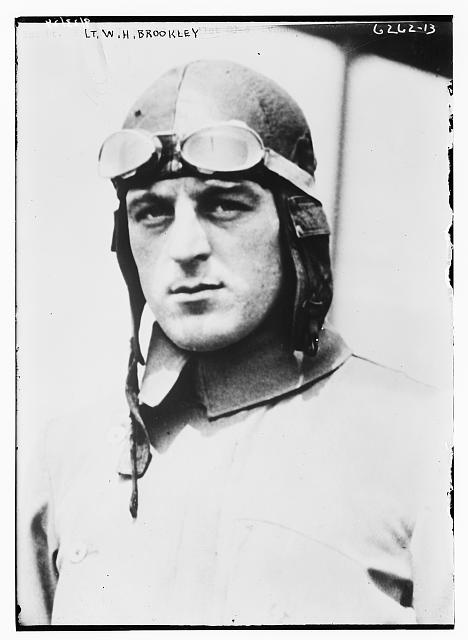 During WWII, Brookley Air Force Base was heavily used. Workers built the 'Ocean Terminal' at Brookley, making it the only Air Material Area in the continental United States with a deep water port. By January of 1943, Brookley had a peak employment of 17,097 workers and was the largest employer of the city of Mobile. Later that year Arlington Pier (a recreation area near the base) was condemned and became a part of the base.
Airacobras Being Serviced On Line At Brookley Field, Mobile, Alabama ca. 1940s (Alabama Department of Archives and History)
"One of the keys to Allied victory in Europe was the Norden Bomb Sight, which enabled bomber squadrons to target Germany's war-making industry and infrastructure much more accurately. The military repaired and calibrated the bombsights at Brookley in a secret facility, still standing and in use today. After the war, Brookley continued to operate as an Air Material Command."iii
Brookley Air Force Base participated in the "Pacific Air Lift," in 1950 by sending troops, supplies and material to Korea and helped with the evacuation of wounded soldiers.
"By the 1960s, Brookley base had nearly 13,000 employees. Rumors about closing Brookley Air Force Base started to surface in early 1960s. The Secretary of Defense announced its closure in 1964, widely believed to be President Lyndon Johnson's retaliation for Alabama voting for his opponent Barry Goldwater in the 1964 presidential elections. When Brookley closed officially in June 1969, nearly 10% of the local workforce lost their jobs. This was the largest base closure in history."iv
The Federal Government returned Brookley Field to the City of Mobile and the city in turn leased a large portion of Brookley to Teledyne Continental Motors. Teledyne builds the engines that powered the Voyager on its record-breaking non-stop round-the-world flight in 1980.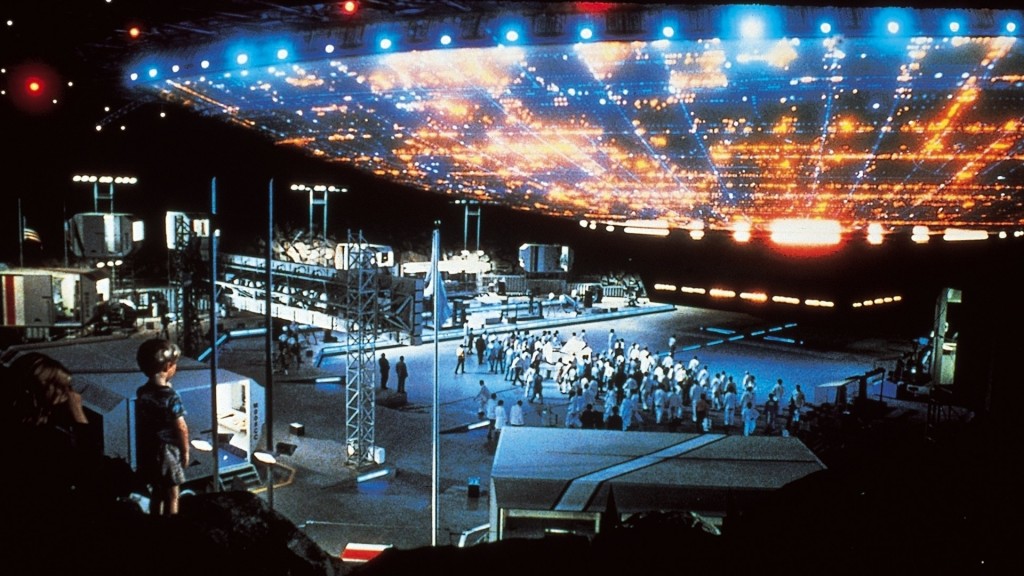 In 1977, Brookley Aeroplex took an unworldly path when much of the main spaceship scene in the Steven Spielberg movie, Close Encounters of the Third Kind was filmed in the largest indoor movie set ever built in dirigible hangars at Brookley Field. Sets for some of the homes were built in hangars at the airfield.
"In 1984, NASA wanted to display the revolutionary Space Shuttle at the New Orleans World's Fair. NASA needed a runway long enough to land a specially modified 747 carrying the Space Shuttle on its back. Once on land, the Shuttle was too big to transport by road or rail, so the runway had have immediate access to a deep-water port where the craft could be loaded onto a barge and carried to the World's Fair site. Brookley's unique combination of long runway and deep-water port at Arlington Point made it the only facility able to handle the transfer." Since then, many other companies in the aviation industry found Brookley, with its unique blend of road, rail, water and air, was a perfect site for aircraft manufacturing and repair and they have located there.
"In 2012, Mobile Aeroplex at Brookley was selected to become home of Airbus's first U.S. final assembly line manufacturing the A320 family aircraft.
For 115 years, Brookley has seen some of the greatest developments in aviation. From a rubber-band powered "flying machine" to the newest and most sophisticated military aircraft, the aerospace industry has found Brookley Field on Mobile Bay the perfect place to be."v
SOURCES
Smithsonian National Air and Space Museum
Youtube
Some stories include:
The true story of the first Mardi Gras in America and where it took place
The Mississippi Bubble Burst – how it affected the settlers
Did you know that many people devoted to the Crown settled in Alabama –
Sophia McGillivray- what she did when she was nine months pregnant
Alabama had its first Interstate in the early days of settlement