When Leland Barton and Mamie Cork were married in the little Wesley Chapel Church in 1897, the father of the groom presented the bride with a hand carved dough bowl he had shaped from a huge cedar tree in his front yard.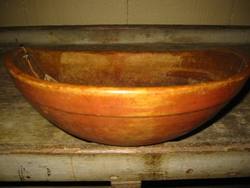 Scraps from the dough would be cycled back into a smaller batch
For 65 years Mamie took the dough bowl out of the flour box in the pantry, put in two handfuls of self-rising flour, a fistful of lard, and mixed until the fat was in particles smaller than peas, added buttermilk and worked it into a moist dough. It was transferred to a cheese cloth covered with flour on the metal-topped box and rolled out for cutting biscuits. Scraps from the dough would be cycled back into a smaller batch and cut again.
Biscuits were placed in the oven next to the roaring firebox. A woman was judged by her biscuits, hot and fluffy, flat and chewy, or hard as rocks. Some were almost as big as saucers, others slightly larger than a silver dollar. They would be served with sausages from the hogs killed in freezing weather, then processed by smoking in the smokehouse. Fresh eggs were abundant and grits completed the meal with homemade jelly and molasses to add sweetness and energy for a long farm workday.
The dough bowl was each woman's equipment for crafting biscuits, yeast rolls, or piecrusts, and was a symbol of her mastery of the womanly cooking arts. Having it made especially for her greatly increased its value.
My mother cherished the dough bowl
Granny Barton died in 1963. My mother was the last surviving sibling in the Barton family and the cherished dough bowl came to her and eight years ago was passed down to me. It shows its age and there are spots where a fruit display stained the center, but it is an honored vessel. With five daughters it has been hard to me to decide who gets it next. Perhaps it will continue to have a place of honor for the next generation.
VINEGAR OF THE FOUR THIEVES: Recipes & curious tips from the past
Vinegar of the Four Thieves was a recipe that was known for its antibacterial, antiviral, antiseptic and antifungal properties for years. It was even used to cure the Bubonic Plague.