During the 1930s, Great Depression era, many writers were employed to interview people around the United States, so their experiences and life history could be recorded. The program was named the U.S. Work Projects Administration, Federal Writers' Project and it gave employment to historians, teachers, writers, librarians, and other white-collar workers. This is one of those stories.
Customs of Dress (in the 1930s)
by
Works Project Administration Writer (WPA)
Maude Dreisbach
September 17, 1936
The people of the larger towns and cities of Alabama are as modern as New York in their dress, adopting the fashions of the seasons. In many of the rural sections of the State, the dress of the people is as individual and distinctive as the Shaker bonnet or the Mennonite cap.
In such sections, the dress and hat of the young woman may have been copied, as best she could, from a picture she had admired in a fashion magazine published ten years before it fell into her hands.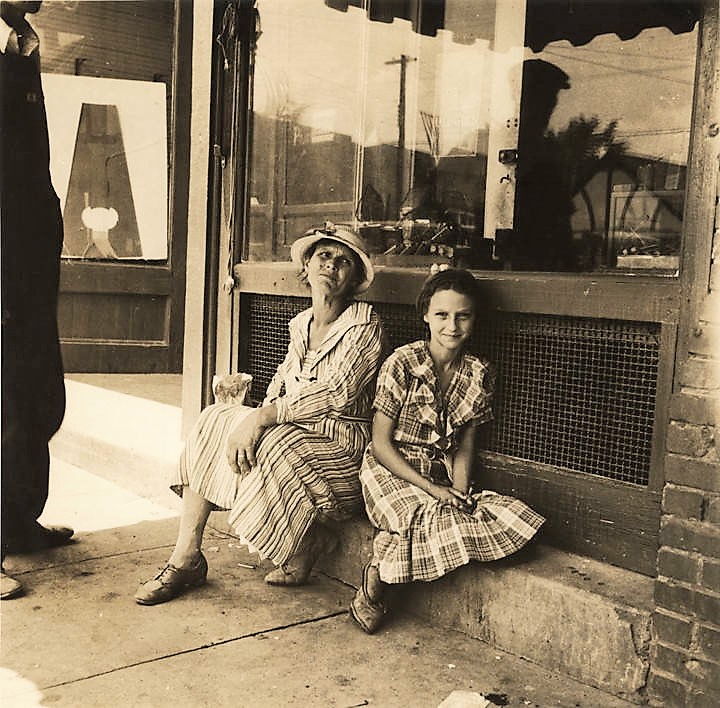 Farm people come to town – Unidentified woman and girl in Eden, Alabama June 1936 (Dorothea Lange, Library of Congress)
Considered old at forty
A woman is considered old at forty; no longer does she ape the styles or wear colors. She wears a "slat bonnet" of somber color, as is her dress, made with tight basque and full skirt that touches the ground.
This bonnet has a full heavy skirt hanging far down over the shoulders, the head-piece or brim held out over the face by "slats" of pasteboard inserted between two layers of cloth. Dress and bonnet are usually of black or dark brown cotton material.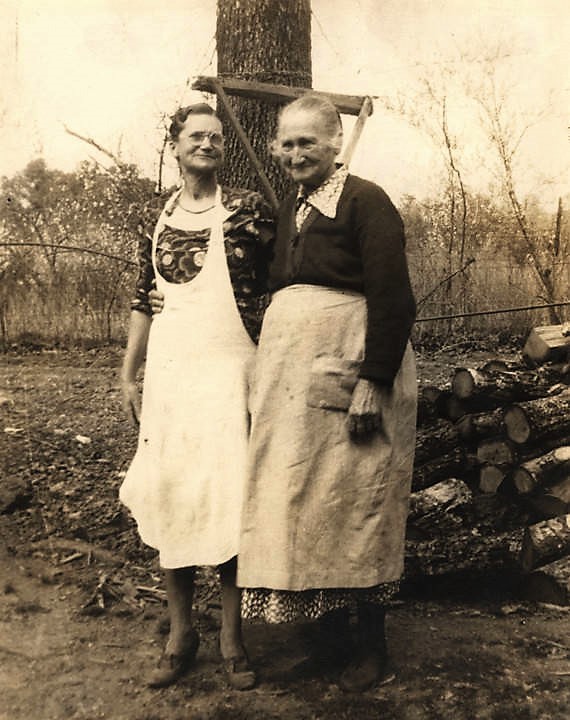 Martha Kelley Stewart of Eden, Alabama, with an unidentified elderly woman ca. 1936 (Alabama Department of Archives and History)
White apron worn on special occasions
On important occasions, funerals, marriages, and camp meetings, a white apron that reaches from the waist to the bottom of the skirt may be worn, the belt of the apron extending into a sash that is tied into a large bow at the back of the waist line. The more fastidious border their aprons with crochet lace. These aprons generally call for an extra shine of blacking on their homemade shoes.