YELLOW FEVER IN GREENSBORO, HALE COUNTY, ALABAMA1
(Published in 1908)
Once in its history of nearly a century, Greensboro has been visited by yellow fever. It was in the year 1897, and the disease was in the town several months before the physicians officially declared it to be such. There were possibly some fifty cases from the middle of August till the 18th of November, and about a dozen deaths from that cause during the period.
The trains were taken off the railroad the latter part of October and were not run for a week or two. Provisions became scarce, and the inhabitants, many of them, were on scant rations when traffic was resumed. Even before the existence of the fever was announced by Dr. Elisha Young, there was a panic among the people, and many endeavored to leave for other points, but found that they were hemmed in on all sides,—all places having quarantined against Greensboro.
Many went to the country and remained until after the disease was stamped out by the frost on the 18th day of November. Those who remained did what they could to alleviate the sufferings of the afflicted, attended the sick and buried the dead. Business was almost at a complete standstill during the months of October and November.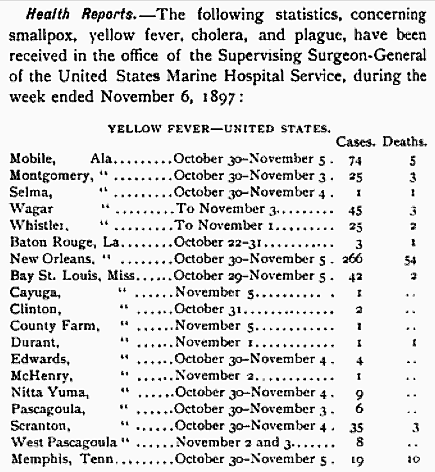 Names of some of those who died from yellow fever in 1897
Many excellent citizens died during that year, and it will long remain a memorable period in the history of the town. In January, J. P. Lieser, Dr. J. M. Pickett and Mrs. Jane Buchanan died. In February, Miss Eliza Smaw and Charles A. Sheldon. In March, Alfred Drake and Wilkes Hanna. In April, Mrs. Katherine Randolph and J. Pick Moore (near Greensboro.) In May, Capt. James M. Jack. In June, Mrs. John M. Martin. In August, little Mary Quitman Seed. In September, J. C. Dew. In October, John H. Young, James W. McCrary, Syd Johnson, little Elizabeth Ward, little Margaret Jones and Miss Ida Dorman. In November, Thomas Q. Smith, Shelby W. Chadwick, little Annie Parrish, little Lizzie Lawson, Dr. Thomas R. Ward, Mrs. Maria Williams and Frank Chadwick. In December, D. J. Castleman.
The death rate among the negroes was also unusually high during 1897.
Where Do I Start?: HINTS and TIPS for BEGINNING GENEALOGISTS with ONLINE RESOURCE

 Do you need some guidance in your genealogy search? Save time and avoid pitfalls in your research. This book provides simple, no-nonsense instructions to help you get started. Many FREE research links included.
Tips include:
WHERE TO FIND – on-line resources, experienced genealogists will not be aware of many of these.
COURT RESEARCH – how to do courthouse research, where to find birth, death, social security records free on-line.
EIGHTY – ONE QUESTIONS – you should ask your elderly loved ones before it's too late.
TIPS ON BREAKING DOWN THE WALL – Everyone faces some difficulties in research, often called a 'brick wall' but WHERE DO I START? provides suggestions for overcoming them.