Old Customs in Alabama – Folk Ways
During the 1930s, Great Depression era, many writers were employed to interview people and write stories about life in the United States. The program was named the U.S. Work Projects Administration, Federal Writers' Project and it gave employment to historians, teachers, writers, librarians, and other white-collar workers. This is a transcribed, unedited, handwritten story from an unknown WPA writer.
The early religious life (of Alabama citizens) was almost Puritanical. The theatre, all forms of dancing, and, in fact, most worldly pleasures were considered sinful, altho' the people gradually became more lenient toward these things.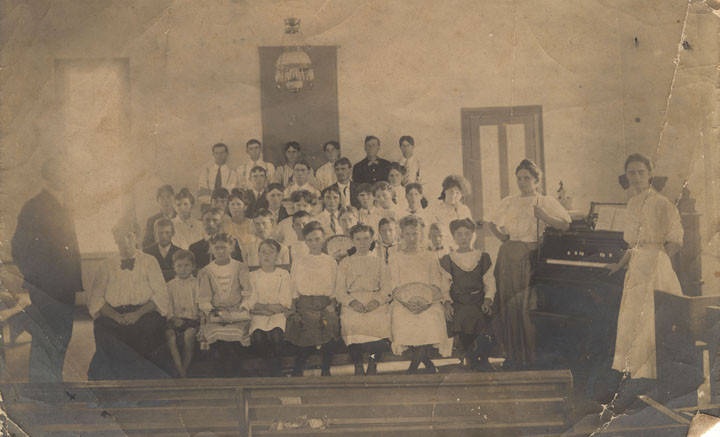 Group of children and adolescents inside the old Baptist church in Randolph, Alabama ca. 1900 (Alabama Department of Archives and History)
Any work on Sunday or any worldly pleasure on that day was against the religious faith of most persons; this idea, no doubt, coming from the Hebrew law of the seventh day Sabbath.
The church songs were slow and mournful.
Family worship was more prevalent than in these modern times.
The sermons of the olden days were very long, sometimes lasting two or three hours. The literature was not so varied as now.
The main books read were the Bible, Pilgrim's Progress, and Shakespeare. Fiction was not so widely read nor so plentifully produced.
The social life was simple and much hospitality was shown.
Much of the folk ways and customs, folk ideas, folk tales, etc. are lingering remnants of the life in the old country. The language contains words such as "tote", an African word, and yo'all (you all) which are still used to some extent, as are also 'holp" (helped) from the old English, and some other obsolete words which were once accepted as good English.
Faith and Courage: 2nd edition -A Novel of Colonial America 

Inspired by real people and actual events, the family saga of colonial America continues with Ambrose Dixon's family. Faith and Courage

presents

the religious persecution of Quakers in Pre-Revolutionary War days of America intertwined with a love story.