During the 1930s, Great Depression era, many writers were employed to interview people around the United States, so their experiences and life history could be recorded The program was named the U.S. Work Projects Administration, Federal Writers' Project and it gave employment to historians, teachers, writers, librarians, and other white-collar workers. This is a transcribed unedited story written by WFJ on July 23, 1937, about an event in Clarke County, Alabama. Jim Copeland was an American outlaw whose crimes took place in southern Mississippi and southern Alabama.
THE MYSTERIOUS HUSBAND
written by WFJ 7/23/1937
Many years ago, soon after Clarke county was established, and new settlers were coming in rapidly, among them came William Walker with his family and settled at the place now called Walker Spring.
Here, by the side of a much-traveled road, he built a tavern for the accommodation of the many travelers then passing through, naming his establishment The Roadside Inn.
In those days travel was slow and sometimes difficult, and as the traffic increased by reason of the influx of added new-comers, the business of The Roadside Inn grew in proportion accordingly.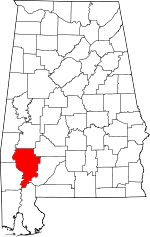 Clarke County, Alabama
See future husbands face in a well
Among the members of the Walker family were several daughters, one named Elizabeth, a very pretty girl, and it is concerning her life and experiences this story is written.
In many sections and among certain classes an old belief existed that girls of marriageable age could see the image of their future husbands face by looking down into the water of a dug well under certain conditions. The attempt must be made at the hour of noon, on the first day of May, and the method employed was the use of a mirror held over the well in such a manner as to cast a reflection on the surface of the water at its bottom.
On such an occasion, Elizabeth with her sisters, were trying the experiment when suddenly she became excited and almost swooned, saying she had seen clearly the image of a man's face looking up at her from the surface of the water below. For a time the girls were quite thrilled over the outcome of their observations, but as the older members of the family treated the matter lightly, the incident was soon forgotten by all except Elizabeth, to whom the experience had occurred.
Stranger arrived at the Inn
Time passed, and one day a stranger on horseback approached the Inn and applied for lodging for the night. When Elizabeth saw him she immediately recognized his as the face she had seen in the well, and so informed her mother. Again the matter was given little thought and the daughter was told it was merely a day dream. However, she insisted his was the face she had seen so clearly.
Afterward the stranger passed through frequently, always lodging at the Roadside Inn. A rather handsome chap, he was apparently a man of means as he seemed at all time to be well supplied with money which he spent freely, and rode a splendid horse. He gave his name as Collins, and his business as a trader, dealing in land, live-stock and slaves.
In the course of time, he and Elizabeth fell in love with each other, which culminated in their marriage a few months after his first visit. Thus came to pass the event foretold by the incident of the image seen by her in the well.
Following their marriage she accompanied him to their new home in north Alabama, where he continued his activities as an alleged trader. But his failure to present her to neighbors, or to invite them to visit her, or to even introduce her to his friends, aroused her suspicion, and led her to the realization that something was amiss and all was not well.
She was lonely
His business called him away on supposedly long trips during which he would be absent for days – even weeks at a time. Otherwise he treated her well, and continued to be free with his money of which he appeared at all times to be well supplied. While she did not fully understand these things, his explanations of his periods of absence, together with her faith in and love for him, caused her to overlook much she could not understand.
In a little more than a year following their marriage, twin boys were born to them, and though Collins was still absent much of the time the twins were to her a source of comfort, and a means of dispelling in part her loneliness besides occupying pleasantly much of her time.
While absent on one of his numerous and to her mysterious trips, one day a party of men rode up to the porch of their home where she and her babies were seated. The men were armed and inquired of her if Jim Copeland lived there. She informed them to the contrary and told them she and her husband, named Collins lived there and that he was absent at that time on business.
Returned home
After talking with her a short while, making inquiries concerning her husband's business they rode away. Presently, one of the party returned and explained that he was a neighbor, and while he bad been impressed with her previous statement, he was of the opinion still, that her husband was none other than Jim Copeland, a member of Murrell's band of outlaws, and the posse who had just left were seeking him and would certainly capture him eventually. He advised her to return to her people in Clarke county.
After considering the matter seriously, and in view of past events, she concluded the neighbor had informed her correctly, so she and the twins returned to her father's house, the Roadside Inn.
One night some months later, while she was absent visiting a sick neighbor, the twin boys were left in charge of an old negro mammy. The old negro was familiar with the history of Miss Elizabeth's unfortunate marriage, and had been given instructions to allow no one in the room where the babies slept. But during the night Jim Copeland came back to Clarke county and to Roadside Inn to see his wife and their sons.
His arrival and request to see them greatly frightened the old nurse, but assuming a bold front she said: "Now Mistah Jim, you go on away, 'cause Miss 'Lizabeth dont never want to see you no mo'."
Dreamed of his capture
But with disregard for her warning and command, and brushing her aside, he proceeded to the little bed where the babies slept, followed closely by the old negro who was fearful he might try to take them away.
In this she was mistaken, for he made no such attempt, only looking down at them with longing, tearful eyes. Before departing he told the old negro to say to Miss Elizabeth that he felt she would not be annoyed or embarrassed much longer on his account as he was certain he would be captured soon. The reason he gave for this was that constantly haunting him was a dream he had that a man on a big white horse was pursueing him, and he was impressed that this must be true. He asked that she also tell Miss Elizabeth that he had always loved her, but would never see her again. He then rode away.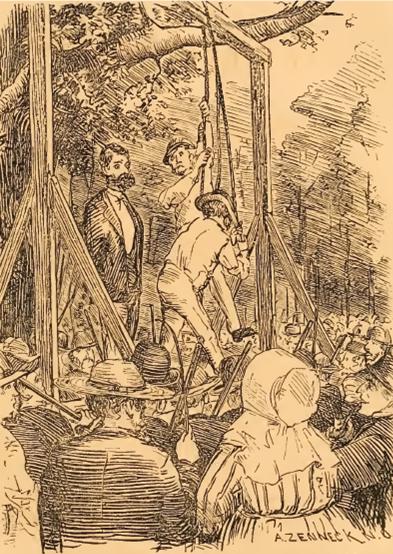 James Copeland hanging 1874 by J. R. S. Pitts (Wikipedia)
A few weeks later Jim Copeland was captured in George county, Miss. The posse making the capture was led by the sheriff who rode a large white horse.