FIRST COURTHOUSE A LOG CABIN JAIL BUILT IN 1839
By J. M. K. GUINN1
Written for The Randolph Toiler, Wedowee, 1896
Number Seven
Under the treaty of March 24th, 1832, Che-wasti-hadjo held the north half section 3, township 20, range 11, on which the Indian village was situated. Judge Archibald Sawyer entered the east 1/2 southwest, and west 1/2 southwest 1/4 southeast 1/4 section 3, township 20, range 11, October 5th, 1836, on which the town of Wedowee was then located.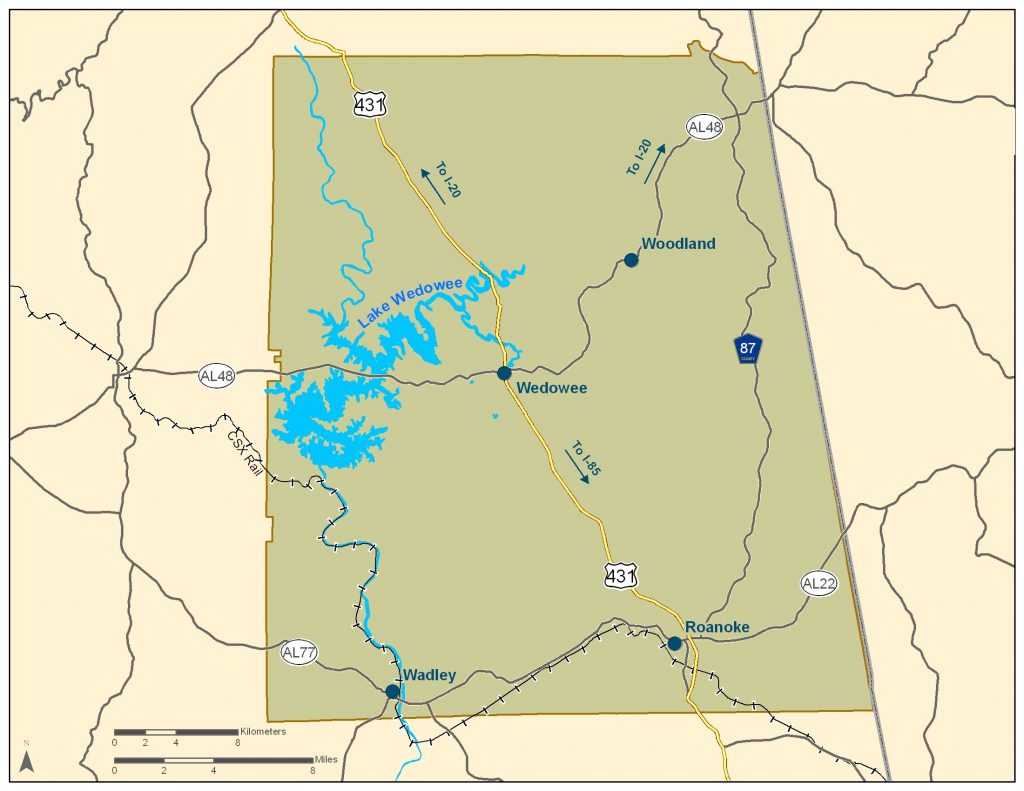 New courthouse needed
The legislature in December 1832, in the act establishing the boundaries of the new counties, you should remember, made provision for two commissioners to locate the county seats. We have no official information as to whom or when these commissioners were elected yet it is reasonable to suppose such were elected at the August election in 1833; and temporarily located Triplett's ferry as the county seat, afterwards finding it was not near enough (within six miles) to the center of the county, and after the April term of the circuit court held near Triplett on the Flat rock, selected Wedowee.
The supposition is that the court held in Wah-wahnee's wigwam was the October term of the circuit court in 1834. It was, at least, one step towards higher civilization—from a rock to a wigwam—not only with the red man but white pioneers.
It was an honor no doubt, Chief Wah-wah-nee and his people appreciated and certainly an act of kindness and liberality to the honorable court. We can't tell where the courts were held in 1835; if not held in Wah-wah-nee's wigwam or some other wigwam or white man's house, most likely out under a tree in the open air. For awhile the commissioners had selected the present location, the town was not platted until December 1st, 1835, nor lots sold until March 14, 1836.
Spring term in new courthouse
The spring term of the circuit court held afterward was in April and no doubt in the new courthouse. Sheriff Hightower's duty was to secure a place for the court and as he owned the lot on which the house was built, and in the absence of any record or other evidence or information, the county paid for it. It must have been a private investment without dimensions or accommodations specified more fully than, "it was for the use of the court".
With dirt floor, three holes cut for windows and one for a door, without a shutter to either, no seat for the clerk or seats for the jury. Another and higher step or object lesson of civilization from an Indian wigwam to a pioneer's cabin. What need for door shutters, seats for jurors or table for clerk with a bachelor judge, clerk and Sheriff and the proceedings of the court kept on hickory and poplar bark with lead pencils and the prisoners jailed in a hollow tree or wagon bed turned bottom up—Sheriff Hightower bossing the job? We find the following order of the commissioner's court:
February Term, 1837.
It is ordered by the court that the sheriff (Willis Wood) be instructed and required to have such repairs made to the courthouse as seems most necessary, viz; A judge's seat, clerk's table and seats for the accommodation of the jury and with a good and substantial door shutter, and that said work be completed by the circuit court next ensuing and that he present his account to the next term of this court for allowance,
Wm. McKnight—- )
Wm, Mullaley—– ) Com.
Thomas Blake—– )
Dwellings built out of logs and had dirt floors
Hundreds of The Toiler's readers may imagine the pioneer fathers were old fogies when they read about a dirt floor, courthouse without shutters to door or seats to sit on. We won't think anything strange if they do, for there are but few of them who know anything about pioneer life and inconveniences. "Maybe so" when we tell you, you won't "think so".
There was no saw nor grist mill nearer than Dickson's, the old Jacob Eichelberger, and now James McCosh Mill in the extreme southeast corner of the county. We don't know whether Dickson sawed lumber then or not. The business and dwelling houses were built out of logs or slate 6 or 8 feet long, split timber fashion and wattle in. Whipsaws that two good hands would cut 300 feet of plank per day, with broad axes in the hands of skilled laborers were a great help toward building until sawmills run by water were introduced. Jacob Peeler put in a mill 1 mile east and at the present W. W. Dodson mill place, and sawed lumber and ground corn and wheat and new frame houses went up all about.
Mail routes established
Congress passed an act, approved July 2nd, 1836, locating and establishing the following mail routes: From Franklin, Heard County, Georgia, to Wedowee; from LaGrange in Troup County, Georgia, via Dickson's Mills, Wedowee, to Talladega; from Jacksonville via White Planes and Boiling Springs, to Wedowee, from LaFayette, via Wedowee, Sawyer's ferry on Big Tallapoosa River, via White Plains, to Jacksonville. An act approved July 7, 1838, the following routes were established: From Montreal, via Wedowee, to Carrollton, Georgia; from Hickory Level, via Adrian's ferry to Arbacooche Gold Mines, and Canal Gold Mines, to Franklin, Ga.
Hollow poplar tree jail was too small
At the September term, 1837, of the Commissioners Court an order was passed to advertise town lots for sale on October 30th. This notice was ordered published in "The Southern Register", at Jacksonville, Alabama, and the "Columbus Sentinel": at the same term a contract was let to build a new jail. (Hightower's hollow poplar tree jail was too small to facilitate the dispatch of business and comfort of its inmates we suppose). Leonard W. Young bid off the contract at $1,000. Jeff Faulkner and Jeptha V. Smith, County Building Commissioners, reported the completion and acceptance of the jail December 14, 1839.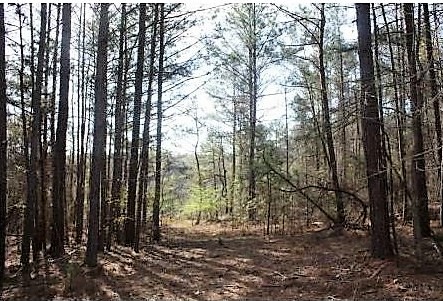 Roanoke, Randolph County, Alabama (LandWatch.com)
Courthouse and jail built
At the August term 1839, a contract for building a court house let. Hightower's courthouse like his jail, couldn't accommodate the court and facilitate business. Isaac Baker bid it off at $2,000, to be completed by August 1840. It was received September 5th, 1840. At the May term, 1839, there was an order to advertise another sale of town lots in the Jacksonville Republican; that grand and true patriot, James F. Gran, was it's editor.
On January 1st, 1840, that true and tried, first and most faithful of all county judges, Archibald Sawyer, retired to private life after serving from January 1st, 1833 to January 1st, 1840, seven long, honest, faithful years, and so far as we know or the official records show, honored, loved and respected in public and private life. And with his retirement, a name associated with him from the first to the last official act ceased to be officially recognized as the county seat—it was Wedowee.
Andy Burnham, county judge, and McDonald, county seat January 1st, 1840.
1JAMES MILES KILLIAN GUINN, author of this history of Randolph County, published in the Randolph Toiler, Wedowee, Alabama, in 1896, the third son of James W. and Catharine Ann (Dobson) Guinn, was born November 5, 1835, at Franklin, Macon County, N.C., and died at Langdale, Alabama, June 8, 1903, and is buried at Wedowee. He was educated in the common schools and in 1858 removed to Texas but returned to Alabama and volunteered for service in the Confederate Army and was mustered into service at Montgomery, July 28, 1861. He arrived at Richmond, Va., a few days later and was made Lieutenant of Company K, 13th Alabama Volunteers and afterward promoted to Captain. The Colonel of the Regiment was Birket D. Fry, a Californian, who was at the time living in Tallassee, Ala., holding a position with the Tallassee Mills. Mr. Guinn's regiment was in A. P. Hill's Division under Stonewall Jackson. He lost his left arm at Cold Harbor in the seven days fight. He was at Chancellorsville, in the Wilderness Battle and at the seige of Yorktown. He married first Emily F. Burton, at Wedowee, Ala., February 27, 1862, and three children were born of that union, Emily, Katy and Robert. His wife died November 6, 1865, at Alto, Texas. The next year he returned to Alabama and on February 21, 1869, married at Wedowee, Mary F. Foster, daughter of Byrd Culbertson. This wife died August 1, 1907. Mr. Guinn was a farmer, owned and edited the Enterprise Publisher, Wedowee, from 1873 until 1875. He was County Superintendent of Education between 1873 and 1879; was in the mercantile business in Roanoke, 1879 until 1883 and was U. S. Storekeeper and Guager under Cleveland's first administration.
SOURCE
Alabama Historical Quarterly, Vol. 04, No. 03, Fall Issue 1942.
First Mardi Gras in America

The Mississippi Bubble Burst

Royalists settle in Alabama

Sophia McGillivray- A Remarkable Woman

The Federal Road – Alabama's First Interstate