(Building below is the Supreme Court in Montgomery, Alabama)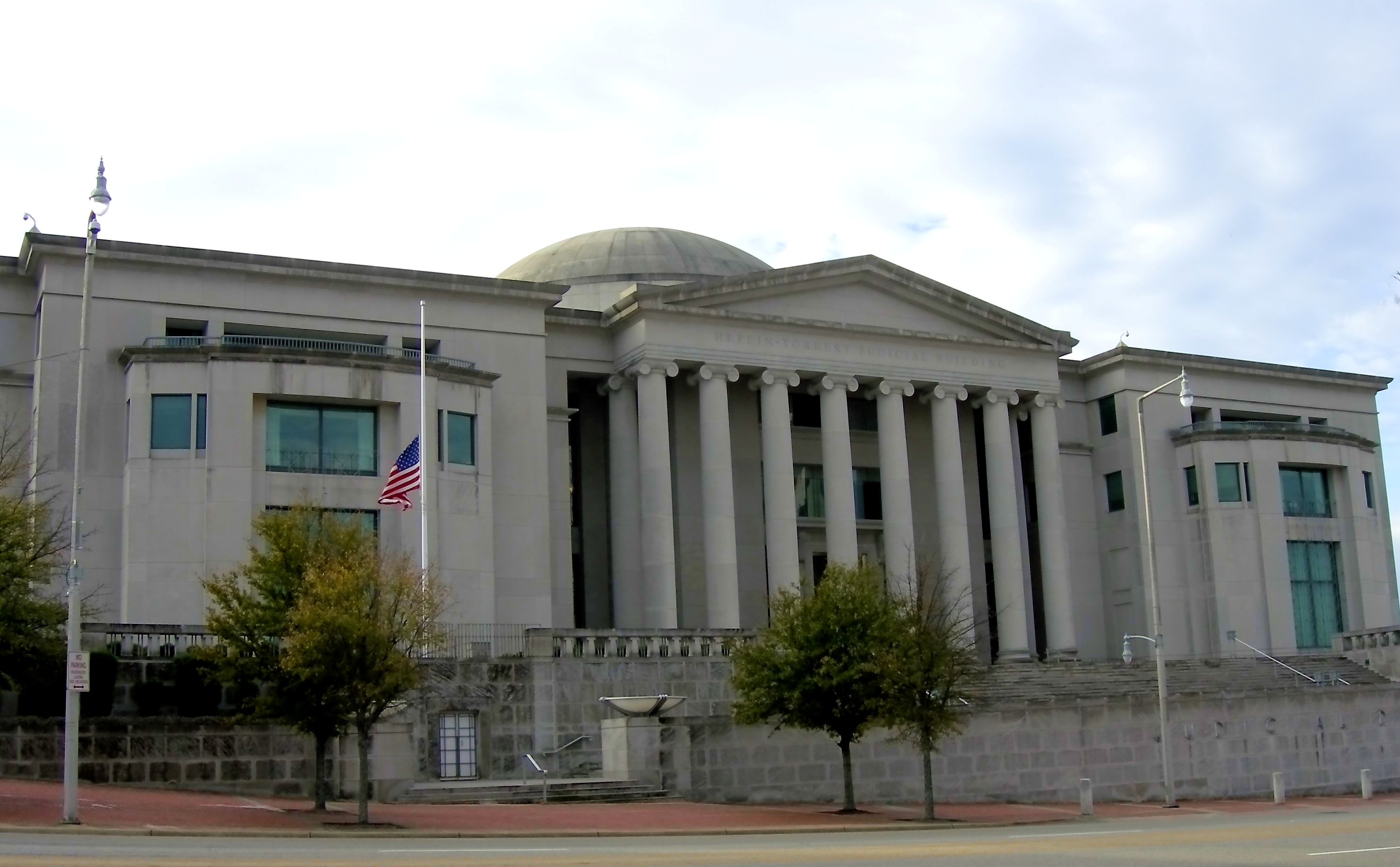 Met at Cahawba in Central Alabama
"The Alabama Supreme Court convened for the first time on May 8, 1820.  The court, first met in the capital of Cahawba.
The First General Assembly for the new State of Alabama authorized that the Supreme Court sessions should by held twice a year in Cahaba, beginning on the second Monday in May and the second Monday in November. It was composed of Alabama's circuit court judges.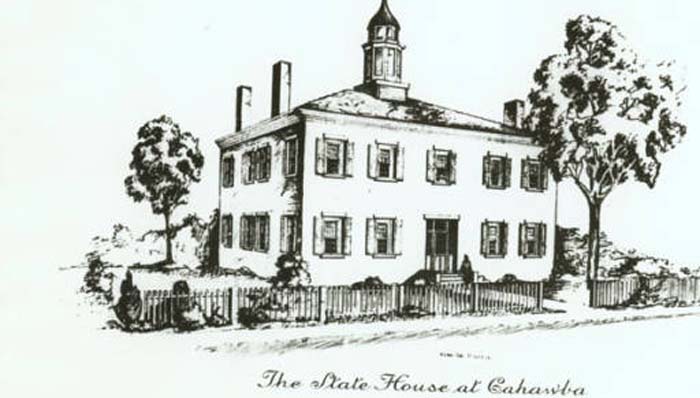 The State House at old Cahaba (Alabama Department of Archives and History)
The early Court System
The five circuit judges who made up the first Supreme Court of Alabama were Abner Smith Lipscomb, First Circuit (counties of Baldwin, Washington, Clarke, Monroe, Conecuh); Reuben Saffold, Second Circuit ( counties of Henry, Butler, Wilcox, Dallas, Autauga, Montgomery); Henry Young Webb, Third Circuit ( counties of Marengo, Greene, Perry, Cahawba (later renamed Bibb), Tuscaloosa, Jefferson: Richard Ellis, Fourth Circuit (counties of Limestone, Lauderdale, Franklin, Lawrence, Marion); Clement Comer Clay, Fifth Circuit (counties of Shelby, St. Clair, Jackson, Madison, Cotaco (renamed Morgan)
Abner Smith Lipscomb was absent from the First Session.
Conditions must have been primitive
The conditions the judges found in Cahaba must have been primitive since the area had been a forest less than a year prior to the session. They met in the private home of William Pye, who was awarded the sum of $20 for his inconvenience.
After choosing Clement C. Clay, who later served in Congress and as governor, Chief Justice,  they issued nine published opinions, all of a civil nature which became the genesis of Alabama's precedential case law.
The decisions
The most significant decision confirmed that the Supreme Court was a tribunal limited primarily to appellate jurisdiction. Most of the other published decisions concern technical matters.
However, there was a review of a civil action against a person accused of killing a slave. In this case, "the court ruled that no action can be brought for a private injury sustained in a felony until after acquittal of the felony.
In another case, they ruled that "former residents of the Territory of Louisiana subject to Spanish rule were not competent to serve as jurors in Alabama unless they could show they were naturalized U. S. citizens or citizens of Louisiana at the time of its admission into the Union."
 Alabama Supreme Court Courtroom
SOURCES
Alabama Law Review Volume 61, Number 5, 2010
Clearing the Thickets: A History of Antebellum Alabama By Herbert James Lewis Quid Pro Books, Mar 2, 2013
Compiled records of BIBB COUNTY, ALABAMA PIONEERS VOLUME I