EARLY
HALE COUNTY, ALABAMA
Hale County, Alabama was created by the Legislature of the State of Alabama on January 30, 1867.
The larger part of its territory constituted the eastern section of Greene County, but it also includes parts of Marengo, Perry and Tuscaloosa.
Named for Lieut. Col. Hale
The county was named for Lieut. Col. Stephen Fowler Hale, a lawyer of prominence, residing at Eutaw, and who was killed at Gaines' Mill, in Virginia, at the head Of the Eleventh Alabama Infantry Regiment. Of him Brewer says: "The memory of Col. Hale is preserved in the name of one of the noblest counties of the State."
Col. Stephen Hale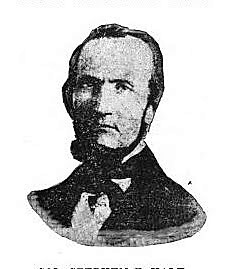 In the act of establishment Amasey M. Dorman, Allen C. Jones, William T. Hendon, J. H. Osborne and George H. Sheldon were appointed commissioners to organize the county. The commissioners were empowered to lay off election precincts and appoint managers, and an election was held by them on the first Monday in March 1868, for the election of county officers. Where defendants resided in the new county, suits pending in the circuit, chancery or other courts were to be transferred on the application of defendants. The new county was required to pay its pro rata proportion of the debts of the counties from which it was taken. All business in the probate courts of any of the old counties pertaining to estates of deceased persons, or to infants residing within the limits of the new county, was on a petition to be removed to the probate court of Hale.
At the election held in March 1868, Greensboro was chosen as the county seat.
Greensboro, County seat of Hale County 1937 (Library of Congress)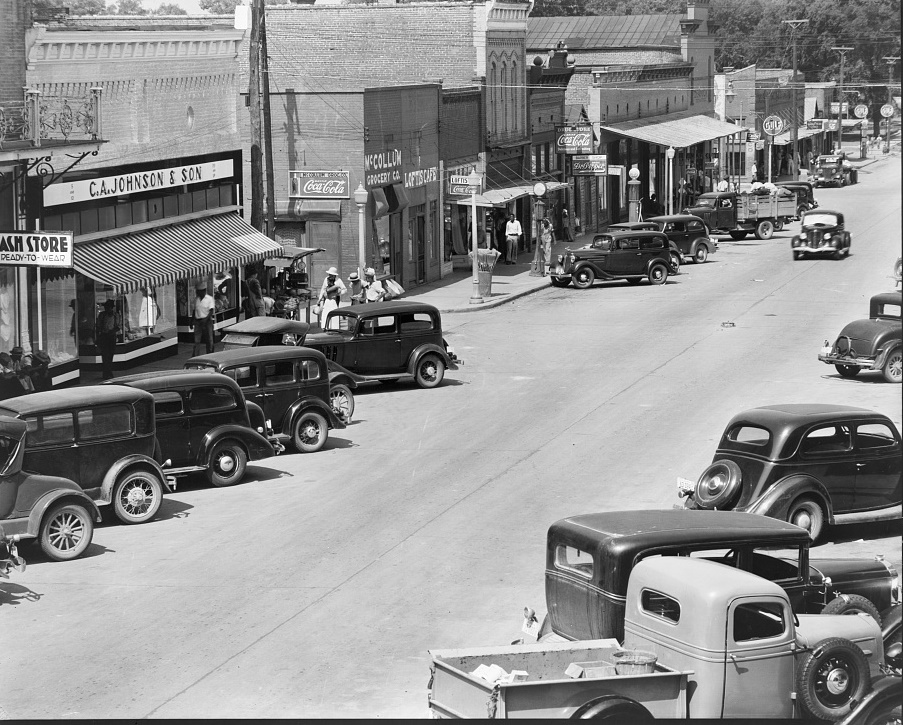 Location of Hale County
Hale County is situated in the west central section of the state. On the north lies Tuscaloosa, on the east Bibb and Perry, on the south Marengo, and on the west Greene County.
The county is drained largely by the Black Warrior River, which forms the line between Hale and Greene Counties, and which flows into the Tombigbee just below the southern boundary of the county. The principal creeks of the county, all draining into the Black Warrior are Big Prairie, Little Prairie, McMillan, Big German, Elliott, Five Mile and Big Creeks.
Black Warrior at sunset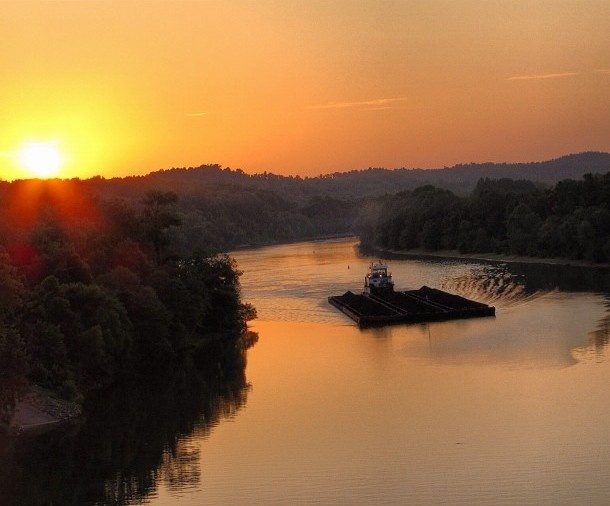 The county lies chiefly in what is known as the Coastal Plain. Its soils all belong to the Cretaceous period, except the LaFayette, which is post-Tertiary. The upper section of the county is locally known as the sandy land region, while the lower half is the prairie or limestone belt.
Greensboro on dividing line
Greensboro, the county seat, is situated on the dividing line between the Eutaw sand and Selma chalk, or rotten limestone, giving rise to sandy post oak lands, formed by the sands overlapping the chalk. In the lower part of the county, near Prairieville, is a ridge of 60 to 70 feet of almost pure limestone, which crosses the county from east to west.
Candy was the first merchant in the area and was instrumental in founding the village of old Troy in 1817, on the eastern edge of what became Greensboro.  The landing served as a shipping and receiving point for goods to and from Mobile by steamboat.  Steamboats plied the river as far as Tuscaloosa beginning as early as 1821 and remained the primary mode of transportation for the next half century.
Old store in Greensboro, Hale County, Alabama 1941 by Walker Evans (Library of Congress)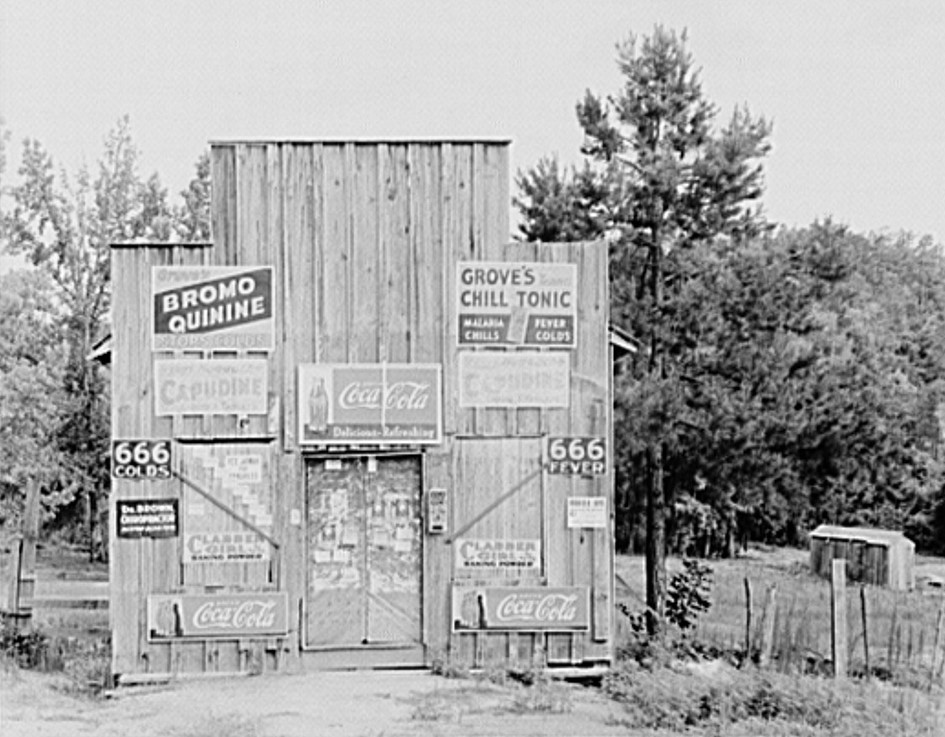 Native Americans of Moundville
Few localities in the southern States can equal and none north of Mexico can surpass the wealth of evidence of aboriginal culture shown by the Moundville section of this county. In the vicinity of Greensboro and around Newbern are found further evidence, though they do not compare with those along the Warrior River. The results of a complete exploration of the Moundville locality made by Clarence B. Moore in 1905 and 1907 were published in "Journal Academy of Natural Sciences of Philadelphia," 1905 and 1907, vol. 13, pp. 128-243, 337-405.
In a private letter, Mr. Moore says: "I do not think in the Southern States there is a group of mounds to compare to Moundville, in the arrangement and state of preservation of the mounds." "The time will come when the State of Alabama will regret not having purchased and preserved these wonderful monuments."
General Store near Moundville, Alabama July 1936 (Library of Congress)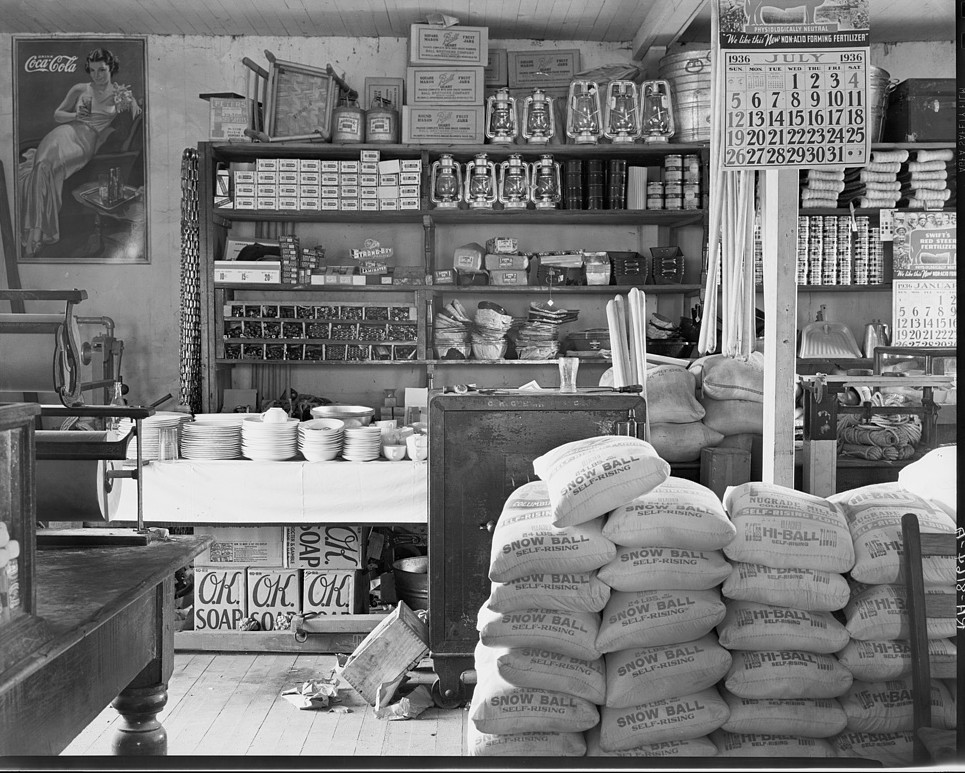 Copper ornaments similar to Lake Superior region
The copper ornaments found here are similar only to those of the Lake Superior region. Hundreds of vessels, not only of a superior ware, but of beautiful designs, were carried from Moundville to the museum of the Academy at Philadelphia. Urn burial was noted.
Of the 20 mounds, originally in the Moundville group, all but two were more than 11 feet in height, one being 57 feet.
Moundville,  2010 by Carolyn Highsmith (Library of Congress)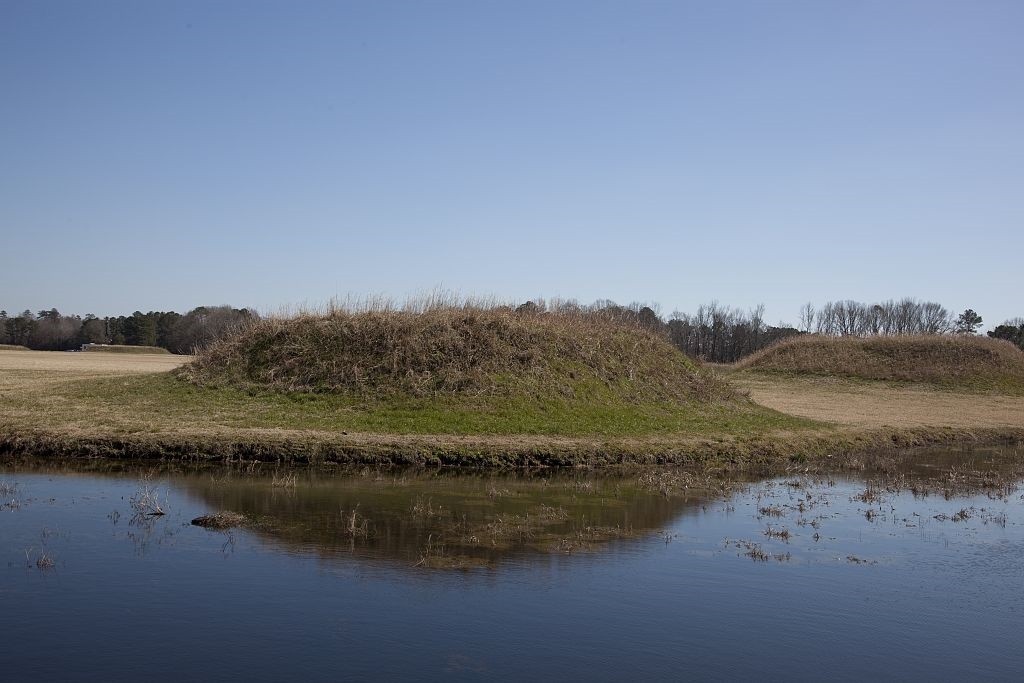 A Monolithic hatchet of Amphibolite, not comparable with any found in the United States, was dug up here several years since, on the plantation of Mr. C. S. Prince. It is also in the Philadelphia museum. The flint objects from the southeastern section of the county show a superior quality as well as workmanship.
Mounds are found at Arcola, near Candy's landing, below Lock No. 7, near Bohannons landing and in the town of Moundville.
Moundville, 2010 by Carolyn Highsmith (Library of Congress)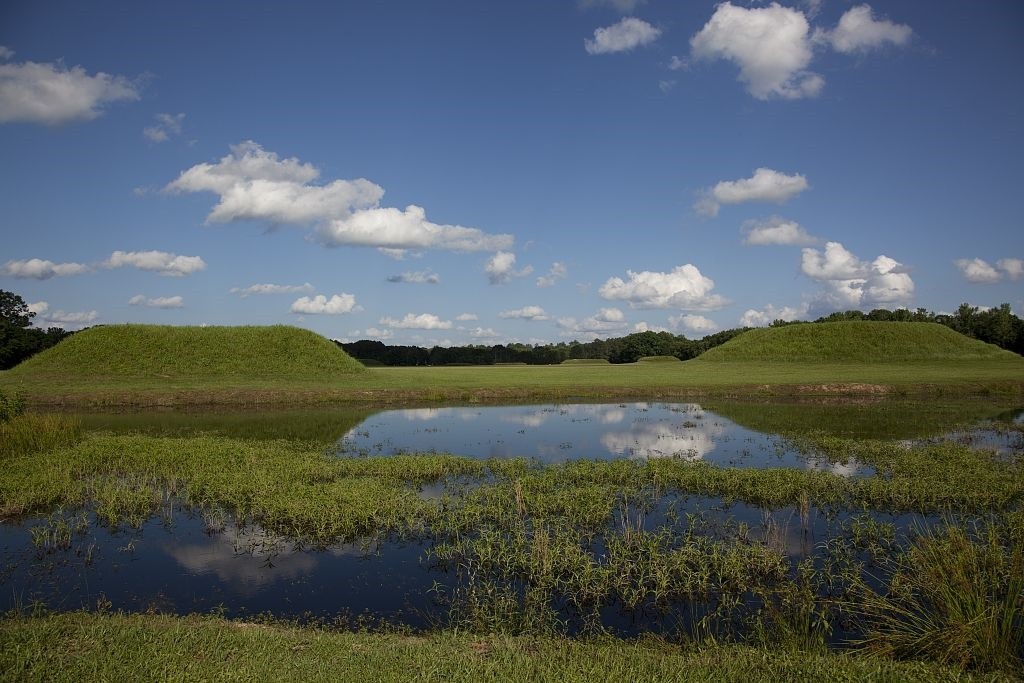 Settlers
The first American settlers hailed from Georgia, Tennessee, Kentucky, and the Carolinas. The early manner of travel was either on horseback or by stagecoach. The merchants riding to New York and other points to purchase their stock of goods shipped them to Mobile by boat, then to Cahaba, the former capital of the State of Alabama, and thence by wagon to Greensboro. This was the only way of obtaining supplies until 1870 when the first railroad was completed from Selma to Greensboro. An extension to Akron was finished in 1882. This railroad is now part of the Southern Railway System. 
Most of the early settlers, many of whom were slave-holders, located in the southern half, where the lands are more level and more easily cleared. Land being plentiful and cheap, they acquired large tracts and farmed on a large scale. Very few of the early settlers located in the northern half of the county, as it was heavily forested and the surface was rough and broken.
Gayle-Tunstall House
Built in 1828-29 by John Gayle, the sixth governor of Alabama, the Gayle-Tunstall House is the birthplace of Amelia Gayle Gorgas, wife of Gen. Josiah Gorgas, Chief of Ordnance, CSA, mother of Wm. Crawford Gorgas, US Surgeon General who freed Canal Zone of yellow fever. For many years it was the home of Hobson-Tunstall family; Wiley C. Tunstall, Alabama legislator for 39 years and twice Speaker of House.[Historical marker before 1965: Greensboro]
Gayle-Hobson-Tunstall House, 1801 West Main Street, Greensboro, Hale County, AL (Library of Congress)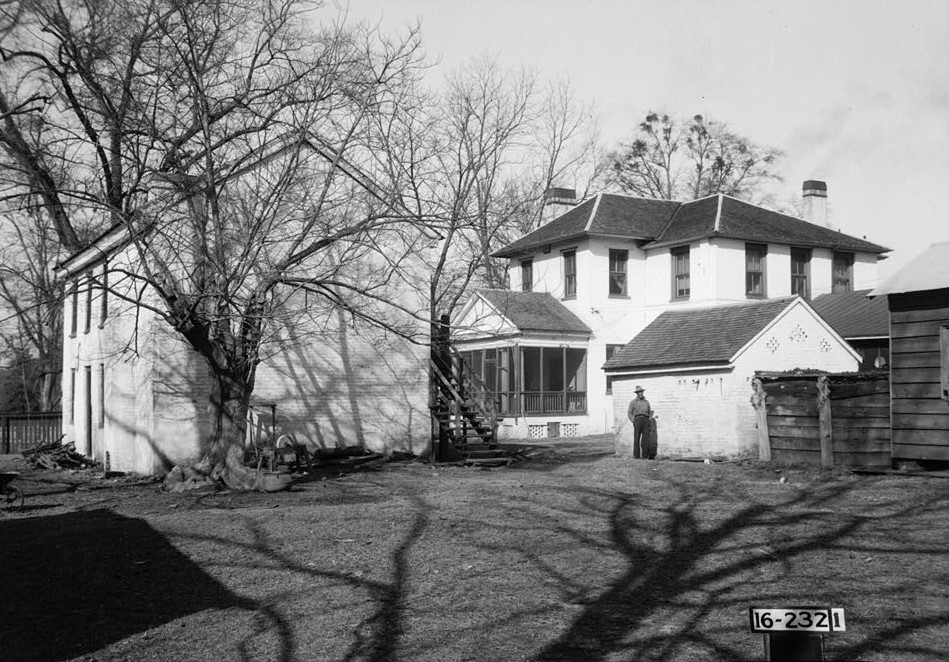 Greene Springs School
Greene Springs School existed from 1847-1884. It is one do the State of Alabama's first academies and was called "Rugby" of the South. It prepared an exceptional number of Alabama leaders. Founded by Dr. Henry Tutwiler, one of State's foremost educators. Closed upon his death. One of the first schools to add the study of science and government to the usual classics. [Before 1965: Ala. Hwy 60]
Greensboro Presbyterian Church
Greensboro Presbyterian Church was organized in1823 by Rev. James Hillhouse of South Carolina with Patrick Norris and William Hilhouse, who were veterans of the American Revolution. They were founding elders. The original wooden structure was replaced by a brick building in 1841 under the pastorate of Rev. Thomas Sydenham Witherspoon. The present building was erected in 1859 when Rev. J. C. Mitchell was the pastor. Old slave gallery may still be seen. [Historical marker before 1965: Greensboro]
Hobson Bethel Methodist Church
Newbern Methodists held services in Presbyterian Church until 1884. The site for their church was selected and the church building completed in the fall of 1884. A cornerstone was placed in the northeast foundation.
A fine, walnut altar rail is original and hand-hewn. Pulpit and chairs were donated when church was erected. The lumber used in construction of building was hand-hewn and mortised. The pews and lighting system have been replaced. Services were held on first Sunday monthly. Rev. J. Bancroft, was the presiding elder, and Rev. J.A. Moore, the minister. A called meeting of members in 1883 including the names: Hobson, Holcroft, Walker, Scott, Huggins, Moor, True, Sadler, Turpin. Th building committee consisted of Mr. Will Sadler, Mr. E.B. Holcroft, and Mr. J.A. Moore. Mrs. Sallie L. Hobson was granted the privilege of naming church as she raised and donated the largest amount of funds for construction. [Historical marker 1997: Newbern]
Magnolia Grove
This is the birthplace, and ancestral home of Richmond Pearson Hobson-1870-1937, a-Spanish-American War Hero. Admiral Hobson, was a naval officer, statesman, lecturer, and author. He urged national preparedness; championed human welfare causes. Alabama made this home a state shrine to Admiral Hobson in 1943. This house was built in 1858 by Col. Isaac Croom.[Historical marker before 1965: Greensboro]
Magnolia Grove 2010 by Carolyn Highsmith (Library of Congress)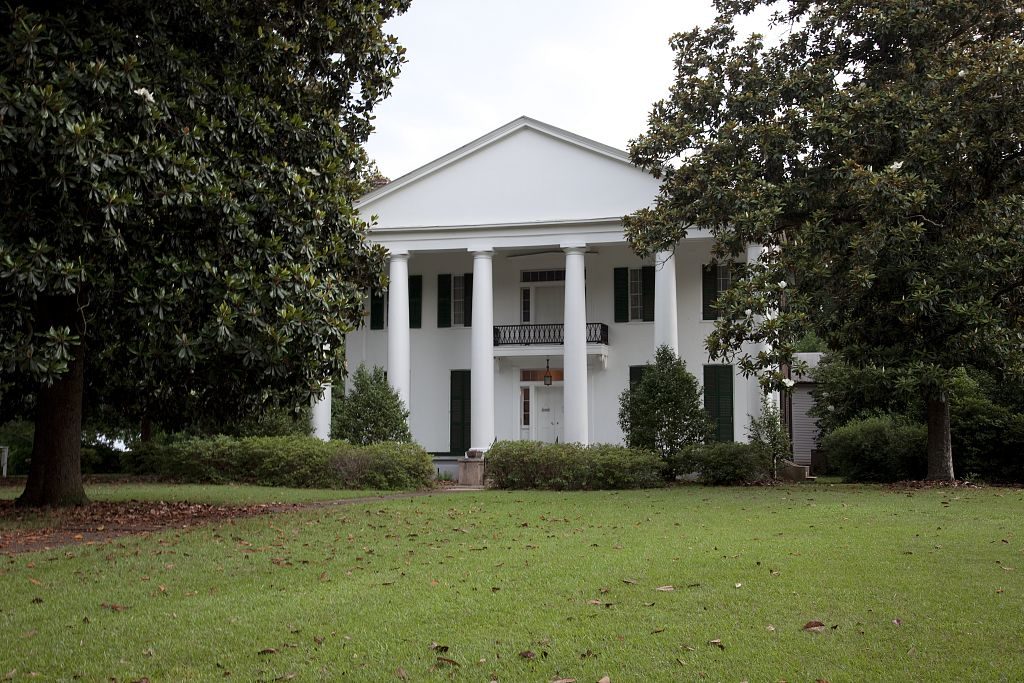 Newbern Baptist Church
Newbern Baptist Church was organized in 1848 by Rev. Thomas Chilton. The sanctuary stands as built in 1849 with original columns of solid poplar. The education building was added in 1959. The Baptist Historical Society has records of church's first 111 years on deposit in library of Howard College at Birmingham.
Organized in April, 1848, Rev. Thomas Chilton, was the moderator; John R. Hendon, clerk; John G. Huckabee, Wm. F. Hendon, John Dial, Gray Huckabee, Thomas H. Croom, R. S. Tinker, C. C. Huckabee, L. A. Seawell, Mary A. Paul, Martha Huckabee, G. A. Huckabee, Maria Hendon, Hannah Hendon, Maria P. Hendon, Susan Hendon, Martha Donna Hendon, Elizabeth Driver, Martha Croon, and Mary Ann Tinker. The town bell, 500 feet south of the marker, called all Newbern congregations to worship services since 1868 and also served as town fire bell.
Newbern Presbyterian Church
Newbern Presbyterian Church was organized in 1844 by North Carolinians who settled area in 1830's. Built in 1848, church typifies rural church architecture of "Old South." The building stands in near-original form: hand-hewn lumber joined with wooden pegs. Early membership included slaves who sat on benches flanking pulpit. The church has always been without resident minister but has monthly service, active church life.
It was organized November 16, 1844, under Presbytery of South Alabama by the Rev. Thomas Witherspoon and 21 charter members. Petition to Presbytery signed by T. A. Borden, Anne Borden, Wm. Ervin, Eliza Ervin, Mrs. Rebeccah Hanna, A. &. S. Hardin, Mrs. Martha Jenkins. Names of Croom, Tinker, Mendow, Pearce, and Huckabee also among charter members. Two women served on early Board of Elders contrary to Presbyterian rules of order.[Historical marker before 1965: Newbern]
Saint Paul's Episcopal Church
This parish was established in 1830. It is the third oldest in Alabama diocese. The church was consecrated in 1843 by Leonidas Polk, Bishop of Louisiana, (later a Confederate general). Here, Nicholas H. Cobbs was chosen the first Bishop of Alabama in 1844. The first vestrymen: Dr. Richard E. Meade, Dr. R. C. Randolph, Dr. R. W. Withers, J. Bell, J. B. Strickney, Dr. R. Inge, Frank Inge, William Murphy, Col. Samuel Pickens. [Before 1965: Greensboro]
St. Pauls Episcopal Chapel Magnolia Springs, 1962 (Alabama Department of Archives and History)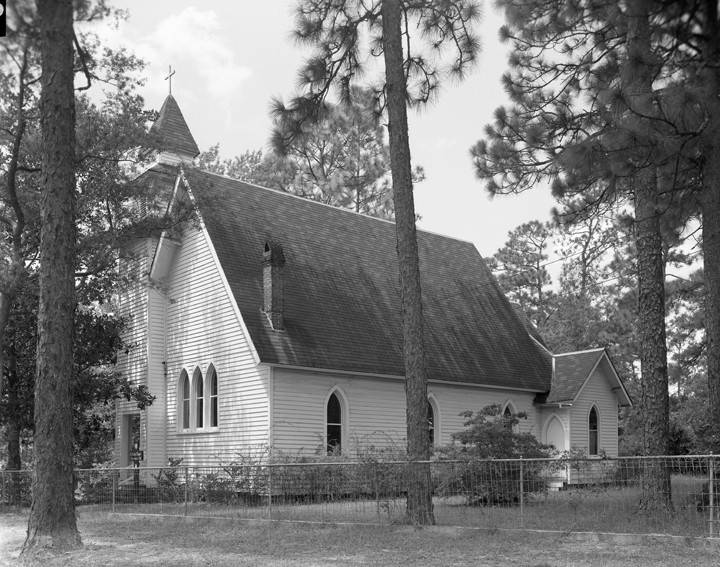 Freetown
"In 1867 a group of African American men and women laid the foundations for Freetown. William, John, Albert, George, Richard, and Peter Collins; Susan and Lawrence Moore; Thomas Jeffries; the children of John Jeffries; and Louisa Conway and her children received over six hundred acres of land in the will of John Collins, a local planter who had migrated from Virginia to Alabama in 1837. The early residents included former slaves and free people of color. Many of the men were skilled masons and carpenters, including Peter Lee and John Glascow who directed the construction of St. Andrew's Episcopal Church in Gallion. Freetown residents helped organize Bethlehem Baptist Church in 1867.
Freetown became a vibrant community and residents achieved local prominence. The settlement reached its peak in the 1920s as part of Allenville. Brown's general store established around 1910 became the major commercial center and social hub. Women from the community were among the first teachers in the area's African American schools. Some Freetown children received primary and secondary education as boarding students at Selma University. The community's population declined after World War II as African Americans migrated to northern and southern cities. Residents and their descendants over time became skilled workers, professionals, and active members of communities elsewhere, while maintaining strong ties to Freetown. [From historic marker 2005: Hwy 80 east of Allenville]
Old Southern University, 1935 by photographer Alex Bush (Library of Congress)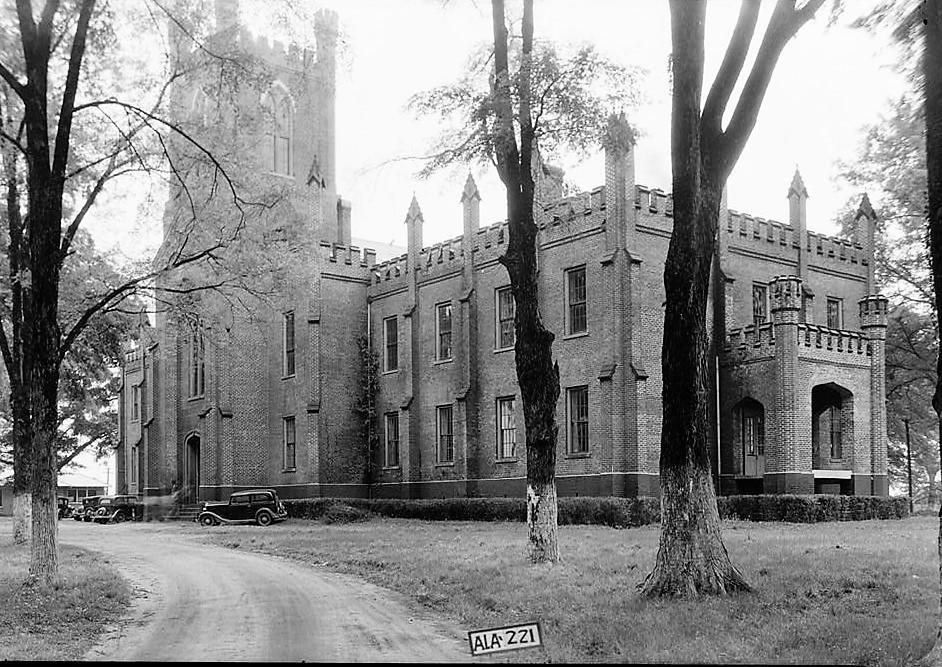 Southern University
Southern University was founded here in 1856 by the Methodist Church. The building weathered the Civil War and Reconstruction to prosper in late 1800's. The school was moved to Birmingham in 1918 on a merger with Birmingham College, founded 1898 by Methodists, to become Birmingham-Southern College. [Before 1965: Ala. Hwy 14, Greensboro] The building was destroyed by a tornado in 1973.
Post Offices and Towns.—Revised to July 1, 1919, from U. S. Official Postal Guide. Numbers indicate the number of rural routes from that office.
Akron—1
Evans
Fivemile
Gallion—2
Greensboro (ch)
Havana—1
Moundville—2
Newbern—2
Powers
Rosemary
Sawyerville—1
Stewart
Strudwick
Sunshine
Wateroak
Wedgworth
Delegates to Constitutional Conventions.—
1867—William T. Blackford, Benjamin L. Wheelan, James K. Green (negro).
1875—J. T. Foster, Burrell Johnston.
1901—E. W. DeGraffenreid, William B. Inge, William N. Knight, J. M. Jones.
Senators—
1868—Burrell Johnston.
1871-2—Burrell Johnston.
1872-3—G. M. Duskin.
1873—G. M. Duskin.
1874-5—J. K. Green.
1875-6—J. K. Green.
1876-7—Thomas Seay.
1878-9—Thomas J. Seay.
1880-1—Thomas J. Seay.
1882-3—Thomas J. Seay.
1884-5—Thomas Seay.
1886-7—W. B. Inge.
1888-9—W. B. Inge.
1890-1—Norfleet Harris.
1892-3—Norfleet Harris.
1894-5—Wm. M. Browder.
1896-7—W. M. Browder.
1900-01—Amos Horton.
1899 (Spec.)—Amos Horton.
1900-01—Amos Horton.
1903—William M. Spencer.
1907—Amos Horton.
1907 (Spec.)—Amos Horton.
1909 (Spec.)—Amos Horton.
1911—A. M. Tunstall.
1915—J. T. Denson.
1919—R. B. Evins.
Duskin; James K.
Representatives—
1870-1—George M. Duskin; James K. Green (negro).
1868—J. M. Walker; James K. Green (negro).
1869-70—J. M. Walker; James K. Green (negro).
1871-2—G. M. Duskin; J. K. Greene.
1872-3—J. K. Greene; B. W. Reese.
1873—J. K. Greene; B. W. Reese.
1874-5—B. W. Reese; M. Wynne.
1875-6—B. W. Reese; M. Wynne.
1876-7—James N. Hobson; James M. Jack.
1878-9—Gilliam James; C. E. Waller.
1880-1—A. M. Avery; C. E. Waller.
1882-3—A. M. Avery; Norfleet Harris.
1884-5—A. A. Coleman; George Erwin.
1886-7—W. N. Knight; A. M. Avery.
1888-9—Alfred H. Benners; Wm. N. Knight.
1890-1—A. M. Avery; T. K. Jones.
1892-3—Thos. E. Knight; N. H. Gewin.
1894-5—N. H. Gewin; Thos. E. Knight.
1896-7—C. E. Waller; A. M. Tunstall.
1898-9—Charles E. Waller; A. M. Tunstall.
1899 (Spec.)—Charles E. Waller; A. M. Tunstall.
1900-01—W. N. Knight; A. M. Tunstall.
1903—Edgar Meador Elliott; Alfred Moore Tunstall.
1907—H. Graham Benners; Alfred M. Tunstall.
1907 (Spec.)—H. Graham Benners; Alfred M. Tunstall.
1909 (Spec.)—H. Graham Benners; Alfred M. Tunstall.
1911—W. H. Knight; C. C. Gewin.
1915—W. H. Knight; A. M. Tunstall.
1919—A. M. Tunstall; W. C. Christian
SOURCES
Owen, Thomas McAdory, History of Alabama and Dictionary of Alabama Biography, 1921, S. J. Clarke Publishing Company
Wikipedia
Rowe, R. W. and Smith, William G., Soil Survey of Hale County, Alabama, 1901- Alabama Department of Agriculture and Industries
Freetown Historical Marker
First county seat 1819-1839 of Greene County. This area of Hale since 1867. Town incorporated December 18, 1820, and had about 1,500 inhabitants a few years later. Floods and Yellow Fever forced removal of county seat to Eutaw. Town gradually deserted, and last remaining home (Dorroh) burned in 1933. The Greene County Gazette published here as early as 1823 by Thomas Eastin. Rev. James Monette, who preached first sermon in Greene County in 1818 at Troy (then Greensboro) moved to Erie in 1818. He died in 1834, and tombstone is here today.
First county seat of Greene County, which then included what is now Hale. Incorporated in 1820, with Town Council composed of James A. Tolbert, Thomas H. Herndon, Francis L. Gaines, Durrett White, Anthony D. Kinnard, Howell L. Kennon and Hiram Shortridge. Among early families: Dorroh, Constantine, McAlpine, Lavergy, Moore, Brown, Edgerly, Bird, Melton, Monette, Hampton, Steele, Craig, Snedecor, Grant, Jennings, Kimbrough, Inge, Kennon, Murphy, Moody, Whitehead, Hobson, Williams, May, McGee, Phares.
Library of Congress
Stories include:
The Yazoo land fraud;
Daily life as an Alabama pioneer;
The capture and arrest of Vice-president AaronBurr;
The early life of William Barrett Travis in Alabama, hero of the Alamo;
Description of Native Americans of early Alabama including the visit by Tecumseh;
Treaties and building the first roads in Alabama.