Warning: This excerpt includes some vocabulary and harsh words that would not be used today. Please remember the times in which it was written. (1938)
ALPINE
Nathaniel Welch House & Outbuildings
Excerpt from
OLD HOMES OF TALLADEGA COUNTY1
(KINGSTON, MT. IDA, SELWOOD, THORNHILL, ALPINE)
BY MARY WELCH LEE
(MRS. SCEARS LEE)
The country neighborhood in which I was reared and to which I have now returned, has been the center of my experience and that of my family for generations. It was once made up of plantations—not large and rich in the manner of those in "SO RED THE ROSE", but more like "Tara" in size and in the character of the land. The original owners were pioneers, many coming in 1832, the year the county was opened for settlement, from Virginia, the Carolinas, nearby Georgia and even from foreign countries.
They usually built first a small hewn-log house, near a spring, where they lived while material was being assembled for the "big house", and during the building. The latter was a slow process, for each piece of material was selected with care and worked with hand tools. It is no wonder that while we still find it sound, we also find every door and window varying in size from every other. The owners were most likely their own architects, with a master carpenter in charge, and the Negroes working under him. Good taste, purity of line, simplicity of design, mark these houses, indicative we like to think of the characters of the grand old men who built them, inspired, no doubt, by memories of houses they had left, these were built in much the same manner, and named in memory of those others: "Mt. Ida," "Alpine", "Orangevale" and "Selwood" still stand in varied states of preservation; while "Kingston", "Rosehill" and "Magnolia Hill", are but names handed down in the families who once owned them, the site to be located now by a mass of shrubs and trees, a spring, or a dilapidated cabin where once stood a spacious house.
Wanted to possess the lands about him
Oliver Welch, my great-grandfather, came to Talladega County from Virginia in 1834, bringing his family and slaves to a new land. When asked how he could make up his mind to leave his beautiful home, "The Elms", he replied that land was high in Virginia and he wanted to come to a new place where his children might "possess the lands" about him. This they did, one farm joining another until they made a large community. "Grandpappy's" home was called "Kingston"—a simple log house of two stories, built near a big spring. Being in his latter years, his family reared, he did not build pretentiously. The house was burned and the land was sold but the family graveyard is near the old house site and there lies Oliver Welch and several of his children.
Alpine, E. W. Russell, Photographer, June 18, 1937, SOUTH FRONT ELEVATION  County Road 46, Alpine, Talladega County, AL (Library of Congress)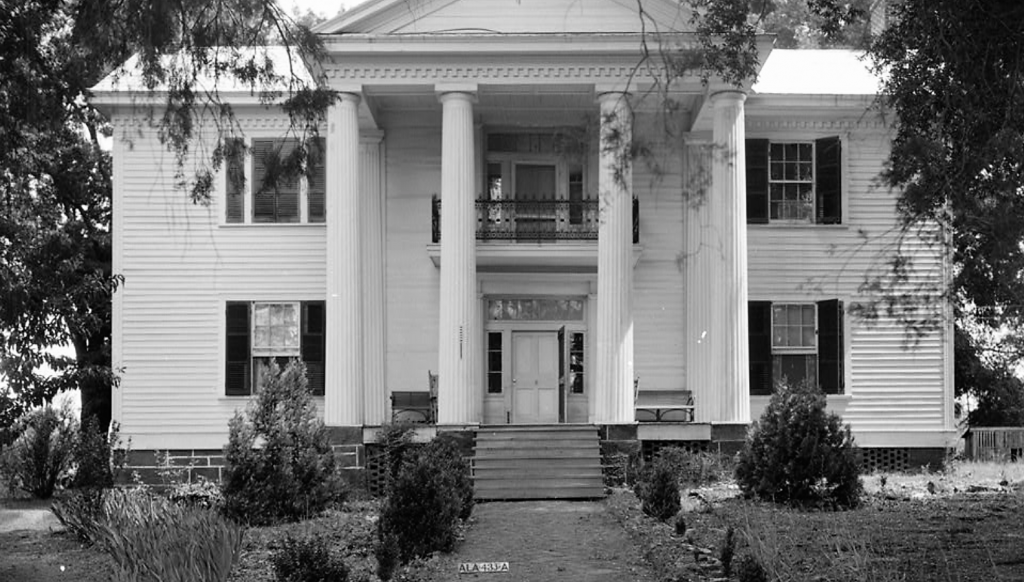 About two miles from "Kingston" is "Alpine" which was the name that my grandfather, Nathaniel Welch, gave to his Alabama home. It was built in 1858, taking an entire year in the building and has been occupied by members of the family since that time. When the railroad was built, the station took its name from the house, and a small group of houses, a store, and two churches now make a village on part of the old plantation.
Alpine, E. W. Russell, Photographer, June 18, 1937, ANGLE VIEW IN HALL, FIRST STORY, LOOKING SOUTHWEST & SHOWING STAIR, ENTRANCE TO WEST SIDE FRONT ROOM & MAIN ENTRANCE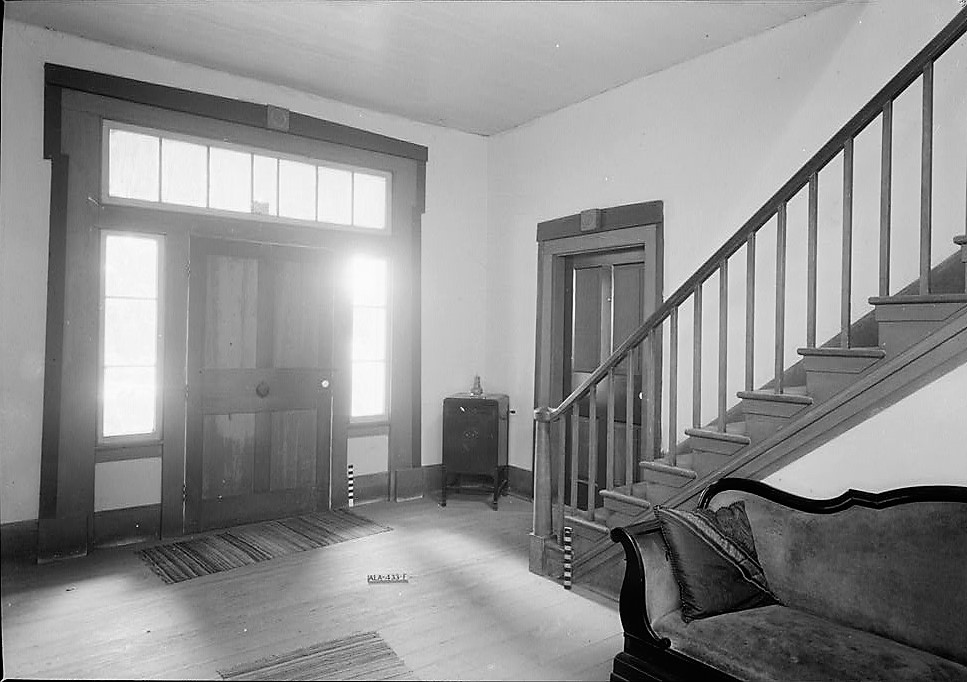 An avenue of oaks leads up to the yard enclosed by a white pickett fence, with two old cedars standing guard on each side of the gate. In the yard are stately oaks, maples, and elms, planted in orderly rows by the builder himself, who fashioned it all to remind him of his old home in Virginia.
Alpine, E. W. Russell, Photographer, June 18, 1937, June 18, 1937, FRONT, LOOKING NORTHEAST (Library of Congress)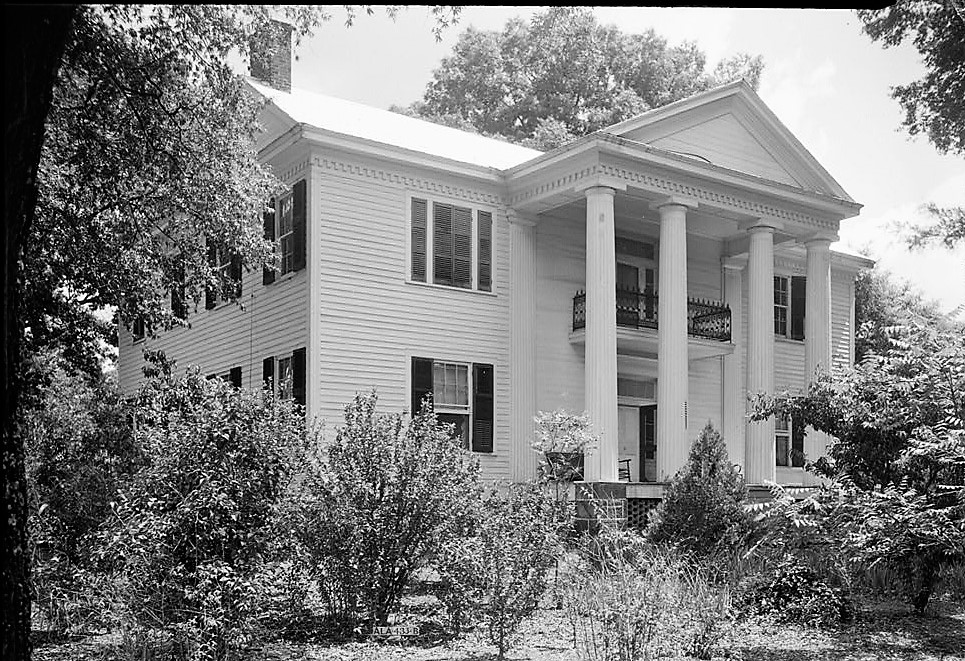 E. W. Russell, Photographer, June 18, 1937, REAR VIEW LOOKING SLIGHTLY SOUTHWEST (Library of Congress)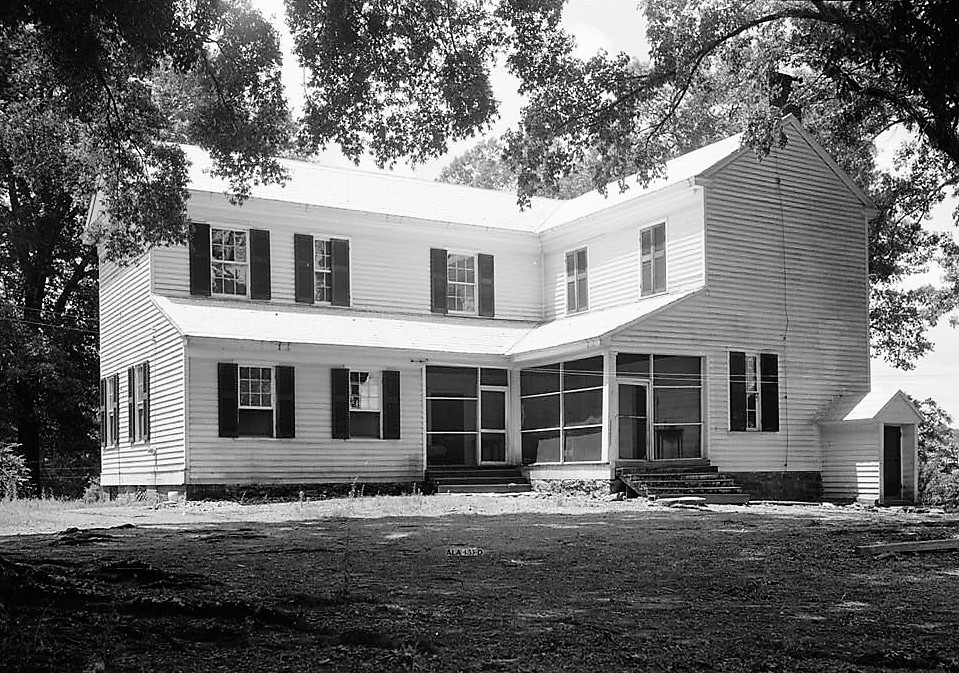 The house itself, painted white with green blinds, is pure Greek revival, with four large Doric columns rising to the height of two stories and a small iron-railed balcony at the second-floor level. Fluted pilasters adorn each side of the front door.
E. W. Russell, Photographer, June 17, 1937, THE MAIN HALL, FIRST STORY, FROM FRONT ENTRANCE (Library of Congress)
In the plan, the house ("Alpine") is L-shaped, with three rooms, hall and shed room on the first floor, three rooms on the second, and two in the basement.
E. W. Russell, Photographer, June 18, 1937, OPEN FIREPLACE IN WEST WALL OF BASEMENT DINING ROOM, WEST SIDE OF HOUSE (OR BASEMENT) (Libray of Congress)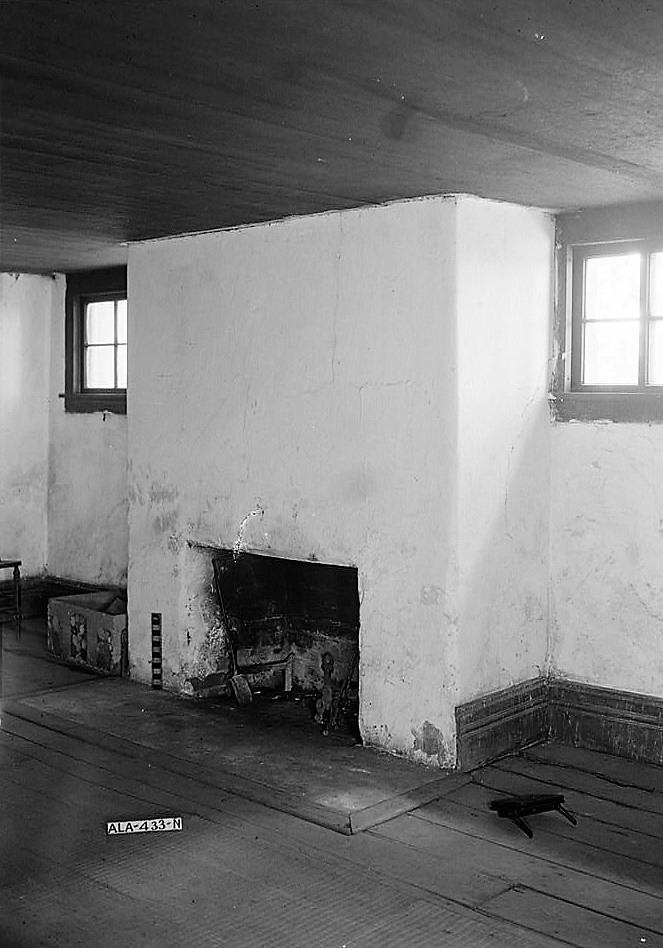 In the parlor stands the rosewood square piano given to the oldest daughter, "before the war"; stiff lace curtains hang at the windows, and the photographs in walnut frames adorn the walls. The mantel and baseboard in both the parlor and front bedroom are marbelized wood, which has been used in the Williamsburg revival, and which reqiures great skill in doing. The shed was called always "the little-room"— as one word, and was kept ready for the many "transients" who tramped through the country those days, and who were never turned away from Alpine.
E. W. Russell, Photographer, June 18, 1937, FIREPLACE AND MANTEL. EAST WALL OF EAST FRONT ROOM (Library of Congress)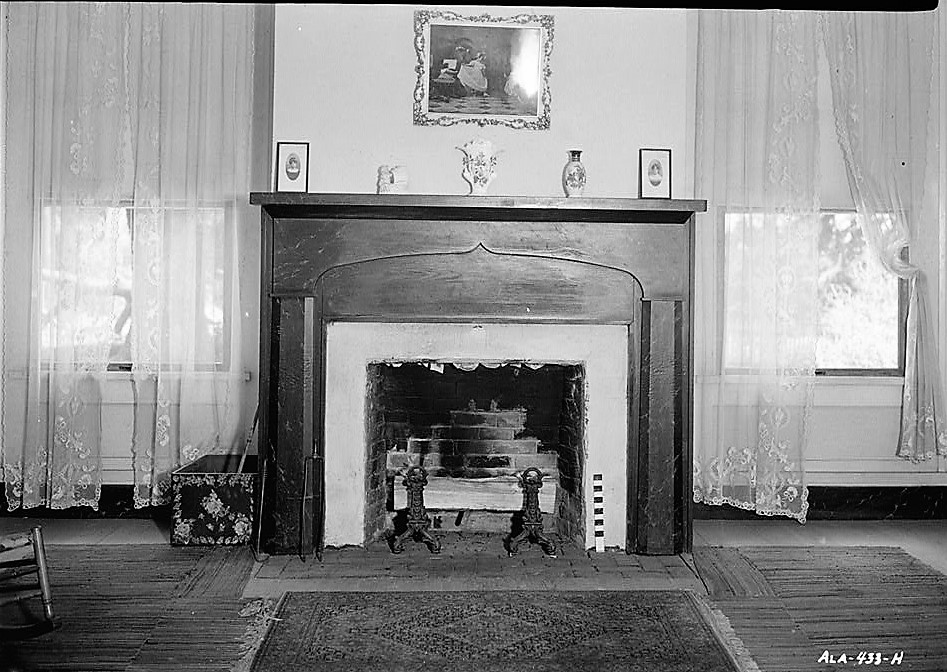 In "grandma's room", a stairway goes up to "the girls'" room above. Here the four daughters stayed long ago, but to us of later years, it is known as the "cat-room" because the cats loved to dart up the stairs and take refuge there. On these same stairs in "slavery times," a small negro boy sat and dozed until the family went to bed when he solemnly blew out the candle and went to "the quarters". Upstairs, along the front were two guest rooms, on the right "the ladies room", on the left "the men's room", so called by my oldest aunt as long as she lived.
E. W. Russell, Photographer, June 18, 1937, ROOM DOOR (BETWEEN FRONT & REAR ROOMS) WEST SIDE OF HOUSE (Library of Congress)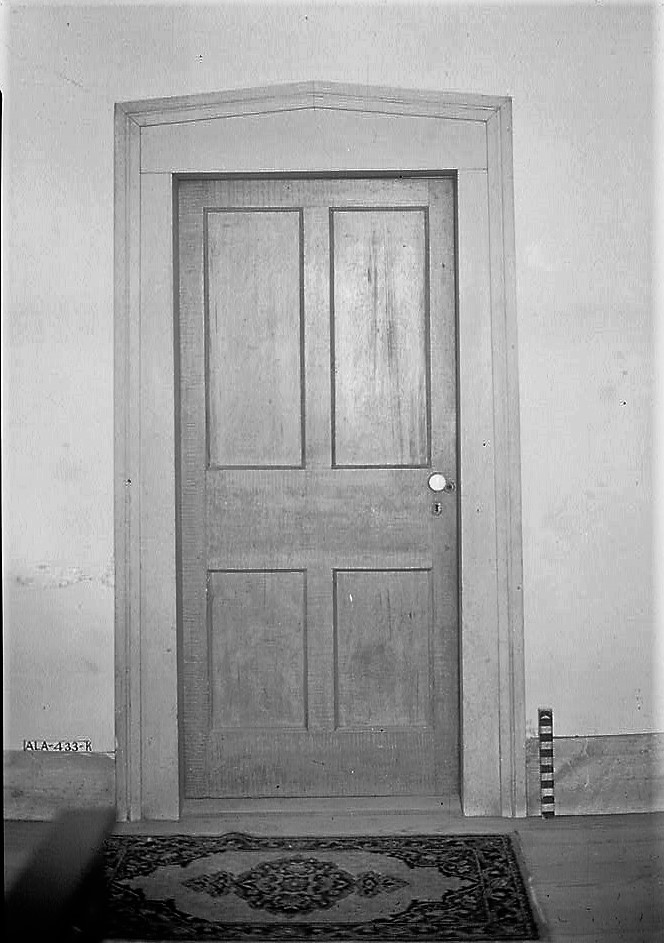 In the cellar are the dining room and kitchen. For many years, there was no partition and the whole room of twenty by forty feet was used as the dining room, while the kitchen was in the yard. It still stands with its great rock chimney and huge fireplace. Besides this building there is the "plunder house" and smoke house, Even in my day, hams and bacon hung on the high rafters, and lard was kept cool in the stone "crocks" in shelves along the sides.
E. W. Russell, Photographer, June 18, 1937, CABINETS, EAST WALL OF BASEMENT DINING ROOM (Library of Congress)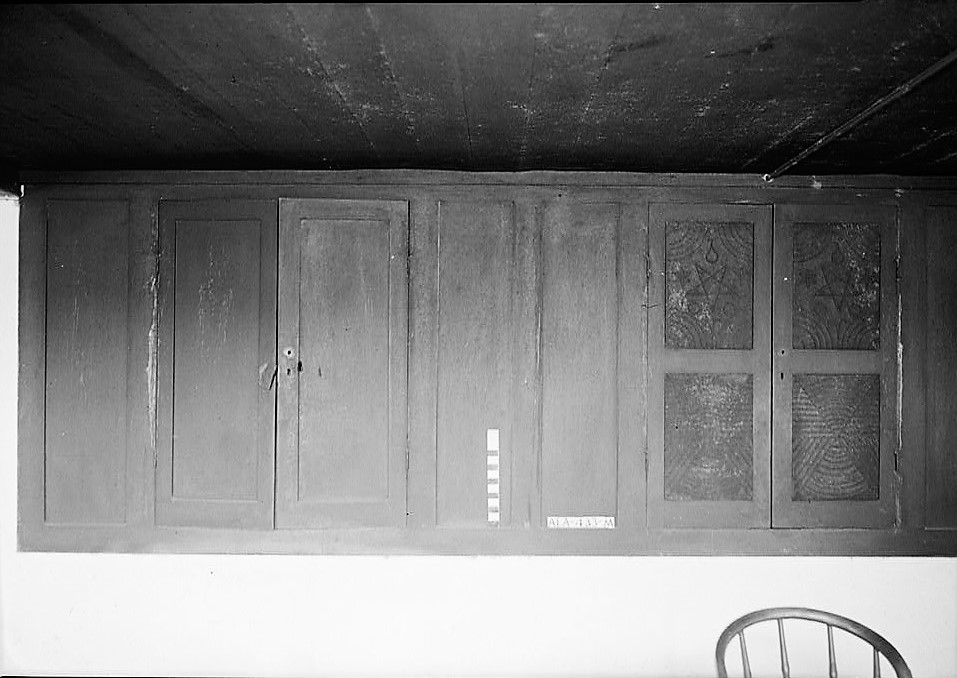 E. W. Russell, Photographer, June 18, 1937, OLD KITCHEN IN REAR ON NORTH OF MAIN HOUSE LOOKING NORTHEAST (Library of Congress)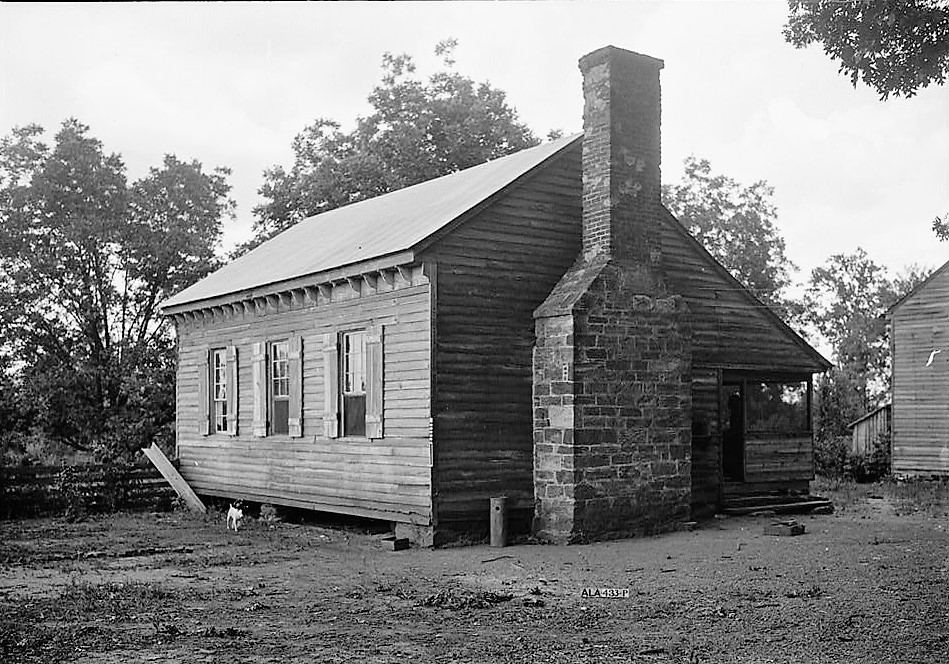 E. W. Russell, Photographer, June 18, 1937, TWO OLD BUILDINGS IN REAR OF MAIN HOUSE. VIEW LOOKING NORTHEAST (Library of Congress)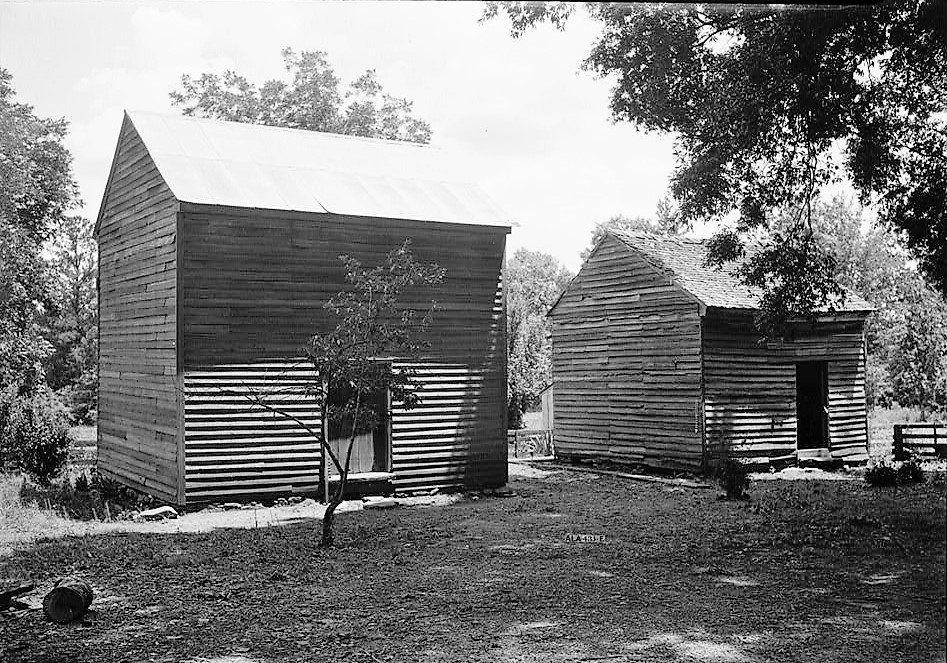 A few of the old family darkies still live; some, the Terrills, are descendants of the slaves given to our Revolutionary ancestor and his wife by her father. There are no mulattos among the native negroes of Alpine community, which is proof positive of the high moral character of its people.
E. W. Russell, Photographer, June 18, 1937, A CLOSE- UP OF IRON BALUSTRADE OF SECOND STORY BALCONY, FRONT ELEVATION (Library of Congress)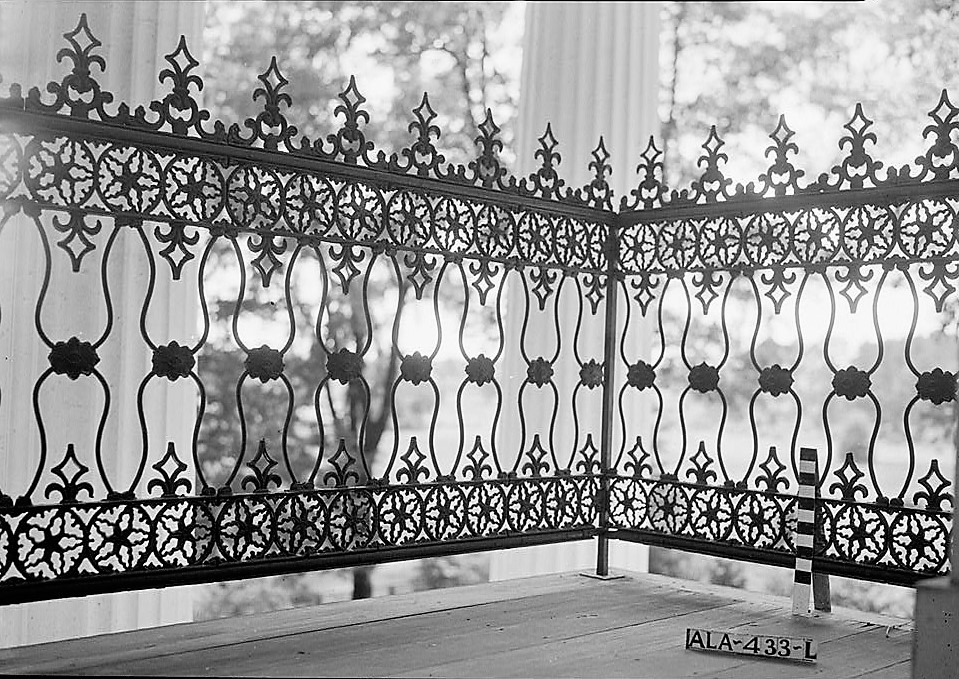 The first thing they did, in 1835, was to organize a church, Baptist in denomination, and my great-grandfather served as its minister for 35 years without accepting a salary. Instead, the church was asked to give what they would have paid him to missions. In my home is the first organ ever bought for that church, made now into a desk.
E. W. Russell, Photographer, June 18, 1937, THE SOUTH FRONT PORTICO FROM THE WEST SIDE (Library of Congress)
E. W. Russell, Photographer, June 18, 1937, TWO OF THE COLUMNS OF FRONT PORTICO FROM SECOND STORY BALCONY (Library of Congress)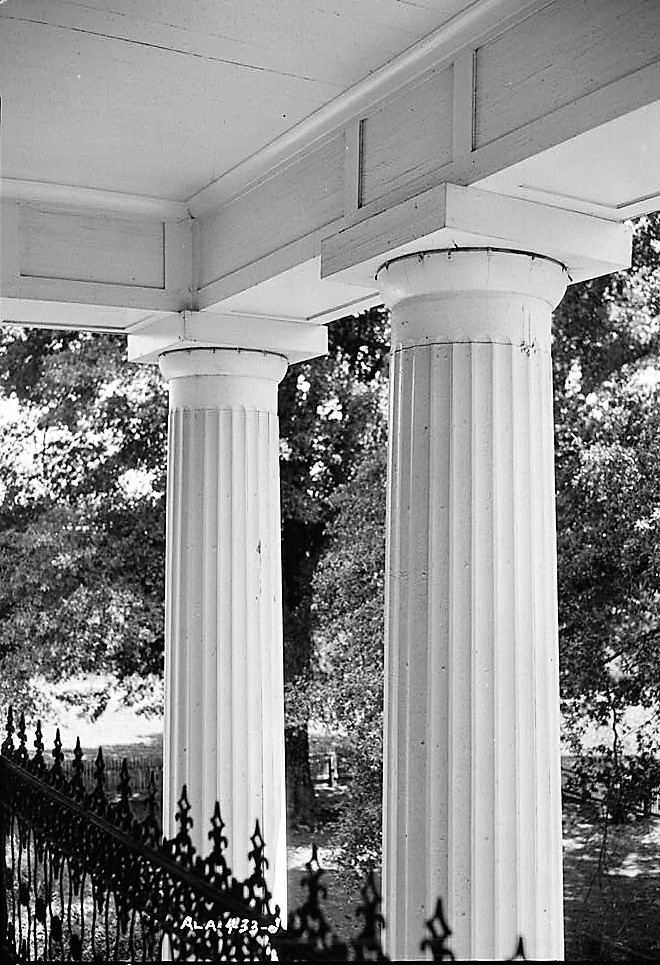 All of us love "Alpine" with a love which partakes of the family tales connected with it and the neighborhood. And we never tire of hearing the tales of "Mt. Ida." My aunts remembered it in its "heyday," as they said, and never seemed to mind our questions and eager curiosity. My grandfather's sister, Aunt Hannah, lived there. She married a widower with one son, who was only four years younger than herself. Her husband, Walker Reynolds, built "Mt. Ida", adding four rooms and a columned porch after his second marriage.
1Written in 1938 as an Alabama Day paper for a club in Birmingham, Alabama
The exhilarating action & subplots keep the reader in constant anticipation. It is almost impossible to put the book down until completion, Dr. Don P. Brandon, Retired Professor, Anderson University, Anderson, Indiana
This is the first book I have read that puts a personal touch to some seemingly real people in factual events. Ladyhawk
Love books with strong women…this has one. Love early American history about ordinary people…even though they were not 'ordinary'…it took courage to populate our country. This book is well researched and well written. Julia Smith
A picture of love and history rolled into one. A step back in time that pulls you in and makes you a part of the family and their world. Ken Flessas
Each book's writing gets stronger, characters become real, the struggles and sorrows that laid the foundation for this country. Addictedtobooks
Not only is the story entertaining, it opens the eastern shore of the early Virginia Colony to the reader as a picture book….I know this story will touch many peoples' hearts.B. Thomas
At the age of sixteen, Mary and her husband, whom she barely knows, are forced to escape the only home they've ever known and settle in the primitive 17th-century world of America where they shape their family's destiny for generations.
Inspired by actual people and historical events of colonial America, "The Kingdom of Accawmacke" is revealed and secrets about America's history are discovered in this well-researched series. The story begins in 17th century England during the reign of Charles I and continues a family's journey to the eastern shore of Virginia and Maryland.