Anne Newport Royall (June 11, 1769 – October 1, 1854) was a traveler and writer and was one of the first newspaperwomen. At the age of 16, she and her widowed mother were employed as servants in the household of William Royall, a wealthy American Revolution major, freemason and deist who lived at Sweet Springs in Monroe County (now in West Virginia). Royall, a learned gentleman farmer twenty years Anne's senior, took an interest in her and arranged for her education, introducing her to the works of Shakespeare and Voltaire, and allowing her to make free use of his extensive library. Anne and William Royall were wed in 1797. After his death Anne toured, all the while taking copious notes and using her Masonic connections to help fund her travels. She traveled in the new state of Alabama in 1818. The following letter written by Anne to a friend in 1818 has been transcribed exactly as written/(including misspellings).
Melton's Bluff, January 12th, 1818.
Dear Matt,
Upon leaving the ferry, I was pensive and melancholy: for, being told by my guide I was to pass by several Indian farms, it struck a damp on my spirits, of which he was unconscious. He speaks of the Indians and their departure with perfect indifference.
On leaving the river the beauties of this deservedly extolled country broke on my view by degrees. To compare it with the Elysian fields of the ancients, would give but a feeble idea of it. The diminutive vale of Tempe and their thousand sylvan shades, vanish into nothing, compared with this. As you are partial to any thing I say or do, I shall throw my thoughts together for your amusement, and you may arrange them at your leisure.
Land abandoned by Indians
It is unnecessary to state what you have learned from the newspapers, that this land was abandoned last fall by the Indians. The fires were still smoking, when the white people took possession. Although I had travelled through a beautiful country, the two preceding days, and my mind had been raised to the highest pitch of expectation by repeated descriptions of this land; yet, it far exceeded all I anticipated. On quitting the impervious river-bottom, I emerged into an open country, high and dry. The exuberance of cane and timber subsides. This enables the eye to see to a great distance—no hill nor dale—neither is it a perfect level; but the surface is gently undulating, or alternately elevated or depressed like waves. The eye can range without controul in all directions. This is what charms; and this I was not prepared for.
Land was different from Monroe, West Virginia
But what struck me with most wonder was, that I always appeared to occupy the highest ground; and, all from that point, seemed to descend; and when I gained the extreme boundary of view from a given point, it was the same thing as before—this appeared the highest; that which I had left, the lowest. A warm hospitality seemed to breathe among the trees: they have something cheering in their aspect. They do not terrify by their gigantic looks—they open on all sides, as if to let you pass, and welcome your approach. The sun throws a shining lustre over them. How unlike the cold, dreary, hard frozen hills of Monroe, or in fact any thing in our country.
About ten o'clock we came in sight of the first Indian farm—but Indian farm no longer! The smoke was issuing slowly through the chimney. Why, these Indians have been like us!—could not be savage—cornfields—apple trees, and peach-trees. Fences like ours, but not so high—trusted to their neighbor's honesty—perhaps these being more civilized had more reason to fear their neighbor. Provoked with my guide because he could not tell me the original cause of these enclosures among the Indians—from four to five rails high— this would not do among us—'twould breed a civil war.— There were the lusty corn-stalks—looked grayish—some were standing erect, some were broken off at the middle and hung together still, some were prostrate. The house looked tight and comfortable; the fruit-trees are large, and show age— there the Indian sat under their shade, or stood up and plucked the apples—wonder he did not plant more—suppose he did not know how to make cider. Blockhead!—better than whiskey.
My guide says peaches are delightful in this country.
Home of Indian named Gourd
Poor Gourd! That was the Indian's name; had he still been there, I would have called to see him: but I felt no desire to see his successor. Guide says Gourd was very kind; he knew him for fifteen years. He helped to subdue the Creeks, and made an excellent soldier. There was a portico over the door—there Gourd used to sit in the warm summer days. We rode close to the fence, built by his hands, or perhaps his wife's; no matter which it was, it was no less dear!—It was his home! The sun, at this moment, overcast with clouds, threw a solemn gloom upon the Indian farm. Nothing moved but the smoke from the chimney—all was silent and hushed as death!—Poor Gourd had to leave his home, his cornfield, and his apple trees.
There could not exist a greater evidence of unbounded avarice and ambition which distinguished the Christian world, than the one that lay before me. There was a time when the owners of this beauteous country flattered themselves that distance alone would screen them from the intrusion of the whites. Vain hope!
Crossing Town Creek
Absorbed in pensiveness, I heeded not the loquacity of my servant and guide, who cared for none of these things. My guide tripped lightly along—a tall keen man. I proposed that my servant should walk and let him ride; but he refused; said he would rather walk. "But you will have to swim presently," said he. "How so? I would rather not." "Your horses, I mean; you cross Town Creek, in a canoe, and swim your horses; this will cost you one dollar." "One dollar!" These white people I thought are greedy. Shortly after this we came to the house where the man lived who was to have the dollar—another Indian house, and I hastened to view the interior. It was a roomy tight built cabbin, similar to many you have seen. The logs are round, very light, and lie close upon each other. The door was the only singularity:— It was as high as common doors, but not more than half as wide.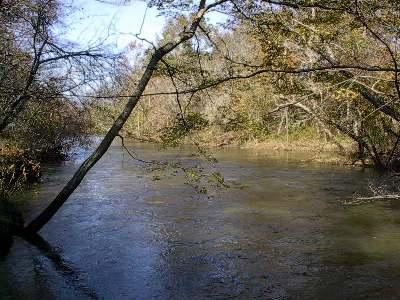 Town Creek, Lawrence County, Alabama (landsofamerica.com)
Creek was high
As I sat musing upon the ups and downs of this life, I was roused by the man who was to put us over, observing, " I can't tell what's to be done about putting you over Town Creek. Some of my good neighbours, on the other side, has cut down four or five trees into the crossing; and it is almost impossible to cut them away, as the Creek is high, and they have to be cut in such a manner, (the ends of them lying on the land,) as the water may float them off." But can we not find another place by going higher up the Creek?" " No! Impossible! and it will be a hard job, if it can be done at all. There is no possible way but to stand in the canoe, to the danger of our lives." "Then," said I, "we will return, and await the falling of the river." I saw through the matter at once; he wished to have something extra; and had he not been a sharper, I would have given him something extra. Now see these white people! These Christians! His Christian neighbours felled the tree in the stream, and he wanted to filch the damage out of me! So would not the Indians! "Oh, we will go and see what can be done. Shall I help you on your horse? The Creek is a good step off."
A few minutes brought us to Town Creek; and there were the trees, sure enough—cut near the margin—four of them; and all their tops lying piled on each other, precisely where our horses were to land. None but a fiend would have thought of such hellish malice, and such an ingenious piece of mischief too. I should never have dreamed of it.
Leaving the horses on this side, the ferryman and Rhea, (my guide's name,) and my servant, crossed over, and commenced chopping the trees, at the surface of the stream, some alternately holding the canoe to the place.
I sat down on a log, and taking a newspaper to pass the time; behold! a long holding forth upon converting the Indians, was the first thing that struck my eye! I would have a much better opinion of robbers and pirates, than such men: they do not belie their trade.
Safely on other side
In a quarter of an hour the trees were removed, and I, with my horses, were safely on the other side; and do you think the fellow had not the impudence to ask seventy-five cents extra, after drinking between them a bottle of whiskey, which I gave them as a treat, and Rhea and my servant also assisting them!! "No, Sir," said I, "I will advertise you as a sharper besides!" Give him seventy-five cents extra! I was on the rong side of the river for that. Rhea said I had two more creeks to pass! "Big Nance," (called after a woman by that name, who lived there.) These, however, were easily forded—and chatting with Rhea, I learnd he was from Rockbridge county, Virginia; had piloted boats through the Muscle Shoals, fifteen years; sometimes four at a time, at ten dollars each. He sails down one day, and walks back the next. He never met, in all that time, with an accident! There are several of these pilots.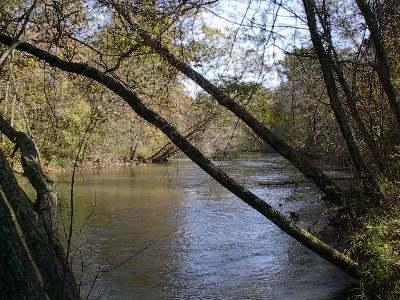 Town Creek, Lawrence County, Alabama (landsofamerica.com)
You cannot imagine a sight so beautiful as this country exhibits to this place. But the sight of the Bluff at a mile's distance, fairly entranced me. It is an even high plain, and resembles a hanging garden. The sun favored us with his rays as we drew in sight, and shed a beautiful lustre on the Bluff.—This land is so clear of undergrowth that you may drive a wagon any where through the woods; and this body extends, I am told, twenty miles in width. We passed many Indian houses in the day, and some beautiful springs.
Yours, &c.
Freemasons contributed to America and the state of Alabama through their patriotic service and philanthropic work since 1811, but little is known about their backgrounds. Utilizing the bonds of their fraternity, but without fanfare, the freemasons built schools, orphanages, nursing homes, provided for the sick and elderly, fought wars, and were an integral part in building the state of Alabama and our country. They were, simply put, 'the epitome of good patriots and citizens.