In 1818, before Alabama became a state, Anne Newport Royall (June 11, 1769 – October 1, 1854) was a traveler in Alabama. After her husband died, she was left penniless and she toured Alabama for four years as one of the first newspaperwomen in America. She wrote letters to her friends about Alabama and the letters were published as a book entitled Letters from Alabama in 1830.
On March 10, 1819, Anne was in Moulton Alabama (now in Lawrence County, Alabama)where she met an early settler in Lawrence County, Alabama from Tennessee. In this story he describes his reaction to the New Madrid earthquake that took place in 1811-12.
The letter has been transcribed exactly as published. (Including the misspellings)
Moulton, March 10th, 1819.
Dear Matt,
I Spend much of my time with the Tennesseean. He has a fund of anecdote, and the most retentive memory of any person I ever conversed with. As I have nothing better to amuse you with, I send you more of his history. I was reading this evening of the treachery of Lord Dunmore. Mr. Burlison (or Captain, as he is,) listened to me some time, but at last exclaimed, "Blast him—don't read any more about him. It makes my blood boil whenever I hear the name of a Briton." See how deep rooted their enmity to the British. They are all The crime of horse-stealing is punished with death. so!
Fear during the shakes
In the course of the conversation that followed, I asked him "if he ever felt the effects of fear; that is, did he ever know what fear was?" "Never but once," he replied, "and that was during the shakes;" meaning the earthquakes on the borders of the Ohio and Mississippi, some years back. You recollect them, though they were nothing with us in comparison to those further west. Taking offence at the general government, Mr. Burlison quit the country, and removed over the Ohio river, not far from New Madrid, in 1811.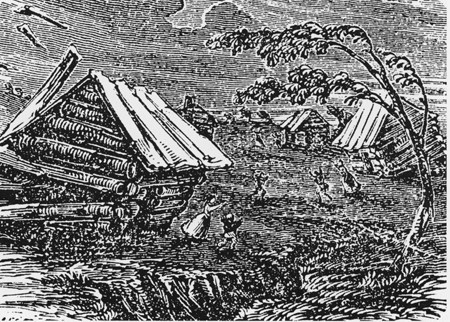 Great earthquake of New Madrid 19th-century woodcut from Devens' Our First Century (1877), (Wikipedia)
First shock happened in the night
The first shock happened in the night, when he and his family were all in bed asleep. All on a sudden, they were alarmed by the shaking of the beds; he sprung out of bed, between sleep and awake, but from the. reeling of the house he was unable to keep his feet. The hens croaked, and the dogs barked.
He could not conceive what it could be. He never thought of an earthquake; but concluded that either the house was haunted, or the end of the world was at hand. The terror of the family was beyond description. They all gave themselves up for lost. He thought he ought to pray, but could not think of any thing proper to say. After the first shock was over, he determined, if he lived till morning, to go to his nearest neighbor and ascertain whether it was the end of the world, or whether the house was haunted.
Another shock in the morning was worse
When the morning came, while he was considering what to do, he was surprised with another shock, worse than the first. As this happened in the day time, he thought, within himself, it could riot be spirits, as he never heard of their doing mischief in the day time, therefore it must be the end of the world! He was very wicked himself; his children were wicked, and the neighborhood was very wicked, and he concluded they were about to receive the chastisement of heaven. He had a very fleet horse in the stable, but not wishing to leave his family, and being unwell, he desired his son, a man grown, to gallop over to neighbor , and see how it was there, and if it were the same, he would leave the place instantly.
Son went to neighbor's house
The young man, John, set off to the stable, while the earth, the trees and stable, were swinging backwards and forwards, to such a degree, that it was w ith difficulty he reached it. He at length brought out the horse, and, mounting him, flew over the rocking plain. But it was just as bad there, said Mr. Burlison, and I now bethought myself it must be an earthquake. But let it be what it might, I saw we were all doomed to destruction; for, upon going to the door, I saw the earth sinking, and the trees falling.
The great road passed by my door; this road was alive with men, women, and children, shrieking and crying, and some of them almost without clothes, as they had escaped from their beds, and nearly frozen with cold. Some were without hats or shoessome running one way, some another, in astata of distraction.
Professors of religion
Mr. Burlison had heard of a neighborhood, not far off, where the people were professors of religion. I thought if I could live to get there, they would teach me how to prepare for death. My family, were, many of them, sick. 1 had a new wagon, and a fine team of horses, and several good saddle horses besides. I harnessed up my team without delay, and put the sick ones in the wagon, and the well ones on horses, and set off for the religious neighborhood.
My wife had been sick a long time, and had eat nothing for some days. As we drew near the neighborhood, we espied a woman sitting in a door, as it were, eating mush and milk. My wife's appetite revived at the moment, and she expressed an eager desire to have some of the mush and milk. We approached the door and stopped the wagon, and made our business known to the woman. She had none to spare. She had but little meal in the house—had a great way to go to mill, and could not tell when she could get mor e.
But my wife is sick, and has eat nothing for several days, and as she fancies she can eat the mush and milk, I will give you any price you may ask. I took out a silver dollar, at the same time, and held it out to her. She then handed my wife a tin cup about half full of mush and milk, for which I paid her half a dollar! I now began to think I had made a bad exchange, for the people I had left, though wicked, were kind.
Wanted to be amongst Godly people
When I arrived at the house I had been directed to, the man informed me I could have a house, but it was very small, without a floor, and full of corn: but if I would be at the trouble of emptying it of the corn, and put it in a crib, I might have the house, or pen rather, for so much—ten times the worth of it. I had no choice, and feeble as myself and family were, we joined too and soon dislodged the corn; and my family, (nine children,) my wife, and myself, crowded in this miserable hole.
I was little concerned about worldly affairs, however, as I expected an end of all things; for there was no alteration for the better in the shakes; indeed they were rather wose; all I wanted, or cared for, was to be amongst Godly people, that they might instruct me how to prepare for my doom. In short, I cared nothing about the things of this world. But such was not the case with my religious friends. Some admired my fine wagon; some admired my horses; and others admired my fine new saddles and bridles; and some one thing, and some another, and they must have this, and they must have that. I cared nothing about property provided they would pray for me, and preach for me! They plied me with enough of both!
But I soon discovered there were wicked people here too, and, inured to the shakes, they resumed their old practices. Some horse-raced it; some played cards, and some preached, whilst others were cheating their neighbors! I saw some running races, some playing cards, some preaching, and the earth shaking, all at the same instant. No wonder, I thought, these people have called down the judgment of heaven. I thought I had seen all strange sights that were to be seen in the world, but never saw the equal of this.
Time to quit the country
By degrees I grew familiar to the shakes myself; but in the meantime these religious people had cheated me out of all my property, and I thought it high time to quit the country; and, from that day to this, I put no faith in religious people. My fine wagon and team; all my horses and all my money, 1,500 dollars in silver, and a fine drove of cattle, gone. I mustered up enough to buy a couple of little ponies for my wife and the two youngest children, to ride, and returned to Tennessee worse than nothing, and had to begin the world again. I now left my wife and children to shift for themselves, and went into the army, and acting as Commissary under General Jackson, I soon recovered my losses. So much for getting getting in a pet with the government.1
As the German's say, "I suspect" this will please you.
Yours, &c.
1Having inadvertantly settled on the Indian lands, his house was burnt by order of government.
RELATED STORIES
Tecumseh reported to have caused an earthquake
ALABAMA FOOTPRINTS Confrontation: Lost & Forgotten Stories (Volume 4) is a collection of lost and forgotten stories that reveals why and how the confrontation between the Native American population and settlers developed into the Creek-Indian War as well as stories of the bravery and heroism of participants from both sides.
Some stores include:
Tecumseh Causes Earthquake
Terrified Settlers Abandon Farms
Survivor Stories From Fort Mims Massacre
Hillabee Massacre
Threat of Starvation Men Turn To Mutiny
Red Eagle After The War
READ EBOOKS ON COMPUTERS – CLICK BELOW FOR DETAILS