Anne Royall (June 11, 1769 – October 1, 1854) was a traveler and writer and was one of the first newspaperwomen. She married Captain William Royall, a gentleman farmer who served in the American Revolution. When he died in 1813, she was left penniless after a brutal court battle with her dead husband's relatives, Anne traveled Alabama for the next four years. She wrote letters to her friends about the evolution of the young state. The letters were published as a book entitled Letters from Alabama in 1830. This is a letter she wrote about the Cherokees to a friend named Matt.Warning:Some of the language describing the Cherokees is offensive by today's standard.
Melton's Bluff, January 20th, 1818.
Dear Matt,
If I were not the best tempered person in the world, I should get into a pet and quit this correspondence. If it were not for some way to pass off the time, I would do so. I have not received a word from you these three weeks. What are you about? Are you sick, or sullen; or beiniring yourself and your horse by riding up and down the river through the mud; or, taking the opportunity of my absence, gone to your old tricks again? I shall be likely to hear no good of you, I suspect. When I return, I mean to make very particular inquiries about you; and there are not wanting those that will tell me the truth; and a great deal more!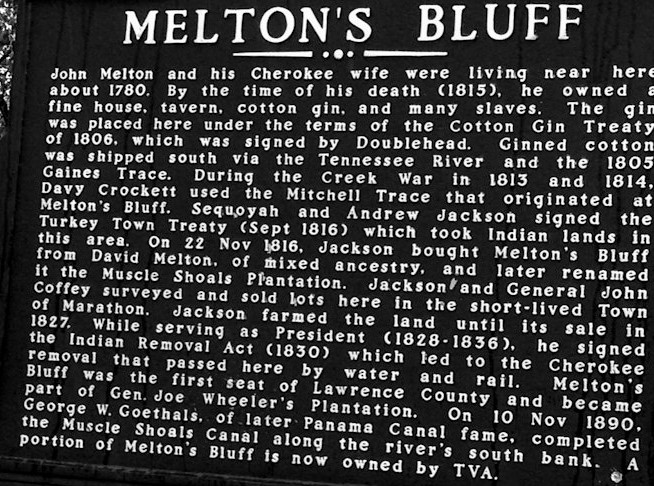 An expedition among the Indians
But I will give you only a piece of a letter now, and the residue of it when I get over the fatigue I experienced in a late party of pleasure, or rather expedition, not against, but amongst, the Indians.
But such a job, or rather such " a voyage of discovery," as was made by our party on the river, under a commander or leader, who was called a good waterman, but who was more like a land-lubber, unless the character of a good waterman consists in roundly wetting and worrying all his passengers, you never witnessed, perhaps never "read of."
Started in high spirits
The particulars of it, however, would not be at all interesting, because, they would be much like ordinary frights, screams, and "hair-breadth 'scapes" of most large parties, composed chiefly of females crammed into one poor little canoe to navigate a great river. A more ill-looking, frightened, chagrined, fatigued, be-drabbled, and be-drowned set of miserables, than our party exhibited after being rocked and tossed about, not in "the Bay of Biscay, O," but in the broad Tennessee for a considerable time without making a progress of 300 yards, you never beheld in decent people, who started in high spirits and holy-day dresses.
All the curls, crimps, and flourishing of gay gowns, new shoes, silk stockings, pantaloons and petticoats, shawls and other flaunting finery humbled—not to the dust," but—to the water! But I will now only give you the "subject of my story," and the object of this " grand expedition," and proceed to the result of it in my next.

Tennessee River
To the same – in continuation
Hearing eleven boats had arrived about two miles from hence, and had haulted up the river, we set off, as I said before, in a little canoe, to see the Indians, which are on their way to their destination beyond the Mississippi. Government, agreeably to their contract, having completed the boats, the news of the arrival of the Indians had been received with much interest; but being unable to proceed by water, we quit the canoe, and proceeded by land in our wet shoes and hose.
Arrived at Indian camps
We arrived at the Indian camps about eleven o'clock. There were several encampments at the distance of three hundred yards from each other, containing three hundred Indians. The camps were nothing but some forks of wood driven into the ground, and a stick laid across them, on which hung a pot in which they were boiling meat; I took it to be venison.
Around these fires were seated, some on the ground, some on logs, and some on chairs, females of all ages; and all employed, except the old women. There were some very old gray-haired women, and several children at each camp. The children were very pretty; but the grown females were not. I saw but few men. I asked the interpreter where they were: he said they had gone to hunt; some of them had returned, and were skinning and others preparing their game for their journey. But none of them were near the womens' department; they kept at a very respectful distance.
Cherokees were low in statue
I have heard much of the elegant figures of the Indians; true, some nations of Indians are elegantly formed, but such is not the case with the Cherokees. They are low in stature, and there is nothing majestic or dignified about them. They have no expression of countenance. They have a dead eye; but their feet and hands are exceedingly small and beautiful. This is all the beauty I could distinguish about them.
No lady that ever I saw has a hand so small or so well turned as -these Indian women; and the same may be said of their feet. But, after all, they are ugly lumps of things. They are thick and short. Their hair is jet black, and very coarse. It parts from the crown of the head to its termination on the forehead, as the Dutch women wear theirs, and clubbed up behind with a blue or red ferret. Their colour is that of dark mulattoes. They were all well dressed; at least as well as most white women are, when engaged in their ordinary employment. Some were engaged in sewing, some in cooking, and some in nursing their babies, which were the prettiest little creatures I ever beheld.
Infants held on their backs
Their manner of nursing is singular. They do not hold their infants in their arms, or on their laps, as our women do; but on their backs, confined in such a manner that they are in no danger of falling, or moving in any direction. This is done by means of a blanket, or a part of one, drawn tight round the infant, leaving its head and arms out. This blanket is fastened round the waist of the mother, and the top I do not know exactly how; but the utmost confidence seems to be reposed in its tenacity, as the mother never touches the child with her hands, or is at any more trouble with it whatever.
The little things clasp their arms round the necks of their mothers, which they never move: no crying, nor fretting, nor any apprehension of danger disturbed the serenity of these little philosophers, on our approaching them. I have been told that the mothers suckle them, where they are, by raising the breast up to the child's mouth, which is very probable.
Children no incumbrance
The Indian women appear to sustain no inconvenience from the incumbrance of their children. They went through the different vocations of pounding their corn into meal, carrying wood and water, with the same apparent ease as those that had no children. Seeing several little girls of from ten to twelve years old, I asked the women why they did not make those little girls nurse their little ones. They answered no other way than by shaking their heads, and smiling at my ignorance, no doubt.
Women were pounding corn
I went up to one of them, who was pounding corn, took the pestle out of her hand and helped her to pound: she laughed at my awkwardness, and took it out of my hand. She had, sitting by her on a washing-tub, a large tray full of parched corn. This it was that she was pounding into meal; and as she finished each portion, she emptied it into another, tray.
Every thing about her was neat and clean. The Indian corn was parched to a nice light brown, and looked "very interesting." The meal manufactured from this corn, is not fine, nor do they make it into bread at all, but mix it with common water and drink it. 'Tis rarely that they drink water in any other way. No one, who has never tasted it, would believe what a delicious drink it is.
Smoked with an Indian woman
Having walked about and made a number of inquiries, I sat myself down and made signs to an old Indian woman that I wanted to smoke: she very courteously handed me her pipe. The seat I had chosen was near one of those women, whom I had observed for some time, sedulously engaged with her needle. She was engaged making a family dress, in which she discovered all the skill and industry necessary to accomplish it.
Their dresses were made like our ladies, and were put on. They had fine cotton shawls on their shoulders, and many of them had men's hats on their heads; but no bonnets were seen amongst them. They all had good shoes or mockasins on their feet, and some hundreds of beads round their necks; but their broad faces and coarse hair (as coarse as a horses mane) were quite disgusting. There is one elegance, however, which they possess in a superior degree to any civilized people that I am acquainted with; and this is not their beautiful hands and feet, already mentioned, but their walk. No lady, however skilled in the art of dancing, can walk with so much grace and dignity as these Indians, both men and women: and this, I am told, is peculiar to almost all Indians.
Good order maintained
Although there were such a number of them, so near together as to be seen from one camp to the other, yet there was the greatest ardor imaginable: not the least noise to be heard. How would so many whites have managed to maintain the good order evinced by these Indians? Even their dogs were not permitted to bark at us.
The poor dogs! I felt for them: they were nothing but skin and bone! The same word that we use to encourage our dogs to seize on any thing, or to bark, the Indians use to control theirs, which is hiss! One of our party told me that it was hiska! which means "be still."
Far advanced in civilized arts and manners
The dress of the men was equally as decent and fashionable as that of the women. Many of them had on very neat half-boots, broad cloth coats, and good hats; though some prefer tying their heads up with a handkerchief, as being more convenient to hunt in.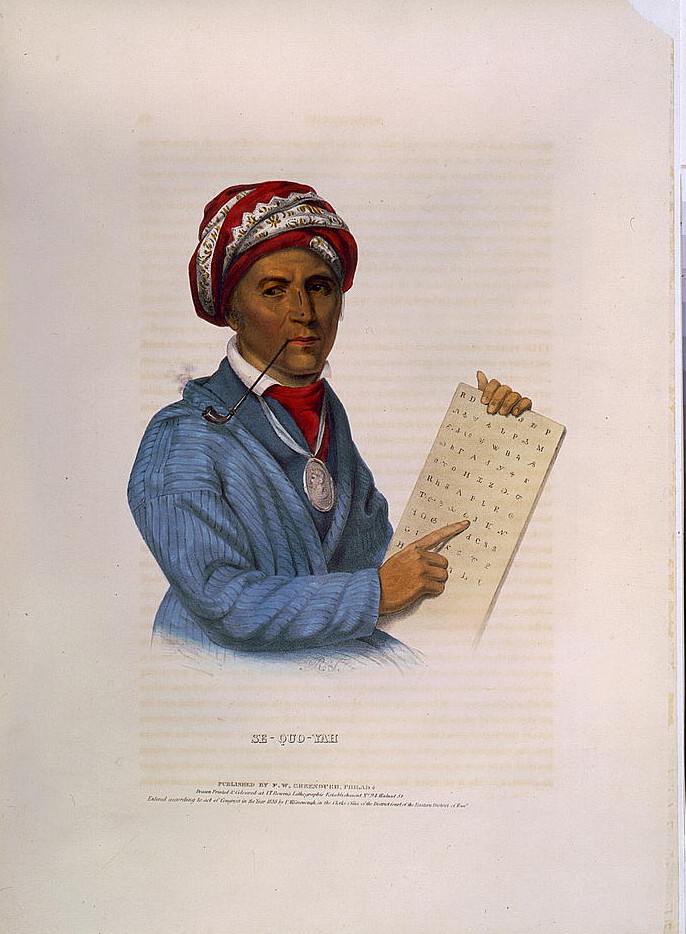 Sequoyah invented Cherokee alphabet
By all that I have said in regard to these Cherokees, you may perceive they are far advanced in civilized arts and manners. This great work was accomplished by the indefatigable labors of the Reverend Gideon Blackburn! And yet, what an aversion they manifest toward our language! I was told that nearly all those that I saw, both understood and could talk good English; but not one word could I get out of them, of any sort.
Their inter-communications were carried on by signs. I saw many of the half-breed, as they are called, here; the offspring of a white and an Indian—but they were as unsociable as the others. I was thinking that this would be a good plan to promote their civilization, but the result proves that any plan would not succeed. It is very probable, that the most effectual means have been resorted to by our government to overcome their prejudices. I mean our rifles.
Please to give my best respects to Mrs. Wilson and Mrs. Dryden.
Yours, &c.
SOURCE:
Letters from Alabama, 1817-1822: Biographical introd. and notes by Lucille Griffith
RIBBON OF LOVE: 2nd edition – A Novel of Colonial America 

 – the true story of religion in America –

Inspired by true historical events, Mary and Henry Pattenden flee to America to escape persecution –  It is almost impossible to put the book down until completion. – Dr. Don P. Brandon, Retired Professor, Anderson University