Established by members of the Methodist Church
East Alabama Male College was an educational institution of high grade, established by members of the Methodist Church in east Alabama and chartered by the legislature.
Auburn University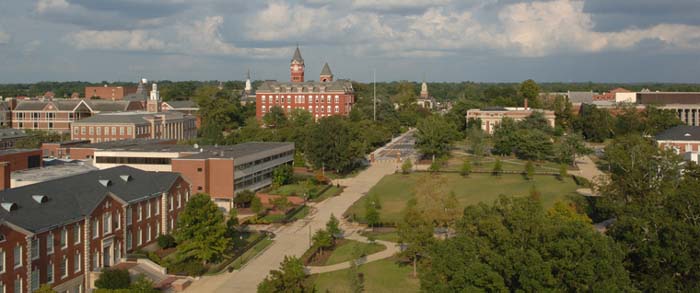 Charter and Trustees
The charter was vetoed by the governor, but finally passed by the constitutional majority over his objections, February 1, 1856. The trustees named in the act of incorporation are as follows: Rev. John B. Glenn, Col. N. J. Scott, A. Frazer, J. M. Carlton, J. B. Ogletree. W. T. Davis, Isaac Hill, C. Raiford, Maj. J. F. White, Col. F. W. Dillard, Prof. John Darby, Dr. J. W. Jones, Maj. Wesley Williams, Simeon Perry, Edwin Reese, Auburn; Rev. W. A. McCarthy, Rev. O. R. Flue, Rev. Mark Andrews, Rev. Samuel Armstrong. Rev. C. D. Oliver, Rev. W. B. Neal, Hon. John E. Groce. Talladega; Hon. Wm. Garrett, Coosa; Hon. E. R. Flewellen, Barbour; Rev. F. G. Ferguson, Rev. W. H. McDaniel, Rev. Lewis Dowdell, Rev. E. J. Hamill, Alabama Conference; Daniel Pratt, Autauga; Hon. James F. Dowell, Rev. Sam. Harris, Chambers: Rev. A. Lipscombe, D. D., David Clopton, Esq., J. W. Willis. Hon. Robert Dougherty, Tuskegee; Hon. R. A. Baker. Duke W. Goodman, Mobile; Dr. N. B. Powell, Dr. W. H. Ellison, J. B. Banks, Esq., Hon J.•Defunct.Cunningham, Arnold Seals, Esq., Macon; John McTyeire, Russell; Frank. Gilmer, Montgomery County; John B. Tate, Russell; John P. Nails, Lowndes; Hon. Thomas H. Watts. Montgomery; E. G. Richards, Chambers; Rev. J. M. Jennings, Alabama Conference, and their successors.
Intense discussion on location between Greensboro & Auburn
The session of the Alabama Conference held at Eutaw determined upon the location of a male college in the bounds of that ecclesiastical body. After a sharp contest between Greensboro and Auburn, the former was adopted as the location, and the Southern University was chartered by the legislature January 25, 1856, in further development of plans.
Discussion caused division
West says "That discussion on the college question was fiery and exciteful(sic), and engendered strife never allayed, and inaugurated division never arrested."
The Methodists of the eastern section of the conference, however, were not to be deterred. Continuing, West says, "They had conceived the idea of establishing, in their midst, a literary institution of high grade. In the projection of their commendable ambition, they had aroused their latent forces, put under contribution their energies, and called into requisition their resources. The work, in its inception and design, in its outline and detail, in its execution and progress, was under intelligent guides and active agencies, and was not the outcome of day-dreams, wild reveries, and idle rhapsodies."
Below is Old Main on the East Alabama college- Auburn, Alabama –
A four-story building was built as the main building for the East Alabama Male College in 1859, known as Old Main. It burned in 1887 and a replacement building was built in 1888 and officially named for Governor William James Samford in 1929. (The digital image below was uploaded to Flickr.com and  is of the lithograph of Old Main and is part of the Auburn University Libraries' Historic Catalogs Collection.)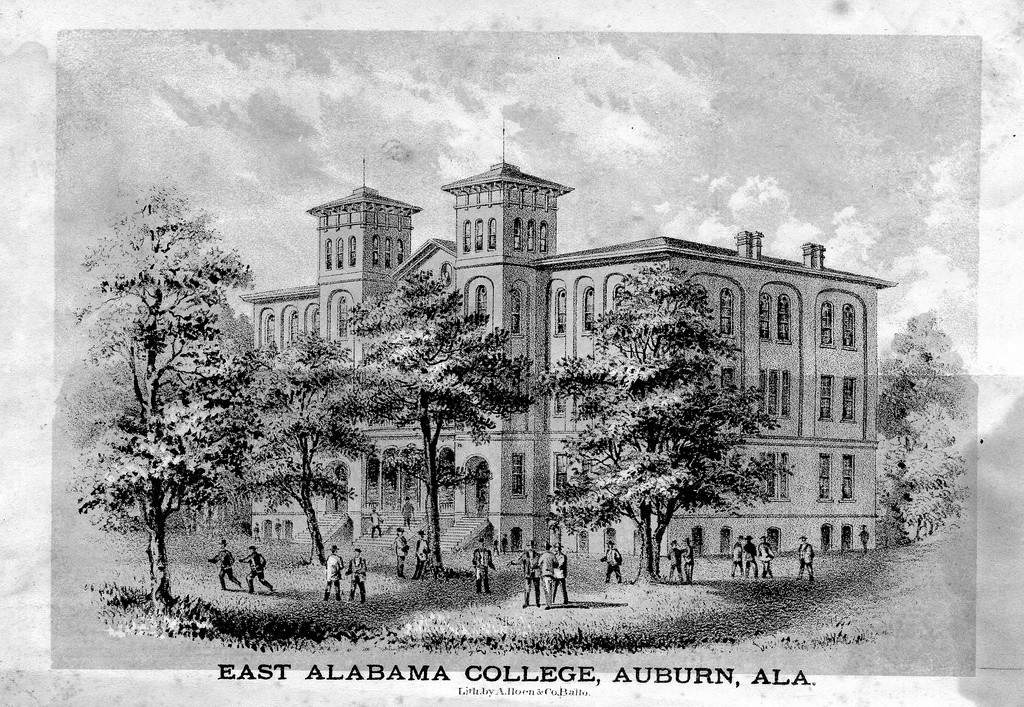 Cornerstone laid in 1857
The trustees, taking immediate action located the school at Auburn, then in Macon, but now in Lee County. In 1857 the cornerstone of the main building was laid, with Bishop George F. Pierce as the principal speaker. The first session opened October 1, 1859.
In November 1859, East Alabama Male College student B.C. Lee wrote his mother with news of the previous semester at school and his encounter with the local population:
"The inhabitants of this place are very sociable, & friendly, perhaps more so now, than they will be several years from hence, for this being a new college every one is exerting himself to give it name and reputation. And the students, therefore, are treated with the greatest courtesy, & are warmly received into the families of Auburn. The citizens take a great pride in introducing a young man, & endeavor to make him feel at home – as though he were thrown among those in whom he could confide, & with whom he could spend his leisure moments pleasantly…I think after becoming familiar with the place, that it is indeed an excellent place for a college." (The Old South, Civil War, and Reconstruction by Dwayne Cox and Rodney J. Steward –
Auburn University Digital Library
)
Two Methodist Institutions of college grade
Shortly thereafter the conference convened in Eufaula November 30, and the new college at Auburn presented its claims for denominational support. Bitter opposition arose on the part of the friends of the Southern University, but after full debate, the conference voted to take the East Alabama Male College under its patronage.
In 1856 the board of trustees for the East Alabama Male College accepted control of Slaton's Male Academy, which, became the preparatory division of the new school, thus making two Methodist institutions of college grade in the State. Rev. William J. Sasnett was the first president. Rev. E. J. Hamill was appointed financial agent in 1856.
Slaton's Academy opened on the corner of present day Tichenor and North Gay. It's headmaster was William F. Slaton, a prominent Methodist who had influential friends, such as William Lowndes Yancy, A. A. Lipscomb and James F. Dowdell.
Auburn High School  – served as W. F. Slaton's Academy and preparatory school for East Alabama Male College and Auburn High School (photograph was probably taken ca. 1890 – uploaded by Lissoy at en.wikipedia)
The preparatory school opened in January 1857, with an enrollment of one hundred students. When the college opened in 1859, the preparatory school's enrollment had already increased to one hundred and thirteen students.
On October 1, 1859, the East Alabama Male College formally opened in tandem with the already established preparatory division. It is said to have been "well equipped for a classical college, with apparatus and appliances, and had a prosperous career until it suspended in 1862." Rev. Mr. Sasnett and Rev. Mr. Hamill continued in their positions until suspension, and the former nominally until his death, November 3, 1865.
Buildings were used as a Confederate hospital
While the preparatory school remained in operation during the Civil War, the college suspended operation to become a hospital.
Auburn, Ala., U.D.C. Unveiling Memorial Tablet on Historic Scene ca. 1890 (Alabama Department of Archives and History)
The exercises were resumed on September 5, 1866, with Rev. James F. Dowdell A, M., as president. He was succeeded by Rev. Alex D. McVoy at the session of 1869. In the latter part of 1871, plans for the organization under Federal aid, of an agricultural and mechanical college had about matured, and the board of trustees of the East Alabama Male College made a tender of its property to the State, which was formally accepted by the legislature. February 26, 1872. At that date Hon. David Clopton was president, and Gen. George P. Harrison was secretary of the board of trustees.
Trustees executed a deed to the State in 1872
The trustees had previously executed a deed of conveyance to the State, dated February 17, 1872. On March 22, 1872 the agricultural and mechanical college was organized by the election of a faculty, consisting of the members of the faculty of the old college, two additional professors, and a commandant. By this action of the new institution, there was no interruption of the school work.
1890s Samford Hall Auburn Alabama (Auburn Digital library)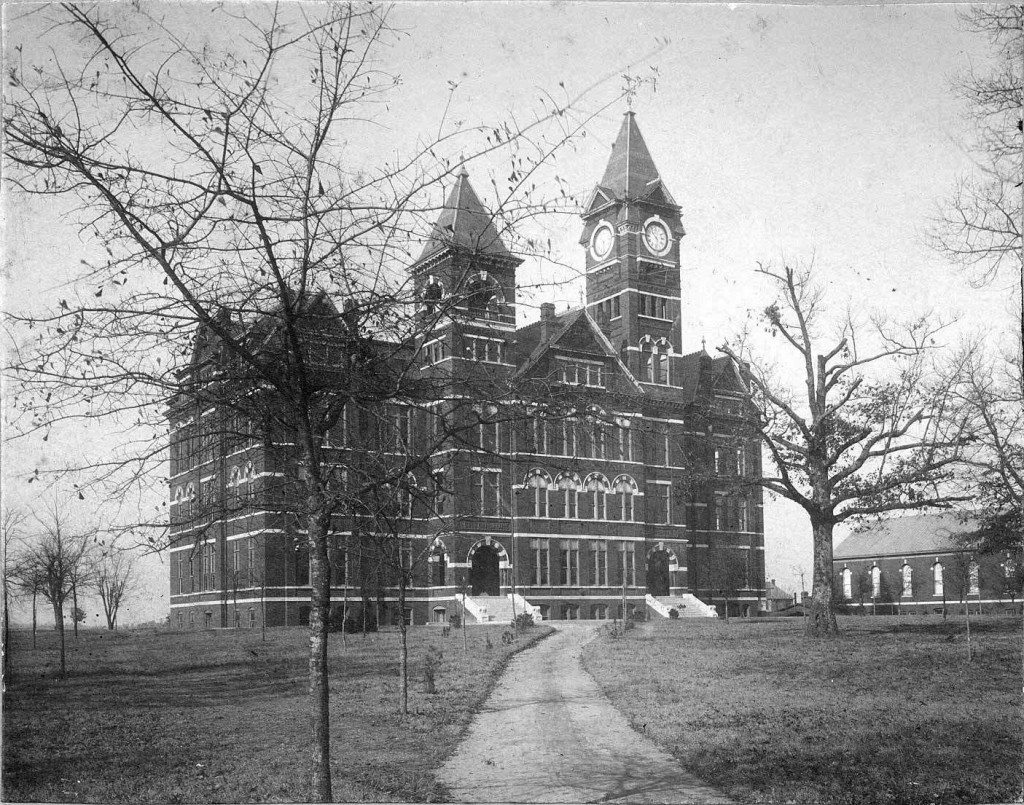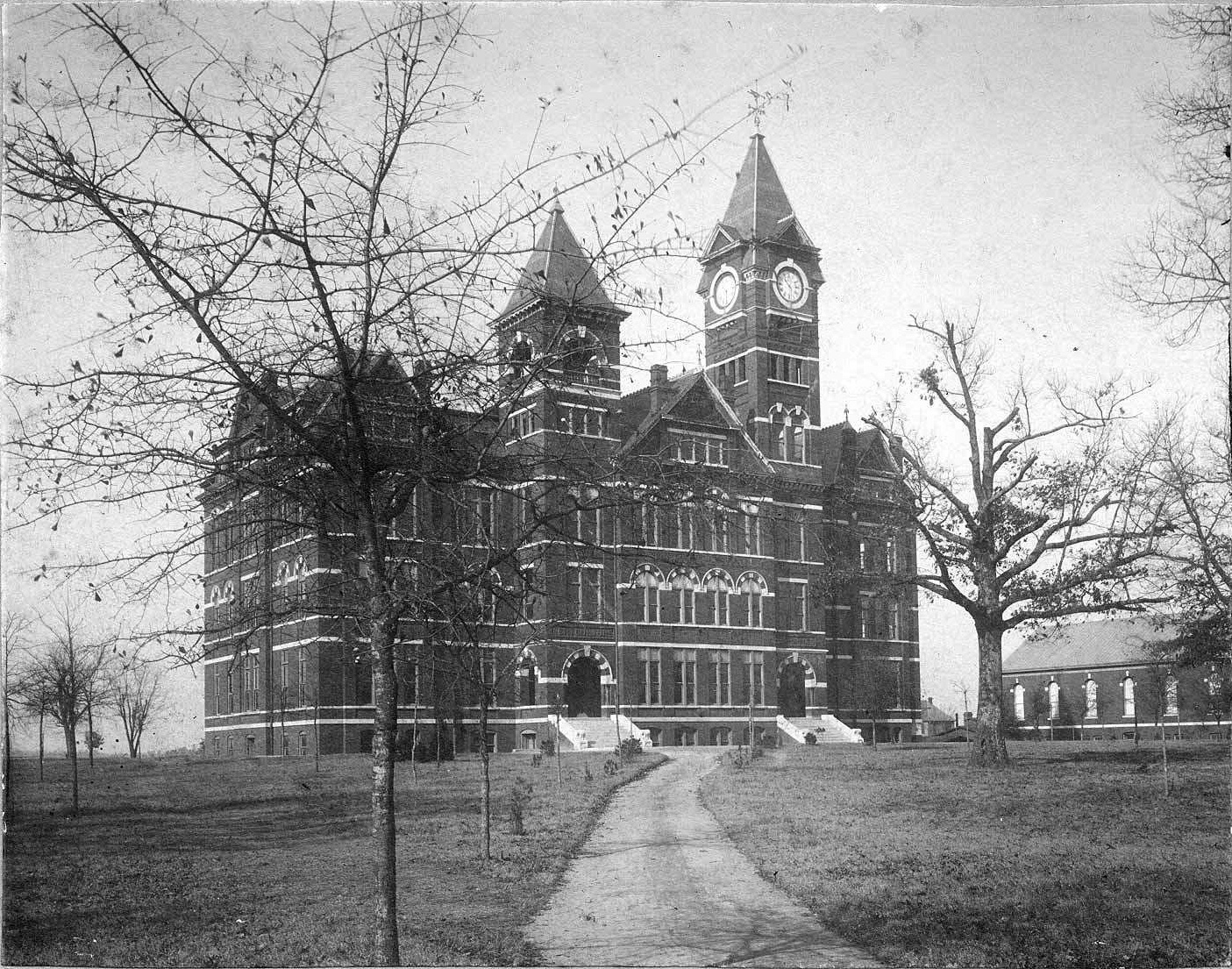 As a part of the gift, it was provided that the senior class of the East Alabama Male College should graduate in June 1872, and that its alumni, should be recognized as the alumni of the Agricultural and Mechanical College.
Langdon Hall at Alabama Polytechnic Institute in Auburn, Alabama ca. 1910 (Alabama Department of Archives & History)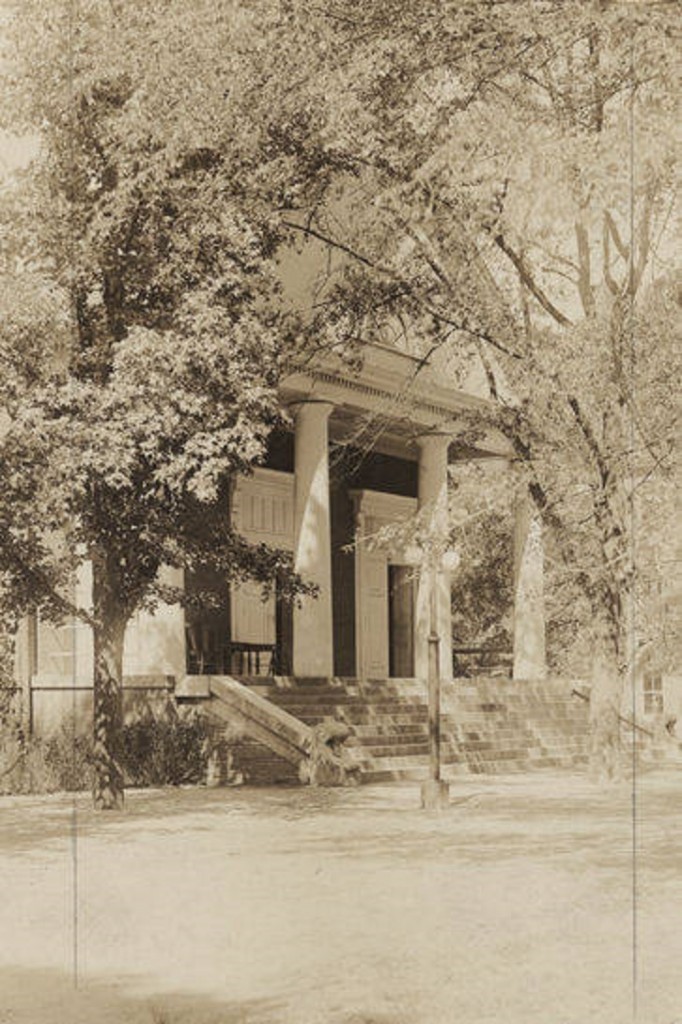 SOURCES
History of Alabama and Dictionary of Alabama Biography, written by Thomas McAdory Owen, 1921 by the S.J. Clarke Publishing Company
Wikipedia
Discordance: The Cottinghams (Volume 1) – A novel inspired by the experiences of the Cottingham family who immigrated from the Eastern Shore of Virginia to Bibb County, Alabama
Filled with drama, suspense, humor, and romance, DISCORDANCE continues the family saga from the Tapestry of Love series with the children of Mary Dixon who married Thomas Cottingham.
Inspired by true events and the Cottingham family that resided in 17th century Somerset, Maryland and Delaware, colonial America comes alive with pirate attacks, religious discord, and governmental disagreements in the pre-Revolutionary War days of America.
Orphaned at an early age, the Cottngham siblings face pirate attacks, illness, injuries, and the disappearance of a loved as they try to establish their lives in the wilds of early America. Will they prevail or be torn apart over the issue of slavery?
As in the Tapestry of Love series, the author takes the reader back in time to the beginning days of America. DISCORDANCE: The Cottinghams will appeal to a wide-range audience.