The early Baptist Church in Alabama1
by
S. W. Wilson
The settlement of the first Baptist in Alabama is believed to have been in the latter part of the Eighteenth Century just following the Revolutionary War. We do know that a group of Baptists settled over on the Mississippi River in 1780 and there was a licensed preacher by the name of Richard Curtis among them.
First Baptist Church was in North Alabama
The first church in the present confines of Alabama was constituted in North Alabama and known as the Flint River Baptist Church on October 2, 1808. About this same time there appeared a licensed preacher, William Cochrane, from Georgia, in Washington and adjoining counties.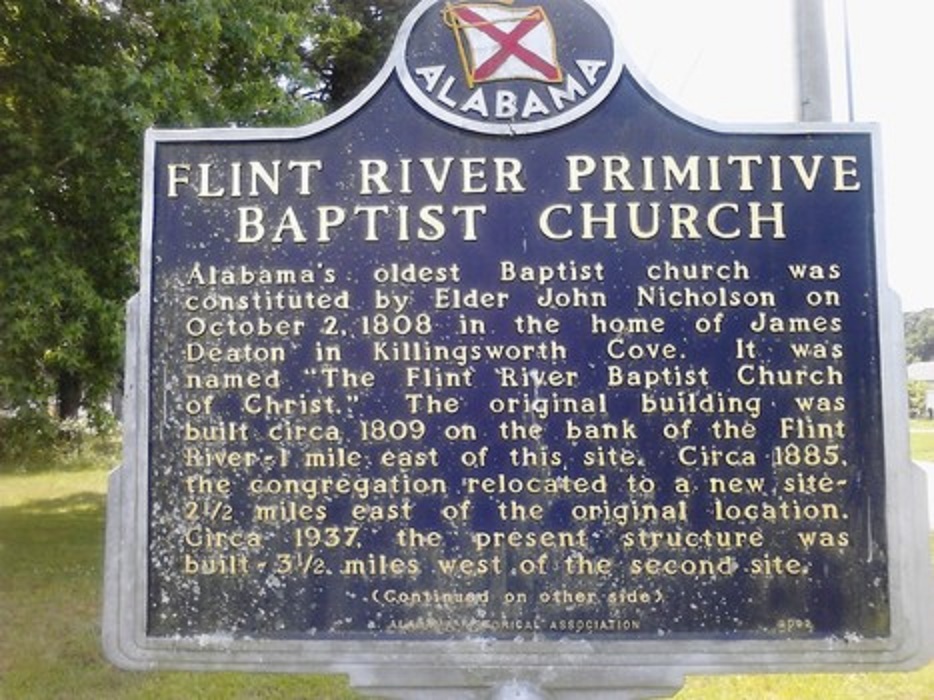 Flint River Baptist Huntsville, Alabama – historic marker  (The Examiner)
Elder James Courtney constituted Bassett's Creek Church which was the first Baptist Church in South Alabama on March 31, 1810, in Clarke County. The second Baptist church in South Alabama was west of the Tombigbee River and within the present confines of Choctaw County. It was Oaktuppa Baptist Church constituted by Elders Joseph McGee and Jacob Parker in 1810.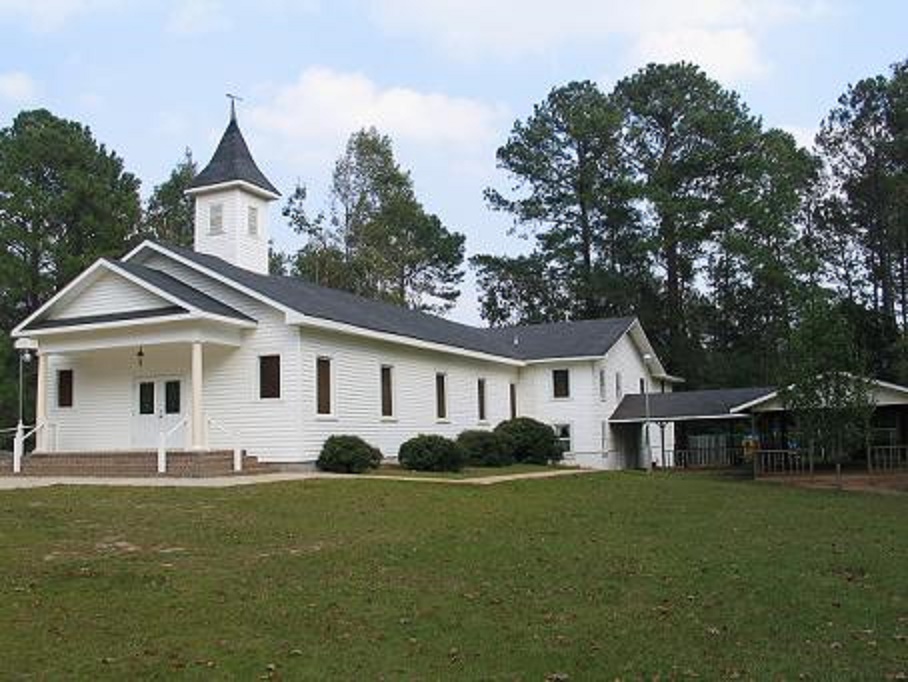 Bassett Creek Baptist Church, 1810 (Alabama Baptist Historical Commission) 
Earliest land grants 1808
The writer believes that this church was in South Choctaw which was settled about this time with the earliest land grants being made in 1808, 1809, 1810. The northern part of Choctaw County was not settled until after 1830 at which time the Choctaw Indians were moved across the Mississippi River.
The first land was sold and entered on the tract book in this immediate vicinity of Concord Baptist Church on November 25, 1834 by David Daniels in E 1/2 of NE 1/4 of Section 33 of Township 15, Range 4 West. It was not until eleven years later, or November 29, 1845, that the Concord Baptist Church was constituted.
During that time the people probably went to church at either Mt. Zion in Mississippi, or Harmony (now Zion in Sumter County), these churches having been constituted in the 1830's. Those who constituted the presbytery of the founding of Concord Baptist were Elders Nathan Slay, Thomas H. Clyatt, and H. P. Brunson.
Nothing more is known of Thomas H. Clyatt except that he was the first pastor of the church. H. P. Brunson lived within the vicinity of Zion Church. Nathan Slay was the second pastor of which more will be said than about the others because we know more about him
1Excerpt from an article on the Concord Baptist Church in Choctaw County written by Mr. S. W. Wilson of Butler He states in his letters that the first Baptist Church in South Alabama was organized in Clarke County, in 1810, and the second in the same year, located in what was then Washington County but now Choctaw. That church was the Oakatuppa, which disbanded in 1824. Hurricane Baptist Church came out of the old Oakatuppa Church. (Excerpt transcribed from The Alabama Historical Quarterly, Vol. 08, No. 01, Spring Issue 1946)
Faith and Courage: A Novel of Colonial America (Tapestry of Love) (Volume 2) George Willson witnesses the execution of King Charles II and is forced to leave the woman he loves to witch hunters in 17th century England as he flees to his sister, Mary, and her husband Ambrose Dixons home in Colonial American. Ridden with guilt over difficult decisions he made to survive, George Willson and the Dixon's embrace the Quaker faith which further creates problems for their existence in the Ne