This letter from Professor Connerly to the editors of the Birmingham Iron Age newspaper has been transcribed from the Birmingham Iron Age April 23, 1874. Prof. Connerly was the Principal of the new Free school in Birmingham, Alabama and was on a trip to acquire desks, books etc. for the new school set to open in April 1874. This is his 2nd letter to the Birmingham Iron Age editors about his trip.
Messrs Duval & Roberts:
I must start where I left off, at the High School, in Nashville.
It was surprising and gratifying to witness the proficiency of the pupils of this department, which does not carry its students as high in the course as the College curriculum; but makes them understand the text better, leading them on to greater masteries in the art of studying, which is the true end of all education in the schools. This fact of the superiority of the High School graduate is clearly and constantly recognized wherever these Free schools are known.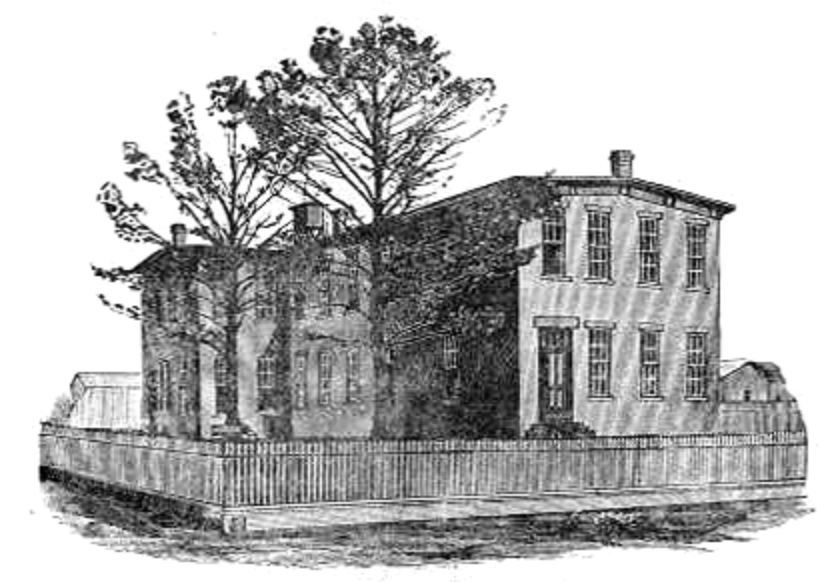 First Birmingham Free School 1874 (Alabama Department Archives and History)
A gentlemen (sic) of eminence told me that whenever the great railroad masters wanted an extraordinarily excellent engineer, they went to the High School graduates. This fact exactly corresponds with the doctrine I have advocated for years in Alabama—that first-class Academies and High Schools are more needed than Colleges, because they, in great thoroughness, lay the foundation upon which afterwards the student can build.
It is the purpose, the set purpose, of those of us who have the Free School of Birmingham in charge, to train from the very beginning, the immortal minds intrusted (sic) to our care so thoroughly and in a way so masterly, that they can quit our halls, and step forth upon the stage of life, ready for any pursuit and prepared to study any profession.
Delighted with my brief sojourn among the schools and teachers in Nashville — impressed that I should see nothing superior to them in my travels—I prepared to go further North.
Missing the Express train, I "fell back" on the accommodation bound for Gallatin, only twenty-five miles north of Nashville.
This delay resulted in my good and enjoyment. For a day and a night it placed at my command, the obliging kindness and noble hospitality of an old Alabama friend, the ingenuous and high-toned, Capt. John W. Walton, formerly of Greensboro, Ala.— There in the midst of some of the finest lands in the world, with every convenience about him, "he actually lives in clover." With no regrets that he left the cotton belt of Alabama, he now bids fair to have twenty years added to his life, with his children growing up in fine health and vigor, aiming to be useful and happy rather than rich and idle.
Being at the depot in time to take the Express, I was soon seated in a car crowded with strangers and new countenances, it being the first time in my life where I did not know the name or recognize the face of some acquaintance. This fact gave me all the better opportunity for viewing the fields of wheat, clover and blue grass. I must, however, candidly admit, that most of the country from Gallatin, Tennessee, to Bowling Green, Kentucky, is more rolling than I expected to find. At the latter place, supper was offered; and thence to Louisville, we traveled in the dark, making the trip on schedule time.
Taking my lodgings at the Louisville Hotel, other guests arriving with me and myself were carried to the third floor, by the elevator, which, if not new to myself, was to some of my companions, whose eyes fairly flared with astonishment.
Next morning, I was in search of a companion to accompany me to church, when my eyes fell on the familiar face of the President of the National Bank of Birmingham—Col. Charles Linn. He puffed his cigar gently, whilst I quietly talked him down to the Methodist Church on Chestnut street, whose pastor is an old Alabama friend and associate in teaching, the Rev. R. H. Rivers, D. D. After the sermon—which was sound and eloquent– the Doctor recognized me, invited me to his house. The invitation was accepted, and there in the bosom of his family, with his excellent wife and accomplished daughter, we had rare social enjoyments, reviewing and discussing many important events connected with education and politics in Alabama. Our pleasant evening enjoyments reminded me forcibly of the Brundisian trip of my old friend Horace and his companions, nearly two thousand years ago.
The Doctor has been in Louisville as a pastor for nearly five years; and is more popular and efficient now than when he first went. He preaches, lectures, visits, writes for the press and fills many places that younger and stouter me, for he is a cripple—would falter to occupy. Possibly yet, when the whole field is examined, a position in the great Vanderbilt University may be tendered him.
On Monday, I began to make my business known to some friends and business men. They all wished me well; but they "feared and trembled" for my success. Nothing daunted, I persevered and succeeded.
Introduced by Prof. P. A. Towne, formerly a teacher in Mobile, and an author of some note, to the proprietors and editors of that great and powerful sheet—the text-book in politics of Kentuckians and, mostly too, of Tennesseans—the Courier Journal, I was unconsciously led to conclude that journalism makes men polite and clever, whilst writing and publishing books makes men generous and noble. Both in the conduct of Messrs. Haldeman and Watterson, managers and editors of the Courier-Journal; and in that of the extensive publishing house of Jno. P. Morton & Co., whose establishment employs daily a force of one hundred hands, and which is the most extensive publishing house south of the Ohio. They publish an excellent monthly for young people, the "Home and School," whose editor, Major W. J. Davis, at first as a lawyer, then a teacher, and now a journalist, politely offered me his services to visit the public schools and then to attend me in my call on the business houses for substantial aid.
I must reserve the details of our visit to the schools, for my next, whilst at present I call the attention of teachers generally, and especially of Alabama teachers, to the fact that Noble Butler's English Grammar –a work published more that twenty-five years ago—standing the test of criticism, of age, and of comparison with other books, is issued under the imprint of the grand publishing house of Jno P. Morton & Co. The author, Mr. Butler, finding that I was in the city, called on me, and though we had never seen each other in the flesh, we felt as old friends, I having been the first teacher in Alabama that introduced his grammar into use. He has written a series of Readers, which are used in the schools of Louisville, and which also we are introducing into our Free School.
I found, upon inquiry, that the noble author, whilst writing and editing books, was also engaged in teaching books; for though enriching others by the treasures of his labor and mind, he has failed to lay by him in store enough to keep him from work, looking by faith into another country, in which he shall reap the full reward of his earthly toil for the education of his race and the amelioration of mankind. So, I hope, it will be with other teachers, publishers and editors.
Fearing that I may weary your readers this time, I reserve other things for my next.
Yours, etc.
D C. B. Connerly
April 21, 1874
Discover genealogy and novels by Donna R. Causey
includes the following stories
The Yazoo land fraud
Daily life as an Alabama pioneer
The capture and arrest of Vice-president Aaron Burr
The early life of William Barrett Travis, hero of the Alamo
Description of Native Americans of early Alabama including the visit by Tecumseh
Treaties and building the first roads in Alabama