Bell Factory is located in Madison County, Alabama and is the site of the earliest important textile mill of any consequence in the South. The first cotton mill was established there in 1819. It was Alabama's second textile mill and Madison County's first non-agriculture industry.
First to manufacture for commercial use
Though cotton had been converted into yarn for domestic uses, it was not until 1832, when the Patton-Donegan & Company incorporated the mill for the manufacture of cotton cloth. This was the first time the raw product was converted on a large scale for commercial purposes.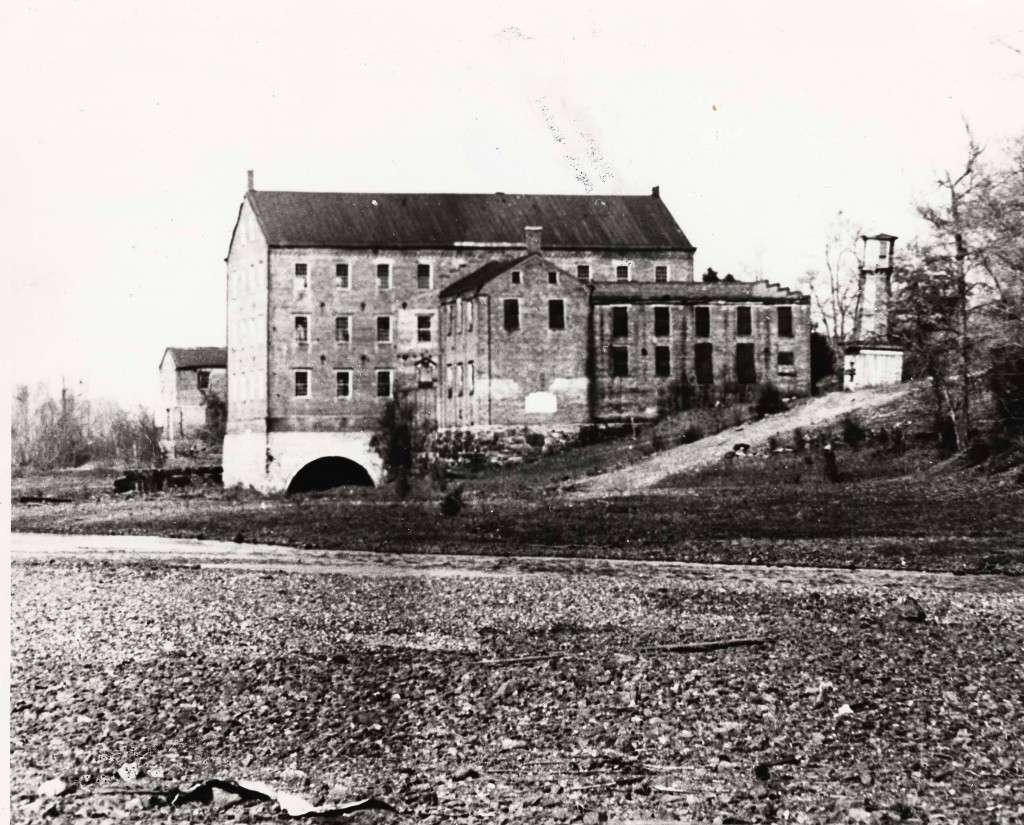 Bell Factory, Madison County, Alabama (Madison County Library)
Located near Three Forks
The plant was located about 10 miles northeast of Huntsville near the Three Forks of the Flint River, at the bridges. The spinning mill was erected by Col. Andrew Beirne and Mr. Donegan. Charles Hays Patton, brother of Gov. Robert Millter Patton was practically the president and owner of the Bell Factory. His father-in-law Col. Andrew Beirne helped establish the mill and his brother was a co-founder.
Steam was not used
The power used in the operation of the three thousand spindles and one hundred looms of the mill was furnished by damming the water of Flint, and forcing it over a wheel or turbine. Steam was not used in initially in its operation, signals could not be given by whistle, so a large bell was used. That is how the plant got the name the "Bell Factory."
Slave labor used
This was the first cotton manufactory of any consequence in the South. Slave labor was used almost exclusively in its initial operation. In later years, economic forces drove the industry from its field of usefulness, and it ceased operating in 1885. The buildings were torn down in the 1890s and the bell is at Riverton High School
Some additional owners of the Bell Factory include
Preston Yeatman was part owner of the Bell Factory. He died in Huntsville in 1841.
Richard Forsey, born 1795. He was the third owner of the Bell Factory from 1829-1831.
SOURCES
Madison County, Library
Wikipedia
Read more stories about early Alabama in ALABAMA FOOTPRINTS: Statehood – presents the times and conditions they faced in lost & forgotten stories which include:
Who Controlled And Organized The New State of Alabama?
Tuscaloosa Had Three Other Names
Chandelier Falls & Capitol Burns
Alabama Throws Parties For General LaFayette
Francis Scott Key Was Sent to Alabama To Solve Problems