Biographies of the Delegates to the Alabama Secession Convention
Part II – 1
William Hodges Barnes
Chambers County
Upper left corner, William H. Barnes, Composite photograph at Alabama Department of Archives and History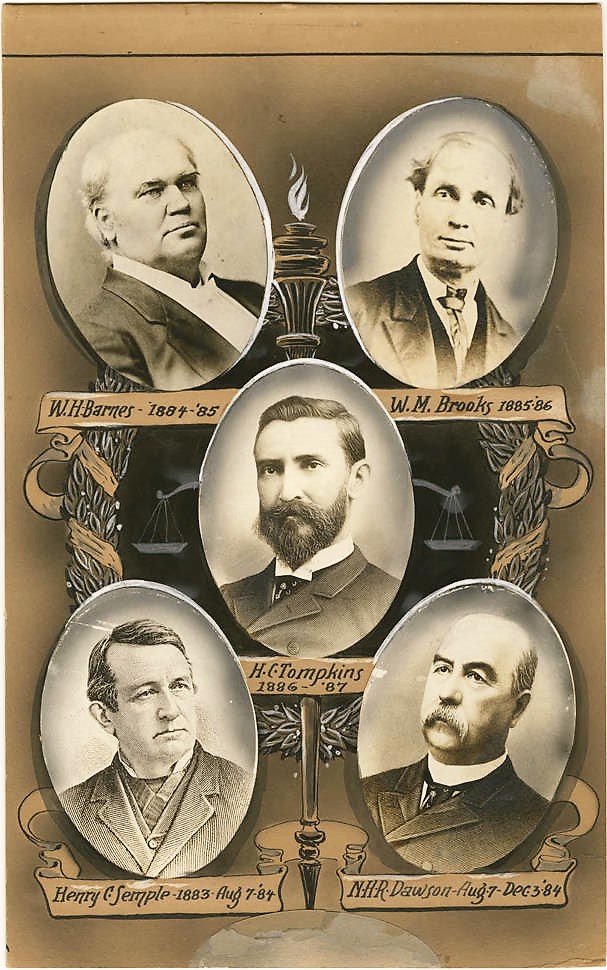 Son of Isaac and Ruth Barnes, William Hodges was born in Monroe County, Georgia, April 21, 1824, and died July 29, 1887, at Opelika, Alabama. Descending from Irish stock the Barnes family lived in Maryland prior to the Revolution, but they immigrated to Meriwether County, Georgia; subsequently, they moved to Lafayette, Chambers County, Alabama. Barnes received a common school education in his native county, and read law in a private office at Lafayette. Admitted to the bar when he was twenty years of age, he began to practice law at Dadeville. Returning to Lafayette in 1857, he maintained his residence there until he moved to Opelika sometime after the war. For eight sessions he represented Chambers County in the State Senate and was chairman of the judiciary committee of that body in 1865. Ranking high in religious, fraternal and educational circles, Barnes was a Methodist, Mason and a member of the board of trustees of what is now the Alabama Polytechnic Institute. He was married to Ann Elizabeth Rawles at Rock Springs, Lee County, Alabama, on April 21, 1847. Their children were William Walter, Joseph Cotton, Charles Henry, Augustus, Reid Boylston, Mary, Annie Octavia, John Rawles and lone. (Findagrave.com memorial -127213581)
Note: Additional information in a biography by Willis Brewer (Alabama, Her History, Resources, War Record and Public Men: From 1540 to 1872)  He was born in Monroe County, Georgia, April 1824. His mother was a daughter of Mr. Jethro Mobley. His father, a planter, removed to Merriwether county, (Ga.) in 1826, and there the son grew to manhood. Receiving an academic course of education, he taught school for three years, and then (1844) followed his parents, who had settled in Chambers County, this State. He read law in Lafayette, under Messrs. Lemuel B. Robinson and James C. Reese, and was admitted to the bar in 1845. He at once removed to Dadeville, where he practiced for twelve years. In 1857, he returned to Lafayette and became the partner of Mr. James T. Brock, a prominent lawyer. In 1861 he represented Chambers in the constitutional convention, and the same year entered the State Senate by defeating Hon. Philemon O. Harper of Chambers. He served as a senator during the war, and in 1865 was reelected, defeating Hon. J. J. McLemore. During his last term, he was chairman of the judiciary committee. After leaving the Senate (1867), Mr. Barnes came to this county and has practiced his profession in Opelika. He is stout, of medium height, and corpulent. His good nature is imperturbable, and he has pleasing social qualities. He ranks high as a lawyer and possesses clear views and a sound judgment. As a speaker he is forcible and effective, often bringing humor to his aid, but never losing sight of logic. His wife is a daughter of Col. Joseph Rawls, sheriff of Tallapoosa in 1847.
Arthur Campbell Beard
Marshall County
Merchant, farmer and large slaveholder, Arthur Campbell Beard descended from famous families of the colonial, revolutionary and pioneer periods of the nation's history. Born at Cumberland Gap, Kentucky, on March 18, 1810, Beard migrated to the Tennessee Valley region in Alabama. In addition to the Secession Convention, he represented Marshall County in the legislature for the period 1863-65. He became a major of the Fourth Alabama Infantry soon after war began but poor health forced him to resign April 22, 1862; he then served on the staff of Governor John Gill Shorter until becoming a legislator almost two years later. Although he was a Whig before the war and considered a Republican afterwards, Beard was an independent who occasionally voted the entire Democratic ticket. He was a Methodist. On September 4, 1832, Beard was married to Pherriba Jane Moore of Madison County, a cousin of Vice President William R. King and of Governor Gabriel Moore. He married Mrs. Letitia Ellison Macfarlane of DeKalb County, May 8, 1854. There were eight children by his first wife but none by his second. These children were Mary Helen, William Thomas, Caroline Moore, Jane Elizabeth, Arthur Hopkins, Julia Ann, Silas Parsons and James Pickett. Beard died at Guntersville on January 17, 1877.
Franklin King Beck
Wilcox County
Photograph Franklin K. Beck (Alabama Department of Archives and History)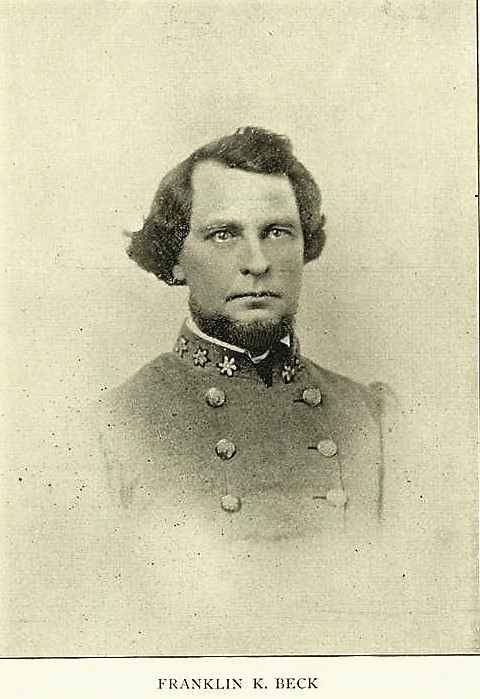 Born May 21, 1814, Franklin King Beck was the son of John and Margaret King Beck, the latter a sister of William R. King. When he was only five years of age, his parents moved to Wilcox County, Alabama. Before moving to Alabama Beck's father was in the North Carolina Legislature, and he represented his adopted county in the Alabama Legislature subsequent to settling there. He was one of the earlier students to matriculate at the University of Alabama, but he finished his course at Georgetown University; he entered Yale in 1837 to study law. After receiving a license to practice, he opened a law office at Camden in 1841. In 1843 he defeated T. J. Judge of Lowndes County in the race for solicitor of the second circuit and was elected to the legislature in 1851 and 1855. Soon after the adjournment of the Secession Convention Beck was elected colonel of the Twenty-Third Alabama Infantry Regiment. He was killed in action at Resaca, Ga., on October 12, 1864. It is interesting to observe that Beck nominated William M. Brooks, who was elected President of the Alabama Secession Convention. Beck was married to Martha Jefferson Tait of Wilcox County, and their five children were John James, William Rufus King, James Tait, Mary Martha and a child who died in infancy. See photographs of Franklin King Beck's house in Wilcox County on Alabama Pioneers. (Findagrave.com memorial/17867412)  
Oliver Rufus Blue
Macon County
A Methodist minister, Oliver Rufus Blue was a descendant of Scottish families who came to America seeking religious freedom about the middle of the eighteenth century. The first families settled in North Carolina, but they scattered to other colonies from time to time. Neil and Eliza Blue came to Alabama, and Oliver Rufus was born at Montgomery on March 24, 1832. Uniting with the Methodist Church when he was seventeen years of age, Blue was licensed to exhort on March 23, 1843, and to preach about five months later. He was admitted on trial in the Alabama Conference on January 6, 1844, and his first appointment was the Lafayette Circuit; subsequently, he was assigned to Montgomery, Mobile, Talladega, and Eufaula. He became presiding elder over the Montgomery Circuit in 1850; represented the Alabama Conference at the General Conference seven times; and, in the absence (sic) of the bishop, presided over the deliberations of the Alabama Conference. In 1848 he was married to Ann Elizabeth Howard of Columbus, Georgia, and there were four children born to this union, namely, John Howard, Annie Judy, Marie and Eliza. Being a pillar in the Methodist Church for about fifty years, Blue died at Greensboro, Alabama on January 8, 1893. He is buried in Oakwood Cemetery in Montgomery, Alabama. (Findagrave.com memorial 91156330)
Samuel Jackson Bolling
Butler County
There is very little authentic information available about the early life, ancestry and family of Samuel Jackson Bolling. Letters and newspaper items indicate that Bolling was elected judge of the county court before he was twenty-one years of age, but the office was abolished before his induction. He was then made probate judge and served in this capacity for thirty-five years; he was also register in chancery and tax collector of Butler County. Studying law late in life, he was licensed to practice in 1868 and entered a partnership with his son, John, and Thomas Judge. Bolling was a soldier in the Indian wars. Although too old for military service during the War Between the States he organized a company of older men and boys, but they were disbanded on the Florida border when he realized the odds against them were too great. He was one of the largest property owners of his clay in Butler County.
Note: More information from findagrave.com memorial/24772804  Judge SAMUEL JACKSON BOLLING died Friday, November 27, 1891, following a congestive chill at the home of his son S.J. Bolling, Jr., in Greenville. He died at the age of 75 years, 8 months and 29 days. He was born in Greenville, SC on Thursday, February 29, 1816; moved to Butler Co. in 1819 where he has lived ever since.He was elected County Judge before he was 21 and was later Judge of Probate. He remained in office until 1865 when he was replaced by Judge Gardner. He was a member of the Succession Convention in 1861 and Constitutional Convention in 1865. In 1838 at the age of 22, he married Mary Ewing, daughter of Jonathan Ewing, formerly of Ga., but then in Greenville. He was a Universalist. He is survived by 2 sons, 2 daughters and their families. The Greenville Advocate
Dated 2-Dec-1891
John Bragg
Mobile County
John Bragg, 1806-1878 (Alabama Department of Archives and History)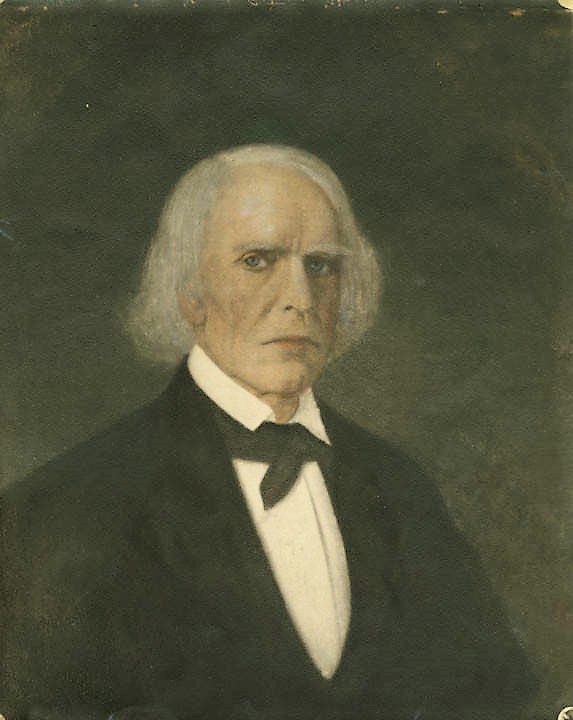 John Bragg was born January 14, 1806, at Warrenton, North Carolina, and died at Mobile, Alabama, August 10, 1878. He is buried in Magnolia Cemetery in Mobile. A son of Thomas Bragg, he attended the Warrenton Academy and entered the sophomore class of the University of North Carolina After graduating from this institution with the highest honors he assisted his two brothers, Thomas and Braxton, to finish at the same institution. Admitted to the bar in 1827, Bragg began his law practice in Warrenton. He was elected to the North Carolina legislature in 1830 and was redacted for four terms. President Jackson appointed him as a visitor to West Point in 1835. Becoming interested in the Southwest, Bragg moved to Mobile and began the practice of his profession. With the editor of the Mobile Register ill, and the presidential election of 1836 approaching, Bragg had an unexpected opportunity to get himself before the people when he was asked to act as editor during the canvass. He became the attorney for the state branch bank at Mobile in 1839; accepted Governor Fitzpatrick's appointment to fill a vacancy on the circuit bench until the legislature convened and then was elected for a six-year term and was reelected by the people for the judgeship of the circuit. Bragg was invited by the state rights democrats to run for Congress in the Mobile District, and he was elected by a large majority. After serving one term in Congress he retired from politics and did not participate again until the Secession Convention. He was a Unionist, but he supported Alabama's secession from the Union.
Physically disqualified for military service, Bragg remained on his plantation in Lowndes County during the war. His crops, residence and all available property being destroyed by the enemy, he was subjected to the grossest indignities during Wilson's raid through Alabama. The Federal troops knew he was active in councils of state and a brother of General Braxton Bragg, and he would probably have been hanged but for the entreaties of his wife and children. Bragg was an Episcopalian. On April 18, 1847, he was married to Mary Frances Hall of Lowndesboro, Alabama, and they had five children, Braxton, Dora, Shirley, William B. , nd Mary. Findagrave.com memorial 6406699
1 Transcribed from The Alabama Historical Quarterly, Vol. 03, Nos. 03 & 04, Fall and Winter Issue 1941
Are you looking for gifts? Books make great gifts! Click here to check out all our books available on Amazon 

and if you are a member of Amazon Prime, you can receive tw0-day FREE SHIPPING!
includes the following stories
Plan for Indian Removal Started With President Thomas Jefferson
Intrigue and Murder After Treaty At Indian Springs
President Adams And Governor In A Stand-off
Gold Causes Expulsion Of The Cherokees
Cherokee Chief Ross Became Homeless