Biographies of the Delegates to the Alabama Secession Convention
Part XI 1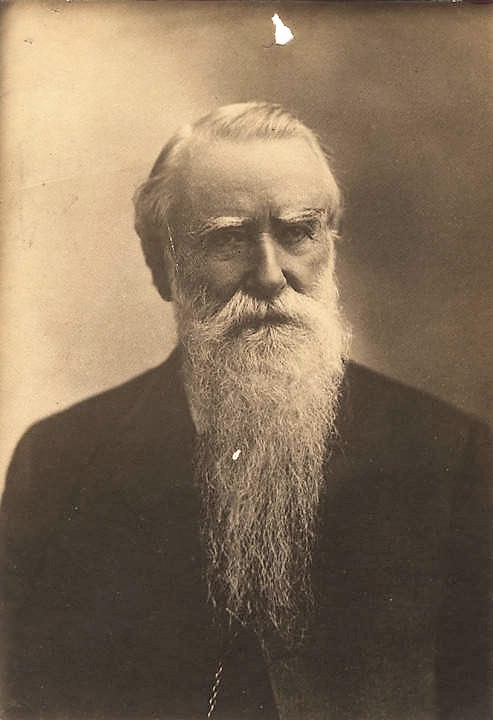 George Augustus Ketchum
Mobile County
Another Georgian by birth who was a delegate to the Secession Convention, George Augustus Ketchum was born at Augusta on April 6, 1825. He was the son of Ralph and Christiana Golden Ketchum, and the brother of Colonel Charles Thomas and William H. Ketchum. Prepared for college by private tutors, Ketchum was about to enter the sophomore class at Princeton University when his father's failure in business caused him to do otherwise, At the age of sixteen, he began to teach in the female academy at Livingston. Later he studied medicine under Dr. F. A. Ross of Mobile and was a resident medical student in the city hospital for about two years. He took courses in the Medical College of South Carolina at Charleston in 1844-45, went to Philadelphia and served as an intern in the Blocksley Almshouse, and attended the University of Pennsylvania and graduated with an M. D. degree in 1846. Returning to Mobile to practice, he was there during the yellow fever epidemics of 1847 and 1848. Ketchum was one of the first, if not the first, to administer large doses of quinine in the early stages of the disease, a practice which later became rather general. In 1848 Ketchum was elected physician to the city hospital at Mobile, and, during the same year, he and Dr. J, C. Knott established a private infirmary to accommodate sick Negroes. With Dr. Knott and others, he assisted in the organization of the Medical College of Alabama. He was elected professor of theory and practice of medicine and later became dean of the faculty. Ketchum went as a volunteer surgeon with the first company of state artillery to Pensacola, and was there commissioned surgeon of the Fifth Alabama Infantry; he later became surgeon of an organization created in Mobile for the defense of the city against disease. At various times before and during the war he was a member of the city council and was one of the officials to surrender Mobile to General Gordon Granger in 1865. Taking an active part in the organization of the State Medical Association in 1847, Dr. Ketchum was its first secretary, aided in the reorganization of the association in 1868, and was made its president in 1874. He was a member of the Mobile Medical Society, the American Medical Association, the American Public Health Association, and the Ninth International Medical Congress. Through the years of his professional service, Dr. Ketchum was president of the Mobile Medical Society several times, president of the Mobile Board of Health, and was primarily responsible for the City of Mobile having an abundant supply of pure water. Several of his articles were published in the Proceedings of the Medical Association of Alabama, the most important being Periodicity of Disease, Report on the Diseases of Mobile and The Sanitary Needs of the State. He married in 1848 Susan Burton of Philadelphia, a descendant of one of the original Quaker families who came to America with William Penn. The only child was a daughter. (Findagrave.com memorial 78733781)
NOTE ADDITIONAL INFORMATION From Northern Alabama: Historical and Biographical, Smith & De Land, 1888
"Dr. George A. Ketchum. Ralph Ketchum, the father of the subject of this sketch, who was born on Long Island, of Welch ancestors, in 1780, was married in 1807, in the city of New York, to Christiana Colden, a daughter of Gen. Griffiths of the British Army. Prior to his marriage, Ralph had made his home in Augusta, Ga., and there his English wife became the mother of five sons who have made their impress upon the history of the South. Richard Colden Ketchum became a distinguished divine in the place of his birth; Major William H. Ketchum commanded a battery of artillery in the Confederate Army: Col. Charles T. Ketchum became the Colonel of the Thirty-eighth Alabama Infantry; Capt. John R. Ketchum died in the defense of Atlanta in the first battle fought after the removal of Gen. Johnston. The career of Dr. George A. Ketchum as a physician, teacher, and citizen, constitutes one of the brightest pages in the history of Alabama.
George Augustus Ketchum was born in Augusta, Ga., April 6, 1825, and there his youth was passed up to the time of the removal of his father to Mobile, Ala., which took place in 1835. His scholastic training, which was committed in turn to two teachers of distinction, was completed under the tutorship of Mr. A. A. Kimball, who prepared him for the Sophomore class at Princeton. At this juncture his father's failure in business disconcerted his plans, and led him, at the age of sixteen, to accept the position of assistant teacher then offered him by his tutor, Mr. Kimball, in his Academy at Livingston, Ala. After such wholesome preliminary training, he, in due time, began his studies in his chosen profession, under the guidance the guidance of the late Dr. F. A. Ross, and for two years he occupied the position of resident student in the Mobile City Hospital. While thus employed, the yellow fever epidemic of 1843 brought him for the first time into practical contact with a disease in whose treatment he was destined to win such wide and merited distinction.
In the Medical College of South Carolina, at Charleston, he attended his first course of lectures at the session of 1844-1845. In the spring of 1845, he went for the completion of his studies to Philadelphia, graduating at the University of Pennsylvania as M. D. in the spring of 1846. While a student in Philadelphia, he formed the acquaintance of Miss Susan Burton, a daughter of one of the original Quaker families that came over with Penn, and to her he was married in November 1848. Two years prior to that event he had begun the practice of medicine in Mobile, where his professional success was marked and rapid.
The yellow fever epidemics of 1847 and 1848, which took place soon after his admission to practice, gave him the opportunity for an experiment which produced rich and permanent results. At this time, he, it was, who first ventured to administer large doses of quinine in the earlier stages of the disease, a treatment which was repeated with such success in the epidemics of 1853—58—67—70— 73 and 78 in Mobile, that it has now become the general practice in yellow fever cases throughout the South. With such a beginning, and with a power to labor which has been seldom equalled, and with a charm of manner never to be surpassed, the young physician soon won his way into as large and lucrative a practice as any physician has ever enjoyed in the city of Mobile.
For many years his labors as a practitioner and consulting physician have been sufficient to exhaust the time and resources of any ordinary man and to exclude all other pursuits. And yet in spite of this mass of work his activities have extended so far beyond the circle of his duties as a mere practitioner of medicine, that his achievements in that sphere constitute only a part in the sum total of his life work.
Dr. Ketchum's relations to the medical profession and to the cause of public hygiene, cannot be measured by any standard that excludes from consideration the services he has rendered to the cause of medical education and to the preservation of the public health. To every movement which has been organized in his day, not only in his own State, but in the Union, for the advancement of the medical profession as a corporate body, and for the increase of its usefulness as a teacher of sanitary science, he has given his active and earnest support. The central aim of his life has been to teach the true science of medicine in its highest sense to the younger members of his own profession, and at the same time to practically can be utilized by the State for the preservation of the public health. In both departments of labor he has been eminently successful, and in both, he has been awarded the very highest stations of usefulness and authority. In 1848, in conjunction with Dr. J. C. Nott and others, he organized the Medical College of Alabama, with which he has ever since been prominently connected. Since 1859, he has held the position of Professor of the Theory and Practice of Medicine; and since the resignation of the late Dr. Wm. H. Anderson, he has been the Dean of the Faculty. As a medical lecturer, he is especially happy. An easy and natural delivery, coupled with a perfect mastery of English prose, render his lectures as attractive as they are instructive. In the sanitary government of Mobile, city, and county, he has been the most important factor for nearly twenty years. President of the Board of Health since 1871, he has rendered, without compensation, services to the public which but few outside of his own profession either understand or appreciate. In the medical government of the State, his influence has been hardly less potent. No one was more active than he in bringing about the organization of the Medical Association of Alabama, of which he became president in 1873. For many years he has been a member of the Board of Censors and of the State Board of Health. His activity in the line of medical organization has not been limited, however, to the boundaries of his own State; as a member of the American Public Health Association, as a member of the American Medical Association, and as a member of the Ninth International Medical Congress, his name and fame as a leader in his profession have assumed a national importance.
No review of this many-sided man, however brief and incomplete, should exclude from consideration the influence which he has exercised as a citizen upon the political affairs of his State and county. With a perfect comprehension of the constitutional system under which we live, with a clear insight into all the details of executive administration, with great gifts as an orator and parliamentarian, had his tastes been otherwise, he might have figured as one of the foremost politicians of his time. Whenever duty has called him into service in that department of work, his great aptitude for public affairs, his immovable firmness, coupled with great tact in the management of popular assemblies, have invariably given to him a position in the foremost rank. For many years before the war he stood at the head of Mobile's municipal legislature as president of the Common Council; and when the stirring events of 1860-61 made every community in the South turn for counsel to its wisest and strongest men, the county of Mobile selected him as one of four to represent her in the convention which severed the relations of Alabama with the Union. As volunteer surgeon, he went with the State Artillery to Pensacola, where he received his commission as surgeon of the Fifth Alabama. While on his way to Virginia with his regiment, he was solicited by Dr. J. C. Nott to accept a position as surgeon in an organization formed for the defense of Mobile, which was then sadly deficient, owing to the increase of population and the absence of physicians. in medical aid. In this laborious position, he continued until the end of the war. After the surrender he was appointed by Governor Parsons, the provisional governor under Andrew Johnson, a member of the Common Council; and for a short time, he became, ex offico Mayor of Mobile. In the councils of the Democratic party in his State and county, he has been recognized as a leader for twenty years.
And yet, neither in his capacity as physician at the bedside, neither in his capacity as teacher in the college to which he has given the best years of his life, neither in his capacity as a tireless administrator of health laws, nor yet in his capacity as political leader, can be found the record of services which will forever interlace the name of George A. Ketchnm with that of the city of his adoption. When every other memory connected with his life has been forgotten, the fact will remain that his care for the public health, backed by his patience and indomitable will, has brought a pure stream of living water from distant hilltops to the cottage door and to the palace gate of' every dweller in the city of Mobile. This great achievement is the legitimate outcome of his scientific instinct. His far-seeing eye perceived years ago that the public health of his city was imperiled by the lack of a bountiful supply of pure and wholesome water. With the heart of a humanitarian, with the foresight of a scientist, and with the pluck and patience of a man of business, he imposed upon himself the task of organizing a scheme for the relief of the city, and that scheme he has carried into successful execution. After selecting an available stream in the silence of the forest, he next employed competent hands to overcome the engineering and legal difficulties which forbade its ingress to the city, and at last induced capitalists to come from abroad and transform his dream into a reality. Through his efforts, after twenty years of working and waiting, Mobile to-day enjoys one of the most perfect and bountiful supplies of water that can be found in any city in the Union, not only for sanitary but for fire purposes. In the time to come, when his labors have ended, perhaps a grateful people will perpetuate the memory of this great service, by the erection of a public drinking fountain, over which the unselfish physician shall preside in bronze or marble.
In the social life of Mobile, Dr. Ketchum's splendid home has been a source of pleasure and an object of interest for many years. Here his warmhearted wife and charming daughter (married a few years ago to Robert Gage, Esq., of Boston) dispense a hospitality as unaffected as it is attractive.
When, from every point of view–professional political and social—it appears that the life-work of a man has ripened into a full harvest of success, honor, and usefulness, the fact is revealed that the author of such results must be a man, not only of well-rounded character but of systematic and conscientious habits of work. Of no one could this be more truly said than of Dr. Ketchum.
With high natural endowments, both of mind and person, he has trusted nothing to chance or genius: with him, genius has been made the yoke-fellow of labor. By linking together great natural gifts with habits of patient and systematic work, he has attained, not an eccentric eminence, but the highest legitimate distinction as a physician and citizen. When the roundness, the fullness, the completeness of his life-work is considered, the result may be well expressed- "Simplex atque rotundus."
Allen Kimball
Tallapoosa County
Born in November 1803 at Midway, North Carolina, and died at Waverly, Alabama, in 1871, Allen Kimball was the son of Abington and Mary Kimball. After graduation from the Medical College at Louisville, Kentucky, in 1827, he practiced in Columbia County, Georgia; near Ware's Perry on the Tallapoosa River in Alabama; and finally at Waverly, Alabama.- Kimball was a member of the legislature in 1844-45, and state senate in 1852-53. In 1828 he was married to Mary Ann Crawford of Columbia County, Georgia. There were nine children born to this union: Mary Isabella, Augusta Ann, Eugenia Frances, Amaret, Lunsford, Nathan Crawford, Aurelia, Stella, Charles Bernadotte and Pamela Jane. (Findagrave.com memorial 49651332)
John Borum Leonard
Coosa County
John Borum Leonard was born January 1, 1807, on his father's plantation near Washington, Georgia, and died at Woodland, Freestone County, Texas on December 6, 1870. He was the son of John Borum and Mary Leonard who moved from Virginia to Walker County, Georgia, after their marriage. He was a descendant of French Huguenots and Scotch-Irish families who participated in the American Revolution on the side with the Patriots. Apparently, the name "Leonard" was originally "Lennard". He received his early education in the local schools, but, due to the death of his father, Leonard went into the mercantile business when he was only fourteen years of age. After sustaining a serious loss by fire, he engaged in agriculture.
In 1847 he migrated to Nixburg, Coosa County, Alabama, but moved to Texas after the war. He was a major of the calvary regiment commanded by Colonel Robert Toombs during the Florida Indian wars. Leonard was a Methodist and a Mason. On December 2, 1829, he was married to Sarah Frances Marshall of Columbia County, Georgia; his second marriage was to Jane Daniel of Georgia on April 14, 1835; and his third wife was Eliza Townsend of Alabama. Children by the first wife were Joseph Marshall and John Borum; by the second wife, Mary Ann, William Daniel, Eliza J., Sarah and Thomas C.; by the third wife, Kate, Ellen, Alice L. (Findagrave.com memorial 14095350)
NOTE ADDITIONAL INFORMATION
From History of Alabama and Dictionary of Alabama Biography, Volume 4, By Thomas McAdory Owen, Marie Bankhead Owen. S. J. Clarke Publishing Company, 1921
LENNARD, JOHN BORUM. planter, was born January 1, 1807, on his father's plantation located on Kettle Creek, near Washington, Ga., and died December 6, 1870, at Woodland, Freestone County, Tex.; son of John Borum and Mary (Wood) Lennard, natives of Virginia, who after their marriage removed to Wilkes County, Ga.; grandson of Thomas and Nettie (Borum) Lennard, of Virginia, and of Capt. and Katherine (Price) Wood, natives of Virginia, the former was either a captain or colonel in the Revolutionary War, and was killed in battle, his widow, Katherine Price Wood, married again, and removed to Georgia, where she was celebrated during the war period for several acts of bravery', carrying important dispatches and molding bullets for Washington's army.
The Lennards are descended from French Huguenots who migrated to Virginia. The maternal lines are Scotch-Irish. John Borum Lennard received his education at Washington, Ga., and after his father's death, which occurred when he was fourteen years of age, he entered the mercantile business. Upon suffering severe losses by fire, he engaged in agriculture and left a valuable landed estate to his heirs. In 1847, he removed from Washington, Ga., to Nixburg, Coosa County, but after the War of Secession located in Texas. He was a major of cavalry in the Florida Indian Wars, 1833, his regiment being commanded by Col. Robert Toombs of Georgia. In 1861 he was a member of the Alabama Secession convention; a Whig in politics and opposed to the State's withdrawal from the Union, but finally yielded and voted with the majority for the inevitable. He was a Methodist; and Mason. Married: (1) December 2, 1829 to Sarah Frances, daughter of Joseph and Mrs. Anne (Grinnage) Beard Marshall, of Columbia County, Ga.; granddaughter of Levi Marshall; great-granddaughter of Daniel Marshall, a pioneer Baptist minister and closely related to Chief Justice John Marshall, niece of Dr. Nathan Crawford, who was grandfather of Senator Charles Culberson of Texas, and also related to Gov. Crawford, W. H. Crawford, and Nathan Crawford Barrett, notable characters in Georgia's political history; (2) April 14, 1835, to Jane Daniel, also of Georgia; (3) to Eliza Townsend of Alabama. Children: by the first marriage, 1. Joseph Marshall, graduate Jefferson medical college, Philadelphia, a surgeon in the Confederate Army, Nixburg; 2. John Borum, III, planter, lieutenant, C. S. Army, m. L. A. Smith, daughter of Alexander Smith of Coosa County, a member Alabama legislature before the War of Secession, resided at Alexander City; by the second marriage, 3. Mary Ann, m. Alexander Kendrick; 4. William Daniel died of fever in Virginia as a Confederate soldier; 5. Eliza J., m. A. M. Kendrick; 6. Thomas C., killed at the battle of South Mountain, fighting with the Confederates; 7. Sarah, m. John A. Smith; by the third marriage, 8. Kate E., m. M. H. Harris, Freestone County, Texas; 9. Alice L., m. W. P. Oden, Sylacauga; 10. Ellen, m. A. J. Oden, Sylacauga. Last residence: Woodland, Texas.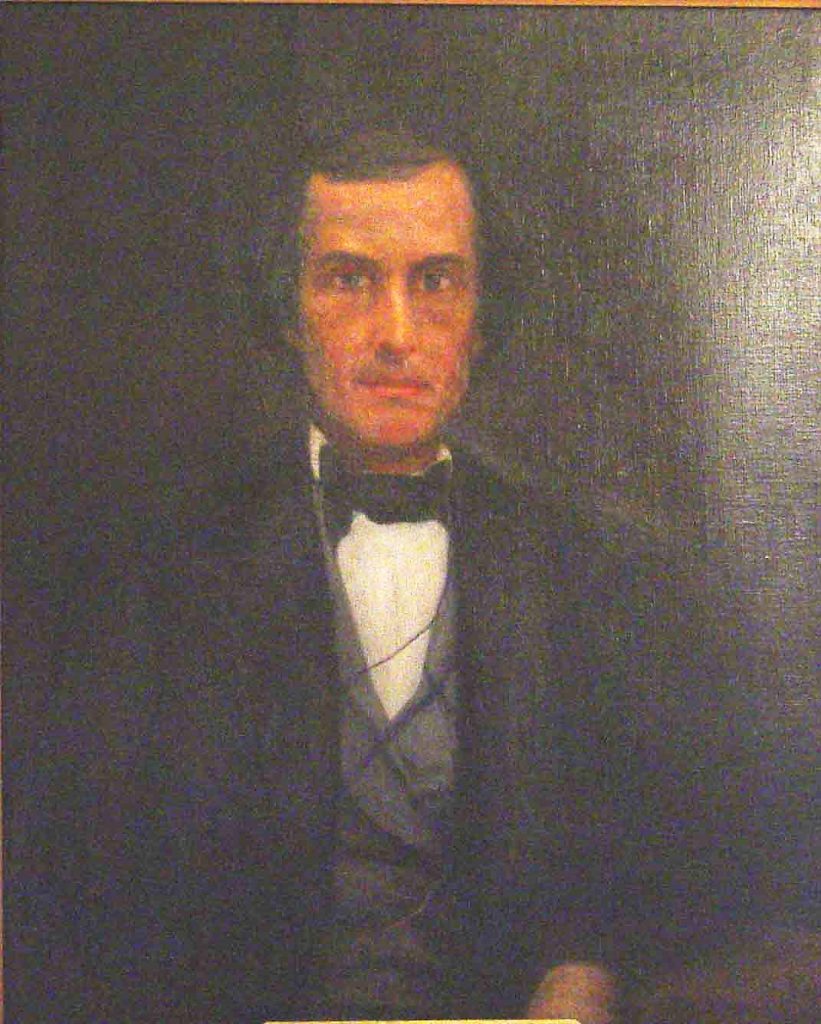 David Peter Lewis
Lawrence County
Governor, Confederate congressman, and lawyer, David Peter Lewis was born in 1820 in Charlotte County, Virginia, and died July 3, 1884, at Huntsville, Alabama. He was the son of Peter C. and Mary Smith Lewis. Moving to Madison County, Alabama, with his parents in childhood, he grew up there and received a college education. Studying law in Huntsville, he was admitted to the bar and settled in Lawrence County. The Alabama Secession Convention elected him to the Confederate Congress, but he resigned soon afterwards. Governor Shorter appointed him circuit judge in 1863, but a few months later he went through the enemy lines to Nashville and remained there until after the war. Returning to Huntsville in 1865 to practice law, Lewis was elected Governor on the Republican ticket in 1872 and served two years in this capacity. He was never married. (Findagrave.com memorial 6420351)
NOTE ADDITIONAL INFORMATION
From Alabama Department of Archives and History
David Peter Lewis was born in 1820 in Charlotte County, Virginia. When a child he moved with his parents to Madison County, Alabama, where he received an education and studied law. He built a successful law practice in Lawrence County and represented that county in the 1861 constitutional convention. Although Lewis opposed secession, he signed the ordinance of secession passed by the convention. He was elected to the Confederate Provisional Congress at Montgomery but resigned his seat. Governor John G. Shorter appointed him circuit court judge in 1863, a position he held for several months. Eventually, Lewis crossed the Union lines and remained in Nashville until the end of the war. He then returned to his law practice in Huntsville.
After the 1868 presidential election, Lewis, a Unionist, left the Democrats and joined the Republican party. In 1872 he defeated Democrat Thomas H. Herndon of Mobile in the race for governor. In the same election, the Democrats achieved a majority in both houses of the state legislature. To ensure the return of George Spencer to the US Senate, Lewis refused to recognize the Democratic legislature and instead recognized a Republican legislature. The Republicans met at the federal courthouse and thus became known as the "courthouse" legislature. When Lewis asked President Grant to intervene in the legislature dispute, the President responded by referring the matter to Attorney General George H. Williams. On December 17, 1872, the General Assembly was reorganized based on Williams' compromise instructions. The Republicans had a majority of two in the house while the Democrats had a majority of one in the Senate.
Otherwise, the Lewis administration was uneventful compared to the administration of Republican William H. Smith. The railroad bond issue continued to plague Lewis as it had his predecessor, Governor Lindsay. Lewis doubled taxes but the public debt grew despite the measure.
Other events of note occurred during Lewis' term as governor. The national Panic of 1873 resulted in an economic crisis over which Lewis had no control. In 1873 Anniston was incorporated as a city. The State Normal School (now the University of North Alabama) was established at Florence and at Huntsville, the State Colored Normal and Industrial School (now Alabama A and M University) was created.
In 1873, L.J. Williams, a black representative from Montgomery County, and Jeremiah Haralson, a black senator from Dallas County, attempted to push a civil rights bill through the legislature. Lewis remained distant from the bill which was defeated by both Democrats and white Republicans.
After serving as governor, Lewis, a bachelor, returned to his law practice in Huntsville. He died on July 3, 1884.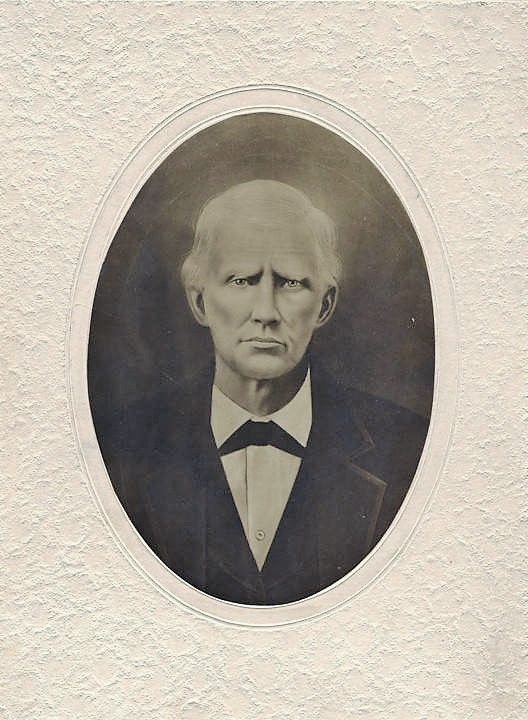 Andrew Pickens Love
Pike County
He was born October 12, 1818, in the Anderson District of South Carolina and died at China Grove, Pike County, Alabama, on September 19, 1896. The son of James and Ann Love, he moved with his parents to Alabama and lived in Tuscaloosa, Greene, Pike, and Autauga counties. His education was limited to the log cabin country school in Pike County. He engaged in mercantile enterprises in Troy, Linwood, and China Grove. In addition to his business undertakings, he was elected sheriff of Pike County in 1850. During the war, he was captain of Company I of the Twenty-second Alabama Infantry Regiment and Company I of the Fourth Alabama Cavalry Battalion. Love was a Methodist and a Mason. He never married.
NOTE ADDITIONAL INFORMATION
Notable Men of Alabama: Personal and Genealogical, Volume 1, edited by Joel Campbell DuBose. Southern Historical Association, 1904
Information on the mother of Andrew Pickens Love
Ann Love (better known as "Granny Love") was a notable pioneer woman of Pike County. She (as a widow) was actually the founder of Troy, Ala. She bought the old Pike county courthouse building at Monticello, former county site (when the geographical center of Pike County, named Troy, became the county site) and used that material in erecting the first building in Troy, known as the "Love Tavern." She successfully managed the tavern until two years before her death, at the age of ninety-one years. Among the four sons and four daughters whom she reared were Capt. Andrew Pickens Love, the noted Indian fighter (a delegate to the secession convention in 1861) and a major in Gen. Wade Hampton's cavalry (C. S. A.) at Yellow Tavern and other battles, and William Love, pioneer merchant of Troy.
1 Transcribed from The Alabama Historical Quarterly, Vol. 03, Nos. 03 & 04, Fall and Winter Issue 1941
WHERE DO I START? Hints and Tips for Beginning Genealogists with On-line resources
Do you need some guidance in your genealogy search? Save time and avoid pitfalls in your research. This book provides simple, no-nonsense instructions to help you get started. Many FREE research links included. Where Do I Start is filled with Hints and Tips to begin your family genealogy research and acquire Genealogy information.
WHERE TO FIND – online resources, experienced genealogists will not be aware of many of these.

COURT RESEARCH – how to do courthouse research, where to find birth, death, social security records free online.

EIGHTY – ONE QUESTIONS – you should ask your elderly loved-ones before it's too late.

TIPS ON BREAKING DOWN THE WALL – Everyone faces some difficulties in research, often called a 'brick wall' but WHERE DO I START? provides suggestions for overcoming them.