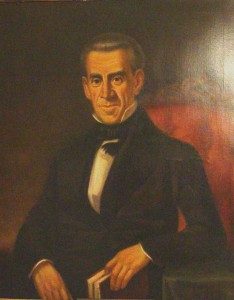 CLEMENT COMER CLAY
BIOGRAPHY and GENEALOGY
(1789-1866)
Madison County, Alabama
First Justice of Supreme Court of Alabama
Judge C. C. Clay was the son of William and Rebecca (Comer) Clay, the former a soldier of the Revolutionary War who enlisted at the age of sixteen years, took part in several battles and was at the siege of Yorktown, when Cornwallis surrendered to General Washington. He later moved to Granger County, Tennessee, where he became a planter.
Judge Clay's grandfather was James Clay of Virginia and of English descent. The paternal grandfather was Samuel Comer, also a Virginian of English ancestry who married a Miss Claiborne.
Judge Clay was born in Halifax County, Virginia, on December 17, 1789. He grew to manhood in Tennessee where he received his education and graduated in 1807 from East Tennessee University at Knoxville.
He read law with Hon. Hugh Lawson White, at that place and was admitted to the bar in 1809. Two years later, he moved to Alabama and located at Huntsville. In Dr. Owen's sketch of Judge Clay, he states that 'He arrived in Huntsville with one negro man servant, two horses, his law books in his saddle bags and a small sum of money, enough for a few days subsistence. He soon built up a law practice in that place."
At the beginning of the Creek War, in 1813, young Clay volunteered as a private in a Madison County Battalion. He was soon promoted to Adjutant of the Regiment and assigned to the frontier, south of the Tennessee River, to repel the Indian Attacks.
When Alabama was organized as a territory, the young attorney was elected a member of the first Legislature which met at old St. Stephens in 1817, the Territorial Capital. When the State was organized two years later, he was chosen as a delegate from Madison County, to the first Constitutional Convention held at Huntsville, Alabama. With a full recognition of his legal ability, Clay was appointed the chairman of the committee of fifteen to draft the Constitution which was afterward adopted as the fundamental law of the State.
In 1819, although the youngest of four men, he was elected without opposition by the Legislature as one of the four circuit judges of the state. At the first term of the Alabama Supreme Court on the second Monday in May 1820, he was present along with Reuben Saffold, Henry Y. Webb and Richard Ellis. Judge A. C. Lipscomb, the remaining circuit judge, was absent at the session. C. C.
Clay was selected as Chief Justice by his associates.
Judge Clay resigned from the bench in 1823 to resume the practice of the law and was succeeded by Judge Lipscomb, as Chief Justice.
Prior to the War Between the States, many of the justices served but a short period, although they had previously been associate justices. Indeed, it has been an established precedent in case of vacancies in the office, to appoint or elect associate justices to the office of Chief Justice.
It might be of some interest to note the nativity of the Chief Justices Clay Hopkins, Collier and Stone were born in Virginia; Lipscomb and Rice in South Carolina; Saffold in Georgia; Hitchcock in
Vermont; Dargan in North Carolina; Chilton in Kentucky; Goldthwaite in New Hampshire; Walker and Peters in Tennessee; Peck in New York; Brickell, McClellan, Weakley, Tyson, Dowdell and Anderson in Alabama.
When the Capital of the State was removed from Cahaba to Tuscaloosa, Judge Clay, who had been elected a representative from Madison County, was at once chosen as Speaker of the House. His ability in politics and states craft brought about his election to Congress, a position which he held for three successive terms. In 1835 he was elected as a Democrat as Governor of Alabama. During his administration, the Creek Indians living within the limits of Alabama, again became hostile owing to the Government's efforts to remove them westward. Acting with that vigor of character which he manifested throughout his life, Governor Clay ordered out troops to maintain order and took personal command in the field, co-operating with Major General Scott and Major General Jesup of the United States Army who later took command of the volunteers from Alabama and the adjoining States to operate against the Indians.
Judge Clay's administration was disturbed by the financial crisis of 1837 and again his knowledge of affairs enabled the State to brave the storm. While he was still in the gubernatorial chair Governor Clay was chosen to represent his State in the United States Senate to fill the vacancy made by the appointment of Senator John McKinstry to the Supreme bench. He resigned from that position in 1841 and returned to his home in Huntsville. At that time he prepared a digest of the laws of Alabama, his manuscript being accepted by the Legislature of 1842. Again he was appointed to fill an unexpired term upon the Supreme Court bench, and in 1846 he was elected one of the Commissioners to wind up the affairs of the State Bank. After the completion of his duties, he resumed the practice of law in partnership with his two sons.
Governor Clay favored the secession movement and when the Federal troops invaded North Alabama during the War Between the States his home was seized. Soldiers were quartered on him and he was kept under military arrest for some time. Being old and in delicate health, his death is attributed to the uneasiness and privations of that unpleasant experience. His last days were saddened by the jeopardy which his son, Senator C. C. Clay, was facing in Fortress Monroe, where he was imprisoned with Jefferson Davis.
Judge Clay's domestic life was unusually happy. He married Miss Susannah Claiborne Withers, near Huntsville in 1815, a daughter of John and Mary Herbert (Jones) Withers, former Virginians. A family of three sons was born to Judge and Mrs. Clay, each attaining distinction,
Clement Claiborne Clay,
John Withers Clay, and
Hugh Lawson Clay
Judge Clay, had a distinguished career not only as a lawyer and jurist but as a statesman. He was a member of both Houses of Congress and Governor of the State. Judge Clay died Sept. 6, 1866. and is buried in Maple Hill Cemetery in Huntsville, Alabama.
SOURCES
The Alabama Historical Quarterly, Vol. 01, No. 01, Spring Issue 1930. pp. 121-123
Alabama State Archives
Findagrave.com # 6420314 # 8434903
Where Do I Start?: HINTS and TIPS for BEGINNING GENEALOGISTS with ONLINE RESOURCES

  is filled with Hints and Tips to begin your family genealogy research and acquire Genealogy information. In this book, you will find, many on-line resources, how to do court house research, where to find birth, death, social security records free on-line, and 81 questions to ask when interviewing elderly relatives. The Tips on How to break down the proverbial 'Brick Wall' and Free ON-LINE resources will help even the experienced genealogists.