COLONEL ALEXANDER HAMILTON WOOD
1796-1860 Worshipful Master Florence Lodge, A.F.& A. M. 1822, Florence, Alabama
BIOGRAPHY and GENEALOGY
SKETCH BY HIS GRANDDAUGHTER
MRS. Elizabeth Wood Haralson
(published in The Florence Times, Florence, Alabama, May 26, 1922)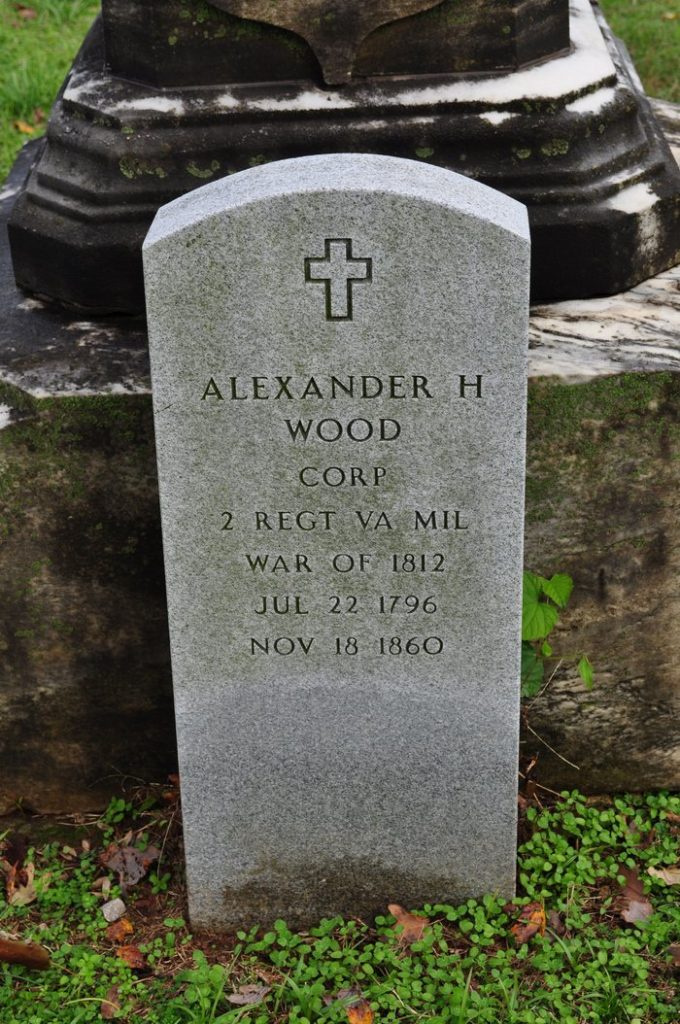 Col. Alexander Hamilton Wood, born in Richmond Va., 1795, son of Basil and Margaret (Richardson) Wood, the former a native of Richmond, Va., who was noted for his literary attainments, having assisted Chief Justice Marshall in his preparation and revision of the "Life of Washington," was also in the office of Alexander Hamilton for a number of years and assisted him in shaping his financial schemes; and a grandson of Leighton Wood, Jr., a native of Bristol, England, who came to America before the revolution in order to look after some lands of his father's in the Virginia colony, lying along the Pamunkey river, in Hanover county, decided to remain in that colony, joined the Patriots in the revolutionary war, was disinherited by his father for that act, married a Miss Blagrove, daughter of the rector of St. John's Parish, elected solicitor general of the state in 1780, an office which he held for eleven years, returned to England in later years and died in London; great-grandson of Leighton Wood, Sr., Esq., and wealthy land owner of Bristol, England, and Virginia.
Alexander Hamilton Wood at an ery agle age (?) was sent to private schools in Philadelphia: and after the death of Alexander Hamilton in 1804, Basil Wood, his father, returning to Richmond, his former home, he was sent to private schools of that city finishing his education at William and Mary's College, Williamsburg.
He was a member of the famous Richmond Artillery, and a volunteer in the Mexican War.
After the death of his father, Basil Wood, in 1815, he and his brother, William R. Wood, who was Senior Warden of Florence Lodge, A. F. & A. M. 1822, came then to the infant town of Nashville, Tenn., and went into the mercantile business there. At Nashville the Masonic roster shows that Alexander H. Wood and William R. Wood were members prior to 1816, and it was at Nashville that he married, in 1817, Mary Evans, the daughter of Maj. Evans of the British army.
Alexander H. Wood, with a number of others from Nashville, attended the first land sale in Florence, in 118, and then decided to come to the new town to make it his home. Many of the older citizens of Florence remember the old Wood home that stood so many years on the corner of Tuscaloosa and Pine streets, where now stands the Trinity Episcopal church. This home, the first large frame house in Florence, was completed in 1821, and he moved his family into it September 1821.
He was the first and third mayor of Florence, a charter member of the Masonic Lodge of Florence and its first Worshipful Master: a member of the Methodist church of Florence, and gave liberally toward the building of the first Methodist church in Florence, that stood where the present Methodist church is being built. His wife was a granddaughter of Elizabeth Evans, one of John Wesley's first converts in Bristol, England. He was a druggist at Florence for a number of years.
Col. A. H. Wood, appreciating the difficulty of getting furniture in this new section of the country, it then having to be hauled from Nashville or shipped by barge from distant cities, conceived the idea of establishing a cabinet shop, and to this end he sent three of his best slaves to New Orleans to learn the cabinet trade: and to this day there can be found many substantial and beautiful pieces of furniture in Florence and the surrounding country, the product of his cabinet shop.
Being an artist, he painted many sets of furniture, himself, in scrolls, fruits, flowers, etc., and he painted the aprons, banners, and insignia for his beloved lodge, in Florence.
His brother, William Richardson Wood (Senior Warden Florence Lodge, A. F. & A.M., 1822), and two of Col. Alex H. Wood's sons, General Sterling A. M. Wood and Colonel William Basil Wood, were Masons; and his other son, Maj. Henry C. Wood, was a beloved citizen of Florence.
He, after a long and honored life, died in Florence in 1860, and was buried in the Wood section of the Florence cemetery, by the Masons. (Find A Grave Memorial# 18747990)