Click http://www.alabamapioneers.com/honor-your-ancestor-on-alab…/to see how to honor your ancestor as a Notable Alabama Pioneer
COL. WILLIAM GARRETT
BIOGRAPHY and GENEALOGY
(May 6, 1809 – 1910)
Tennessee, and Benton, Tuscaloosa, Montgomery, Coosa Counties, Alabama
(Excerpt from History of Coosa County: by the Rev. George Evans Brewer, 1887)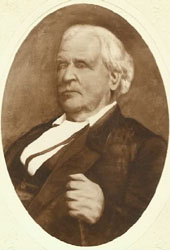 Col. William Garrett (May 6, 1809 – 1910)
Among the men of distinction whose homes have been in Coosa, Col. William Garrett is well entitled to take rank among them. His father was a Methodist minister of East Tennessee, and Col. Garrett was also a member of the Methodist church.
He was born in 1809, and came from East Tennessee to Alabama in 1833, first settling in Benton. He was elected Assistant Clerk of the House in 1837. The next year, 1838, he was elected Clerk of the House and re-elected in 1839 and 1840. At the session of 1840, he ran for Secretary of State and was elected. He was continued in this office for twelve years, till 1852, in which year he moved to Coosa. Here he looked after his farm and aided in establishing a good school, called Washington Academy, near Sockapatoy.
In 1853 he and James H. Weaver were elected to the House, of which Col. Garrett was made Speaker. In 1859 he was a candidate for the Senate but was -defeated by George E. Brewer after the most heated and hardly contested election ever held in Coosa. The race was close, Garrett receiving, 1128 votes, and Brewer, 1175.
Brewer was in the army and not a candidate in 1863. Col. Garrett was elected to the Senate over Capt. Leander Bryant. The ending of the war ended the claim of Col. Garrett to the office, but under the new Constitution, Garrett ran again and defeated Col. R. H. Smoot for the Senate. He was made the chairman of the Committee on Finance and Taxation. He was a member of the Constitutional Convention in 1875. During the Provisional Government of Alabama after the close of the war, in which Hon. Lewis E. Parsons of Talladega was made the Provisional Governor by President Johnson, Parsons appointed Col. Garrett Secretary of State. He resigned September 2nd, 1865, owing to some charges preferred against him, for receiving fees for preparing applications for pardons, thereby giving precedence to some out of their regular place. The rest of his life he devoted to preparing his valuable work "Reminiscences of Public Men of Alabama," published in 1872.
Col. Garrett was of full medium height, with quite a tendency to corpulency. He was a good, conversationalist, possessing a good fund of -anecdotes. He was a fairly good speaker, but his fort was in his ability to manage men. He had several sons, but the writer does not know of but two, Thomas, of Washington, D. C., and Elmore, of Anniston, Ala., who has been Engrossing Clerk, from 1875 to 1877; was Clerk of the House in 1886; Assistant Secretary of the Senate in 1892-94-96; and Secretary of the Senate in 1900-03. Thomas died at Mt. Meigs, Montgomery County, 1910.
ADDITIONAL EXCERPTS
From: Alabama, Her History, Resources, War Record, and Public Men: From 1540 to 1872
By Willis Brewer 1872
William Garrett is a citizen of Coosa. He was born in Cocke County, Tennessee, in 1809, and was the son of a Methodist minister, who was also a trader and farmer. His mother was a Miss Gray. His education was plain, but he possessed aptness and energy. In 1833 he came to Calhoun County, this State, and became a merchant. He volunteered in the Creek war; and in 1838 was elected clerk of the house of representatives of the general assembly, having held the post of an assistant clerk at the previous session. In 1840 he was chosen to the office of Secretary of State, over the incumbent, Mr. Thomas B. Tunstall, and held that responsible position by repeated elections for twelve years.
During this time he resided in Tuskaloosa and Montgomery, removing to the latter county when the capital was removed. He came to Coosa in 1851, and two years later he was chosen to represent the county in the popular branch of the legislature, of which he was elected speaker at its meeting. In 1859 he was defeated for theSenatee, but was returned to that body at the elections in 1863 and 1865, and served four years. He was secretary of State for a short time in 1865 by appointment of Gov. Parsons. He has employed his leisure hours for several years past in preparing a work to be entitled "Reminiscences of Public Men in Alabama for Thirty Years," which is soon to be issued from the press, and will be a valuable contribution to the literature of the State. Col. Garrett is a close observer of men and events, and possesses notable tact and extensive information. His talents are of the solid kind, and he is an instructive conversationalist, and a citizen of public spirit. He married, first, Miss Taylor of Virginia; and, second ,Miss Henry of Mobile.
From Alabama Department of Archives and History:
William Garrett,a public official, was born May 6, 1809, at Newport, Cocke County, Tenn.; the son of William and Elizabeth Chilley (Gray) Garrett, the former a Methodist minister, a trader and a farmer; grandson of Lewis Garrett, and of Thomas Gray, of Surry County, Va., who was king's counsel for Lunenburg County, Va., in 1765, was a representative from Dobbs County, N.C., in the colonial assembly of the state in 1768, and was retained as representative for Dobbs and Dublin Counties until the Revolution, was an intense patriot during the War of Independence, a member of the bar of North Carolina for many yars, moved to Jefferson County, Tenn., in 1796, and was appointed by President Washington U.S. district attorney for the new state of Tennessee in 1797; great-grandson of William Garrett; great-great-gransdson of Thomas Garrett; great-great-great-grandson of William Garrett, a Quaker, who came to America from England in 1684, with his brothers John and Thomas, and settled in Darby Township, near Philadelphia, where he died in 1724. The Garretts are of Saxon origin; in the sixth century quite a contingent of them went over to England and helped subdue the Danes. Again a number of them came to England with William the Conqueror. Members of the family have been ennobled and knighted by the English royalty in church and state for centuries past, and they were accorded a coat of arms which is still in use by the family in England. Sir William Garrett was lord mayor of London in 1551, and one William Garrett was first chairman of the original Virginia Colony Company. John Garrett was raised from knighthood to the baronetcy of Lanier by James I.
Col. Garrett was forced to leave school in his eleventh year due to financial reverses which came upon his father. Until he was twenty-one years of age, he assisted on the farm, and spent much of his time in keeping the records of his father, who was for thirty-three years clerk of the county court of Cocke County, Tenn. In 1833 he moved to Alabama and settled in Benton, now Calhoun County; engaged in merchandising first at Alexandria and later at White Plains; fought in the Creek War; was elected assistant clerk of the house of representatives in 1837 under Gideon B. Frierson, clerk; was elected clerk of the same body in 1838, 1839, and 1840; resigned the clerkship in 1840 on being elected Secretary of State of Alabama, and held the latter position without opposition for ten years; was again re-elected Secretary of State in 1849 after the seat of government was removed to Montgomery; declined re-election in 1852 to retire to his plantation in Coosa County; was elected to the house of representatives in 1853, and unanimously chosen speaker for that body; was nominated for the senate in 1859 by the Democratic party of Coosa County, and was defeated by forty-seven votes in a total of two thousand three hundred three; was elected a delegate to the Democratic national convention at Charleston, S.C., as a representative of the Douglas Wing of the Democratic party of Alabama; was elected to the state senate from Coosa County in1863 for a term of four years, defeating Capt. Leander Bryan, of Wetumpka, and served until the legislature was dissolved by the close of the war; was appointed provisional secretary of state, July, 1865, by Lewis E. Parsons, provisional civil governor of the state; resigned that position and was elected to the State Senate in October, 1865; served as chairman of the senate committee on finance and taxation; retired to private life after being disqualified to hold office under the reconstruction acts; was a member of the state constitutional convention of 1875; was a Democrat and a Methodist; wrote and published during the latter years of his life Public Men of Alabama, in 1872, the original manuscript of which, together with his entire correspondence and papers, was burned soon after his death.
Married: (1) August, 1830, Tabitha Taylor, of Virginia, who died at White Plains, Calhoun County, 1835; (2) April, 1843, Julia B. Henry, of Mobile, daughter of Maj. William Henry, a member of Gen. Andrew Jackson's staff at the battle of New Orleans, and a cousin of Mrs. Rachel Donelson Jackson, wife of Gen. Andrew Jackson. Children: by first marriage: two, who survived their mother only a short time; by second marriage: 3. William H., assistant secretary of the state senate, 1865-1866; 4. Thomas G.; 5. Benjamin F., assistant clerk of the house of representatives, 1872-1873, and assistant secretary of the state senate, 1874-1875; Elmore, assistant clerk of the house, 1885-1886, assistant secretary of the senate, 1890-1891, and secretary of the senate, 1903-1904; and two who died in infancy. Last residence: Coosa County.