My Historical Fiction series Tapestry of Love and the novel Discordance is based on and inspired by the Cottingham family. Ribbon of Love is the first book in the series and begins with the Cottinghams' ancestors in 1630s in England. See more: http://amzn.to/2zwcN3m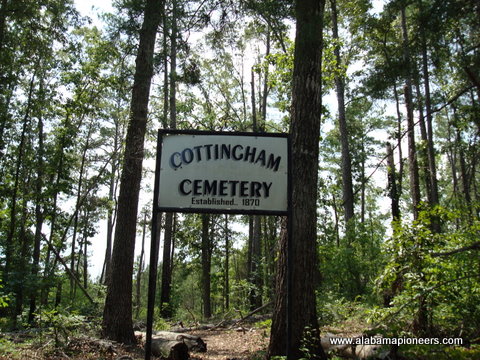 ELISHA COTTINGHAM, SR.
(b. ca. 1755 – 1820)
EARLY BIBB COUNTY, ALABAMA
PIONEER
Elisha Cottingham, Sr. was born ca. 1755 around Maryland. or VA. He is a descendant of George Cottingham (b. 1615 d. 1645), who arrived in Accomack, VA from London England aboard the Primrose.
The Historical Fiction series Tapestry of Love is about this Cottingham family – Click here to see more
The first evidence of Elisha. is in Richmond, NC according to the 1784-87 census records and he was unmarried at the time. He remained there through the 1790 census and then moved to Tennessee some time before 1795 where his youngest daughter was born. In 1798 we find his name on the Tax List of Montgomery County, Tennessee. The name of his wife still is a mystery but he had at least seven children who came with or followed him to Alabama:
Sarah  Cottingham (b. ca. 1783 NC – d. aft. 1860 AL) married ca. 1800 Adam Wilson
Charles Cottingham (b. ca. 1790 NC) married March 1819 Barbary Purtle
John H. Cottingham (b. 1792 NC – Jan 8, 1862 Lowndes Co., Alabama) married May 11, 1814 in Humphries Co.,TN Obedience Leggett Brown
Elisha Cottingham (b. ca. 1793 NC or SC – d. Nov. 10, 1870) married Nancy Parker
Margaret Cottingham (b. 1794 NC – aft. 1860) married 1816 in Monroe County, Alabama Benjamin Sinclair (St. Clair?)
William Cottingham (b. 1795 NC)
Rebecca Elizabeth Cottingham (b. Nov. 4, 1795 TN – 1876) married Dec. 1, 1817 James Washington Hallmark
In 1806, Elisha  name is next found on a Petition to the Tennessee Legislature from Montgomery County., Tennessee and one from Humphries County, Tennessee but by 1817, he was in Alabama. His name is on a petition to Congress by inhabitants of Montgomery County, AL signed December 29, 1817. It included the names of Elisha Cottingham, Sr. and his three sons William, Elisha Jr., and John. Elisha and his sons settled along Cottingham Creek near Six Mile in Bibb County, Alabama.
His oldest daughter, Sarah Cottingham (b. ca. 1783 in NC) married Dr. Adam Wilson and they settled in the Wilsonville area of Shelby County AL. The town of Wilsonville is said to be named after Adam Wilson.
Charles Cottingham (b. 1790 NC) married Barbary Purtle and he first resided in Bibb County, AL then sold his land and moved to Talladega County, Alabama.
His son John H.  (1792 NC) married Obedience Leggett Brown in Tennessee and he settled in Lowndes Co., AL.
Elisha Cottingham, Jr. (b. 1793 in either NC) married Nancy Parker and they remained in Bibb County, AL where they raised 10 children. Elisha Jr., his wife Nancy and some of his children are buried in the Cottingham Cemetery off Hwy 25 in Bibb Co., Alabama.
Margaret Cottingham (b. 1794 NC) married Benjamin Sinclair in Monroe Co., AL and in 1860 is found in Elisha Cottingham JJr's home. Her husband must have passed away.
William Cottingham (b. ca. 1795) was a Methodist Circuit Riding Minister and is found in Bibb, Talladega, Barbour Counties of Alabama and finally in Jackson Co., Texas, living with his daughter Matilda (Cottingham) Fikes in the 1860 census.
His youngest daughter Rebecca Elizabeth (Cottingham) Hallmark (b. Nov 4, 1795 TN) married James Washington Hallmark in the Mississippi Territory before Alabama became a state. They resided in Montgomery County, Alabama in 1817 when James Hallmarks' name is found as a signer of the same petition Elisha, Sr., and his sons signed.
A Cottingham cousin remarked one day that the Cottingham's seemed to carry a "Church in their pocket" because they established one in each new locality. Wesley Chapel in Bibb County is on of those churches. It was first named Cottingham Chapel and is still there today close to Cottingham Creek off Hwy 25. Until recently, it was used for "Singings."
The Cottingham cemetery is near Cottingham Creek where Elisha Cottingham, Jr. and his wife, Nancy Parker lie. The graves of John Wesley Circuit Riding Methodist minister and his wife Hannah and at least two children are in the cemetery close to the Cottingham's The grave of Elisha Cottingham, Sr. and his wife has never been found but may have been lost in the Cottingham cemetery over the years.
As far as we have been able to discern so far, virtually all the early Cottingham Pioneers are able to trace their ancestry back to GEORGE Cottingham (b. 1615 –d. 1645) the first Cottingham immigrant to America.
SOURCES
Hal Cottingham compiled records
Cottingham cemetery in Bibb County, Alabama
Bibb County, Alabama Court and Marriage records
Census records, BIBB, SHELBY, and TALLADEGA COUNTIES
Ancestry.com
Genealogist, Col. John Cottingham Isle of Palms, SC 29451
Find A Grave Memorial# 20885966 # 20885954
Alabama Descendants of Elisha Cottingham (ca. 1755 – ca. 1820) with notes and sources