Happy Birthday!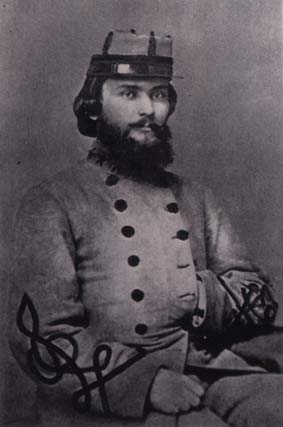 WILLIAM CALVIN OATES
BIOGRAPHY AND GENEALOGY
GOVERNOR of ALABAMA
(b. 1833 – d.1910)
William Calvin Oates, of Montgomery, Ala., brave in war, wise in counsel, strong in purpose, successful in business, and aggressive in every pursuit that has engaged him, was born in Pike (now Bullock) Co., Nov. 30, 1833.
His parents were William Truxton Oates and Sarah (Sellers) Oates of Pike County, Alabama. His parents came from South Carolina in 1828 and first resided in Montgomery, later they moved to Pike County, Alabama. William was one of eight children. The children of William and Sarah Oates were:
John A Oates (December 24, 1835, AL – July 2, 1863, Gettysburg, Pennsylvania)
William C. Oates (1833-1910) m. Sarah Toney (1862-1933)
Mary Jane Oates (Mar 21, 1838- Oct 14, 1912) m. 1st Robert Curtis Granbury 2nd James Benjamin Long -children – Pocahontas "Pokie" Long, James Benjamin Long, William Oates Long, Sarah Elizabeth Long, Mamie Long
Melissa Ann Oates (Sep 12, 1842 Henry Co, AL – Feb. 22, 1928 Houston Co., AL) married Unknown Hickmon
Amanda Elizabeth Oates (January 18, 1845 – Dec. 31, 1931, TX) married George W. Linton, Sr.
Amelia Louise Oates (1798 – 1892)
Thomas Carraway Oates (1847- 1850)
James Wyatt Oates (1850- 1915)
Claudius Oates (1865 -)
Joshua Oates (1867 -)
As a child, William often rebelled and was in countless fights. After one fight, a warrant was issued for his arrest and William fled the state and traveled though Florida, Louisiana, and Texas, had many adventures and developing a particular knack for eye gouging. During Oates three-year adventure, he earned his keep as a cigar-seller, house-painter, deckhand, shingle-maker, and gambler. He stayed briefly in northern Florida, Louisiana, and various Texas towns.
Eventually, he tired of wandering and decided to return to Pike County to face the music. At roughly the same time, mother Sarah had sent the teenage John in search of his brother, and the two met up in Henderson, Texas. On the way home, in East Texas, they got themselves into another fight over a card game and once again William used his eye gouging skills profitably
"Astonishingly, after such a wild early history, both brothers then proceeded to qualify as lawyers and became pillars of their community. Beginning in 1855, Oates began alternating teaching and studying at Lawrenceville Academy, where schoolmaster William A. Clark and his staff instructed the young man in English composition, mathematics, Latin, and debate. Oates worked hard and excelled, graduating in just two years.
With an interest in public affairs, Oates turned to the study of law, which he saw as a means of improving his social position. In 1858 he read law at Eufaula in the office of Pugh, Bullock & Buford and at the end of four months passed a rigid examination, was admitted to the bar, and began practice at Abbeville, at the same time editing a Democratic newspaper.
By the outbreak of the Civil War in 1861, John and William Oates had set up a joint practice ("Oates and Oates") in Abbeville, Henry County. ".
In 1861 he raised a company for the afterward far-famed "Fifteenth Alabama Infantry," in which he served as captain and colonel. For a little while, he also commanded the Forty-eighth Alabama regiment. Wounded six times, four times slightly and twice severely, almost turning to success the battle of Gettysburg by his gallant command of the right of Longstreet's corps in the assault on "Little Round Top" July 2, 1863; losing his right arm on Aug. 16, 1864, in his twenty-seventh battle at Fussell's Mill near Petersburg, Va., and failing in consequence of promotion to brigadier-general, he was an ideal soldier and officer to the close of the war.
Returning home, he built up a successful law practice and accumulated a large fortune. He was elected a delegate to the National Democratic convention in New York in 1868; was representative in the Alabama legislature from 1870 to 1872 and was chairman of the committee on ways and means. He was chairman of the judiciary committee of the Constitutional convention of 1875 ; as the Democratic nominee for Congress in 187,2 he was beaten by his Republican competitor. He was elected to Congress continuously seven times from 1880 to 1894 (when he resigned), having to defeat at the last election the populist leader, Mr. Tate Frank and fearless, outspoken on public measures, he was a successful political leader.
An able lawyer, he made an able representative in the United States Congress. He had the greatness to advocate good laws regardless of their political origin. He opposed the alien ownership of land, combated unrestricted immigration into the United States, urged amending of national bank laws, approved the liberal coinage of silver, spoke for incorporation of the Nicaragua Canal Co., but objected to the United States' endorsement of the bonds of that or any other corporation.
He opposed the experiment of the interstate commerce law, pressed vigorously though unsuccessfully for the return of the $68,000,000 cotton tax to the Southern people, favored liberal appropriations for improving natural waterways, but opposed the appropriation for canals. His filibustering tactics to defeat the direct tax refunding bill kept the house in deadlock for eight days and nights and effected for that session its non-enactment.
He regarded broadly the liberties of man and condemned governmental paternalism. In 1892, anticipating the free silver enthusiasm, he boldly endorsed Mr. Cleveland's measures for Congressional repeal of the silver purchasing clause of the Sherman silver law. He pressed the appointment of Hon. Hilary A. Herbert as secretary of the navy. Oates's wife, Sarah (Toney) Oates, a beautiful woman whom he had married in 1882 and who was half his age, became known for her social graces and her splendid parties. He won the election, but he kept a campaign promise to serve only a single two-year term as governor.
Leaving reluctantly the United States Congress in 1894, Oates ran for governor of Alabama in a contest that became infamous for its double-dealing, dirty politics, and corrupt bargains. He defeated the Populists, Republicans and extreme Free-silver Democrats under the leadership of Reuben F. Kolb, and won the governorship of Alabama, being inaugurated into the office on Dec. 1, 1894, his fifty-ninth birthday. At the time he became Governor, he was living in Henry County, Alabama.
Oates made marked improvements in the finances of the State and in the convict system, and though he failed to secure loan in New York to pay teachers in the public schools, this failure was due to the free-silver plank in the platform of the National Democratic party, money lenders refusing loans under the then unsettled conditions.
He refused to run a second time for governor, thereby carrying out his declaration in the canvass of 1894, and relieving him of endorsement of Mr. Cleveland's closing administration, from a part of which he dissented. After leaving the governor's office in 1896, Oates hoped to run for the U.S. Senate but he failed to win his party's nomination, losing to Gen. E. W. Pettus chiefly on the free-silver issue. Instead, the Spanish-American war gave him an opportunity to serve his country.
In 1898 he was appointed by President McKinley as brigadier-general of volunteers in the Spanish-American war. The war closed before he reached Cuba with his splendidly drilled and disciplined troops from New York, New Jersey, and Pennsylvania, with whom he was very popular. In 1899 he resumed his law practice in Montgomery. In 1901 he was elected a delegate at large to the Constitutional convention, was chairman of the committee on the legislative department, and a member of the committee on suffrage and elections.
"He dissented from the majority on qualification for suffrage, objecting especially to the indiscriminate soldier and grandfather clauses. He urged the elevation of the franchise, making the standard of fitness alike for the whites and the blacks. He asserted that "there are some white men who have no more right and no more business to vote than a Negro and not as much as some of them." He thought that conservative black leaders, such as Booker T. Washington, should provide a model for African American self-improvement and personal advancement."
At the Alabama constitutional convention of 1901, Oates served as a delegate and spoke out strongly against "grandfather clauses" and other measures that were aimed at disfranchising black voters. His most humanitarian appeal during the convention came when he denounced lynchings and other acts of racial violence that whites were inflicting on blacks. The new Alabama constitution, however, effectively eliminated black suffrage in the state (and the votes of poor whites, too), and while Oates disliked the new document, he decided not to oppose its ratification.
"He is a gentleman of fine personal appearance, a logical speaker, and a good judge of the motives that guide man's con duct. He wrote a two-volume book, entitled, "The Confederate War—Lost Opportunities—The Fifteenth Alabama Regiment in Forty-seven Battles "
"During the final decade of his life, he practiced law and concentrated on his real estate ventures–activities that made him a wealthy man. In 1902, Oates and his wife, accompanied by their only child–William C. Oates, Jr. who had been born in 1883 (d. Feb. 6, 1938)–traveled to Europe on a grand tour, and his letters about their journey provide an entertaining glimpse of the Continent through his very Southern and American eyes. His son later became an attorney and joined his father's practice in Montgomery.
"In the years just before his death, he served as the Commissioner for Locating and Marking Confederate Graves in the North, a federal appointment he received from President Theodore Roosevelt. When Governor William Calvin Oates died on September 9, 1910, he was remembered in Alabama and around the nation for his military and public service. At his graveside in Oakwood Cemetery, located on the outskirts of Montgomery, various artillery, cavalry, and infantry companies, dressed in khaki uniforms of the day, bowed their heads in quiet tribute to this soldier of two nations, the Confederate and the United States of America.
"A great figure in our history has passed," reported a Birmingham newspaper, "for he made his record on the battlefield, in the capitol at Washington[,] and in the historic state capitol in Montgomery." But there was something else about Oates that people who knew him well could not fail to recall. Another newspaper obituary strikingly encapsulated in one sentence all the robust energy Oates had brought to living his life: "He was full of pluck!"
SOURCES
http://www.users.globalnet.co.uk/~pardos/JohnOates.html
http://www.encyclopediaofalabama.org/face/Article.jsp?id=h-1410
Notable Men of Alabama edited by Joel Campbell DuBose
Alabama, her history, resources, war record, and public men By Willis

Find A Grave Memorial# 5901994

# 7803171

# 43205254

# 8397471

# 27452452

# 73901336

# 52827906

# 20360756

# 99667890

# 25709695
Read this book for FREE with trial membership – Click below to see how: